Power Ranking Each New York Yankees Player Based on His Current Contract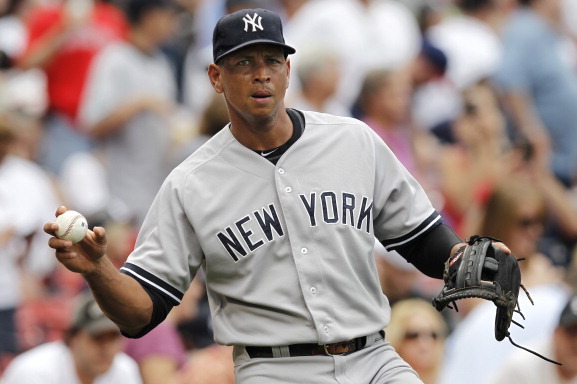 Winslow Townson/Getty Images

We all know the Yankees are a very high-profile team, full of big-name players. We also all know that a lot of those players have some pretty hefty contracts, a lot of which can only be described as "absurd".
However, for all the lucrative contracts the Yankees have on the books, they also have a bunch of young players earning much more reasonable salaries, mostly due to the inexperience and lack of service time in the big leagues for those players.
So, in the grand scheme of things, which Yankees players are most deserving of the salaries they will take in this year?
Well, that's what I'm here to determine. This is a ranking of all of the current Yankees players based on their current contracts. Which player do the Yankees get the most from per buck (or maybe per million bucks)?
Well, we'll get there, but first let's start off with which player they get the least from—based on his contract of course.
*Please note that I am not ranking players like Brett Gardner, Michael Pineda, and Mariano Rivera at all, based on the fact that they were each forced to miss almost the entire season due to major injuries. With Joba Chamberlain having just recently made his season debut, I have also left him off of the list.
*All contract information is courtesy of Cot's Baseball Contracts
Begin Slideshow

»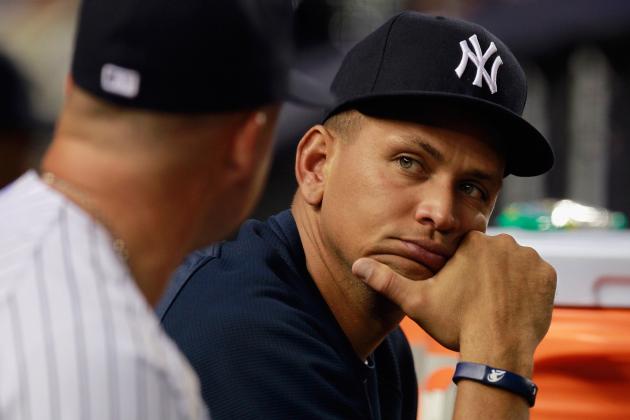 Mike Stobe/Getty Images

Current Contract: 10 years, $275 million (currently on year 5)
Now, please do not get me wrong. I am a Yankees fan and I love Alex Rodriguez, but let's just say the Yankees give A-Rod a lot more than he gives them.
Let's start off with actual games played. For a player that earns $29 million this year, the Yankees probably expected at least 150 games per year from A-Rod when they re-signed him four-plus years ago. Rodriguez has currently played in 94 games this year, and if he plays in another 15, the Yankees should count themselves as lucky.
Give him credit, his latest injury wasn't his fault. He didn't choose for King Feix to drill him in the hand, but drill him Felix did, and now that hand is broken and A-Rod will sit on the DL until mid-September at the earliest.
Even so, hitting .276 with 15 homers and 44 RBI through 94 games is NOT what you expect from a $29 million-dollar man.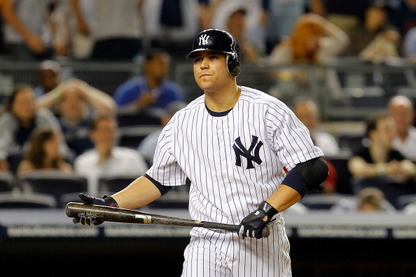 Jim McIsaac/Getty Images

Current Contract: 1 year, $7.5 million
No one has had a worse season for the Yankees than Russell Martin. He has proven himself to be incompetent at the plate, sporting a measly .192 batting average. His power is still there, as he has hit 12 home runs this season, but other than those 12 instances where he has helped the Yankees, he has done almost nothing but hurt them—and he's done it for $7.5 million.
No one is earning his money with the Yankees less than Martin in 2012, but luckily, he is only signed through this year. So, once his current contract is up, I wouldn't expect to see him back in pinstripes. Instead, look for the Yankees to either sign a veteran for a year or give the job to one of their young backstops in the minors.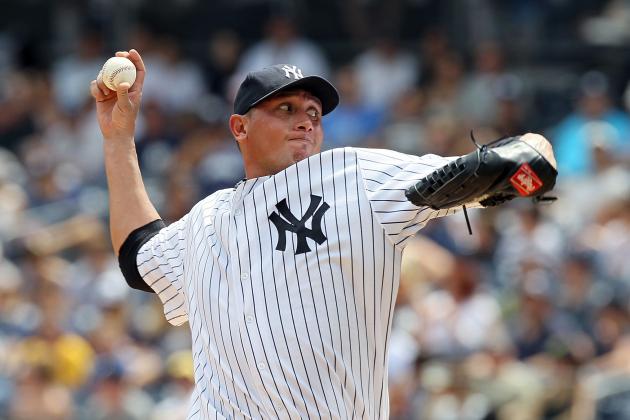 Jim McIsaac/Getty Images

Current Contract: 1 year, $4 million
Last season, Brian Cashman was reveling in the production he was getting from the veteran Freddy Garcia, whom he had signed off the scrap heap for a meager $1.5 million. In 2011 he pitched to a 12-8 record with a 3.62 ERA—a steal for that kind of contract. So, Cashman gave him a raise for 2012, signing him to a $4 million deal.
That turns out to have been a mistake, as Garcia has not been close to as good as he was last year. Splitting time between the bullpen, and now the rotation thanks to the injured Andy Pettitte, Garcia is 5-5 with a 5.00 ERA, a far cry from his '11 stats. And what's worse is that due to his contract and "experience" in the rotation, manager Joe Girardi opts to use Garcia as a fill-in starter instead of giving younger, better players a chance.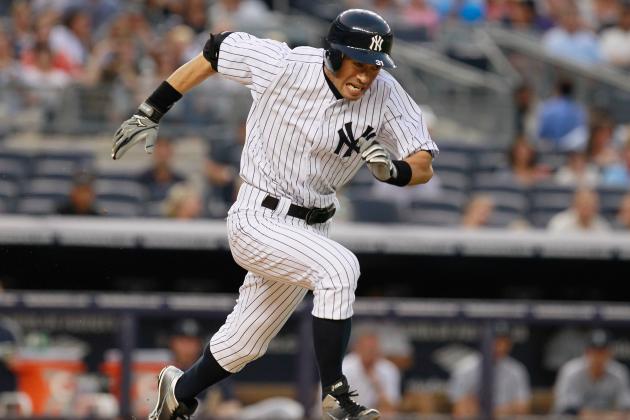 Mike Stobe/Getty Images

Current Contract: 5 years, $90 million (currently on year 5)
Ichiro's case is a tricky one. You see, in no way, shape, or form is Ichiro earning his current salary of $18 million for 2012, but he very well might earn the $2.5 million that the Yankees are paying him for the remainder of the season. Ichiro was acquired to act as a suitable replacement for Brett Gardner, and it's very likely that he will at least be able to do just that and probably more.
However, in the grand scheme of things, even though the Yankees are only paying him a small portion of that contract, Ichiro will still earn an extravagant amount of money this season, and unless he hits .500 the rest of the way, he will not have played like a man making that kind of money should.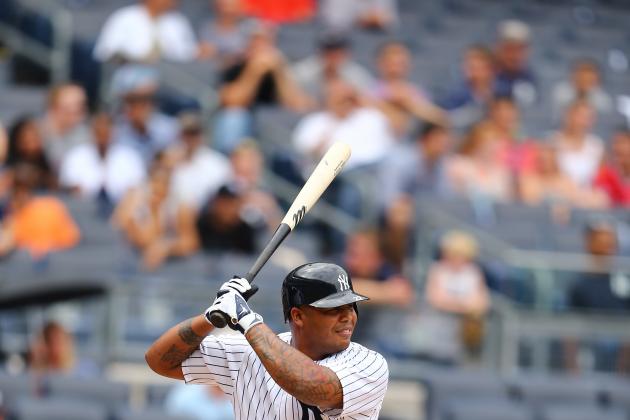 Al Bello/Getty Images

Current Contract: 1 year, $2 million
The rest of this list is a tricky because honestly, the rest of the team is earning their money this season. It's now just a matter of who is earning it the most.
Andruw Jones has been a very valuable member of the team in 2012, especially because of the injury to starting left fielder Brett Gardner. Up until the Ichiro acquisition, it was up to Jones and Raul Ibanez to fill the void left by Gardner, and they have both done a valiant job so far.
Jones has hit 12 home runs and driven in 24 runs in only 64 games this season, and always seems to come through in the clutch. He has also played a very good outfield, which was to be expected considering his 10 career Gold Gloves, but his glove should not be understated.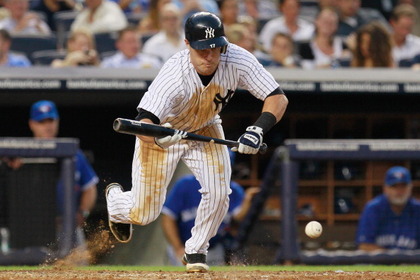 Mike Stobe/Getty Images

Current Contract: minor-league deal, amount not specified
Jayson Nix was picked up after the start of the year and was added to the roster to replace infielder Eduardo Nunez, who was sent down to Triple-A to work on his defense and receive regular playing time.
Since joining the ballclub, Nix has contirbuted in almost every way imaginable. He gets timely hits, does the little things like bunting and moving runners over, and plays solid defense all over the field, both in the infield and outfield.
For a guy on a minor league contract, Nix is a clear overachiever, and his contributions to the Yankees up until this point of the season should not be taken lightly.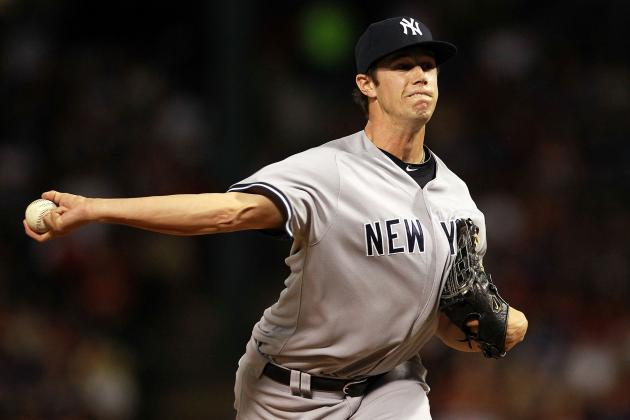 Ronald Martinez/Getty Images

Current Contract: 1 year, $481,000
Cody Eppley was claimed off of waivers from Texas in early April, and since then he has become a valuable addition to the Yankees bullpen. With 2011 impact reliever Cory Wade struggling mightily this season, Eppley has stepped into his role and blossomed in the Bronx.
For a guy making the league minimum, Eppley has given the Yankees more than they could have ever asked for. Eppley is technically the "worst" reliever the Yankees have, and that's something the team should be proud of.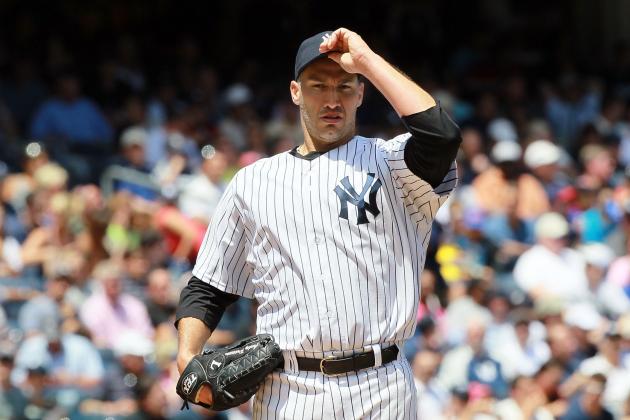 Jim McIsaac/Getty Images

Current Contract: 1 year, $2.5 million
When news first broke that Andy Pettitte was coming out of retirement, Yankees Universe was elated. When Brian Cashman found out that he was adding the veteran lefty to his rotation for only $2.5 million, he was probably ecstatic. However, that deal has wound up not being quite as good as the Yankees may have hoped.
On June 27, Pettitte was struck on the left ankle by a comebacker to the mound by Indians first baseman Casey Kotchman. It turned out that his fibula was fractured, and he will be on the DL until at least early September. If Pettitte can come back and pitch effectively in September and into the playoffs, then he will still be well worth what the Yankees are paying him. But if not, this might wind up being a bad deal for New York.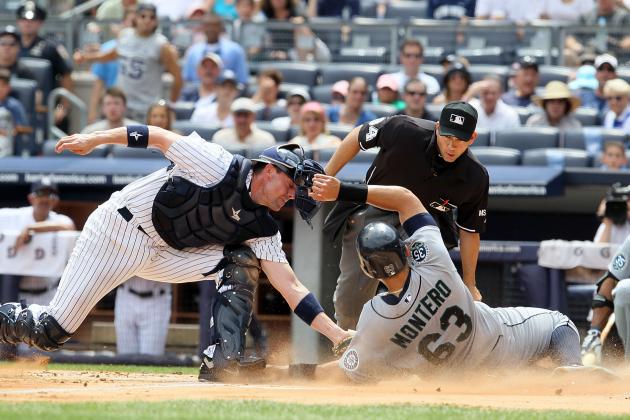 Jim McIsaac/Getty Images

Current Contract: 1 year, $482,500
I'll admit, when the Yankees first announced that they had acquired Chris Stewart from the Giants and that he would make the Opening Day roster as Russell Martin's backup over Francisco Cervelli, I was furious. I couldn't believe that the Yankees could do such a thing to Cervelli, a guy who always seemed to be able to pump up the pitchers and who only seemed to be good at hitting when the bases were loaded.
I would still prefer that Cervelli be on the team, but now I'd like him to take Martin's spot, not Stewart's. Stewart has done an incredible job so far this season, and it really is a mystery to me as to why he has not been given the starting duties over Martin. He has performed admirably behind the plate, and his .260 batting average is more than the Yankees could've asked for.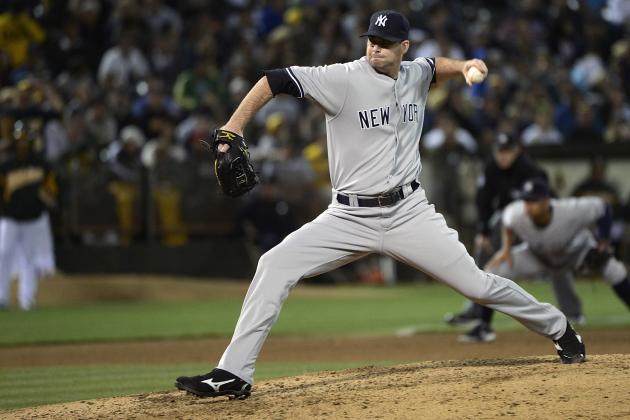 Thearon W. Henderson/Getty Images

Current Contract: 1 year, $1.875 million
When the Yankees traded Melky Cabrera to the Braves in the 2009-10 offseason, they thought they were trading him for a reliable starter in Javier Vazquez. In reality, they traded him for left-handed reliever Boone Logan, and even though Melky is blossoming in San Francisco, it hasn't been that bad of a trade for the Yankees.
Logan has been incredible for the Yankees, quickly turning himself into a left-handed specialist and now into a part-time setup man who happens to be left-handed. The Yankee bullpen would not be the same without the contributions of Logan, and for what the Yankees pay him in salary, he's one of the most valuable left-handed relievers in all of baseball.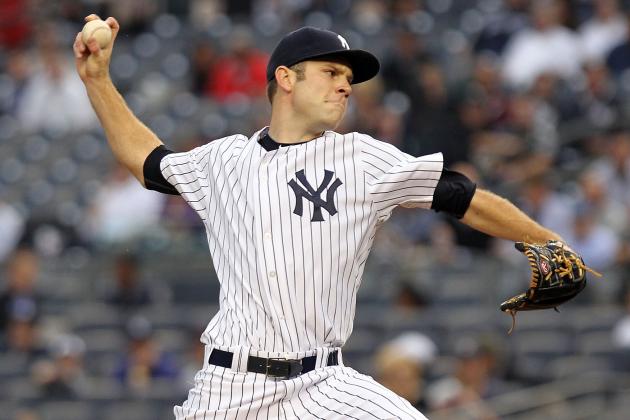 Nick Laham/Getty Images

Current Contract: 1 year, $480,000
David Phelps broke camp in April on the major league roster as the Yankees long-reliever thanks to Andy Pettitte's late start and Michael Pineda's injury. In retrospect, he should have started the season as the fifth starter in the rotation. Phelps is now just the latest case of the Yankees bouncing around a talented young pitcher between the rotation and the bullpen.
So far, everything has gone smoothly no matter what role the Yankees have thrust him in. The only side-effect of the young starter serving in a relief role is that he tends to throw too many pitches too quickly when he is given the chance to start. But, with the Yankees currently having a solid rotation, that's nothing to worry about—at least not for this season. However, if Phelps had begun the season in the rotation and remained there throughout the season, the Yankees might have been better off.
Nevertheless, for a 25-year-old making the league minimum, Phelps has been an invaluable asset for the Yankees this season.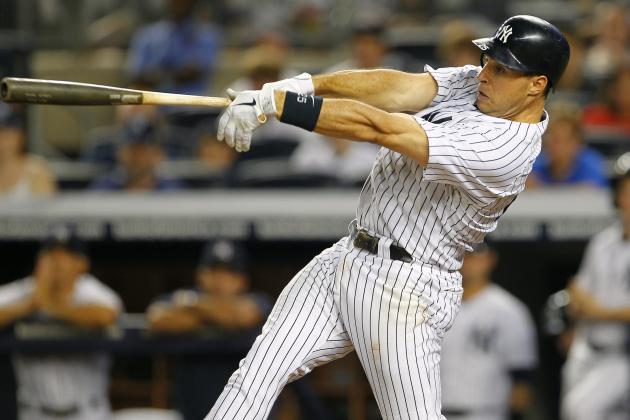 Rich Schultz/Getty Images

Current Contract: 8 years, $180 million (currently on year 4)
It's pretty tough to say anyone deserves to be payed $22.5 million dollars to play one season of baseball, but it's also tough to say that Mark Teixeira doesn't play up to the expectations the Yankees envisioned for him when they signed him prior to the '09 campaign. Sure, we've seen the batting average drop since moving to the Bronx, but the power numbers and the RBI are still there, and that's what really matters. It's also hard to ignore the contributions he makes defensively, saving countless errors from A-Rod and Jeter.
When Teixeira gets hot, he can carry an offense, as he showed with his scalding month of July. If Teixeira can get on a hot streak during the playoffs in October, he's the guy who could lead them to a World Series title, and that's really what the Yankees are paying for, isn't it?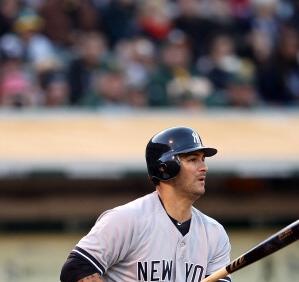 Ezra Shaw/Getty Images

Current Contract: 1 year, $900,000
At this point in his career, Eric Chavez fully admits that he is no longer capable of being a full-time player. That is why he is completely satisfied taking his place on the Yankees bench this year, and likely will continue to do so as long as he continues to play.
And the Yankees couldn't be happier with that decision. Even before the A-Rod injury, Chavez was an invaluable member of the ballclub. He gave Joe Girardi the ability to give Rodriguez DH days frequently, felling no qualms about slotting Chavez into the lineup as the third baseman. While A-Rod is a great defender at third, Chavez is actually better, with 6 Gold Gloves to his name from back in his starting days.
Add onto the fact that Chavez is currently hitting .275 with 10 home runs and 24 RBI in only 182 at-bats, and the Yankees have themselves as good a replacement for A-Rod as they could hope for.
Elsa/Getty Images

Current Contract: 5 years, $26.75 million (currently on year 5)
Nick Swisher is in the middle of a contract year in 2012, one that will pay him $10.25 million on the season. After this season, he will be a free agent, and the overwhelming consensus is that the Yankees, in their attempt to shed payroll to make the luxury tax threshold in 2014, will let Swisher walk in favor of a cheaper option. Well, that would be a colossal mistake for New York.
Swisher is a fine player. He hits for power, gets on base, drives in runs, and more than holds his own out there in right field. Even in what could possibly be considered a down year in 2012, he is still on pace for 20+ home runs and 80+ RBI, and this is all while mostly batting out of the 6 or 7 spots in the lineup.
Swisher's real value, though, comes from his clubhouse presence. On a team that includes players like Derek Jeter, CC Sabathia, and Robinson Cano, it is Swisher who is the heart and soul of the team, and no one can deny this fact. He keeps everything light and fun, and is absolutely adored by Yankees fans—especially his Bleacher Creatures in right field—and it's because of this that he more than earns every penny of his current salary.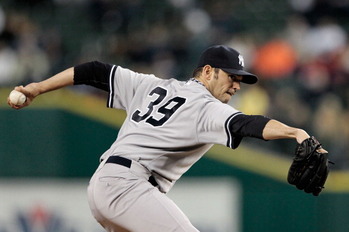 Leon Halip/Getty Images

Current Contract: 1 year, $525,000
The Yankees signed Clay Rapada to a minor league deal in February with the intent on him competing in Spring Training with fellow left-handed reliever Cesar Cabral for a spot on the Opening Day roster. Needless to say, Rapada won the job and has thus far been an incredible find for the Yankees in 2012.
Making just over a half-million, Rapada has been one of the most dominant lefty-specialists in the game. He fills a void that the Yankees have had in their bullpen for years as the second left-hander who is used primarily against left-handed batters. Rapada gives Joe Girardi flexibility and allows him to mix-and-match late in ballgames in order to get favorable matchups, which is one of the main reasons the Yankees bullpen is one of the best in the major leagues.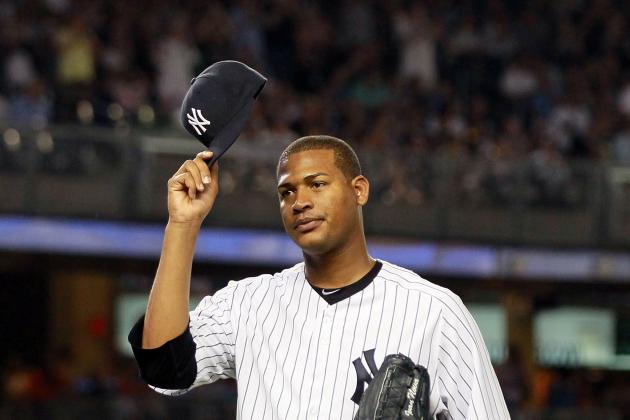 Jim McIsaac/Getty Images

Current Contract: 1 year, $527,200
If you're a Yankees fan, then you probably find yourself conflicted when it comes to the subject of Ivan Nova. Sometimes he looks like a bonafide No. 2 starter, sometimes he looks like a decent No. 4, and sometimes he looks like he belongs in Triple-A. It's not as drastic as it was with our old pal A.J. Burnett (I can feel you all wincing at the sight of his name), but you can't argue that Nova isn't as inconsistent as they come.
The only difference with Nova is that somehow, someway, even when he pitches poorly, he finds a way to win ballgames. He gets some of the best run support in the game, but what is impressive about Nova is that, unlike Burnett, he never lets the ballgame completely get away. He manages to keep his cool, even if he's been roughed up for five or six runs, and for a 25-year-old in his second full season in the big leagues, that's a good sign of things to come.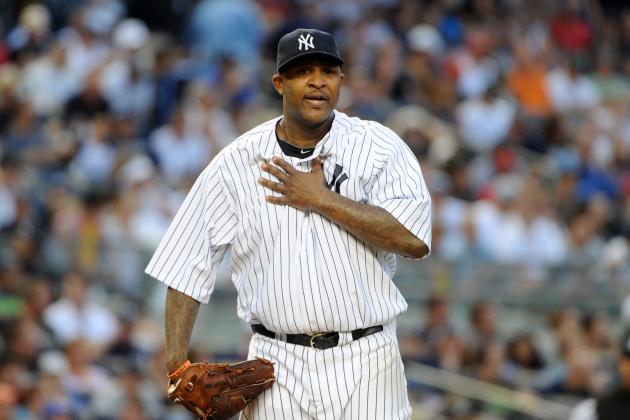 Christopher Pasatieri/Getty Images

Current Contract: 5 years, $122 million (currently on year 1)
Just like Teixeira, the Yankees signed CC Sabathia the winter before the 2009 season, and it immediately payed off for the Bombers, as they went on to win the World Series that year. Ever since, CC Sabathia has been a model of consistency in the Bronx. Although he has never won the award as a Yankee, he has finished in the top four in voting for the AL Cy Young Award in every season he has spent with New York, proving himself to be among the elite pitchers in baseball.
While Sabathia has been incredible, he comes with a very hefty price tag, as he signed an extension with the Yankees following last season that will keep him in pinstripes for an additional two years on top of his original deal. With this deal, Sabathia received a slight raise at $25 million per year in 2016 and 2017, up $2 million from his 2012-15 salaries of $23 million.
While there is no questioning how good Sabathia is, it's still hard to justify a deal of that caliber. Nonetheless, the Yankees are very, very lucky to have him in the fold.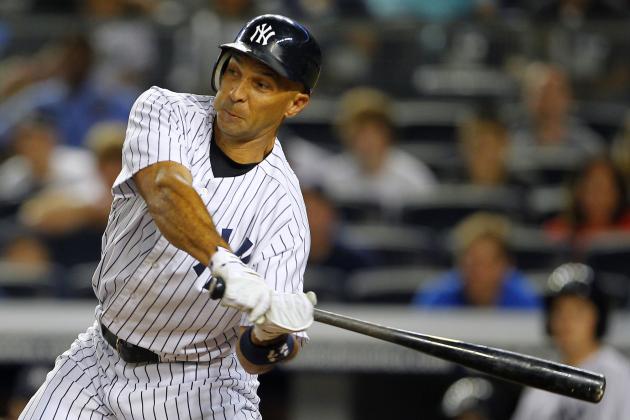 Rich Schultz/Getty Images

Current Contract: 1 year, $1.1 million
When Brian Cashman traded top prospect Jesus Montero to the Seattle Mariners for young fireballer Michael Pineda, it left the Yankees with a hole in their lineup at DH. The incumbent DH, Jorge Posada, had retired, and with his successor on a plane to Seattle, the Yankees were left to search the free agent market for a suitable bat.
The first names that came up were former Yankees Hideki Matsui and Johnny Damon, both key members of the 2009 championship team. However, Cashman was adamant about finding a player who could still play a position if need be, and opted instead to sign the 39-year-old Raul Ibanez.
So far, it looks like a good move by Cash. Ibanez, just as Cashman prepared for, was needed to fill in for the injured Brett Gardner in left field, and performed better than expected up until the trade for Ichiro, which has now moved him back to the DH role.
With 15 homers and 49 RBI so far this season, it's safe to say Ibanez was well worth his $1.1 million deal.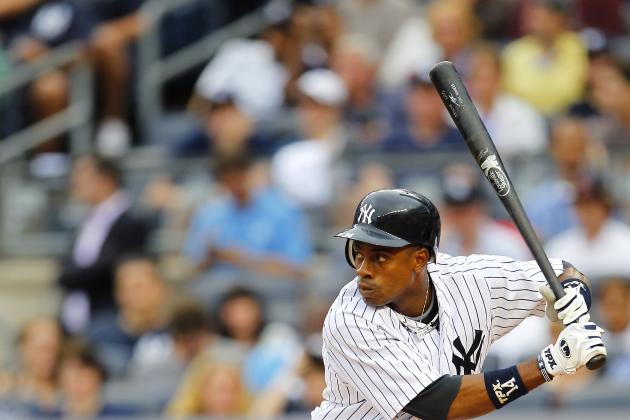 Rich Schultz/Getty Images

Current Contract: 5 years, $30.25 million (currently on year 5, club option for 2013)
When the Yankees pulled off the three-team blockbuster that brought Curtis Granderson to the Bronx, I don't think anyone expected the Yankees to get the player that they've gotten. Granderson was supposed to be the guy that hit close to .300, hit around 20 homers, and steal 20-30 bases per season.
He has not even resembled that kind of player in the slightest way.
Instead, the Yankees have a guy that hits around .250, strikes out a ton, and bashes about 40 home runs per year. He still has that speed, although he hasn't really had many chances to use it this year, since he's usually either circling the bases or taking the slow walk back to the dugout.
I'll argue tooth and nail that Girardi is using him incorrectly in the 2-hole (and in A-Rod's absence, the leadoff spot), and that a pure power hitter such as Granderson belongs in the 5-spot in the lineup. But to a certain point, it doesn't matter where you put an MVP-candidate in the lineup.
It's going to be very expensive to retain Granderson after the 2013 season, but until then, no one can argue that the Yankees are getting one hell of a bargain with their centerfielder.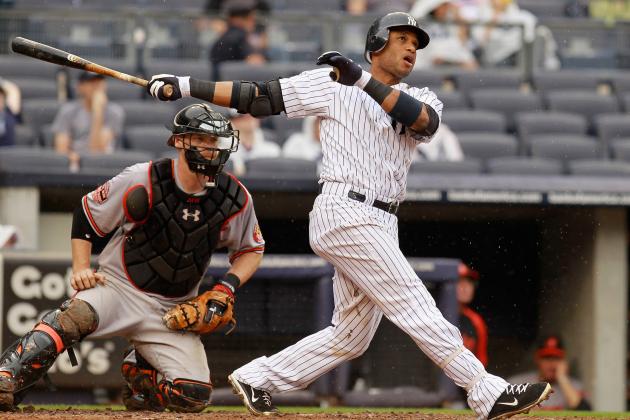 Mike Stobe/Getty Images

Current Contract: 4 years, $30 million (currently on $14 million 2012 club option, with a $15 million 2013 club option)
Robinson Cano is arguably one of the top 10 best players in the game, and is undoubtedly the best second baseman in baseball. He is now considered a shoe-in for MVP votes every single year, and for this year and next, will remain cost-effective for the Yankees, only earning $14 million and $15 million in 2012 and 2013, respectively.
Cano is worth every cent the Yankees pay him, and we will all realize what a bargain he was in 2012 two years from now, when he signs what will likely be a contract similar to Mark Teixeira's eight-year, $180 million deal as a free agent.
And if he manages to capture that elusive MVP award next year (assuming this year's award goes to the Angels' Mike Trout, as it should), the Yankees will have no choice but to give him what they want unless they want to see their best home-grown player since Jeter suit up for another team.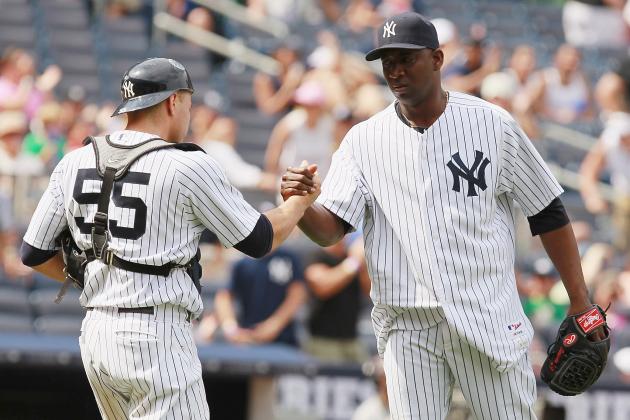 Mike Stobe/Getty Images

Current Contract: 3 years, $35 million (currently on year 2)
Last year, I thought it was insane to be paying a setup man $10 million. This year, I thought it was insane that the Yankees would be paying a seventh-inning man $11 million. Then Mariano Rivera went down with a season-ending injury, and ever since, Soriano has been lights-out as the new closer. He is the early, temporary heir to Mo's throne.
He's worth that deal now, as he has not only been a great replacement for Rivera, but one of the best closers in the league since taking the role within the Bronx. If Rivera is really good to come back next year, Soriano will likely use his opt-out clause and search for a closing job elsewhere, because not only will he receive a raise after his performance this year, but it's obvious that he thrives in the ninth inning, and tends to falter in the eighth and seventh.
But until then, he's one of the most valuable members of baseball's most valuable franchise.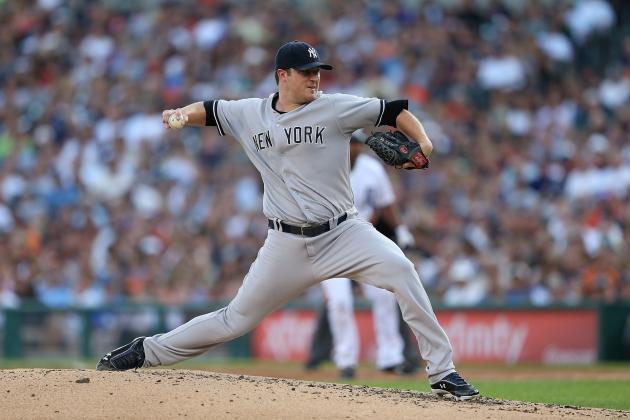 Leon Halip/Getty Images

Current Contract: 1 year, $3.2 million
Much like his teammate Ivan Nova, Phil Hughes has battled inconsistency throughout his career, including during this season. Unlike Nova, however, Hughes has begun to figure things out, and has taken a huge step forward in his development as a pitcher—one that has to have Joe Girardi feeling comfortable about penciling Hughes into his postseason rotation, likely as the third or fourth starter.
After a rough April that concluded with Hughes sporting a 7.78 ERA, the 26-year-old right-hander started to turn things around in May. However, the turning point in his season may have been a pair of starts that took place on May 28 against the Angels and then on June 3 against the Tigers. In the start against the Angels, Hughes was roughed up for seven runs in 5.1 innings. In the game against the Tigers, Hughes pitched his first complete game, limiting Detroit to just one run while striking out eight.
Ever since, apart from a rough outing here and there, Hughes has pitched brilliantly for the Yankees, bringing to mind his first half of the 2010 season. And if the Yankees can keep Hughes in this form, then at his salary of $3.2 million, they will have a very strong, cost-effective rotation for the foreseeable future.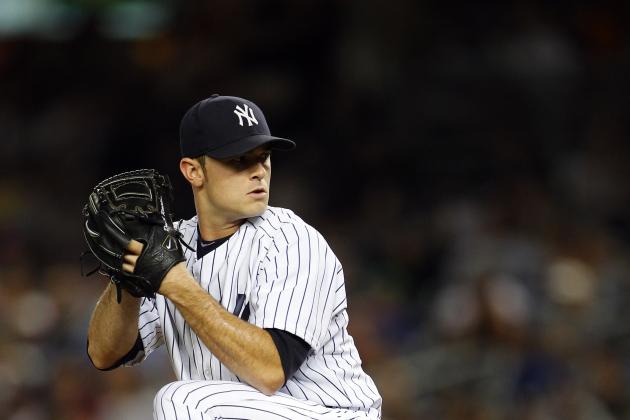 Rich Schultz/Getty Images

Current Contract: 1 year, $1.6 million
David Robertson had an amazing season in 2011, highlighted by his first All-Star appearance, a rare feat for a non-closing relief pitcher. He was so good that he even received votes for both the Cy Young Award and the MVP Award, finishing 11th and 22nd, respectively. This year, he has battled a few injuries, but bounced back very quickly and remained a dominant setup man.
Setup men have recently become a premium and valuable commodity, receiving much more lucrative contract offers. So, having a guy like Robertson in the fold and under team control for a few more years, and at a very team-friendly cost, is a luxury that the Yankees are extremely fortunate to have.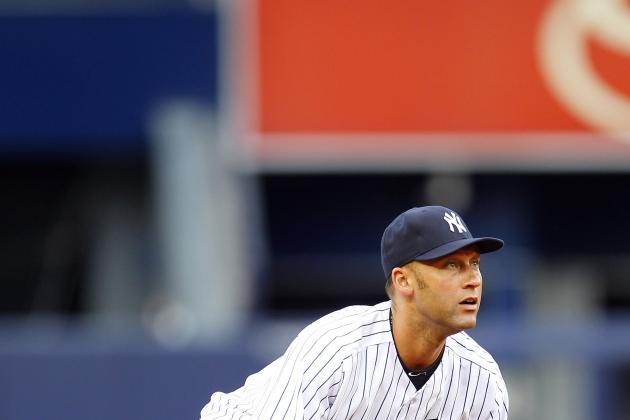 Rich Schultz/Getty Images

Current Contract: 3 years, $51 million (currently on year 2, player option for 2014)
Fortunately for the Yankees—and unfortunately for him—Derek Jeter had the worst statistical season of his career in 2010, the one and only contract year of his career. This led to a less lucrative contract than he would have liked, and one that is shorter and pays significantly less than he was hoping for.
However, after a trip to the DL last season, the captain has turned his career right around and is now the reliable .300-plus hitter that we were all accustomed to seeing. As always, Jeter's leadership is probably his most valuable asset, as the Yankees could not possibly find a better captain than the man who's sole mission in life is to win a World Series title every single year.
You can't put a price tag on Jeter, because the Yankees are never going to pay him enough for what he's done for them over his illustrious 17-year career. However, there is one individual who is blowing away all expectations that the Yankees had when they signed him prior to this season, so for now, No. 2 will sit at No. 2 on this list.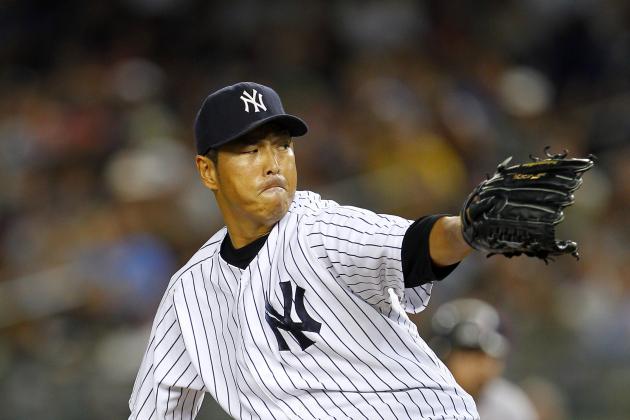 Rich Schultz/Getty Images

Current Contract: 1 year, $10 million
When it was first announced that the Yankees had agreed to terms with Hiroki Kuroda on a $10 million deal for the 2012 season, I'll admit I was a bit skeptical. I figured Kuroda would be a serviceable fourth starter, but assumed that at his age, moving to the AL wouldn't be a great fit for him. Besides, on that same day, the Yankees had pulled off a blockbuster trade for Mariners rookie sensation Michael Pineda, and if anyone was going to step in and be the Yankees' new No. 2 starter, it was Pineda, not Kuroda.
Well, I was wrong. Pineda has yet to throw a pitch for the Yankees, while Kuroda has been the Yankees' ace this season, out-pitching even the great CC Sabathia, and for less than half of the price of the big left-hander. So far, Kuroda has pitched to a 10-8 record with an impressive 3.18 ERA. The fact that he has only won 10 games is, in itself, a surprise, and purely a result of receiving some of the worst run support in the game—an issue that has become all too familiar to the Japanese righty over the years.
Kuroda leads the Yankees in ERA and WHIP, which essentially translates to mean he has pitched the best of the bunch so far. He's an easy choice to start Game 2 of any playoff series, and will match up well for the Yankees against any pitcher they might face in a Game 2 setting.
The Yankees didn't expect to lock in a second ace for only $10 million, but that's exactly what has happened in 2012.