Houston Astros: 5 Players It'll Be Worth Watching the Rest of the Season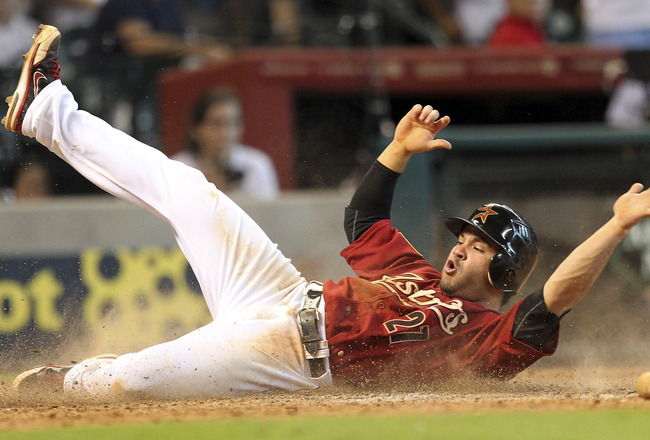 Bob Levey/Getty Images
The last few years have been tough on the Houston Astros' fanbase with the lack of success the organization has had on the field. Wins keep fans happy and less focused on flaws, however, when the wins aren't coming, those flaws are magnified.
The Astros currently are last in Major League Baseball in terms of wins and will probably finish with the worst record for the second straight year. Not to mention they have traded away fan favorites like Lance Berkman, Roy Oswalt, and Hunter Pence the past few seasons.
In some ways I am sure the fanbase has felt alienated by the organization but this is a list of five players who could bring fans back this season and are worth watching the rest of the season.
Justin Maxwell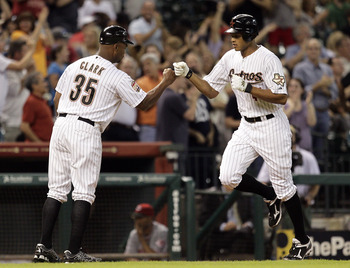 Bob Levey/Getty Images
Everyone knows the saying, "Chicks dig the long ball." Unfortunately for the Astros they don't do it very often. They are in the bottom half of the league in home runs and the team leader, Jed Lowrie with 14, is on the DL for awhile.
Justin Maxwell has shown some power in his limited role so far this season. He has hit 12 home runs already in less than 200 at-bats. He averages one home run per every 15 at-bats which is not too far off the pace of Josh Hamilton who hits a home run roughly every 13 at-bats.
Justin Maxwell will never be confused for Josh Hamilton but it wouldn't surprise me to see him finish with over 20 home runs by the end of the season if he continues to see regular playing time.
Wilton Lopez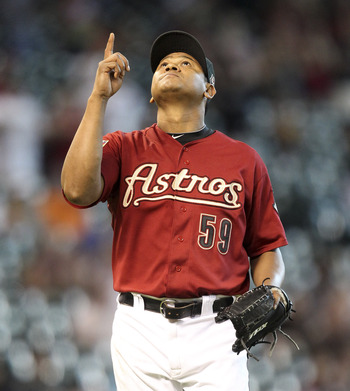 Bob Levey/Getty Images
Wilton Lopez has been the team's best bullpen pitcher since 2010 and it looks like he is finally getting his chance to be the team's closer. With Francisco Cordero on the DL, Lopez earned his first save of his career Saturday night.
Lopez is a hard thrower who pounds the strike zone and doesn't give up many walks. In 40 innings pitched he has only given up four unintentional walks while striking out 31. If Lopez continues to pitch well, it would be surprising to see him lose the role as closer at any point during the rest of the season.
Lucas Harrell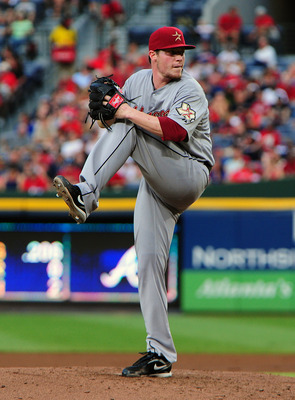 Scott Cunningham/Getty Images
With Wandy Rodriguez no longer a member of the Houston Astros, Lucas Harrell has been the Astros' best starting pitcher this season. He is having a career season currently with a 9-7 record and an ERA below four.
He really likes Minute Maid Park and gives the fans in attendance his best effort as he is 6-1 with an ERA of 2.02 during home starts. If Harrell can finish out the year the way he has been pitching, he should enter spring training second in the rotation behind Bud Norris.
Brett Wallace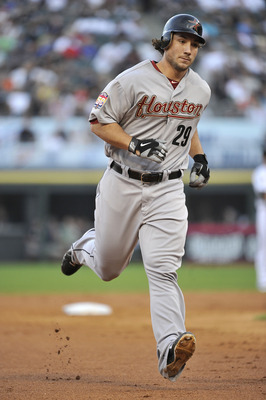 Brian Kersey/Getty Images
It is a small sample size but Brett Wallace has been playing the best ball fans have seen since trading for him three years ago. Through 18 games he is hitting .310 but what is surprising is he is showing a new found power, hitting four home runs this season. To put it into perspective, Wallace had five home runs in 115 games last year.
One area Wallace needs to work on for the remaining part of the season is cutting back on strikeouts. He has 22 strikeouts in 58 at-bats which averages out to a strikeout per 2.6 at-bats, the same ratio as Adam Dunn.
The problem is that even though Wallace has shown more power, he doesn't have close to the same amount of power as Dunn. If he plans to be an everyday player he needs to become more disciplined at the plate.
Jose Altuve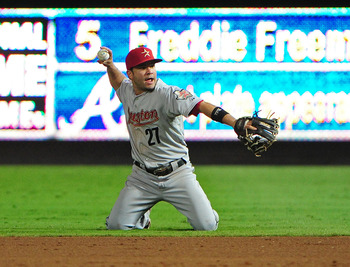 Scott Cunningham/Getty Images
If I had to pick one player out of this list it would be second baseman Jose Altuve. It is hard for fans, whether you root for Houston or another team, not to cheer for this guy.
Since coming up last season fans have taken notice to how much effort this guy plays with every day. Many didn't give Altuve a chance to make it to the major leagues because of his height, he is only 5'5", but he has proven them all wrong.
He was the lone representative for the Houston Astros at last month's All-Star game and has quickly made a name for himself as one of the best all-around second baseman in the National League.
He can hit for average, currently at .298, a little power, has five home runs, and is quick on the basepaths, has 19 stolen bases. He also makes a number of plays in the field and was creating a good middle infield combo with shortstop Jed Lowrie before Lowrie went down with a leg injury. This is one player worth watching the rest of this season and hopefully for the next few years.
Keep Reading

Houston Astros: Like this team?