2012 Olympics: Will the USA Men's Basketball Team Lose?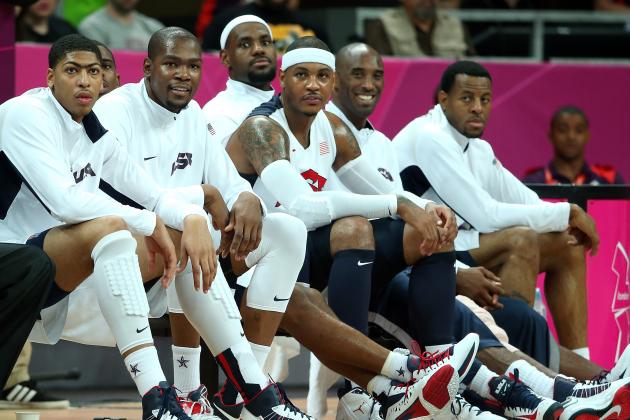 Christian Petersen/Getty Images
Can Team USA be beaten this year?
The latest version of the Men's Olympic team has gotten themselves off to a solid start and been undefeated through pool play thus far. Since 1992, when USA basketball began sending pros to represent their country, the expectation has been that teams would go 8-0 every four years, and do it convincingly.
In 1992, the Dream Team boasted some of the NBA's all-time greats all assembled on one team in the established part of their careers. Due to the limited talent abroad that could keep up with possibly the best team ever assembled, there was no way any team could really challenge USA in any game. The margin of defeat was ridiculous (43.8 points).
With each year, while the novelty of forming "dream teams" to send to Olympics faded and other countries slowly but surely got better, the USA basketball team finally ran into trouble in 2004 after struggling just two years prior in the World Basketball Championships.
At this point, it was almost impossible to get the league's best players to commit to playing in the Olympics due to the time commitment and lack of enticing rewards. USA had gotten to the point where they felt they could send any of our top players to play with no thought being put into roles or chemistry, and it caught up with them miserably in Athens. This team went 5-3 and ended up with a bronze medal, which seemed unheard of when the concept of USA dream teams was created in 1991.
After the current regime was put into place led by Coach Krzyzewski and Jerry Colangelo, the pride and purpose in American international basketball was restored. Commitments were required by players to establish chemistry, teams were picked based on roles and needs as opposed to creating all-star teams to roll out in international play and there was a chip on the shoulders of those that played.
Now, star players felt the need to represent their country with pride, and many of the players that are now the face of USA basketball had experienced the loss and embarrassment of the 2004 Olympics.
In 2006, a reminder was sent to Team USA that the world had caught up when the Greece upset them, giving them their only loss since the 2004 Olympics. The USA had to settle for bronze again. This really settled in and disturbed the program from top to bottom and has propelled them to where they are today.
Today, the USA men's basketball team is filled with pride for their country and a responsibility to restore dominance internationally. There is a commitment to playing as a team and executing a specific strategy that will give them the best opportunity to win.
As a result, there are 10 reasons why I believe that team USA will go undefeated for a third consecutive major basketball tournament.
Begin Slideshow

»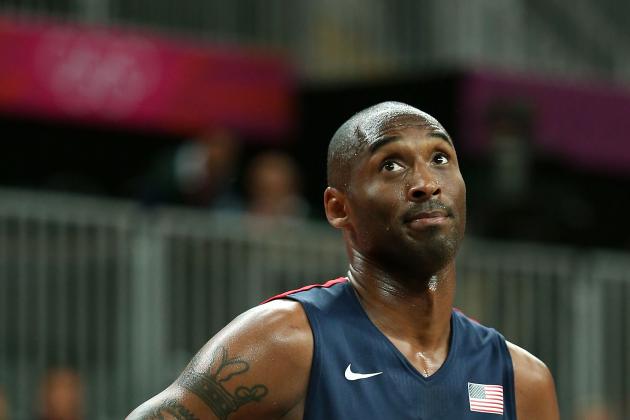 Christian Petersen/Getty Images
Kobe, possibly the greatest winner of this generation, is just one of many winners on this team.
Despite the fact that the 2012 men's basketball team is certainly flawed and can be challenged by another team, as they were Saturday against Lithuania, it is going to take almost a perfect storm to pull it off.
If a team was to keep its turnovers down and keep USA restricted to jump shots AND they are not going in, USA is beatable. The problem is, given only two or three teams are even capable of beating USA, for this to happen and each of the highly skilled, supremely talented superstars to go broke from the outside at the same time is asking a lot.
Even if Team USA settles and shoots poorly from the outside, it is hard to imagine LeBron James, Kobe Bryant, Kevin Durant, Carmelo Anthony, Deron Williams, James Harden and Chris Paul all going cold at the same time.
Even if the percentages are low, you can always count on at least a couple of these guys finding ways to put the ball in the bucket due to the fact that they are all very good shooters, even better scorers and have a vast array of shots they can create from anywhere on the floor. All of these guys are competitors that do not like to lose and are likely to try and find a way to win one way or another.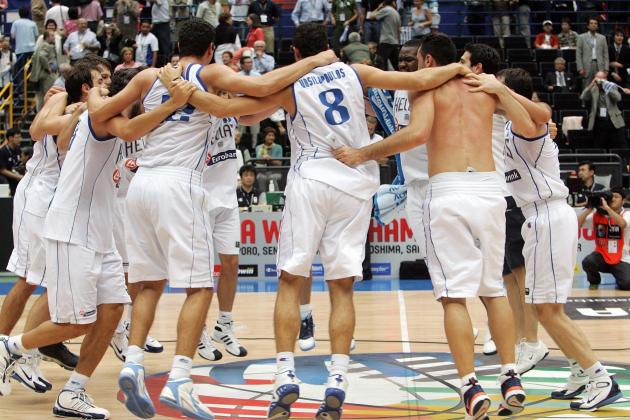 Junko Kimura/Getty Images
The likelihood of this happening this year is slim for a USA opponent.
Although Lithuania almost proved me wrong Saturday and teams like Russia and France have played well in this tournament and appear to be threats, there really are only three or four teams that can beat them.
Spain, Argentina, and Brazil (and maybe one wild card) in my opinion are the only teams that can legitimately beat the US. Given the fact that two of those teams are not in their pool and they have consistently beaten an aging Argentina team of late, it appears that they will run into limited challenges from these problem teams.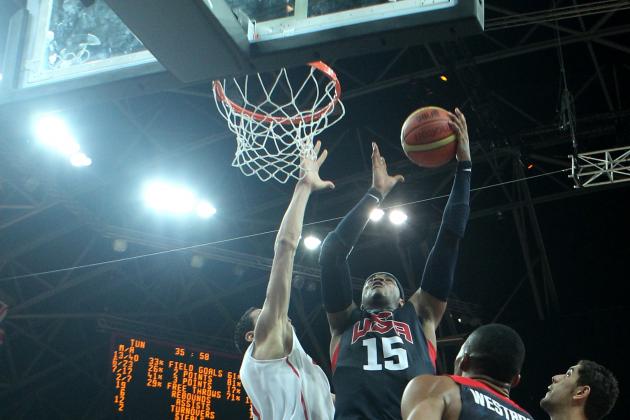 Christian Petersen/Getty Images
Carmelo Anthony is one of the many versatile players who can be effective from multiple areas on the floor.
Despite the fact that USA is vulnerable in the post, USA has really started to learn to take advantage of their advantages. This USA team is exceptionally versatile and has a bunch of players that can play multiple roles and positions and utilize multiple skill-sets to hurt the opposing team.
As a result, while they are undersized often in the post, USA can often put a player like LeBron James or Carmelo Anthony at the 4 spot and pull a big man out to the perimeter on defense and either take them to the hole, set up their own shot or create opportunities for their teammates with player or ball movement.
All of USA's point guards can play on or off the ball, which allows the team to pretty much never be bothered by pressure. Also, USA can put firepower of the likes that no other team has on the floor at the same time such as Williams, James, Anthony, Durant and Bryant.
Throw in a playmaker like Paul or a spark plug and elite athlete like Russell Westbrook, and there is not a team that can really match up with all of the problems a lineup like that presents. When utilized correctly, this USA team can make up for their lack of size and turn it into a setback for the opposing team.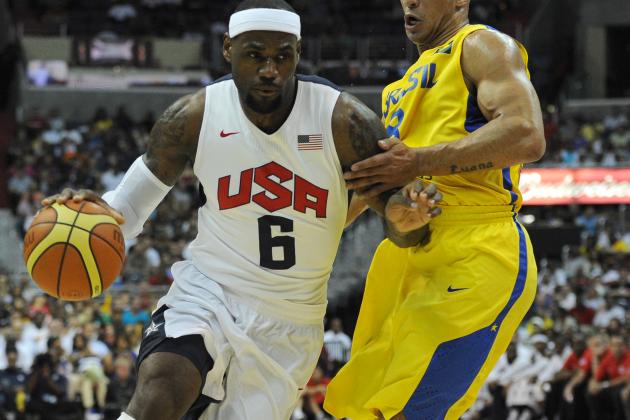 Patrick Smith/Getty Images
Brazil gave the USA all it could handle in July.
Brazil has the inside beef to trouble the United States and pretty good guard play, but it is likely they gave the US their best shot in their friendly matchup last month. Nene is a problem in the post and Anderson Varejao is a pest and a true challenge for the US, but now that the antennas are up after the game on American soil in which the Americans were embarrassed a bit, it is unlikely that USA will play another sub-par game against them either.
At the end of the day, Brazil's guards will be worn out by USA's relentless pressure and guard depth, and it's unlikely they will play much better than they played in the game in Washington, DC.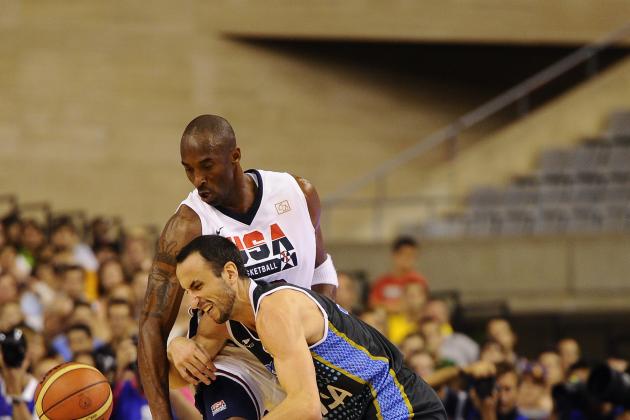 David Ramos/Getty Images
Ginobili is a beast but Argentina does not have enough to defeat the Americans
Argentina has played well, but they are aged and not nearly as talented as the USA team. Emanuel Ginobili and Luis Scola would make all-tournament teams for Olympic play based on their performances, as they are not only quality NBA vets, but international stars that can take over games.
Ginobili is a playmaking superstar that can put together the great game that Argentina needs to steal victory from the USA. Scola is an underrated star in the NBA, as he can score in a variety of ways and is especially potent on this Argentina squad. Both players are going to get theirs and do not fear the USA one bit, but do they have enough help?
After them, outside of Carlos Delfino's ability to get hot and make his presence felt as a playmaker and shooter, the Argentines are a bit limited when you match them up against the Americans. Andres Nocioni is still a rugged role player that will make hustle plays and provide pestering physical play, but his skills have eroded from his best years in the mid-2000s.
They have a bunch of good players, but they really do not have the talent to match the Americans given USA will never play them with their eyes closed. Argentina is well-known for their talent and quality as a program, and they were one of the few programs to embarrass the Americans in the past.
With that said, it's very unlikely that guys like Bryant, James and Anthony will ever let themselves sleepwalk into a game against them.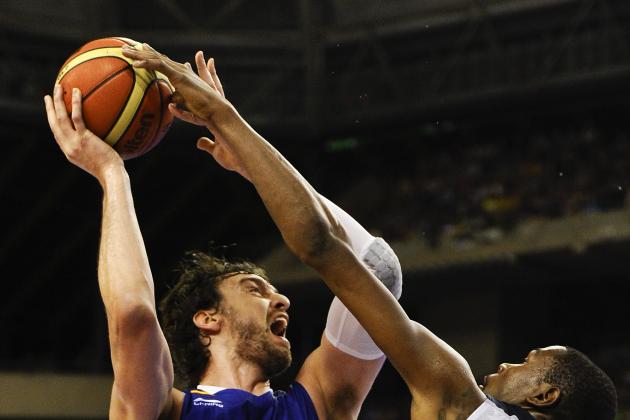 David Ramos/Getty Images
Spain has not been as sharp this year and nothing has been easy.
While the roster is similar, this Spain team just does not look to be the team that challenged USA for gold in 2008 and won a World Championship in 2006.
While is it completely possible that Spain is saving their best for the Americans in the medal round, they simply have not seemed to be as sharp as they have in the past at all in this tournament due to their injuries and some age.
Not having Ricky Rubio has proven to be a setback, I believe. Rudy Fernandez is a spark plug for them, and Juan Carlos Navarro is an incredible shot maker who always saves his best for the big game, but not having Ricky to be a spark plug on both ends of the floor is a setback for Spain.
Also, Marc and Pau Gasol have not been as imposing thus far as a duo, and Serge Ibaka has not been fully unleashed as the weapon some figured he would be. They can beat the US, but it's going to take a sub-par performance from USA and great balanced play by the Spaniards.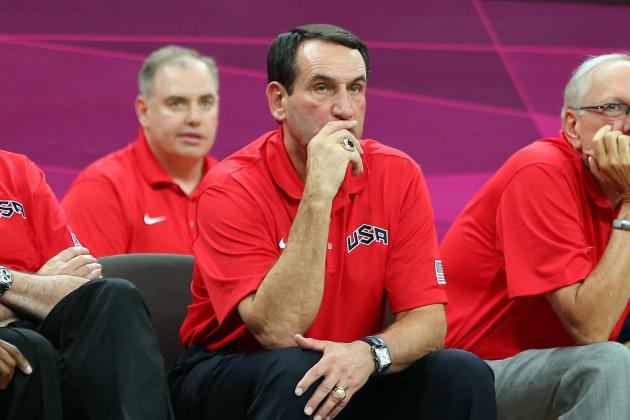 Christian Petersen/Getty Images
Coach K has a good handle on this 2012 team
Some people forget that this version of the USA National Team is a mixture of two sets of teams.
In 2008, the "Redeem Team" set out on the mission to bring gold back home, and then in 2010, almost everyone from that team opted out of playing in order to rest up and/or pursue extravagant free-agent ventures.
The 2010 version of the USA national team that won the world championship was basically a copulation of what could be considered the rising stars of the NBA. This team did very well and succeeded in clinching an automatic Olympic berth, but then the task was to mesh some of the now-established stars from that team with the key cogs from the '08 Redeem Team.
Coach K has done a masterful job of meshing these two successful teams and getting a bunch of NBA rivals with supreme talent and fat resumes to mesh with each other and be productive on the floor in their respective roles.
At this point, with Carmelo and Deron Williams accepting important bench roles, Westbrook taking on the spark plug role and LeBron James and Kevin Durant now becoming the go-to players down the stretch instead of Kobe, these are all signs of effective sales pitches to the players on what will help the team be successful.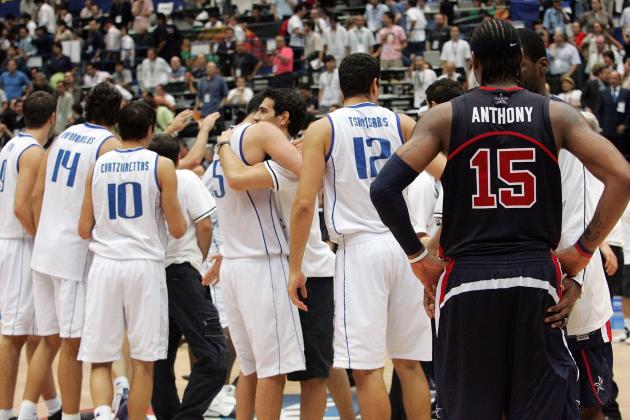 Junko Kimura/Getty Images
This is an image that will never leave the mind of Carmelo Anthony and several other Americans that experienced this loss
USA has not always been on their game in pool play and in the friendly play, but one thing that I believe will help prevent the ultimate letdown in any of their remaining games is pride.
A lot of the team experienced the loss to Greece in 2006, and a handful had to experience the ultimate embarrassment of losing three games and settling for bronze in Athens. The memory of these experiences seems to have stuck with those that experienced it.
The embarrassment of losing those games and seeing the other team jubilant is not something that anyone on the team that experienced those losses wants to experience again. It is well-documented how guys like Carmelo Anthony and LeBron James felt afterwards.
Those setbacks are a reminder that no team should be taken for granted. Everyone thought that Greece was going to be a solid team in 2006, but no one expected them to beat the United States. Also, there is a pride in playing for the United States that I sense with every member of this team. They seem to enjoy representing their country and seem to take pride in asserting their dominance on the rest of the world like the first few "dream teams" did.
As a result, I am confident that team USA will not let their guard down enough to drop an unexpected decision to anyone in this tournament.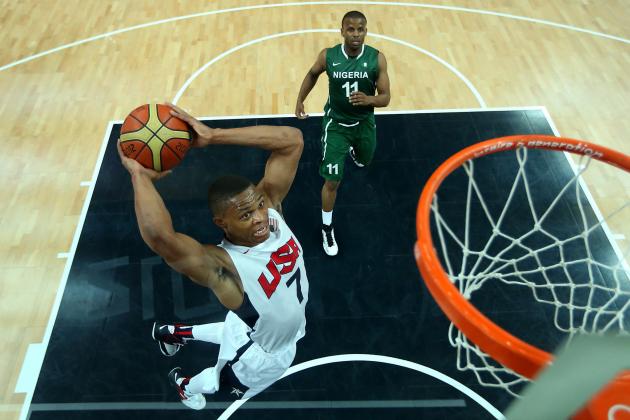 Christian Petersen/Getty Images
The Nigerians were not the only team that did not pose a challenge to the US in pool play
I really think that the US's best chance to lose would be them being complacent in a game in pool play before everything is on the line. These guys are out watching all the Olympic events they can and having fun taking in the experience.
As a result, given the nature of a bunch of guys that know they are much better than everyone else, there stands the chance of having a sub-par sloppy game like they had against Lithuania on Saturday.
The thing that works in the favor of the US, however, is the fact that the games they have to play in Pool A play are not all that challenging. Outside of their final game against Argentina that they will play before they wrap up pool play, they did not have to play very good teams.
The opener against France was supposed to be a decent test, and they ran through them with ease. Tony Parker, Nick Batum and company did not give them much trouble. After that game, despite their struggles against Lithuania, they had no challenge come from Tunisia or Nigeria.
If they were on the other side of the bracket, there might have been more legitimate opportunities for them to fall flat on their face due to complacency or poor performance, but given their respect for Argentina, there really is no game prior to the medal round that USA should be threatened in.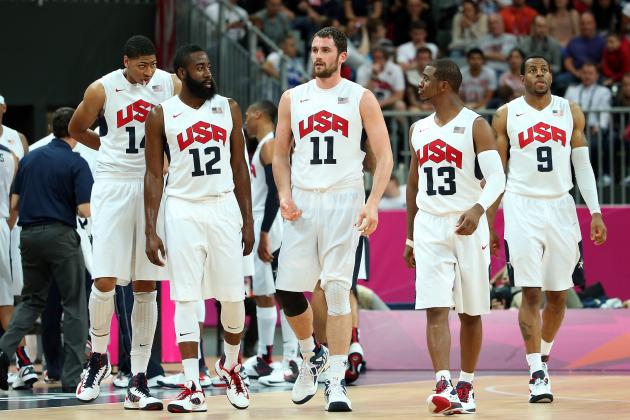 Christian Petersen/Getty Images
Anytime a team can throw reserves like these on the floor, they are VERY deep!
No team can come close to matching the depth that the United States boasts. USA still has for sure the best five to 10 players in the tournament on their team, and they are playing well together.
One advantage that other top teams in the world have had on USA is that they resemble more of a team with roles and pecking orders. These teams typically work well together because they have played together for years.
Now, USA is starting to replicate this process as best they can, as most of this team has played for USA in the past, and the core of the team has done several training camps together and started to learn how to work with each other.
Everyone has different roles that have been assigned to them, and they are on their way to executing them properly. In 2008, one of the most valuable players on that team was Dwyane Wade. He gave them a ton of energy off the bench, played great off-the-ball defense, got lots of steals and provided a lot of athleticism that bothered other teams.
This year, Russell Westbrook has seemingly taken over those responsibilities in his absence. He has given teams a lot of problems with his energy and athleticism and served as a spark plug off the bench that has been invaluable for this team.
Additionally, Westbrook has taken on some of Kobe Bryant's responsibilities from the 2008 team as well. He has hounded point guards all the way up the court, and with his speed and athleticism, it has simply worn down starting guards and overwhelmed backups. This is just a luxury that most teams do not have, nor can handle going against.
This team also boasts a guy who had an all-NBA caliber season (26 points, 13 rebounds) last year in Kevin Love that sometimes comes off the end of the bench and is pretty much a garbage guy for this team. They have possibly the best shot blocker in all of basketball in No. 1 pick Anthony Davis, arguably the best point guard and definitely the most dangerous pass/score combo point guard in basketball in Deron Williams usually coming off of the bench for this team and arguably three or four of the best closers in all of basketball are on this team.
Not to mention the fact that league and Finals MVP LeBron James is one of them.
Combine that with the fact that one of the world's most talented scorers in Carmelo Anthony comes off the bench and can score 37 points in a game in just 14 minutes of play as he did against Nigeria, and the talent resources for USA are just overwhelming.
To be honest, it is just unbelievable the depth of talent that USA has. The fact that Coach K has been able to get everyone settled in roles that are best for the team given their NBA regular season egos is quite impressive and a large reason that USA will go 8-0 and bring home gold.