12 Things That Killed WCW Between the Fingerpoke and Vince Russo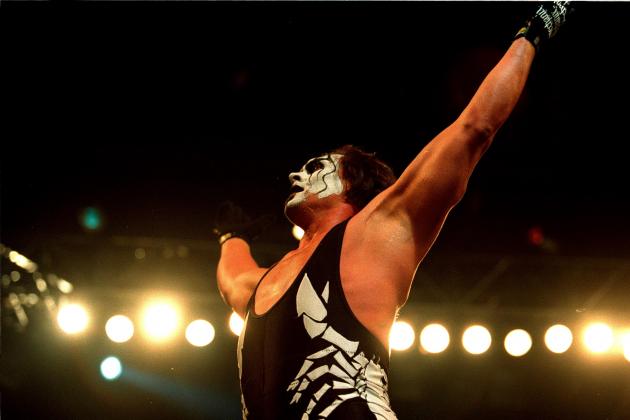 Scott Barbour/Getty Images

For the past decade, various wrestling pundits have debated how WCW, a company that nearly put Vince McMahon out of business, so quickly collapsed around the turn of the millennium.
Of course, everyone always arrives at the same conclusions: the Fingerpoke of Doom, Vince Russo and the decision to put the WCW World Heavyweight Title on David Arquette.
But the truth is that WCW's downfall really took place between January and September of 1999, after the infamous Fingerpoke and before Vince Russo's arrival in WCW.
The following is a remembrance of all the bad things that happened during those first nine months of 1999.
Begin Slideshow

»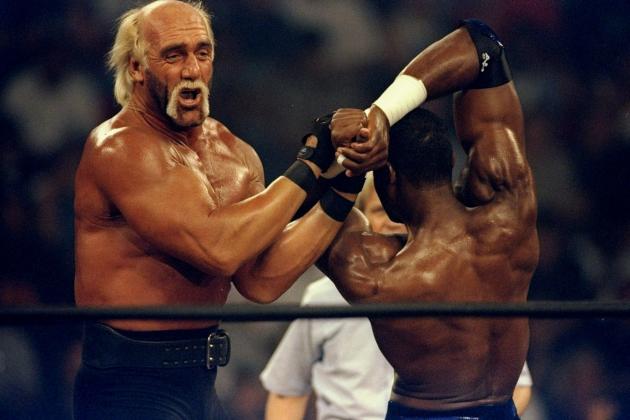 Elsa/Getty Images

While many argue that the Fingerpoke of Doom is what killed WCW, it actually wasn't.
The idea in itself was genius: bringing back Hollywood Hogan (who was supposedly running for president in 2000) and swerving the audience to put the belt back on Hogan and reunite the greatest wrestling faction of all-time, the nWo.
The problem came on the following Thunder, when all the big-name stars in the nWo (Hogan, Nash, Hall, Steiner, Luger) came out wearing black and red, while all the lesser-name members (Bryan Adams, Scott Norton, Vincent, Stevie Ray and Horace Hogan) were still wearing black and white.
Instead of bringing the group back together under the original colors, nWo Hollywood was now comprised of jobbers and the Wolfpack was filled with superstars.
This blunder eventually led to both factions falling apart and disappearing.
Ratings for 01/11/1999
Raw = 5.5
Nitro = 5.0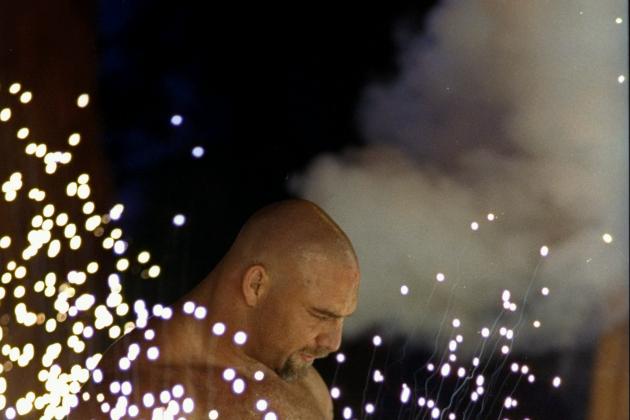 Elsa/Getty Images

WCW really didn't create that many stars in the late 90s.
The main idea, after the creation of Monday Nitro, was to steal away the stars of WWE or ECW and use their name power to boost ratings.
The biggest exception to this rule was Bill Goldberg.
Debuting in September of 1997, Goldberg made an instant impact on the company. Even though he was a complete unknown, he dominated everyone who he stepped into the ring against.
This culminated in defeating Hogan for the WCW World Heavyweight Title on July 6, 1998.
After dropping the belt to Kevin Nash at Starrcade 1998, Goldberg didn't have much left to do. He main evened the following pay-per-view (Souled Out 1999) against Scott Hall in a ladder match, but after that, was somewhat lost in the mix.
Goldberg left for a while to film Universal Soldier: The Return, then made his own return to WCW during a Megadeth performance, but still remained somewhat diminished.
It seems that a big part of Goldberg's appeal really was his undefeated streak. For WCW to have ended that streak without an idea for how to develop Goldberg's character was irresponsible.
Ratings for 02/01/1999
Raw = 5.9
Nitro = 4.7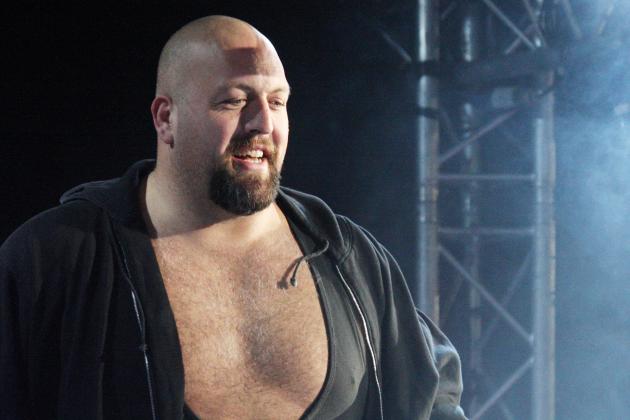 Gallo Images/Getty Images

Paul Wight was a legend in WCW.
Known as "The Giant," Wight defeated Hulk Hogan for the WCW World Heavyweight Title in his very first match, the main event of Halloween Havoc 1995.
Though The Giant held the belt again in 1996, by the end of 1998, he had become something of a glorified jobber. Sure, he was big, but it seemed as though Kevin Nash got pushed a lot more than Wight, even though he was less athletic.
Once The Giant was booted out of the nWo in early 1999, he let his contract expire. He debuted in the WWE as "The Big Show" at St. Valentine's Day Massacre on February 14, 1999 in the main event match between Mr. McMahon and "Stone Cold" Steve Austin.
Though The Big Show has also been used as something of a glorified jobber in WWE, there's no question that he is a major star and that WCW losing him in February 1999 was the first of many major hits the company was about to take.
Ratings for 02/15/1999
Raw = 5.9
Nitro = 3.9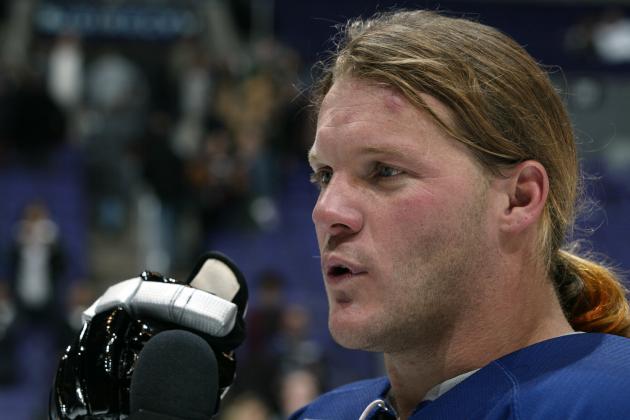 Donald Miralle/Getty Images

It was obvious, even in WCW, that Chris Jericho was a major talent.
Yet for whatever reason, WCW just didn't give him the proper push he deserved.
Throughout 1998, Jericho had built a great character, a "conspiracy" storyline and the opportunity for a match with Goldberg. He should have skyrocketed to the top in '99.
Nevertheless, WCW management just didn't give anything more than a mid-card presence.
Surely, they learned their lesson on August 8, 1999, when Jericho debuted as a major star in WWE, making his first appearance by interrupting a Rock promo.
Ratings for 03/01/1999
Raw = 6.3
Nitro = 4.3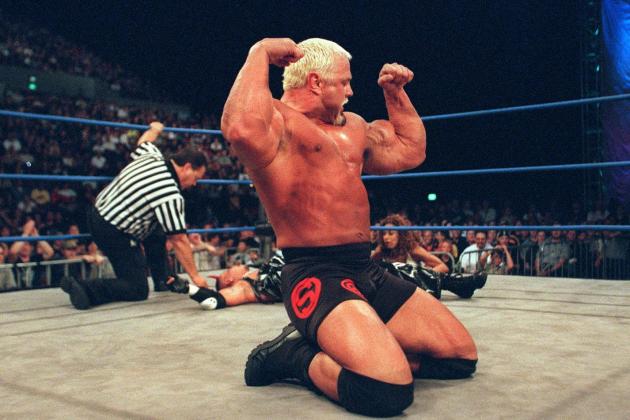 Scott Barbour/Getty Images

By 1999, "Big Poppa Pump" Scott Steiner had paid his dues in wrestling.
Along with his brother Rick, he had won numerous tag team titles in various promotion. In WCW, he was a former United States Champion and a former Television Champion.
Moreover, he had developed a unique character, knew how to work the crowd and was one of the more physically intimidating men in all of wrestling.
Nevertheless, despite being in Hogan's nWo Wolfpack, Steiner was kept at mid-card status throughout 1999.
It wasn't until Vince Russo came to WCW that Steiner was finally given the push he had earned and finally given an opportunity to become World Heavyweight Champion.
Ratings for 03/29/1999
Raw = 6.5
Nitro = 3.5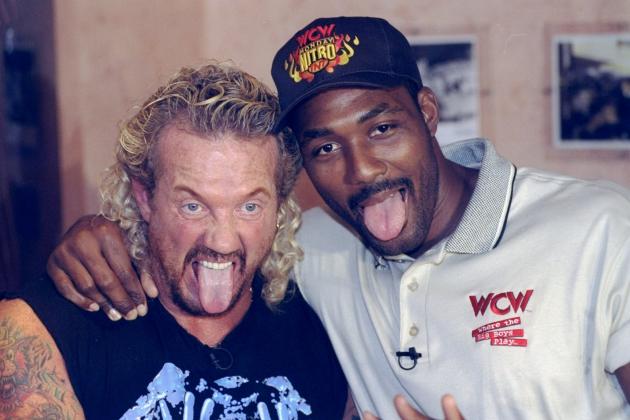 Ezra Shaw/Getty Images

Diamond Dallas Page had a lot of fans in WCW, especially in 1998. He had some good feuds, including a memorable one against "Macho Man" Randy Savage. What he was doing worked and made sense. He was WCW's "People's Champion."
So, on April 11, 1999, WCW decided to let DDP win the World Heavyweight Title in a four-corners match against three of the biggest names in wrestling history: Hulk Hogan, Sting and "The Natureboy," Ric Flair.
After winning the belt, DDP quickly turned heel, alienating himself from his loyal following.
The highlights of the title run included holding the belt upside-down, and the night of April 26, 1999, when DDP lost the belt to Sting, then won the belt back hours later in another four-corners match against Sting, Kevin Nash and Goldberg.
Of course, the real end of the reign came at Slamboree 1999 where, once again, Kevin Nash became WCW World Heavyweight Champion.
What a surprise!
Ratings for 04/26/1999
Raw = 6.0
Nitro = 3.9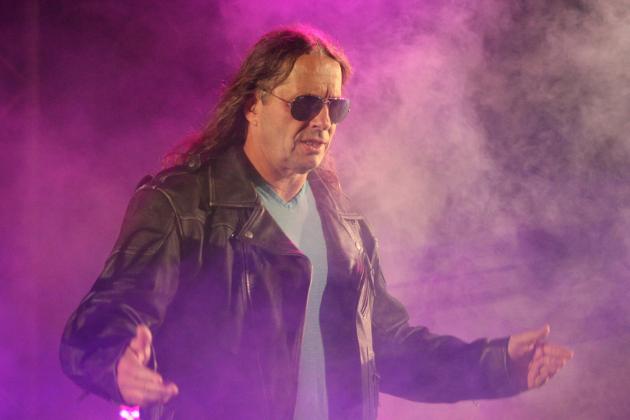 Gallo Images/Getty Images

One of the more tragic stories in wrestling history is what happened to Bret "The Hitman" Hart between 1997 and 2000.
It all started when Bret had his character changed by WWE bookers to being anti-American heel. This resulted in being the victim of the Montreal Screwjob at Survivor Series 1997.
After coming to WCW, Bret only had a handful of main event matches.
This led to the events of March 29, 1999, when Bret came out on Monday Nitro and complained about how he wasn't being used. He called out Bill Goldberg, stating that he could beat Goldberg within five minutes.
Goldberg came to the ring and tried to spear Bret. Yet since Bret was wearing a metal breastplate under his jersey, Goldberg was knocked unconscious.
After this happened, Hart screamed into the mic, "Hey, Bischoff, I quit!"
The angle then developed into a match where Kevin Nash was going to face Bret on The Tonight Show with Jay Leno on May 24, 1999.
However, one night before this match was to take place, Owen Hart died at the WWE pay-per-view Over the Edge.
Consequently, Bret took several more months off to mourn his brother.
When Bret returned, he did finally win the WCW World Heavyweight Title. However, he suffered a concussion from Bill Goldberg at Starrcade 1999 that virtually ended his career.
Ratings for 05/24/1999
Raw = 7.2
Nitro = 3.1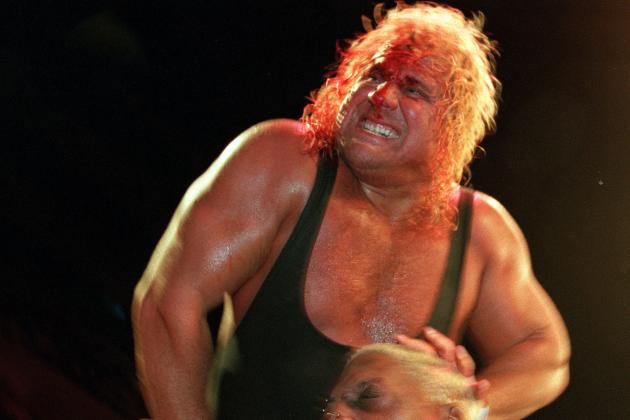 Adam Pretty/Getty Images

Curt Hennig was one of the most talented athletes in pro wrestling history.
On top of that, he was a former AWA World Heavyweight Champion and had made some legendary promos as "Mr. Perfect" in WWE, where he also held the Intercontinental Title.
Yet in WCW, Hennig was always pushed somewhat off to the side.
1999 was a great example of this happening.
First, he was left in the jobber black-and-white nWo. Then, for seemingly no reason, he was kicked out of the group.
Hennig was then paired with late 80's star Barry Windham. Although the two did win the WCW World Tag Team Titles, they also soon formed the lame West Texas Rednecks group, along with Kendall Windham, Bobby Duncam Jr. and Curly Bill (aka Vincent, aka Virgil).
The Rednecks' biggest claim to fame? Two music videos, one entitled "Rap is Crap" and the other "Good Ol' Boys."
The group was a terrible idea and only highlighted WCW's inability to do something great with their truly great talent.
Ratings for 07/26/1999
Raw = 7.1
Nitro = 3.4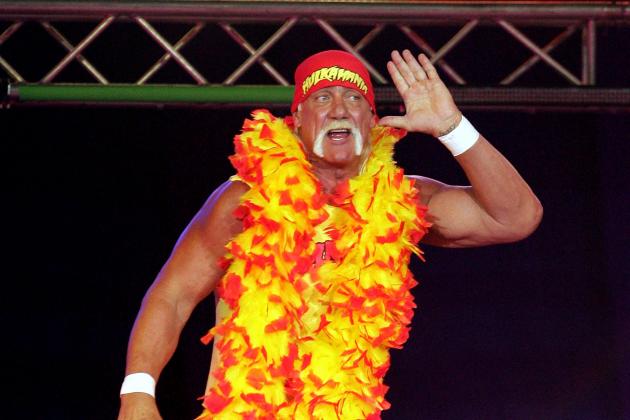 Paul Kane/Getty Images

It's no secret that Hulk Hogan loves being a good guy. After all, he has been probably the most beloved babyface in wrestling history.
Still, the late 90's was a time in wrestling for both cool heels and heelish heroes. Few people could do this better than Hollywood Hogan.
Despite bringing back his ability to "hulk up" in early 1999 and coming back as a face in July 1999 to defeat "Macho Man" Randy Savage for the World Title, this just wasn't enough.
So, against the advice of Eric Bischoff, Hulk Hogan used his contractual "creative control" to drag out his old costume and old music to bring back red and yellow Hulkamania on August 9, 1999.
Ratings for 08/09/1999
Raw = 6.4
Nitro = 3.1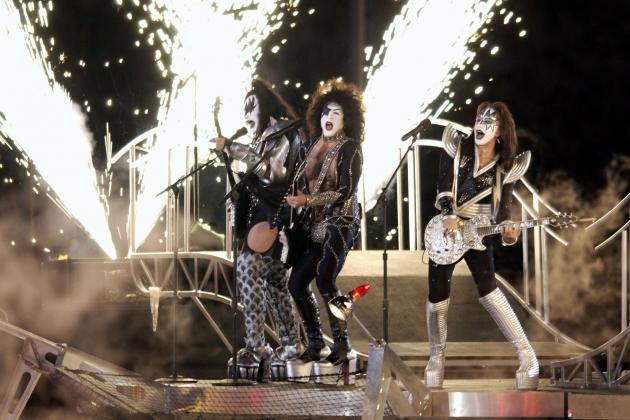 Elsa/Getty Images

In mid-1999, WCW was undertaking a project of trying to mix music with wrestling.
This started with Konan's music video in late 1998 and then a jobber-ish battle royal that aired on MTV called Beach Brawl in March of 1999.
Soon, all kinds of musical acts were coming to WCW: Megadeth, the ICP, the No Limit Soldiers, the Misfits and KISS (who brought with them The Demon).
All of these acts were obvious ploys for attention and caused many viewers who didn't like these bands to change the channel to Raw.
In fact, when KISS performed on Nitro on August 23, 1999, the show dropped below a 3.0 rating for the first time in over a year.

Ratings for 08/23/1999
Raw = 5.9
Nitro = 2.9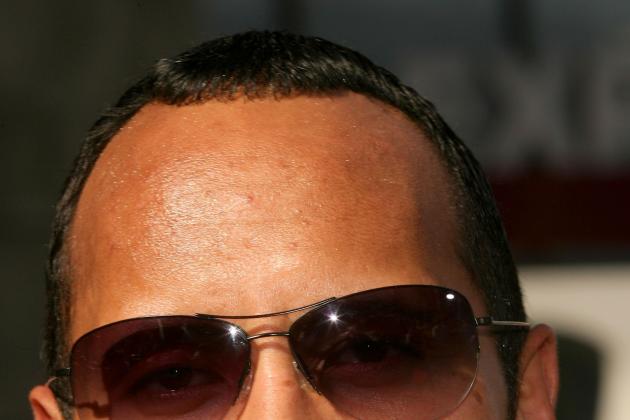 Frederick M. Brown/Getty Images

WCW and WWE had numerous shows in 1999. Yet the only night that they went head-to-head was Monday, when Raw faced off against Nitro.
All of that changed, however, on August 26, 1999, when WWE launched its new Thursday night show, Smackdown.
This was a major problem for WCW, who had been showing their No. 2 show, Thunder, during the same time-slot on TBS.
Truth be told, WWE really hurt WCW by launching this new show. So badly, in fact, that WCW was forced to retreat and put Thunder on Wednesday nights instead.
Ratings for 08/26/1999
SmackDown! = 5.7

Thunder = 2.0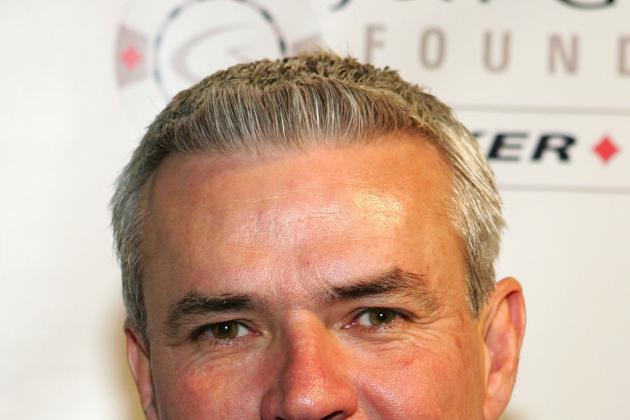 Ethan Miller/Getty Images

Though many people in the wrestling industry dislike Eric Bischoff, there's no denying the fact that he was behind WCW's success.
Bischoff was a leader for WCW. He brought Monday Nitro to the air, developed pay-per-view-concepts and brought together the nWo.
Despite all this, by 1999 Bischoff, was no longer the on-screen president of WCW. According to the storyline, that position now belonged to Ric Flair.
Bischoff ended up becoming Flair's lackey, getting his head shaved (then sporting gray hair), disappearing for a while, then filling the role of some kind of executive/announcer.
Truth be told, Bischoff was unable to deal with all the pressures of keeping WCW running.
Part of the problem was the fact that, unlike McMahon, Bischoff did not own WCW. He had to run the company, yet he also had to answer to the higher-ups at Time Warner. Not only did he have to try and keep viewers happy, but he had to also keep the execs happy as well.
Doing this during the Attitude Era proved impossible.
Bischoff was not able to put on the kind of show necessary to compete with WWE while having one hand tied behind his back by his bosses.
The end result was Bischoff leaving WCW, which ushered in the era of Vince Russo.
Ironically, the last Nitro before Bischoff was relieved of duty was also the last Nitro that came close to overtaking Raw in the ratings, as well as the last Nitro that scored above a 4.0 rating.
Ratings for 09/06/1999
Raw = 4.4
Nitro = 4.1