United States Women's Soccer: Americans 2 Steps Away from More Olympic Glory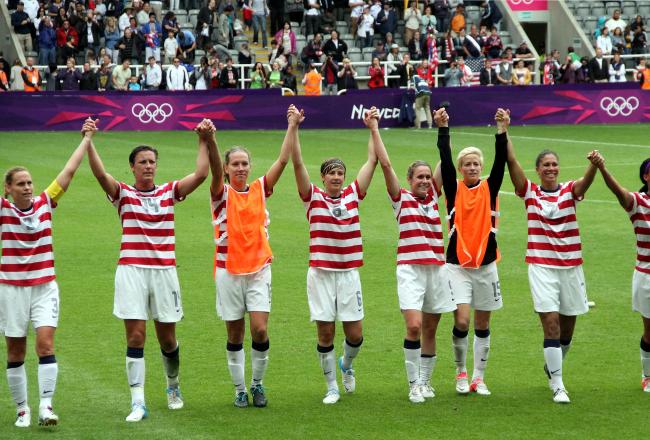 Stanley Chou/Getty Images
Four opponents are beaten. Two more await.
The stars are shining, and the up-and-comers are charging hard. The defense is standing strong, and another test against a local rival looms. A change in strategy could be coming, but whether or not this team changes a thing, their public is satisfied.
For the United States women's soccer team, all is well through four perfect matches at the Olympic tournament.
But for all the compelling storylines and personal triumphs, the sole objective remains the same.
"In terms of a championship itself, it's the exact same. At the end of the day, all you want is to do is hear your national anthem as the flags go up," USA striker Abby Wambach told the Sporting News before the tournament. "It means you're a world champion."
With two more victories, the Americans would be just that again. A gold medal this summer would be the third straight for the U.S. women and the fourth in five Olympic tournaments.
In the meantime, though, there are plenty of side stories to keep Team USA's growing fanbase satisfied.
Team USA's latest victory, a nervy 2-0 decision against New Zealand, came Friday at St. James' Park in Newcastle. That win made it 4-of-4 for both the U.S. and Wambach.
The veteran forward scored again, turning home Alex Morgan's shot/cross for her fourth goal in the tournament. Wambach has scored in every U.S. game at the Olympics and with four goals shares the tournament lead with Canada's Melissa Tancredi.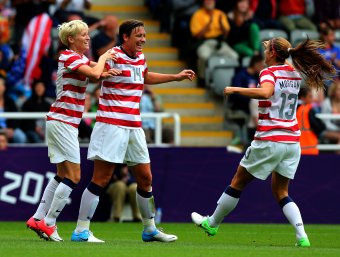 Stanley Chou/Getty Images
Coincidentally, Tancredi and Canada await in the semifinals, where a spot in the gold-medal match will be on the line. Kickoff is set for Monday at noon ET at London's Wembley Stadium.
The US players and coaches expect a test against their North American neighbors (via the New York Daily News). And while Wambach and Morgan have excelled up top, another segment of the squad could be the key.
"We've been focusing so much on our back-line defense, but really it's been the team defense," goalkeeper Hope Solo told Sports Illustrated. "You can see Abby [Wambach] and Alex [Morgan] pressuring the ball up top. We're asking them to work harder defensively, and our central midfielders, Carli [Lloyd] and [Lauren] Cheney, are picking up second balls and trying to double back."
The defense has held firm, especially after a scare against France in the opening match. Since giving up two first-half goals to France, the Americans have shut out their opponents for an Olympic-record 346 consecutive minutes.
Meanwhile, the midfield and attack keep impressing.
Carli Lloyd stepped into the starting lineup after an injury to Shannon Boxx and has thrived in a central midfield role. Lauren Cheney remains the team's most important creative playmaker, and wide midfielder Megan Rapinoe continues to underline her importance to the attack.
Those names are familiar to most American fans. Sydney Leroux, the scorer of Team USA's second goal against New Zealand, might not be such a household name. But Leroux's speed and enthusiasm have given Sundhage's team a different feel, a welcome changeup to Wambach's and Morgan's fastball.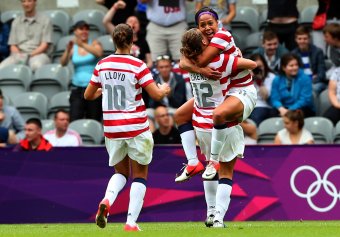 Stanley Chou/Getty Images
Adding spice to Monday's game will be the fact that Leroux was born in British Columbia but now represents the US in international competition.
"This game's super important to me," Leroux told the Arizona Republic. "I left because I wanted to play for who I thought was the best team in the world and I still think that and I want to prove that to everyone who thought that my decision was wrong."
It's no surprise, then, that Leroux's celebration after scoring against New Zealand was a memorable one. It was hardly the first such reaction, though, and some opponents have voiced displeasure with Team USA's post-goal antics (Los Angeles Times).
The celebrations probably won't change, but the team's style could be different against Canada. After long balls produced both goals against New Zealand, Sundhage said she wants her team to play a more patient, short-passing style.
"When we play long too often, too early, that's a stressful situation for me," she said, via USA Today. "It's not as much a stressful situation for the players as it is for me. It's all about the soccer I want to play."
Regardless of how they play, the Americans are a hit back home. According to Soccer America, the U.S. women's soccer team drew more television viewers during their match against Colombia than the men's basketball team did against France.
That's an impressive stat, but it won't change anything about this team or its goals. For Wambach, Morgan, Solo and the rest, this summer is still all about winning another gold medal and wiping away the heartbreak of last year's World Cup.
Two more wins and that will be a distant memory.
This article is
What is the duplicate article?
Why is this article offensive?
Where is this article plagiarized from?
Why is this article poorly edited?