Miami Football: Will Al Golden and Hurricanes Perform Better Than .500 in 2012?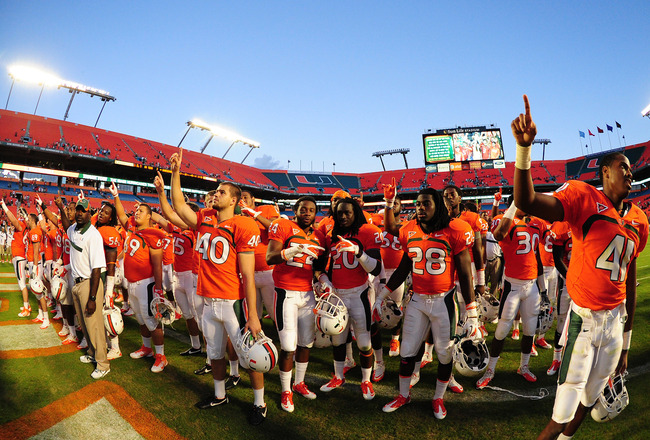 Scott Cunningham/Getty Images
Last season the Miami Hurricanes finished 6-6 and self-imposed a bowl ban due to the ongoing investigation regarding Miami booster Nevin Shapiro.
Although their win-loss record was the worst since 2005 when they finished 5-7, they had a chance to win every game they played. Miami's biggest margin of defeat was just eight points.
Here are the reasons why I believe they may or may not improve on last season's 6-6 record.
Follow me on twitter at @itsallabouttheu
No, Lost Too Many Important Players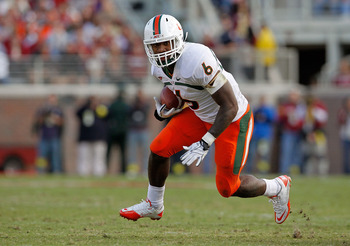 Mike Ehrmann/Getty Images
When the season starts, the Hurricanes will be without their leading receiver, passer, tackler and rusher, as they all either graduated or took their talents to the NFL.
The biggest loss will most likely be running back Lamar Miller. Miller skipped his last two years of eligibility for the NFL after rushing for 1,272 yards and nine touchdowns as a sophomore.
Miller wasn't the only stud on offense Miami will be missing, as leading receiver Tommy Streeter decided to forgo his senior season for the NFL. Streeter led the Hurricanes with 811 yards receiving and eight touchdowns.
Miller and Streeter weren't the only big losses on the offensive side of the ball, as Jacory Harris ended his career with the Hurricanes.
Although many people are glad to see Harris gone, it's bittersweet to me. Harris did have his faults, but he also had one of the best statistical careers in Miami history, finishing second in school history in passing yards and touchdowns.
On the defensive side of the ball, the Hurricanes will be without their defensive leader and leading tackler, Sean Spence. Spence finished at Miami with over 300 tackles in a terrific four-year career.
Yes, Offensive Line Will Be Better Than They Have Been in Years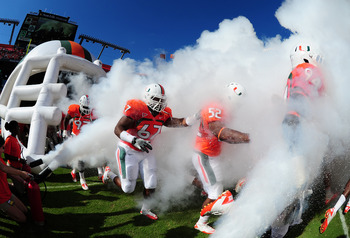 Scott Cunningham/Getty Images
The biggest concern over the last few years has been overrated play by the offensive line. There have been serious depth issues along with far too many injuries.
Last season was probably the worst it has been when injuries forced their best player, Seantrel Henderson, to miss multiple games, never able to get on track the entire season.
It also forced their best guard, Brandon Washington, to move to the left tackle position, a position he was never comfortable with. Washington struggled at the position all season long, causing a domino-effect of offensive linemen playing out of place all season.
This season will be much different, as the Hurricanes have great depth while every player will be playing where they are most comfortable.
Henderson is finally 100 percent, while the remaining starters—Brandon Linder, Jon Feliciano, Shane McDermott and Malcolm Bunche—have proved to be a great starting group of guys.
This may be the best starting five offensive linemen that Miami has had in a decade.
No, Schedule Is Brutal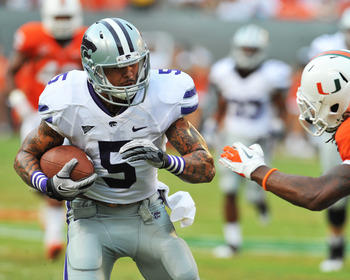 Al Messerschmidt/Getty Images
The Miami Hurricanes continue to play a tough out-of-conference schedule this season, as they play preseason-ranked Notre Dame and Kansas State on the road this year.
Although the Fighting Irish aren't what they were in the '80s, they return a solid group of players and could prove to be too much for the Hurricanes to compete with.
Kansas State, on the other hand, return a plethora of talent from a team that finished 10-3 last season. The Wildcats defeated the Hurricanes 28-24 at Miami last year.
Not only does Miami play a tough out-of-conference schedule, they also will play host to preseason-ranked Virginia Tech and Florida State as well. The Seminoles are considered to be a BCS Bowl contender this season, while the Hokies will compete for another ACC title.
Overall, the Hurricanes face nine teams (out of 12) that finished last season with better records than them.
Yes, Defense Will Be More Experienced and Much-Improved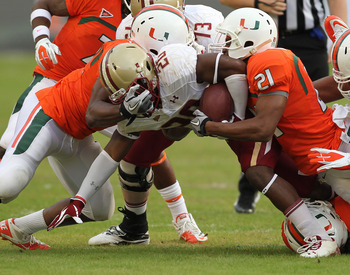 Robert Mayer-US PRESSWIRE
Although the Hurricanes finished ranked No. 18 in the country in scoring defense, they gave up too many yards at the wrong time last season.
The one that sticks out the most is when the defense gave up a game-winning touchdown run to Virginia Tech quarterback Logan Thomas on fourth down last season.
This season the defense should be much-improved, as a lot of the younger players got plenty of on-field experience last season.
Add true freshmen phenoms to the mix, and it makes for a very solid defense with a monster depth chart.
As long as the offense can stay on the field long enough to rest the defense, this unit could be the best the Hurricanes have had in a very long time.
No, Too Many Off-Field Distractions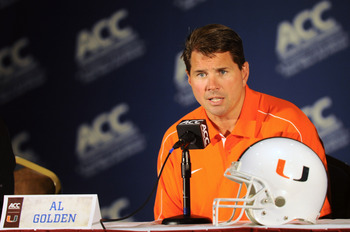 Sam Sharpe-US PRESSWIRE
By now, many people believed the Nevin Shapiro scandal would be in the rear-view mirror—unfortunately, that is not the case, as there is still no ruling from the NCAA.
What that means for Miami is another year filled with questions from the media and another long distraction from what should be most important: the actual season itself.
The Miami players and coaches need to find a way to stay clear of the distractions and concentrate more on what they are doing on the field than off.
If they aren't able to do that, like some weren't able to last season, it will be yet another long year for the Hurricanes and their fans.
Yes, the Team Won't Let Coach Golden Down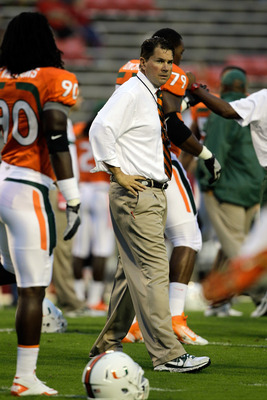 Rob Carr/Getty Images
I honestly don't care what anyone says about Al Golden, because I believe he is what Miami has needed for years. Golden is doing everything in his power to bring Miami back to what they were in the '80s: winners.
He has been doing a tremendous job, and it shows through recruiting and the way his players and future Hurricanes talk about him in interviews.
Coach Golden has the Hurricanes players' backs, and in return, the players will undoubtedly show their appreciation on the field.
There is no way this team will give up on Golden, and you will see it this year when they finish the season with at least an 8-4 record.
Follow me on Twitter @itsallabouttheu
Keep Reading

Miami Hurricanes Football: Like this team?