Michael Phelps: Examining Historic Legacy Through Each of His 22 Olympic Medals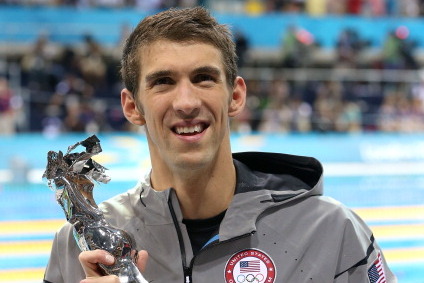 Jeff Gross/Getty Images

His is a legacy that will forever be remembered as one of the greatest athletes of all time. He has 22 medals, 18 of them gold, over the course of four Olympic Games spanning 16 years.
It all began when a 15-year-old unknown made the U.S. Olympic Team to swim in just one event, the 200-meter fly. He placed in fifth and greatness was certainly not expected.
Four years later, that 19-year-old was back in Athens, qualifying to swim in eight events. He walked away from those games with eight medals, six of which were gold.
He returned in Beijing as a world and U.S. star with goals and expectations on his mind. He shattered world records and won gold medal after gold medal until his total tallied eight. He had surpassed Mark Spitz for most medals won in a single Olympic Games.
With questions of possible retirement looming, Phelps came back for one last go-around in 2012. He won a total of six medals, four of them gold, and surpassed Larisa Latynina as the winningest Olympian of all time. He was also the winningest Olympian for the third Olympics in a row.
It is a career that will likely never be touched and here is your chance to relive each medal, each race.
Relive the early golds from a 19-year-old who took on the best in world in Ian Thorpe and beat him.
Relive the races from Beijing when Jason Lezak kept the hopes of eight alive and when a .01-second victory won him the medal to tie Mark Spitz's record. Watch him break the record with his eighth gold.
Relive the moments from London when he beat rival Ryan Lochte, when he broke the record becoming the winningest Olympian of all-time and of course, his final race, a gold medal victory in a relay the U.S. has never lost.
Sit back, relax and watch the video timeline of the great career of Michael Phelps.
Begin Slideshow

»
This was the first event for Phelps in the 2004 Olympic Games and as it turned out the first medal and first gold medal of his Olympic career. He also set the world record in this event.
It ended up being the first of many medals, but for Phelps, at just 19 years old, it was unbelievable what he would go on to accomplish.
It was the second event and the second medal for Phelps as he helped the U.S. to a third-place finish in this event.
It was the first bronze in Phelps' amazing career and as it turned out, the second of his 22 medals would be of the third-place variety.
In what was then dubbed "The Race of the Century" because of the star-powered lineup, Phelps finished with the bronze.
Behind the two best freestyle swimmers in the world in Ian Thorpe and Pieter van den Hoogenband, Phelps was an unknown and this wasn't his best stroke.
Still, he finished with the bronze, making him three-for-three in medals at Athens. It was the last bronze Phelps would ever earn.
In his fourth event, after receiving back-to-back bronze medals, the Athens gold rush for Phelps began.
In what has become his best and most dominant race, Phelps cruised to first place, setting a new Olympic record in the process.
Another race, another gold for Phelps. Leading off the relay, he helped the U.S. storm to victory beating Ian Thorpe and the heavily favored Aussies.
His split was not as fast as his swim in the 200 free, but it was good enough to get the U.S. the gold.
With a 19-year-old Ryan Lochte closing strong, it was the Americans, Phelps with the gold and Lochte with the silver, that finished first and second in the 200-meter IM.
In the process, Phelps secured his sixth medal in his sixth Athens race. He also set a new Olympic record in the event.
In the 100 fly, an event that later became one of Phelps' specialties, he beat American teammate Ian Crocker by just .04 of a second to win his incredible seventh medal of 2004.
He earned himself a spot in the final of the medley relay by finishing first in this race.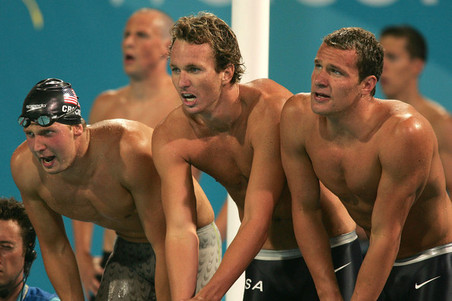 Although Phelps rightfully earned the spot to swim this relay, he deferred to teammate Ian Crocker, to give Crocker a chance at an elusive gold medal.
Despite not swimming in the final, Phelps was part of the team that swam the prelims, earning him a medal, his eighth of the Athens Olympics, in the event.
It was the first event of what would end up being the best single Olympic performance of all-time.
Phelps, who had set the world record in the prelims of this event, went on to break his own world record by nearly two seconds.
As everyone knows by now, it was the first of eight gold medals at his Beijing Olympic Games.
This is the race that will go down in history as one of the best of all time. Phelps in going for a second gold medal actually set the American record for his part in the heat. France was the clear favorite, but Phelps' lead-off performance was just enough to keep the U.S. on top.
They finished with a world record as Jason Lezak, recording the fastest relay split in history, came from almost a body length behind to just out-touch Alain Bernard, and well, the rest is history.
Another race, another world record for Phelps. He shattered Ian Thorpe's previous record and brought his Beijing gold medal total to three in three races.
This race brought him his ninth gold medal, making him just the fourth Olympian of all-time to win nine or more golds.
Little did everyone know at the time, that nine was only halfway to the remarkable total he would go on to record.
Phelps came into this event as the defending champion and world record holder, and he did not lose either of those titles.
He won the gold pretty easily, unless you count his goggles filling with water for the last 100 meters, and set a new world record in the process.
With the win, he became the first swimmer ever to win golds in three fly events over the course of a career.
Less than an hour after swimming to gold in the 200 fly, Phelps served as the leadoff leg in the 4x200-meter free relay.
With teammates in Lochte, Ricky Berens and Peter Vanderkaay, the Americans smashed the world record by nearly five seconds and became the first team to go under seven minutes.
This made it five medals and five world records for Phelps.
After having a day off from swimming in finals, Phelps came back to lock up his sixth Beijing gold and sixth world record as well, breaking the one he had previously set.
This became the third event in which Phelps repeated as the gold medalist.
In perhaps the most memorable race of Phelps' perfect gold medal chase, he proved that he really was Superman. After a mediocre start, he came roaring back with just 10 meters remaining.
Hearts shoved deep into viewers' chests, Phelps managed to touch the wall before Milorad Cavic by the smallest of margins, just .01 of a second.
This was the first event in Beijing in which he did not set a world record, although he did break the former Olympic record.
This event will go down in history as it kept Phelps' chance for eight golds alive going into an event that the U.S. had never lost.
Substitute Ian Crocker with Michael Phelps and this was the same team to swim this relay in 2004. Just like in '04, the U.S. won gold and just like in '04 they set a new world record.
This time, however, it was Phelps and his fly leg that gave Jason Lezak a lead he would not relinquish. It was gold medal No. 8 and world record No. 7.
Phelps became the best of all time in a single Olympics and with 16 medals was well on his way to become the winningest Olympian of all time.
After Ryan Lochte finally got the best of him in the 400-meter IM, keeping Phelps from a medal for the first time since he was 15, and placed fifth in his only event of the Sydney Games, both men came back to swim in the 4x100-meter free relay.
Phelps absolutely exploded in the lead-off role, but Lochte failed to maintain the lead given to him and ultimate touched the wall in second, just behind France's Yannick Agnel.
Most shockingly, this was the first silver medal of Phelps' career.
After failing to win the 400-meter IM, Phelps had another chance to become the first male swimmer to three-peat in an individual event.
In his best event, one he hadn't lost since 2003, Phelps was shocked as one of his biggest fans, South African Chad le Clos, narrowly beat him out to win the gold.
For Phelps it was another silver, but more than that it was his 18th medal, tying him with Soviet gymnast Larisa Latynina as the most decorated Olympian of all time.
Swimming the anchor leg for the first time in his entire Olympic career, Phelps came into the pool with a sizable lead after Ryan Lochte, Conor Dwyer and Ricky Berens did their job. It was the perfect way for him to break the record, with yet another gold.
"I've put my mind to doing something that nobody had ever done before," Phelps said. "This has been an amazing ride."

"I thanked those guys for helping me get to this moment," Phelps said. "I told those guys I wanted a big lead. I was like, 'You better give me a big lead going into the last lap,' and they gave it to me. I just wanted to hold on. I thanked them for being able to allow me to have this moment." - via the Huffington Post


Phelps came into this race knowing that he could beat Lochte. His biggest rival was just coming off of a swim less than 20 minutes prior and Phelps knew that he could use this to push the beginning of the race and get a lead over Lochte that the swimmer couldn't overcome.
With this medal, Phelps became the first male swimmer to three-peat in an event and also managed to set a new records as he became the winningest IM Olympic swimmer of all time.
In the final individual race of his great and storied career, Phelps ended it fittingly. He won the gold and became the first and only swimmer to ever three-peat in two separate events.
It marked his 21st medal and incredibly his 17th gold.
Twenty-one medals, 17 golds, numerous world records, the status as the winningest Olympian ever. Phelps brought all of this into his final race, the 4x100-meter medley relay.
It was a race that the U.S. had never lost and after the 2012 performance, it is still a race they have never lost. Phelps won his 22nd medal, completing one of the greatest careers of all time.
Respect it for what it is, admire it for all it's worth and remember it forever, because what Phelps did in his Olympic career will never be duplicated.
His career, beginning at just 15 in 2000 and culminating in four Olympics over 16 years, 22 medals in 24 races and 12 years later will go down in history.
He is the best of all time, and his legacy will forever be remembered as such.