UFC on Fox 4: Shogun Rua vs. Brandon Vera Round-by-Round Highlights and Recap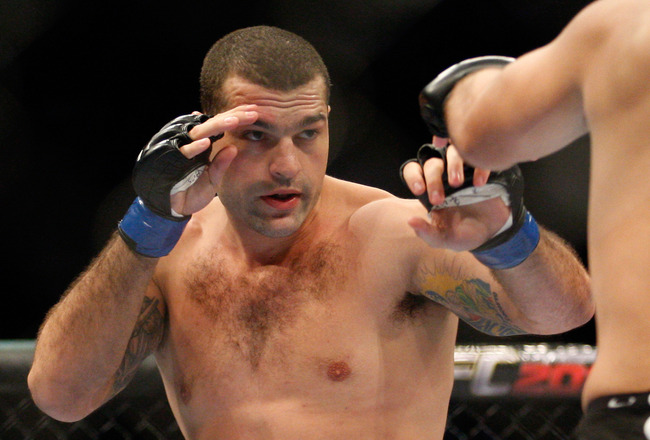 Mauricio 'Shogun' Rua
Richard Wolowicz/Getty Images
Mauricio "Shogun" Rua defeated Brandon Vera by impressive fourth-round stoppage Saturday in Los Angeles. Vera showed much heart and a lot of determination to redeem himself after a career of sparse highs and many lows.
UFC president Dana White told the press that either the Machida-Bader winner or the Rua-Vera winner would earn a title shot against Jon Jones or Dan Henderson with an impressive enough victory.
Though Rua finished the fight within the distance, Vera's spirited effort kept this from being the display of domination many had expected.
Here are the highlights and a round-by-round recap of Rua-Vera.
Round 1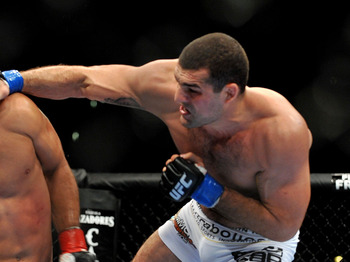 Mauricio Rua
Jon Kopaloff/Getty Images
The bout started with a fierce takedown by Shogun Rua. A Vera that was flat on his back defended well, not allowing Rua to get off any elbows and punches.
After almost two minutes on the ground, Vera made it to his feet and missed a few kicks before he locked Rua into a guillotine hold and brought him down to the ground.
It looked like Vera could submit Rua and end the fight early, but Rua wiggled his way out.
Rua eventually got onto Vera's back and began a ground and pound. The bell sounded and Vera made it out of the round.
10-9, Rua
Round 2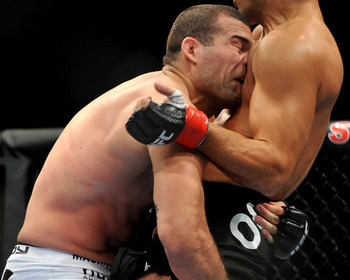 Shogun Rua
Jon Kopaloff/Getty Images
Rua started aggressively and had Vera against the cage. Vera was eating a lot of hard shots from Rua, but he fired back with his own right.
Rua landed a hard straight left and then Rua weaved another left.
After they traded kicks and weaved each other's shots, Rua won a big exchange that left Vera susceptible to a hold.
Rua dropped to the ground and got behind Vera. Vera got to his feet with blood in his eyes but a lot of fight still left in his spirit.
Rua and Vera traded hard shots and then hugged against the cage.
Out of nowhere, Vera took Rua down. A gassed Rua looked helpless, but an equally tired Vera could not take advantage.
Though Vera fought very well and with a lot of heart, including some hard shots to end the round, Rua still took this one from the damage he did to Vera's eye over the first four minutes.
10-9, Rua
Score thus far: 20-18, Rua
Round 3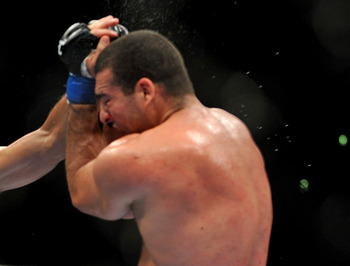 Rua covering up.
Jon Kopaloff/Getty Images
Vera began trading knees with Rua while up against the cage. Vera got out of the hug and the two warriors locked eyes in the fiercest of stare-offs before beginning to trade again.
Eventually Rua got Vera to the ground, but Vera got up and landed a wonderful combination to show Rua that despite the odds, this would not be an easy win for him.
Vera hurt Rua with a knee against the cage. Rua retaliated with a big takedown. The two exhausted fighters were locked on the ground trying to figure out what to do next.
Rua tried to initiate his ground-and-pound game, but Vera moved accordingly while on his back to avoid Rua's shots.
The round ended with both warriors still locked in a violent embrace on the ground.
Vera won this round due to landing the harder shots and some very legit combinations to show he was more than game in this fight.
10-9, Vera
Scores so far: 29-28, Rua
Round 4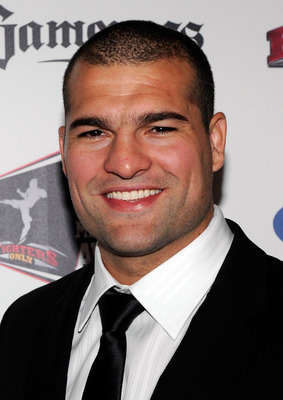 Shogun Rua looking like a winner.
Ethan Miller/Getty Images
Vera began the round well with knees to Rua's body. Rua caught Vera against the cage with his own knees and looked to get a takedown, but Vera was determined to stay on his feet.
After a long stand-off against the cage, the two fighters separated and Vera went for a nice set of elbows and kicks before a hard Rua uppercut sent him back to the cage wall.
Vera and Rua separated after a while and began to trade. Rua landed a big right and Vera stumbled back holding his mouth.
Rua continued the assault as Vera crumbled against the cage onto the ground. Rua began wailing on Vera with big shots after sensing his prey was finished. The referee stopped the fight.
Mauricio "Shogun" Rua wins by way of fourth-round knockout.
For more MMA and other sports news and analysis, follow me on Twitter @justindavidtate.
Keep Reading