Best Basketball Star from Every Country in 2012 London Olympics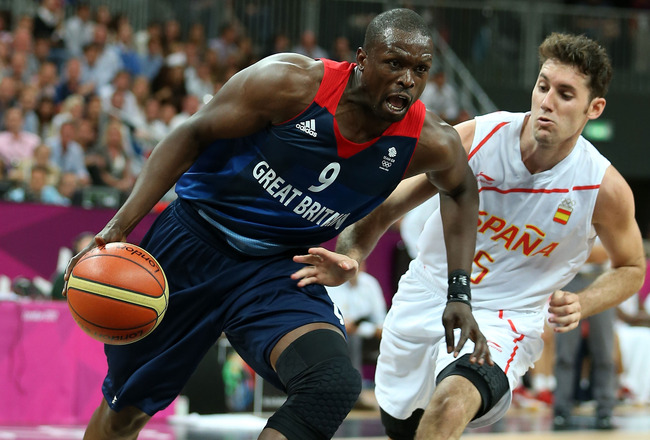 Christian Petersen/Getty Images
There's an abundance of basketball talent on display at the 2012 London Olympics, but who are the best stars from each country competing in these Games?
These players are hardwood icons in their countries, and for some squads, the choice of best hoops star is clear, as certain players are unrivaled legends. Others have a handful of elite ballers to choose from.
Each of the following national stars were in action Day 10 as Olympic group play wrapped up.
Argentina: Manu Ginobili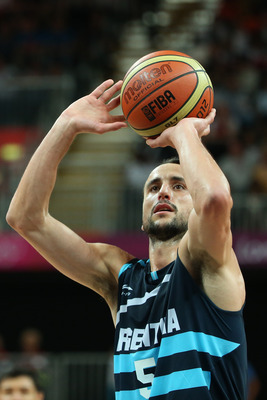 Christian Petersen/Getty Images
Luis Scola might be Argentina's leading scorer in the London Games, but Manu Ginobili is their do-it-all playmaker who's playing like he's 25 rather than 35.
The 2004 gold medalist is scoring, rebounding and dishing the rock at will, and he's perfect from the free-throw line (26/26) so far this summer.
San Antonio's favorite lefty has delighted NBA fans for years, but every once in a while, he gets a chance to play with his countrymen and bring some of that flair to the international scene.
Whether it's a wild foray to the hoop or a cagey play on the perimeter, Ginobili has a knack for putting himself and his teammates in the right place. His play and leadership makes Argentina a solid favorite to medal.
Australia: Patty Mills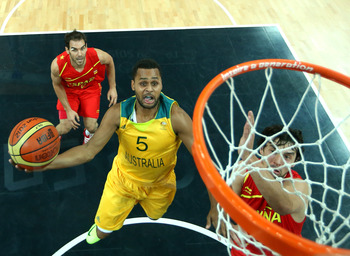 Christian Petersen/Getty Images
In the NBA, he's more of a facilitator, but on the Australia Boomers squad, Patty Mills is a scorer.
The two-time Olympian uses his speedy first step, extraordinary ball-handling skills and quick shot-release to light up the scoreboard.
On Saturday, Mills unleashed his full repertoire, shooting 5-7 from distance to score 39 points and help the Aussies thrash Great Britain. And Day 10, he helped shock the unbeaten Russians with an 82-80 buzzer-beating winner.
He didn't get a ton of playing time this past season with the San Antonio Spurs, but he was productive when he was on the floor. A brilliant Olympic tournament will certainly get the attention of Gregg Popovich and earn him a few more opportunities next year.
Brazil: Tiago Splitter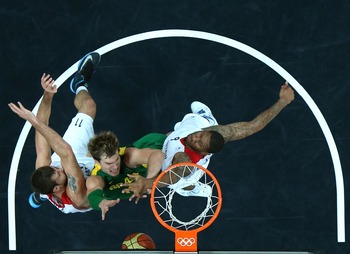 Ian Walton/Getty Images
It's tough to say who exactly is Brazil's best hoops star, as the team has a superb quartet of NBA players along with Marcelinho Huertas running the point. But Tiago Splitter, yet another San Antonio Spur, is emerging as one of the top post players in South America.
His methodical work in the paint has helped Brazil climb to a 4-1 record in Group B, and he uses exceptional footwork and timing to do his damage on the block.
Spurs fans are becoming accustomed to Splitter's efficient play. In 2011-12 he shot 62 percent from the field with a player efficiency rating (PER) of 20.5.
China: Yi Jianlian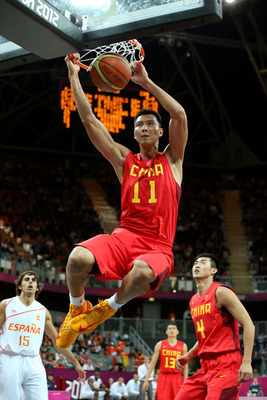 Christian Petersen/Getty Images
Undoubtedly China's most gifted basketball player, Yi Jianlian is a great inside-outside threat in Olympic play.
Not many seven-footers can make a step-back jumper or coordinate themselves on the perimeter like Yi can. The 24-year-old star is also hitting the glass at these Games, grabbing more than 10 boards per game.
His London numbers have progressively worsened, but that's mainly because teams have focused all their resources on stopping him, because they know it will essentially halt China's attack.
Yi has seen minimal success in his five-year NBA career since his lottery selection in '07, but that hasn't stopped him from being larger than life in his homeland.
France: Tony Parker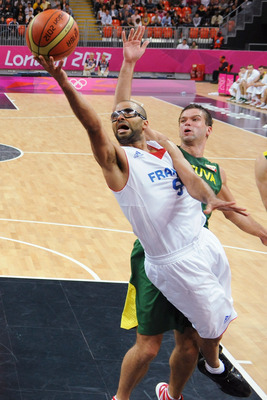 Pool/Getty Images
France is lucky to have one of the best point guards on the planet to run their offense. With Tony Parker's guidance, the squad has won four straight in London, including impressive wins over Argentina and Lithuania.
Much like Patty Mills, Parker's become more of a scorer in international play. Team USA effectively corralled him in the opening game, but since then, he's had his way with the opposition.
Even with goggles, Parker is able to weave his way down the court, using change of direction and pick and roll to perfection.
And yes, if you're counting, he's the fourth San Antonio Spurs player on this list.
Great Britain: Luol Deng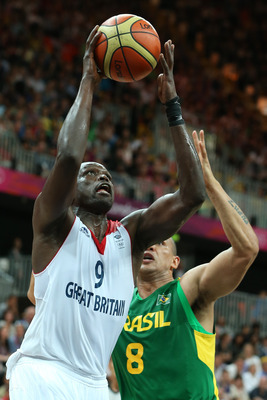 Christian Petersen/Getty Images
Luol Deng might be a secondary star in the NBA ranks, far behind the elite likes of Kobe Bryant, LeBron James and Bulls teammate Derrick Rose, but in Great Britain, he's second to none.
Deng is the country's highest-paid basketball figure and the undisputed leader of the national team. His British squad has come up with only one win thus far, but they did give provide major stress and anxiety among a couple basketball powerhouses. Deng and company lost to Brazil, 67-62, and then his 26-point, nine-rebound display against Spain gave Great Britain a chance to pull off the upset of the tournament.
Although he's second-fiddle in Chicago, this summer is proof-positive that Deng is one of the best small forwards in the world.
Lithuania: Linas Kleiza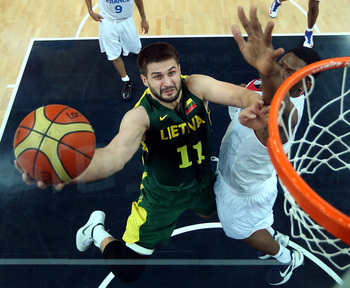 Christian Petersen/Getty Images
Sarunas Jasikevicius is Lithuania's star of yesterday and Jonas Valanciunas is Lithuania's star of tomorrow, but the best player in the country right now is Linas Kleiza.
In six years in the NBA, Kleiza has been a peripheral piece for the Denver Nuggets and the Toronto Raptors. As has been a common theme here on this list, in London, however, he brought his best stuff for Team Lithuania.
Kleiza was notching 19 points and six rebounds per game while shooting 61 percent before Monday's action versus Tunisia. His outside game hasn't been pretty in these Olympics, but he's been able to power his way to the top 10 in scoring.
His gritty 25-point performance against Team USA helped Lithuania give the Americans their toughest test yet.
Nigeria: Ike Diogu
Stephen Dunn/Getty Images
Nigeria's Ike Diogu has bounced around the globe to four different professional teams in the last two years, but that hasn't stopped him from having a stellar Olympics for his home country.
The 6'9", 250-pound forward is tops among all Olympians in rebounding and 10th in scoring, showing why the Golden State Warriors saw it fit to invest a No. 9 overall pick on him in the 2005 NBA draft.
Nigeria was subject to a record-breaking pummeling by the United States Thursday, and Diogu was the lone bright spot, dropping 27 points in 30 minutes.
His interior play is absolutely critical to Nigeria's overall competitiveness.
Russia: Andrei Kirilenko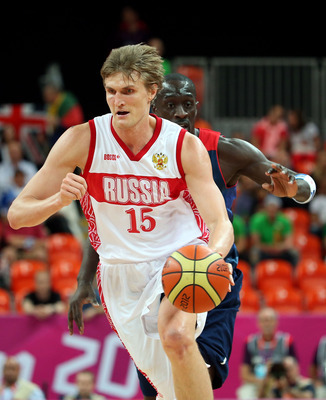 Christian Petersen/Getty Images
Valued primarily for his defense in the NBA, Russian star Andrei Kirilenko is showing his offensive versatility in these Olympics.
The new Minnesota Timberwolves forward hopes a strong Olympic performance will carry over into a successful re-entry into the NBA.
He's always busy doing something positive for his squad. Sometimes it's forcing turnovers. Other times it's mixing it up and rebounding with the trees, or knocking down an open jump shot.
Every bit of it has worked, as the Russians are 4-1 in London and poised to make a spoiler run at a medal.
Spain: Pau Gasol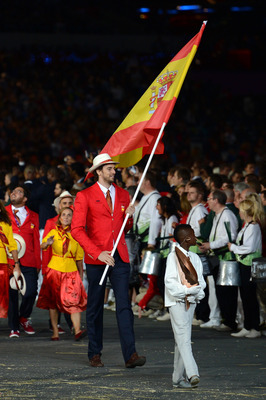 Lars Baron/Getty Images
Spain has a handful of NBA and non-NBA stars, and Pau Gasol trumps them all.
The two-time NBA champion may be past his prime with the Lakers, but he's still productive enough in the paint to maintain his dominance in the international game.
Gasol's interior efficiency is like clockwork, as he shoots at a high clip each game. He can also step out to the international three-point line, which is within his range—he's shooting 43 percent from distance in London.
As excited as he is to work with Steve Nash in addition to Kobe Bryant, he's not getting ahead of himself. For now, he's proud and ready to lead his Spanish brethren in the medal hunt.
Tunisia: Makram Ben Romdhane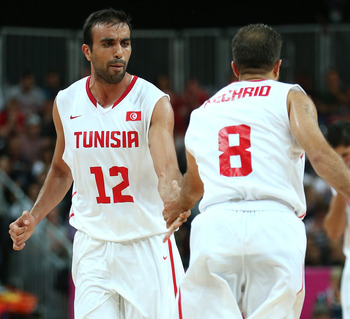 Ezra Shaw/Getty Images
The only player on this list without NBA experience, Tunisia's Makram Ben Romdhane is nevertheless a special talent.
His team has yet to break the 70-point threshold in London, but they did give France a scare on Saturday, 73-69.
The Tunisians are having difficulty scoring and taking care of the ball, but it's not Ben Romdhane's fault, he's been pulling more than his fair share of the weight in every category.
Against Team USA, he used his deceptive agility and 6'8" frame to score 22 points, grab 11 rebounds and deal four assists.
At 23, it looks like this playmaking forward is just getting started. If he continues to develop his skills, we could end up seeing him stateside in the big leagues sometime soon.
United States: LeBron James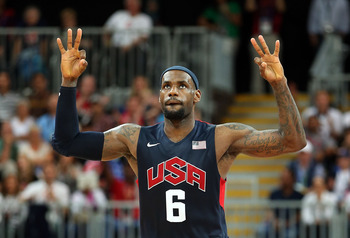 Christian Petersen/Getty Images
With sincerest apologies to Kobe Bryant, Kevin Durant and Carmelo Anthony, LeBron James is Team USA's top star.
One aspect that gets lost in all the LeBron discussions, debates and drama is the fact that he's lived up to the enormous expectations people had for him back when he was a boy. He fulfilled the Akron hype and became an NBA champion, a three-time NBA MVP, a three-time Olympian, and is seen everywhere due to his impressive endorsement portfolio.
He's so versatile that he can adjust himself to Team USA's most specific needs.
For example, against France he dished eight assists to just nine points; against Lithuania he became a shot-maker in the fourth quarter and ended up with 20 points to zero assists.
When you account for his defensive interchangeability, it's clear that his prowess is unparalleled.
Follow Daniel on Twitter: @Danielobleacher
Keep Reading