WWE: Appendix/Additions to the Biggest Busts of the 21st Century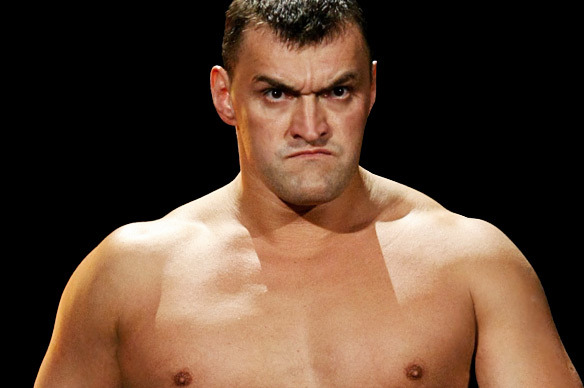 from chicagonow.com
Thank you to everyone for the phenomenal feedback to my article on WWE's biggest busts of the 21st century.
One of the most common things people mentioned was that I missed some superstars on this list. Some of them I had definitely considered, but, after hearing out the reasoning of my readership, I decided to add them in.
On the other hand, some of them were obvious choices that I completely missed on for one reason or another. Then again, with some of the pushes/introductory video packages that some of these people got, I feel like it's a sure indicator of a huge bust that they have completely slipped my memory.
So, today I'm going to add an appendix to my list of biggest busts (in no particular order).
Enjoy!
Begin Slideshow

»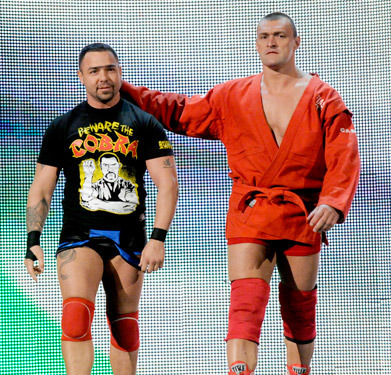 from wwe.sify.com
Holy moly, did I miss this one!
I don't know how I forgot about Vladimir Kozlov's epic reign of awful in WWE, but thanks to some astute readers I was reminded about what a huge bust Kozlov was.
He first showed up on WWE TV in 2006 as some weird, pseudo-babyfaced performer who proclaimed his love for "Double-Double-E" before getting booed by speaking Russian. The next time he showed up, he showed much more of a heel side (claiming, in response to two superstars who had just competed, that "I could beat both of them") before disappearing for a bit.
When he returned in 2008, he had an interesting gimmick. Not the "Soviet War Machine" bit (seriously, WWE: The Cold War ended in 1991), but as a guy with no Titantron video or entrance theme. He just scowled, walked to the ring under a spotlight, and crushed his opponent.
I'm not saying that he was that great: he was pretty much a generic hoss with oh-so-slightly above-average wrestling skills, and his promos were semi-unintelligible mush (not as bad as Khali, but still). However, he was convincing enough early on that he started demanding more competition in the ring, and got it by attacking Jeff Hardy.
Now, give WWE some credit here: Kozlov may not have been a master technician or superior promo guy, but he was a new performer and they were trying to push him. The problem was, though, that when he started to compete against better people in the ring, it exposed his considerable weaknesses—his infamous match against Triple H (and later Edge) at Survivor Series 2008 won the Observer's Worst Match of the Year Award.
Kozlov's push would continue into the next year, when he competed against Shawn Michaels for the right to face The Undertaker (even getting a clean pinfall over 'Taker in the process) before WWE finally threw their hands up and said: "You know what? We tried. We're sorry."
Michaels would go on to face Undertaker at Wrestlemania XXV in one of the greatest matches in WWE history; Kozlov wouldn't even make it on the card. Kozlov would move to ECW and form the Ruthless Roundtable with William Regal and Ezekiel Jackson, before moving to Smackdown and forming a comedy tag team with Santino Marella—ultimately winning the Tag Titles.
Now, I will admit that Santino and Kozlov were actually quite funny together, and Kozlov himself proved to be a quality straight man (and willing to poke fun at himself) to Santino's over-the-top nature. However, being in a comedy tag team was not why WWE brought him in at first. He was supposed to be a dominant monster heel, and wound up having tea parties with Santino and Sheamus.
He would be released in mid 2011.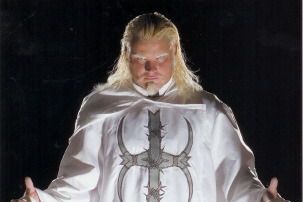 from pwa.wrestlingx.net
Another guy that I totally forgot about was Kevin Fertig's Mordecai character.
Now, Fertig did a nice job his second time around as Kevin Thorn (and might have even been slightly underrated), but his time as Mordecai was a total disaster.
In 2004, promos began running for a religious zealot named Mordecai; he dressed in all white and condemned the sinners of the world (and the WWE audience). It eventually became clear that he was supposed to be pushed into the main event as a monster heel, ultimately facing off against The Undertaker in a battle of darkness vs. the light.
There was only one problem though: Upon Mordecai's debut match at Judgment Day 2004, it became clear that Mordecai's in-ring skills were not even close to being ready for a main event push. One thing that stands out for me in his match against Scotty 2 Hotty is how...well, passive his power moves are. If he's supposed to be a monster, he should have a monster's move set, but Mordecai clearly didn't have that.
So, after a few months, Mordecai would ultimately be jobbed off the main roster by Rey Mysterio, and would be released soon after. He would return a couple of years later as Kevin Thorn—his moveset having (thankfully) improved—but even this character did not get over fully with the fans or with the company.
He would be released, for good this time, in 2009.
from thereverend.com
Here we have another performer (or in this case, team of performers) who got the promo video treatment and did nothing while on the roster.
After endless vignettes about them being the proverbial fish-out-of-water babyfaces, the Scottish duo of Rory and Robbie McAllister debuted in 2006 and were put on the fast track to the tag team titles against the Spirit Squad.
However, their tag title reign never came to fruition, mainly because the fans never really cared about them. And why would they? They were only average in the ring, and their promos were OK (though the "I'M ROBBIE!!" bit was funny).
The most lasting memory I have of them came during an episode of Raw, after it was revealed that Roddy Piper had been diagnosed with cancer, and the Highlanders tried to get tribute heat from him by wearing Hot Rod t-shirts and trying to get the fans to start chanting for Piper. The fans, of course, were silent.
Oops.
The Highlanders would ultimately turn heel (as a result of being "held back"), and after Robbie McAllister (Derek Graham-Crouch) was shown onscreen at a TNA taping, the duo would be buried and ultimately released in August of 2008.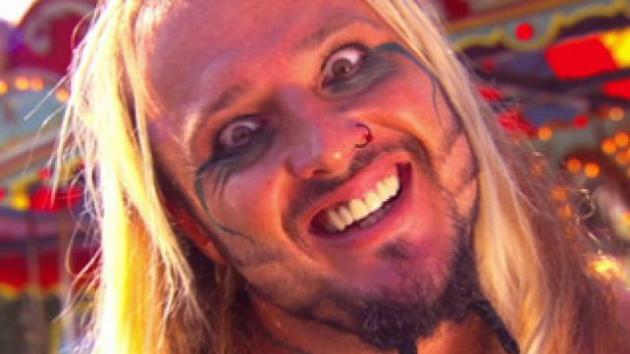 from wwe.com
Part of me feels like Kizarny was a huge bust in WWE. Part of me feels like there really was never going to be any kind of serious push for him from the get go.
Lest we forget, Kizarny was given about 1,000,000 promotional videos in late 2008, hyping his debut as a carny-speaking weirdo with crazy face paint and bizarre mannerisms. When he finally debuted at the beginning of 2009, defeating MVP (who was in the midst of his losing streak), the hype seemed to be all for nothing: The fans did not take to him at all, even booing him at times.
After defeating MVP, he pretty much dropped off the face of the earth before getting released in March of 2009 (yes, that's five months from his first promo to his release).
However, when you think about it, he was a combination of Doink the Clown, The Boogeyman, and Goldust thrown together with crazy facepaint and speaking in carny. Was this guy ever really destined for the main event?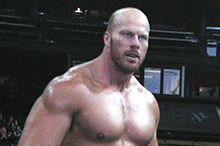 from wikipedia.org
Nathan Jones is most famous for two things: first, he was so jacked on steroids that he started...well...lactating; second, he was so bad in the ring that he got put into a match at Wrestlemania (with The Undertaker of all people!)—and when WWE officials realized how terrible he was, he got pulled from the match, only doing a run-in at the end.
When people take a look at a contest that includes Big Show and A-Train and decide that you are the worst wrestler involved, it's time to think about what you're doing wrong.
The saddest part was that Jones seemed to have it all together. He was a legitimately scary-looking dude (huge, muscular, and he even spent time in prison), and he had serviceable promo skills. Putting him with The Undertaker seemed like it was going to be a huge help to him, but he ultimately was attacked by the FBI and sent back to OVW.
When he came back—rightfully as a heel this time—he seemed to be more in his element, even getting the invitation to join Brock Lesnar's Survivor Series team. However, he still didn't get over as much as people might have been expecting.
In late 2003, due to being burned out from the constant travel, Jones quit WWE.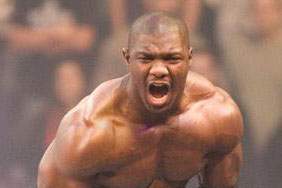 from onlineworldofwrestling.com
"Really?" I can see some people asking. "Really? Shelton Benjamin is a bust? He was a three-time winner of the Observer's Most Underrated award! WWE just never used him right!"
Perhaps. But it's not entirely WWE's fault that Shelton Benjamin didn't achieve to his considerable potential.
Yes, Shelton Benjamin did some good things in WWE: he made every Money in the Bank match that he was involved in much more interesting; he got a clean pinfall over Triple H and Ric Flair; he held the Intercontinental Title three times, the U.S. Title once, and the Tag Team Titles twice. You can't really say that Shelton had a bad career.
However, his biggest problem was that he couldn't cut a good promo to save his life.
I distinctly remember back in around 2004 or 2005, when Shelton's singles career was starting to take off, that Jim Ross posted a blog on WWE.com saying that, if Shelton were to really work on getting better at promos, WWE would push him to the moon.
But Shelton Benjamin never did get better at cutting promos, despite the fact that WWE was willing to push him hard (I mean, he got a clean win over Triple H at the height of his dominance, for goodness sake!). Since he didn't show the initiative to get better at talking, WWE never felt it necessary to push him to the main event.
People give WWE a lot of the blame for Shelton Benjamin being "held back," but in the end it was more about Shelton not doing what he needed to do to make it to the top than it was WWE holding him down.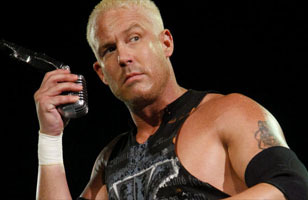 from wwewallpaper4u.blogspot.com
I never thought that this was actually going to be possible back when he first debuted in 2005, but the facts are what they are: Mr. Kennedy was a huge bust in WWE.
His initial foray into the main roster of WWE was phenomenal: his gimmick of announcing himself in a Buffer-esque manner was entertaining as hell, and he had the chops to pull it off. His ring skills, while not phenomenal, were definitely good enough.
His first few months were highlighted by wins over numerous former world champions like Booker T and Rey Mysterio (though with outside interference, of course). He also, on the November 11, 2005 episode of Smackdown, became the last man to ever wrestle Eddie Guerrero, losing by disqualification.
However, he got injured a month later and missed a considerable amount of time, putting a serious damper on any momentum he had. He would mostly get it back after he returned, but suddenly Kennedy's character started to change: he started doing more generic insulting of the fans ("you people") instead of announcing himself and proclaiming how awesome he was.
Why the sudden change? I imagine that, for the most part, it had to do with WWE wanting to keep him heel, and his entertaining shtick that he had developed was starting to get over big with the fans; therefore, he started becoming more generic on the mic.
However, since Vince and many of the other guys in the back were big fans of Kennedy's, his push continued: he was put into feuds with Batista and The Undertaker, including a title shot against Batista at Royal Rumble 2007, and also won the U.S. Title (ultimately his only title in WWE).
The pinnacle of Kennedy's early tenure was winning the Money in the Bank match at Wrestlemania XXIV; however, due to another injury, he had to drop the briefcase to Edge, who would cash it in on a (legitimately) injured Undertaker.
Infamously, Kennedy's triceps injury turned out to have been misdiagnosed and was not nearly as serious as the doctors thought. Had this been known earlier, Kennedy would have likely cashed in his briefcase on Undertaker and won his first world title.
But things didn't work out that way for Kennedy; truly, things stopped working out for Kennedy altogether around this time. It was around this time that Kennedy was suspended for a wellness violation—despite proclaiming that he'd never take steroids and judged people who did—missing out on getting the monster push from the McMahon's Illegitimate Son storyline and a likely world title reign.
Kennedy would get a little momentum back by feuding with Shawn Michaels and then (finally) turning face against William Regal in April 2008, but soon enough it was back to the injured list for Kennedy—who missed almost a year of action.
When he finally returned in May 2009, all the momentum and crowd support he had was gone. Fans sat on their hands when he made his return, and his outstanding promo skills had pretty much evaporated. When he botched a back suplex on Randy Orton on the May 25 edition of Raw, his time was up: He was released a few weeks later.
Mr. Kennedy is a guy that, like Carlito, had all the talent in the world (though Kennedy wasn't as good as Carlito in the ring). However, his constant injuries and inability to keep his mouth shut at the right time sabotaged him in the end. What should have been a WWE career that was highlighted by multiple world title reigns (and one in which he would still be in WWE today) became one of frustratingly unfulfilled promises.
Say what you will, but Mr. Kennedy was a major bust.
...bust