France vs. Tunisia Olympic Basketball: Grades, Twitter Reaction and Analysis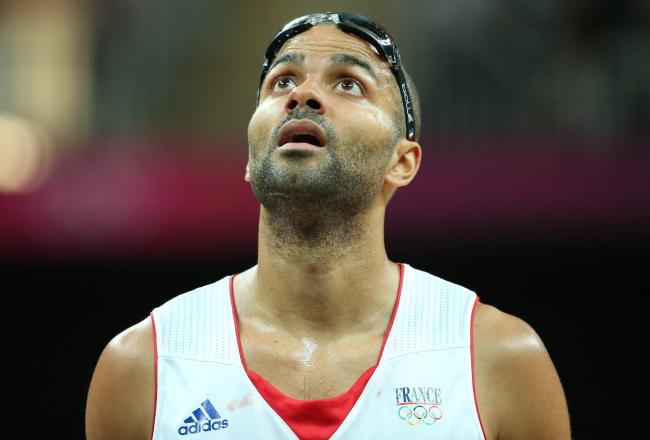 Christian Petersen/Getty Images
In what was a much closer game than most fans expected, France beat Tunisia 73-69 on Saturday, August 4, to move its record so far in the Olympics to 3-1 in group play.
Does France have a legitimate shot at a gold medal?
San Antonio Spurs star point guard and France's key, Tony Parker, stole the show with 22 points in just over 28 minutes. While the 22 points was nice, it was the efficiency (7-for-10 from the field, 2-for-3 from the three-point line) that gave the team the huge win.
Just as Parker did for France, Mohamed Hadidane did the same for Tunisia. With 20 points in just 14 minutes of play, the young star made the most of his time on the floor and proved he should be a bigger part of Tunisia's game plan.
Despite being on far earlier than most fans had hoped, those lucky enough to watch this excellent game were treated to a real contest. While France won the game, Tunisia found some fundamental flaws in the French team and proved they cannot be taken lightly.
Twitter Reaction
While most of us were sleeping, the arena for the France vs. Tunisia was already full of action, and basketball fan Alexander Baker brought us a candid view of the game from what amounts to the Olympics nosebleed section:
Basketballll! Tunisia Vs France (: Go France! twitter.com/JustPlainAlex/…

— Alexander Baker (@JustPlainAlex) August 4, 2012
Hardwood Sports' basketball insider Brendan E. talks about how spoiled fans were, getting to watch France and Tunisia in basketball and the women's triathlon:
Switching between France Vs. Tunisia basketball game and the Women's tri-athlon... #SpoiledForChoice #london2012

— Brendan E (@Brendan_E) August 4, 2012
British fan @lauuren10 expresses the emotion anyone who is addicted to the Olympics this time around has been feeling for weeks; the fun just won't stop:
Olympics is amazing... Whatched france vs tunisia in basketball next watching russia vs spain woop!

— Team GB (@lauuren10) August 4, 2012
MSN basketball insider Rob Jones talks about Tony Parker and how he controlled the game throughout:
At the basketball this morning with @jessmessedwards. Just seen France beat Tunisia by 4. Tony Parker top scored and totally ran the show

— Rob Jones (@msnsportrob) August 4, 2012
While most can agree that the game early in the morning was pretty good, not everyone was happy. Fans like @mykelpickens were not thrilled by the action—or lack thereof—from the teams on the floor:
France vs Tunisia was like watching JV girls basketball. Just awful. #london2012 #fb

— MJP (@mykelpickens) August 4, 2012
Team Grades
France: B-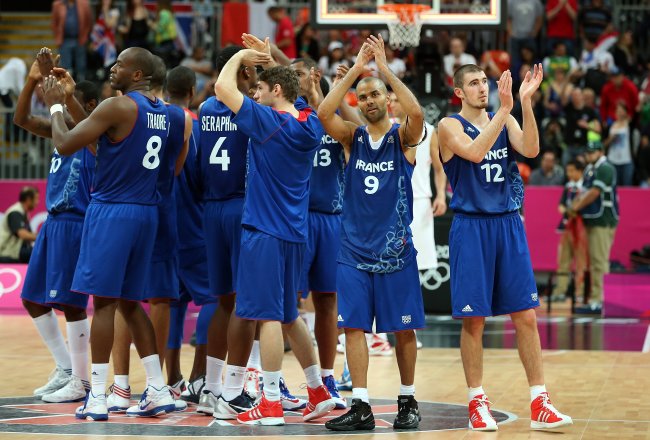 Christian Petersen/Getty Images
Despite winning the game, the fact that the margin of victory was only four points proves France didn't give its best effort Saturday. Maybe it was too early, but Les Bleus didn't look great.
While most people believed the French would win easily, this game was much closer than anyone expected. Tunisia is a solid team, but France has a much better team and still couldn't find any real consistency.
The win earned them the "B" grade, but a lack of consistent effort could be the ultimate undoing of this team. Team France should be very scared of the more talented teams if they are barely beating Tunisia.
Tunisia: B
If someone tells you they had Tunisia making a game out of their matchup with France, that person is full of lies. While no one really saw it coming, Tunisia looked much better than expected.
Between Makram Ben Romdhane and Mohamed Hadidane, Tunisia's top scorers tallied 37 points and really gave their team a chance to win.
If it had gotten more help from the rest of the players on the team, there is little doubt France would have lost a huge upset to Tunisia. This is definitely a great game for the young Tunisians to build on.
Game MVP: Tony Parker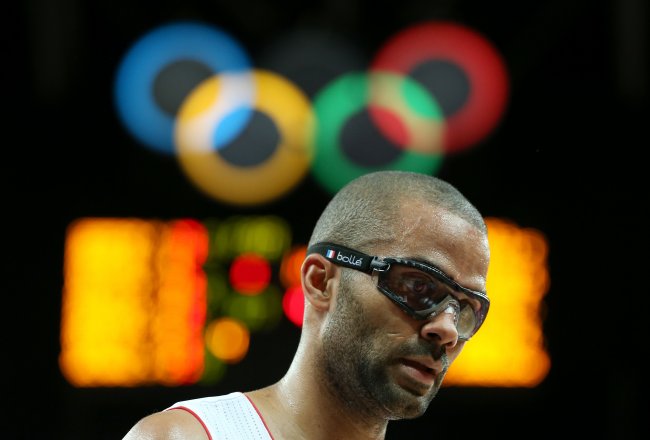 Christian Petersen/Getty Images
While Team France's Nicolas Batum had a solid game—making up for the fact that Boris Diaw didn't score any points in 30 minutes of play—it was Parker that saw the team's need for someone to step up and he did just that.
Parker ran the show from the point all day and almost single-handedly kept the French in the game. With 22 points, three assists and three steals, Parker tried to do everything to get his team in a position to win.
France needs to find more consistency from the rest of the team, but they will not have to worry about Parker's play. As long as he is on the court, he will give his team its best chance of winning.
What's Next?
France is one of the favorites to make it into the next rounds of the Olympics competition, but it must play better than it did against Tunisia if it wants to medal. While Team USA is undoubtedly the favorite to win it all, France has a solid team and is a legitimate threat.
Tunisia has gone winless in the group stage of the Olympics so far, but it has one last chance at redemption. With a game against Lithuania August 6, the Tunisians must use the momentum they built against France to carry them to a win.
With so much more basketball in the 2012 Olympics, the action is just starting to heat up.
Check back for more on the 2012 Summer Olympics as it comes, and don't miss Bleacher Report's Olympics page to get your fill of the best athletes the world has to offer.
This article is
What is the duplicate article?
Why is this article offensive?
Where is this article plagiarized from?
Why is this article poorly edited?