Texas A&M Football: 8 Aggies Who Will Have the Hardest Time in New SEC Play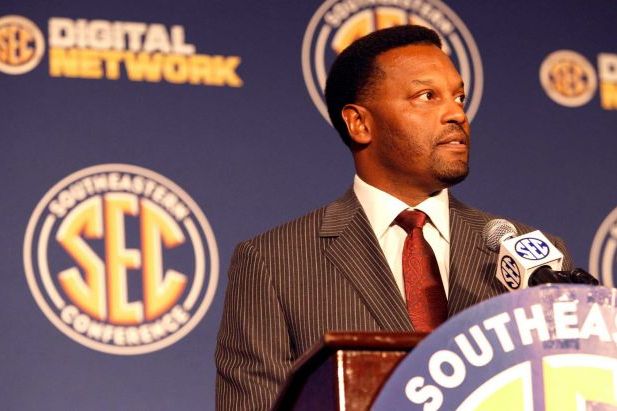 chron.com
As Texas A&M begins conference play with its new league, the SEC, in less than a month, all the cards are beginning to fall into place. The program is loaded with talent across the board at positions such as wide receiver, offensive tackle and linebacker.
However, what about the other "not so lucky" areas of play that are maybe a bit questionable? How well do they match up against the best conference in the nation?
Accordingly, we take a look at eight players at five positions who are set to have a rough time in A&M's inaugural SEC season.
Begin Slideshow

»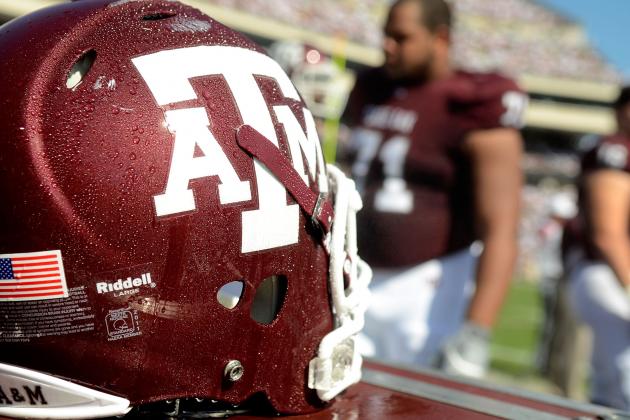 Sarah Glenn/Getty Images

As Texas A&M enters the SEC, many fans and analysts have chosen the Aggies offensive line to perform at an extremely high level, possibly earning it the position as the best in the nation. For the most part, that credit is due to stud junior offensive tackles Luke Joeckel and Jake Matthews as well as big-time senior center Patrick Lewis.
Last time I checked, however, five guys make up a college football offensive line, not three.
The two guard positions will be filled, most likely, by Jarvis Harrison and Cedric Ogbuehi with Shep Klinke backing them up. Compared to their counterparts at tackle and center, A&M's guards are somewhat lacking and will struggle due to defenses specifically targeting them for blitzes and slants.
Overall, the Aggies won't struggle at offensive line, but expect a ton of pressure to be placed on the guards in their inaugural year with their new conference.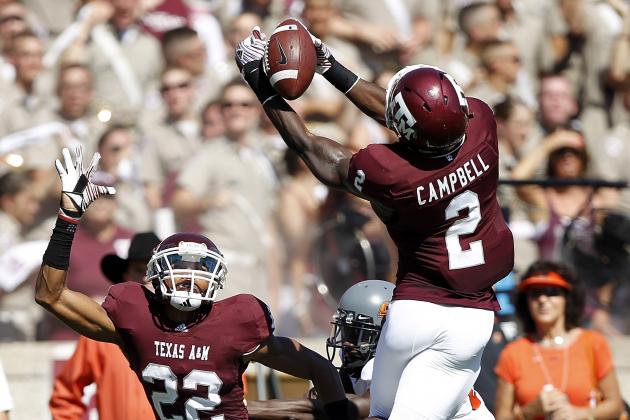 Bob Levey/Getty Images

Following the secondary's dismal performance last year, Aggies are expecting new defensive coordinator Mark Snyder to significantly revamp A&M's defensive backs into a new image. With starters most likely consisting of sophomores Floyd Raven and Deshazor Everett at cornerback and a mix of seniors Steven Terrell and Stephen Campbell and sophomore Howard Matthews at safety, the Aggies will have a lot of pressure on this young secondary.
In fact, the safety position will continue to be the most vulnerable. With Campbell being injury-prone, Matthews and Terrell will be forced to run a new defensive system in a league with some deadly quarterback-receiver combinations.
Raven and Everett, along with senior backup Dustin Harris, have shown serious ability to make plays on the ball so far through spring and fall practices. At safety, however, question marks still surface. Consistency has been the main focus as Terrell and Matthews have both been slightly out of sync on many plays.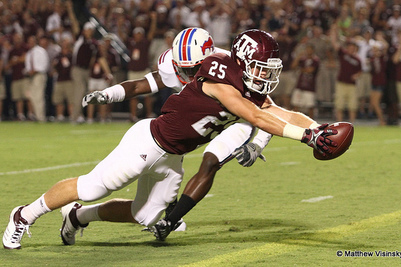 Courtesy of Matthew Vinisky
Possibly the key to A&M's offensive air raid next season, senior Ryan Swope will be loaded with pressure entering a year where he needs to make a strong impression on NFL scouts. The SEC is certainly not the Big 12, especially on defense. Therefore, expect Swope, who spends most of his time trying to outwit linebackers and safeties, to struggle in his adjustment to the league.
The SEC is not just about talented defenses, but also about smart defenses. It doesn't allow key players to find holes in the passing coverage, something Swope did multiple times against numerous defenses last season. As slot receiver, Swope opens himself up to multiple opportunities for linebackers to literally "lay him out," yet he mostly avoided those situations due to the Big 12's inability to produce heavy-hitting, smart linebackers.
The SEC doesn't have a "dumb" linebacker on any of its teams' rosters. The coaches in the Aggies' new conference know how to shut down a singular player and expect that to be the case for Swope. He will have to work overly hard to find holes for his young quarterback to get him the ball in space.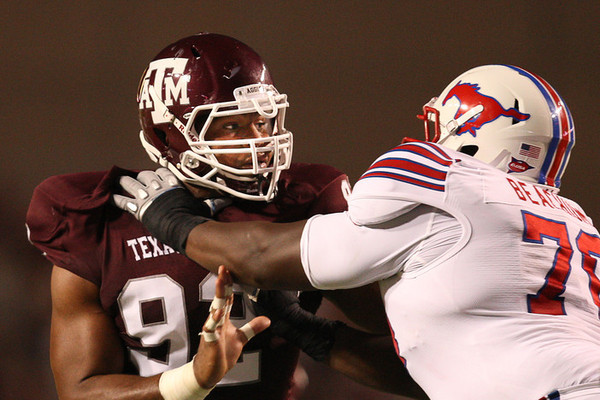 Courtesy of Thomas Campbell
Known as the weakest part of A&M's defense, the defensive tackle position will be anchored this upcoming season by Jonathan Mathis and Kirby Ennis, two 290-300 pound monsters who have the capability of stopping the run on a consistent basis.
However, the lack of depth at this position is what concerns most analysts and fans. Ivan Robinson and Shayvion Hatten both seem unprepared for the onslaught that SEC offensive lines will impose on them should they enter the game. Put simply, Mathis and Ennis will have a multitude of pressure residing directly on them to play most of every game while staying uninjured and remaining effective.
Knowing how strong these SEC offensive lines are, that is a daunting task.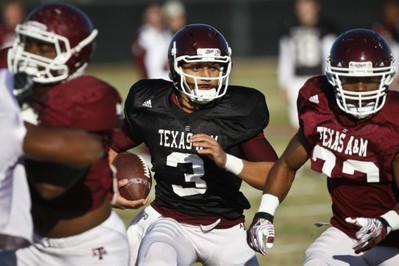 chron.com
While this may seem obvious enough, it must be mentioned. Sophomore (expected) starter Jameill Showers will be leading A&M into its new conference, known nationally as the top league in the country, while running a whole new offense with him as the centerpiece while an all-new head coach takes over at the helm.
Talk about multiple variables.
Showers will be facing the best defenses in the country week in and week out, leading a team with a subject defense and an offense that has potential, yet has not proven to be effective when needed. The odds will not be in his favor, especially when facing off against squads such as Alabama, LSU and Florida.