Olympic Gymnastics 2012 Medals: Predicting Medalists for Each Individual Event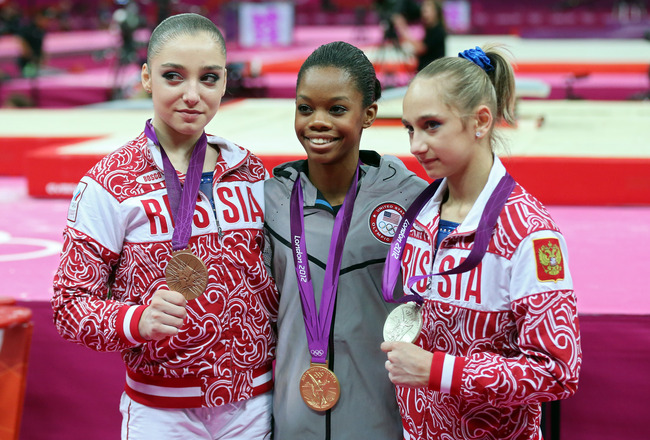 Streeter Lecka/Getty Images
The team and all-around portion of Olympic gymnastics is over.
Now, the best individuals in each event take center stage as there are four events set to be decided over the next few days.
There is one event where most feel one gymnast is head and shoulders above the rest, while the three others aren't as dominated by one person.
As many prognosticators have already done, it's time for me to go on record and make my full predictions for each individual event since we know who the finalists are.
Here are my predictions for each of the individual events.
Vault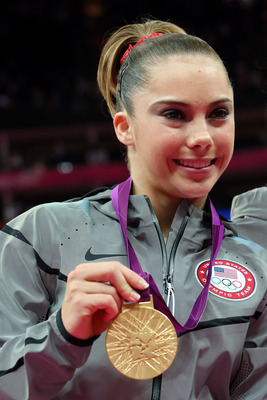 Ronald Martinez/Getty Images
Gold: McKayla Maroney, USA
Silver: Sandra Izbasa, Romania
Bronze: Oksana Chusovitina, Germany
There is honestly nobody better in the world than McKayla Maroney when it comes to the vault.
When the U.S. places her on its Olympic team mainly because of her vaulting abilities, that's saying something.
Maroney had a near perfect vault in the team final and will be going for that elusive perfect score in the vault final.
Chusovitina is 37 years old, having won silver on the vault in the 2008 Beijing Games. She also competed for the former Soviet Union and Uzbekistan, where she won a team gold in the 1992 Barcelona Games.
The one thing the vault finals doesn't have, however, is some of the better vaulters.
During qualifications, the U.S. had their other three gymnasts score above a 15.800 with Gabby Douglas having scored a 15.900 (the same as Maroney), while Russia also had Viktoria Komova score above a 15.600, which would've qualified her for the vault final.
However, most athletes didn't perform vaults from two different families, which is what would've been required to qualify for the apparatus final.
Still, it would've been Maroney's gold to lose.
Uneven Bars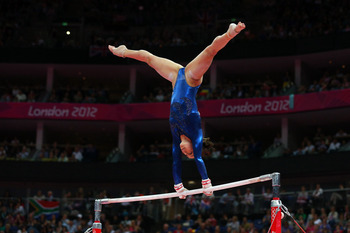 Cameron Spencer/Getty Images
Gold: Beth Tweddle, Great Britain
Silver: Viktoria Komova, Russia
Bronze: He Kexin, China
Tweddle, like Maroney in the vault, is the best in the world on the uneven bars.
She's hoping to bring home Great Britain's first women's gymnastics medal since the 1928 Games when they took bronze in the team all-around.
Outside of Tweddle, it will be highly contested for silver and bronze.
While I think Komova and Kexin will be the other medal winners, I could also see U.S. gymnast Gabby Douglas slipping in there due to the fact that she gets better with each performance on bars.
I foresee Russia's Aliya Mustafina putting together a strong routine, giving her the ability to medal as well.
Although the gold is pretty much decided in this event, the rest of the field is really close and will be a dogfight for the silver and bronze.
Balance Beam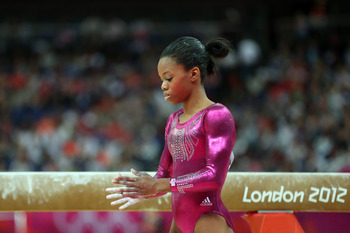 Streeter Lecka/Getty Images
Gold: Gabby Douglas, USA
Silver: Viktoria Komova, Russia
Bronze: Aly Raisman, USA
I know there are multiple people out there who will disagree with my predictions here, but hear me out.
Douglas is on top of the world and it's going to be very hard to bring her down to earth in terms of her performance.
The beam is going to be her final event of the London Games and she's going to want to go out with a bang.
Komova is one of the best in the world on the beam, and many expect her to win gold, but I'm predicting her to finish runner-up to Douglas again.
Raisman has a lot to compete for and is wanting to make up for finishing fourth in the all around.
Also look for China's Sui Lu and Romania's Catalina Ponor to be in the running for a medal.
This will be one of the more interesting finals, but won't be as interesting as...
Floor Exercise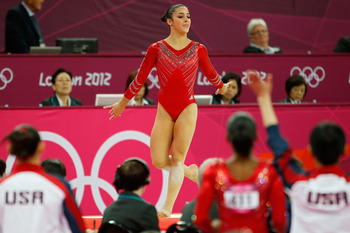 Jamie Squire/Getty Images
Gold: Aly Raisman, USA
Silver: Sandra Izbasa, Romania
Bronze: Jordyn Wieber, USA
Raisman is currently performing the best on the floor, and that's why I believe she is the favorite to win gold.
Her routines have a good degree of difficulty and she's not making many mistakes, which is key to winning a medal, especially in an individual final.
Izbasa has performed 15.200 routines in qualifications, team final and individual all around, which have been scores in the top two in each.
So, I'm going with her here as well to finish second.
Finally, Wieber has a lot to compete for.
She's disappointed to have not made the all-around final, but can gain her own individual medal and a little bit of redemption in this final.
Keep Reading