Why Dan Straily Will Be the Next A's Superstar in the Hudson-Mulder-Zito Mold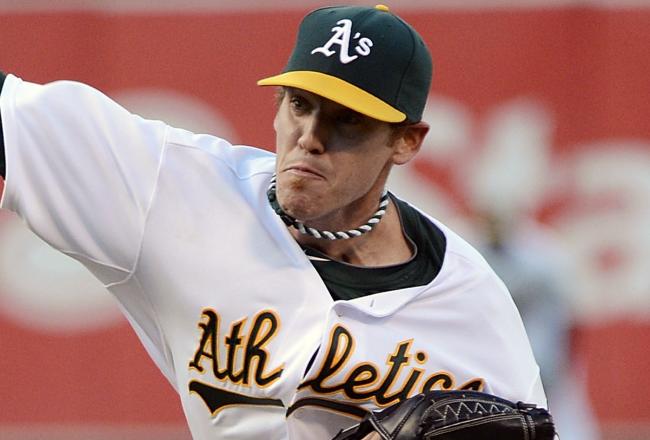 Thearon W. Henderson/Getty Images
On Friday night, Oakland Athletics right-hander Dan Straily will make his major league debut at home against the Toronto Blue Jays.
Widely unknown and left off nearly every prospect ranking headed into the 2012 season, Straily has emerged as the top "pop-up" prospect in the game. Leading all of baseball with 175 strikeouts this season, the 23-year-old right-hander has been absolutely dominant—and no, it's not a fluke.
Selected by the A's in the 24th round out of Marshall University, Straily has quietly put together a quality minor league career over the last two seasons, but nothing that suggested that he would become such a breakout prospect.
In his first full professional season in 2010, the right-hander registered a 4.32 ERA and 1.345 WHIP with 149 strikeouts in 148 innings at Low-A Kane County.
The following year, Straily improved both his ERA and WHIP to 3.87 and 1.245, respectively, with an impressive 154 strikeouts and 40 walks in 160.2 innings at High-A Stockton.
Beginning the 2012 season at Double-A Midland, Straily has been pitching out of his mind. In 14 starts spanning 85.1 innings, he posted a 3.38 ERA and 1.09 WHIP while registering an 11.39 K/9 and 2.43 BB/9. His overall dominance led to a promotion to Triple-A Sacramento in the hitter-friendly Pacific Coast League, where it's been more of the same: 1.36 ERA, 0.77 WHIP, 11.38 K/9 and 2.38 BB/9 in 53 innings.
Straily's overwhelming success isn't a product of luck. Rather, he possesses an arsenal of three above-average to plus offerings that are commanded with near precision.
His fastball works in the 92-94 mph range with late, arm-side life, and he commands it aggressively to both sides of the plate. He also does an excellent job elevating the pitch when ahead in the count, often using it generate swing-and-misses. Straily also features an above-average slider with tight spin and late break, as well as a plus changeup with sink and fade.
Given his success and ongoing dominance this season, Straily forced the A's hand by performing too well to remain in the minor leagues. He'll have to pitch well to stay up for the remainder of 2012, especially with the club expecting both Brandon McCarthy and Brett Anderson to return from the disabled list this month.
However, there's actually precedent in Oakland that suggests a pitcher like Straily will continue to be successful in the major leagues. Attribute it to the huge dimensions of the Oakland Coliseum if you must, but the fact of the matter is that it's simply excellent scouting.
Back in the early 2000s, the A's possessed baseball's best three-headed-monster pitching rotation in Tim Hudson, Barry Zito and Mark Mulder. Neither Hudson nor Zito were favorably ranked as a prospect, but they have gone on to enjoy successful major league careers—well, kind of with Zito.
Selected by the A's in the sixth round of the 1996 draft, Hudson was never regarded as a notable prospect while in the minor leagues. However, the right-hander breezed through the A's system, reaching the major leagues after only three years while posting numbers eerily similar to Straily's.
The ninth overall pick in the 1999 draft, Zito came with more fanfare than Hudson after a highly successful career at USC. Headed into the 2000 season, the southpaw was ranked as the No. 41 overall prospect by Baseball America, and with good reason.
Making 13 starts after he was drafted, Zito reached Triple-A in his first minor league season, posting a 3.16 ERA and 12.8 K/9 overall. He began the 2000 season at Triple-A Sacramento and made 18 starts (3.19 ERA, 8.1 K/9) before a late-season promotion to the major leagues.
So, the foundation is in place for Straily to further his success in the big leagues over the final two months of the season. And if the last three years are an accurate indicator of what's to come, the right-hander will be opening the 2013 season as a main cog in the talented Oakland A's starting rotation.
This article is
What is the duplicate article?
Why is this article offensive?
Where is this article plagiarized from?
Why is this article poorly edited?