Dodgers Claiming Cliff Lee and Forcing Phillies' Hand Would Be Pure Brilliance
Greg Fiume/Getty Images
The Los Angeles Dodgers wanted very badly to acquire an upgrade for their starting rotation at the trade deadline. To that end, they were linked to just about every starting pitcher available, from Zack Greinke to Josh Johnson to Matt Garza to Ryan Dempster.
The Dodgers danced around Dempster in particular for what felt like a long time. There were reports that Dempster wanted to play for the Dodgers, but in the end they just couldn't get the Cubs to agree to their price.
Dempster ended up going to the Texas Rangers instead, leaving the Dodgers with nothing.
The deadline was still very much a success for the Dodgers, though, despite their failure to land Dempster. They acquired four very good pieces in Hanley Ramirez, Randy Choate, Brandon League and Shane Victorino, thus bolstering their chances of qualifying for the postseason.
Nonetheless, it's hard to imagine the Dodgers going very deep in the postseason with the starting rotation they currently have. Clayton Kershaw can match up with anybody, but beyond him the Dodgers' starting rotation leaves a lot to be desired. To contend with the best of the best, they're going to need a second ace behind Kershaw.
How about Cliff Lee?
According to Jeff Passan of Yahoo! Sports, Lee has been made available to other clubs through waivers:
Source: Phillies have placed Cliff Lee on waivers. Executives expect him to clear Friday afternoon, be eligible for trade.

— Jeff Passan (@JeffPassan) August 2, 2012
Does this mean that Lee is a lock to be playing for another team in the near future? Not at all. The Phillies have put him out there, but they don't have to move him if they don't want to. They're probably doing what all clubs do when they put their players on waivers in August. It's a means to gauge interest.
But Dave Cameron of FanGraphs came up with an interesting idea. He proposed that the Dodgers should put in a claim on Lee and force the Phillies into making a decision.
An understanding of how waiver deals work this time of year is required here, so let's run through them real quick (MLBTradeRumors.com has a helpful set of bullet points).
If the Dodgers put in a claim on Lee, the Phillies will have three options.
One: They could just pull Lee back off waivers and keep him. The only drawback is that they won't be able to do this again if they decide to put Lee on waivers a second time.
Phillies GM Ruben Amaro may as well be daring teams to put a claim on Lee.
Greg Fiume/Getty Images
Two: They can work out a trade with the Dodgers. That's not likely to happen, as the Phillies will want equal value for Lee and the Dodgers don't have the prospects to do a deal like that.
Three: The Phillies could see a golden opportunity to dump some payroll and unload Lee and his entire contract on the Dodgers.
For any other team, that last option makes putting a claim on Lee a huge risk because it would mean the possibility of actually being burdened with Lee and the $100 million or so remaining on his contract after this season ($25 million per in 2013-2015 and a $27.5 million vesting option for 2016 with a $12.5 million buyout). The Phillies could take a claim as a chance to dump Lee's contract and then shout, "Suckers!"
But the Dodgers are not in the same boat as virtually every other team in Major League Baseball. In fact, they're the one team in MLB right now that can actually afford to take on Lee's contract.
As Cameron pointed out in his article—and virtually every writer and baseball fan under the sun has noticed in recent months—the Dodgers have a lot more money at their disposal under their new ownership than they did under their old ownership. They took on the $30-plus million remaining on Ramirez's contract without batting an eye, overpaid Andre Ethier in signing him to an extension, and they even gave a $40 million to unproven Cuban prospect Yasiel Puig.
After all this, what's another $100 million to the Dodgers?
Lee would become the most expensive player on their payroll in 2013, 2014, 2015 and potentially 2016 as well, but they'd still have some financial wiggle room to work between their payroll and the luxury tax threshold. As Cameron noted, the Dodgers would still have more than enough payroll space to go out and acquire a new first baseman (something they desperately need to do) even after taking on Lee's contract.
The only question is whether Lee would be worth it for the Dodgers. Would there be any hope of Lee living up to his contract the rest of this season and beyond?
The obvious answer would seem to be no, as Lee only has two wins this season and the general perception regarding him is that he's regressed mightily as a pitcher between last year and this year. And indeed, he's 33 going on 34. No spring chicken.
Let's clarify one thing right off the bat: The perception that Lee has regressed mightily as a pitcher is a misperception.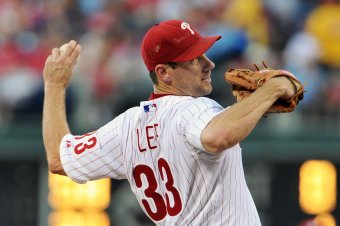 Lee's 2.7 WAR ranks 11th among National League starting pitchers.
Drew Hallowell/Getty Images
Lee may have a merely decent (by his standards) 3.73 ERA, but FanGraphs has his fielding independent pitching (FIP) at 3.32. That's above-average, and it puts him in the same company as standout pitchers like Jake Peavy and Jered Weaver.
Lee's 4.96 strikeout-to-walk ratio is not what it was last year, but it's still good enough for third among major league pitchers.
And besides, let's not hold Lee's lack of wins against him. It's not his fault that he hasn't been able to score more Ws. That's as much the team's fault as it is his fault.
As much as it may seem like Lee is struggling to live up to his $21.5 million salary this season, he's actually not. The folks at BaseballPlayerSalaries.com have crunched the numbers and determined that Lee is well worth the money the Phillies are paying him.
If the Phillies didn't have to dump payroll, there'd be no chance of them looking to unload Lee's contract on another team. However, they of course do have to dump payroll, as they need to clear a lot of payroll space after signing Cole Hamels to a $144 million extension. Getting rid of Lee's deal is the best way for them to gain financial wiggle room.
The Dodgers don't have to fear the money, nor do they have to fear the notion of Lee bombing as a pitcher in Los Angeles.
Dodger Stadium is one of the best pitchers' parks in the major leagues, and Dodgers pitchers have done very well there this season. Per Baseball-Reference.com, Dodgers hurlers have a 2.80 ERA at home, compared to a 3.96 ERA on the road.
Lee should be well aware of the pitcher-friendliness of Dodger Stadium. Somewhat surprisingly, he's only made three starts at Dodger Stadium in his career, but in those three starts he compiled an ERA of 0.77 and a 4.25 K/BB.
So let there be no mistake about it: Lee would be a rotation upgrade for the Dodgers. A big one too.
The payoff would be immediate. Even after adding four quality players at the deadline, it became clear enough in the Dodgers' recent sweep at the hands of the Arizona Diamondbacks that nothing can be taken for granted in the NL West. The addition of Lee would shift the balance of power in the Dodgers' favor, immediately making them the team to beat in the division (unless you think they already are, of course).
The goal one way or the other is to simply get into the postseason. If the Dodgers do end up qualifying, they'd be a scary team.
Should the Dodgers put a waiver claim on Cliff Lee?
They'd have Kershaw and Lee in their starting rotation, a duo that can match up with any other duo in the National League. That includes Zimmermann-Gonzalez, Cueto-Latos and Cain-Bumgarner/Vogelsong.
In their lineup, they'd have one of the best players in baseball in Matt Kemp and a reliable RBI man in Andre Ethier. Supporting them would be Hanley Ramirez, Shane Victorino and OBP wizard A.J. Ellis.
That's a really good team right there, and I haven't even mentioned the fact that the Dodgers have one of the top bullpens in the National League.
The Dodgers are already a scary team now, of course, but it's impossible to look at them and see a team destined to win the World Series. They went out and got a lot at the deadline, but they need more if they want to win it all.
If they put a claim on Lee, they'll have nothing to lose and everything to gain.
UPDATE: Friday, August 3 at 5:55 p.m. ET
Per a report from the Associated Press, the Dodgers claimed Phillies right-hander Joe Blanton off waivers and traded a player to be named later or cash for him.
This doesn't necessarily kill the notion of them ending up with Lee, but it does make it even more unlikely.
Additional Update: Friday, August 3 at 6:15 p.m. ET
And then there's this from Jon Morosi of FoxSports.com:
Source: #Dodgers awarded the claiming rights on Cliff Lee. It remains unlikely that they ultimately obtain him from #Phillies. @mlbonfox

— Jon Morosi (@jonmorosi) August 3, 2012
It all depends on whether the Phillies are willing to give up Lee's contract while getting nothing in return, because a trade ain't happening.
If you want to talk baseball, hit me up on Twitter.
This article is
What is the duplicate article?
Why is this article offensive?
Where is this article plagiarized from?
Why is this article poorly edited?