Detroit Tigers: 4 Reasons Behind Prince Fielder's Drop in Home Run Power in 2012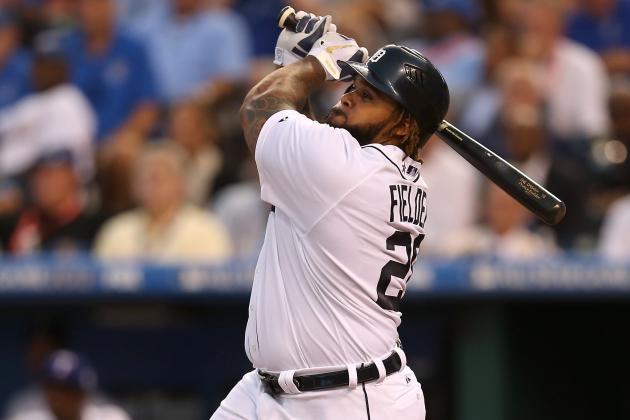 Jonathan Daniel/Getty Images

It's crazy to think that a player who's batting .311 and on pace to earn 119 RBI is having a disappointing year.
But because of the gigantic standards that Prince Fielder has set for himself, both personally and by example, Fielder is having a down year in his first season donning the Old English D.
The 28-year-old slugger, who made his major league debut with the Milwaukee Brewers in 2005, has hit at least 32 home runs every year since 2007, but in his first year with the Tigers, Fielder is on pace for just 27 homers.
From 2009 to 2011, Fielder averaged more than 38 bombs and over 114 RBI per year, but if he stays at this pace, he'd total the fewest homers he's hit since 2006, his second year in the league.
By anyone else's standards, his production wouldn't be a cause for concern, but during his time in MLB, the Ironman, who's played 1,066 out of a possible 1,079 games since 2006, has put himself in a class of his own.
These are the four reasons Fielder's home run numbers have dropped this season.
Begin Slideshow

»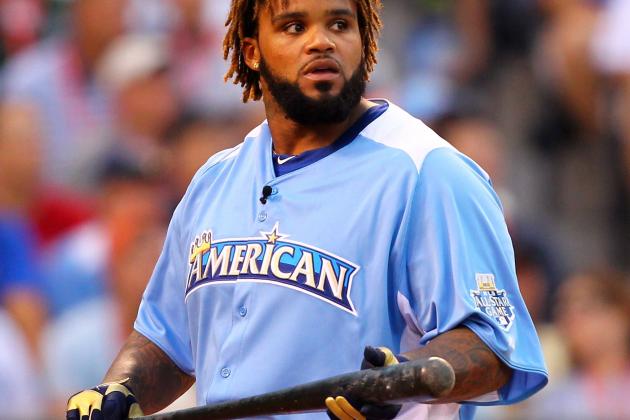 Dilip Vishwanat/Getty Images

Over the last several years, the pitching talent, top-to-bottom in the American League, has been head-and-shoulders better than the National League.
Fielder spent over six years on the senior circuit, and became very familiar with the pitchers in the NL and specifically in the NL Central.
When you change, leagues, especially moving from the NL to the AL, everything becomes exponentially more difficult.
Fielder hasn't faced many of the pitchers he's hitting against this season, and hasn't had time to adjust to the way AL pitchers attack hitters.
This season, and in several years past, NL hitters have simply had an easier time at the plate.
For example, this season, among the top eight pitchers in MLB concerning ERA, five of them are from AL teams.
Obviously, that means NL hitters tend to fare much better than those on the junior circuit as well. This year, eight of the top 10 hitters for average in the major leagues, are from the NL.
Gregory Shamus/Getty Images

Although he admitted he still has some work to do on his sliding, Fielder's game has become much more complete since he joined the Tigers.
He's been a devastating power hitter his whole career, but this season, Fielder's on pace to bat for his best average as a pro.
When you're doing more at the plate, and hitting for better average, your home run numbers are going to slide.
But that's not necessarily a bad thing.
In his seven years with the Brewers, Fielder never hit .300, but through 107 games this season, Fielder is hitting .311 with a .398 on-base percentage.
He's on pace to hit 45 doubles—nine more than he's ever hit in a single season during his career—and is on pace to earn the third-most RBI of his career.
Fielder has also been able to keep defenses honest this season.
In the last few years, opposing teams have used a defensive shift when the cleanup hitter comes to the plate, but this season, Fielder is earning more hits the opposite way, and spraying the ball all over the field.
Lastly, and most importantly, Fielder has been much better this season at getting the job done when it counts most.
The past three seasons with Milwaukee, with runners in scoring position, Fielder averaged .282, but this year with RISP, he's hitting .387.
I'll take those numbers over a few less home runs any day.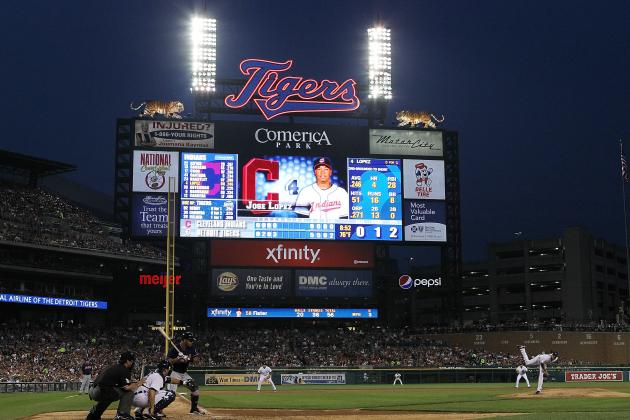 Leon Halip/Getty Images

Comerica Park is not a hitter-friendly venue.
Period.
The outfield in Detroit, especially right-center field, where Fielder does most of his damage, is the pitcher's best friend.
The dimensions at Comerica Park are 422 feet to dead center field, 379 feet to right center and 333 to the right field pole.
That's compared to where Fielder had played home games his entire career, at Miller Park in Milwaukee, where the dimensions are 400 feet to center field, and 378 to right center.
It's not a huge difference, but it matters.
Fielder isn't the only Tigers hitter to see power numbers drop because of the spacious fences in Detroit.
Since Comerica Park's inaugural season in 2000, Carlos Pena's 14 home runs in 2005, are the the most long balls hit by a Tigers left-hander at home in a single season.
Fielder has 11 home runs at Comerica Park this season, and is on pace for about 16 homers at home this year. Last season in Milwaukee, Fielder blasted 24 home runs at home, and averaged 21.5 bombs at home his last four years with the Brewers.
The numbers speak for themselves.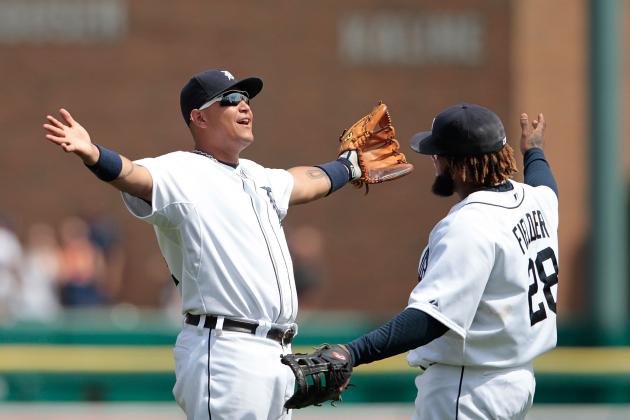 Leon Halip/Getty Images

Fielder has hit fourth his team's lineup in over 300 consecutive games, but prior to this season, he's never batted behind a complete hitter like Miguel Cabrera.
Although Fielder spent the last several years hitting behind perennial All-Star Ryan Braun, Braun simply isn't Cabrera.
Not even close.
With the damage Cabrera has done in front of him, Fielder hasn't gotten a lot to hit.
This season, Fielder has 52 walks, 12 of which were intentional. Excluding last season, he's on pace for the most intentional passes since 2007, his best year in the league when he hit 50 home runs.
If the Tigers' order were switched, and Fielder were hitting in front of the defending AL batting champion, Fielder would be much more protected, and would see a lot better pitches.