Will Phillies, Yankees Still Be Able to Win Titles with Payroll-Conscious Plans?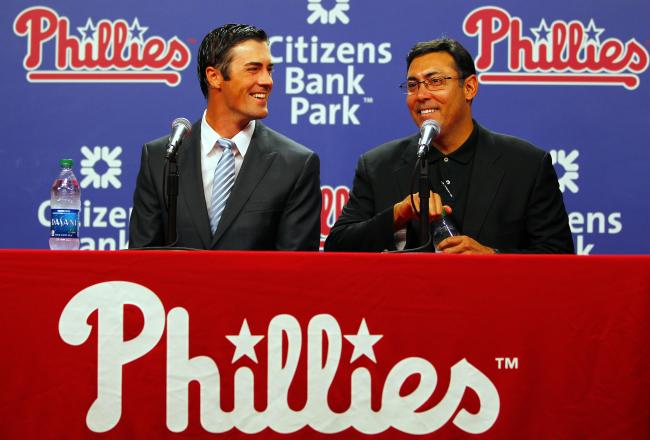 Are the Phillies and Yankees too weighed down by overpaid players to win the World Series in the near future?
Rich Schultz/Getty Images
According to USA Today, no two teams in Major League Baseball are spending more money this season than the New York Yankees and Philadelphia Phillies. The Bombers top the league with a payroll of around $198 million, and the Phillies are just behind them at around $175 million.
Here's the thing, though: These numbers are on their way down. Such is the plan for both clubs.
It's been common knowledge for a while now that the Yankees are looking to curb their high-spending ways. Hal Steinbrenner said back in March, via ESPNNewYork.com, that he wants to get the club's payroll under the $189 million luxury tax threshold that will kick in in 2014, a tall order for a club that has been operating with payrolls over $200 million for several years now.
The Yankees started the season with a payroll right around $210 million. With Nick Swisher, Russell Martin, Hiroki Kuroda and Mariano Rivera (who could be re-signed at a bargain price) coming off the books after this season, the Bombers stand to save a lot of money. Good news for them.
The Phillies are also headed in that direction. They committed a lot of money to Cole Hamels when they signed him to a $144 million extension, but they cleared some payroll by trading away Shane Victorino and Hunter Pence at the deadline.
According to Matt Gelb of the Philadelphia Inquirer, these moves allowed the Phillies to get under the $178 million luxury tax threshold for this season:
Phillies are slightly under luxury tax limit now, Amaro says.

— Matt Gelb (@magelb) July 31, 2012
So for both clubs, things are going according to plan. Yankees and Phillies fans can rest easy knowing that their clubs are doing their utmost to avoid paying money as a penalty for spending too much money.
But...Wait a second, is this really a good thing? The high-spending ways of these two clubs in recent years has led to a lot of extra wins. And we are, indeed, talking about two of the past four World Series champions.
The big question: Can the Yankees and Phillies still hope to compete for championships even as they come back to the rest of the pack financially?
It's obviously not going to be easy, as neither club is going to be able to go out and patch up holes by dishing out large contracts to established stars. That's a habit that both clubs have been guilty of in recent seasons, and it's clear now that this habit is something of a double-edged sword.
But keep in mind that the Yankees have been at this for a lot longer than the Phillies. The Phillies are actually relatively new to the whole bloated payroll thing.
When the Phillies won the World Series in 2008, they did it with a payroll of under $100 million. They built a championship team not by signing free agents, but mainly by drafting and developing.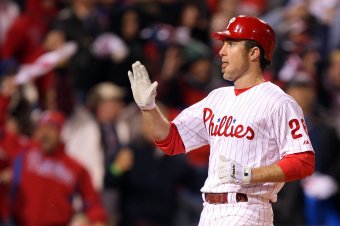 Only Albert Pujols posted a higher WAR than Chase Utley in 2008.
Jed Jacobsohn/Getty Images
According to Baseball-Reference.com, four of the Phillies' six best players in terms of WAR in 2008 were acquired via the amateur draft. Their names: Chase Utley, Jimmy Rollins, Pat Burrell and Ryan Howard. Hamels, their best pitcher, was also acquired via the draft.
The best free-agent signee the Phillies had that year was Jayson Werth, who was being paid only $1.7 million.
The 2008 Phillies go to show that it's a lot more cost effective to develop your own star players than it is to go out and acquire them from elsewhere. After all, the best thing about young stars is that they're cheap.
The Phillies are where they are now because their own star players have earned big paydays in recent years. Howard is now making $20 million per year. Hamels is making $15 million per year, and will make $20 million per year after this season. Utley is also making $15 million per year, and Rollins is making $11 million per year.
Those players alone are making $61 million in 2012, over half of the Phillies' entire payroll in 2008.
The Phillies have pushed their payroll to the luxury tax limit by spending money on free agents like Cliff Lee and Jonathan Papelbon, and they also traded for Roy Halladay and then signed him to a lucrative contract extension.
They essentially took a page out of the Yankees' book. Once they had established a winning team that was built via the draft and bargain free agent and trade acquisitions, they started throwing money at it in an attempt to keep the wins coming. Like a bad drinking habit, they simply let it get out of control (the Papelbon contract was the last straw).
The problem they're facing now is that some of the players making the big bucks (Utley, Howard, Halladay) are getting up there in age, and are probably no longer capable of being worth the money they're being paid. To make matters worse, the Phillies' farm system has taken a hit over the years thanks to the high-profile trades Ruben Amaro pulled off in 2009 (Lee), 2010 (Halladay) and 2011 (Pence).
Tommy Joseph, who the Phillies got in the Hunter Pence trade, is regarded as an above-average catching prospect.
Ezra Shaw/Getty Images
Since the Phillies are going to be stuck with a high payroll for the foreseeable future, Amaro is going to have to fill out his roster with players who are both talented and cheap. He's gotten himself on the right track in this regard, as he got some good young players in the Victorino and Pence trades.
The Phillies should be able to contend in 2013, especially if they find a way to keep Lee around without compromising the team's chances of staying under the luxury tax threshold in 2013. The odds of them contending for a championship, however, are not high due to the fact that key players like Utley, Howard and Rollins are no longer superstar-level players.
The Phillies need new superstars, and it's in their interest to develop them rather than sign them. They may be able to go all-out for a World Series title one last time in 2013, but one way or another the Phillies are going to have to embrace a youth movement very, very soon.
The Yankees are facing a similar quandary going forward. They're not going to be able to rid themselves of the contracts of Alex Rodriguez, CC Sabathia and Mark Teixeira, which will account for over $73 million in 2013, around $70 million in 2014, around $66 million in 2015 and so on.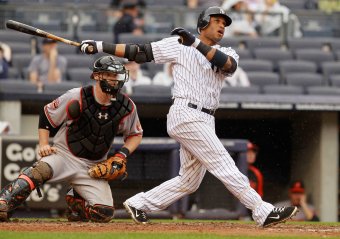 The Yankees shouldn't think twice about signing Robinson Cano to an extension. He's their best player, and he still has plenty of good years left in him.
Mike Stobe/Getty Images
And while it's true that the Yankees will be able to save money this offseason by not re-signing Swisher, Martin and Kuroda and bringing back Rivera at a bargain price if they so choose, they're getting to a point where they're going to have to decide whether to sign Robinson Cano and Curtis Granderson to extensions.
If they do, they're likely going to have over $100 million committed to just five players heading into the 2014 season.
That's going to leave them with a relatively small amount of wiggle room to fill out the rest of their roster, and it can be taken for granted that they'll be wary of signing high-priced free agents due to their fear of crossing the luxury tax threshold. Don't expect another spending spree like the one the Yankees went on before the 2009 season, when they committed over $400 million to Teixeira, Sabathia and A.J. Burnett.
The Yankees are already sending signals that this will be the case. Brian Cashman said recently, via Bryan Hoch of MLB.com, that the club has no interest in going after Cliff Lee. They simply don't want to take on another gigantic contract.
From here on out, a typical Yankees offseason will probably more closely resemble this past offseason. The Yankees made a move to acquire a young pitcher in Michael Pineda, signed Hiroki Kuroda to a one-year deal worth $10 million that looks like a bargain now, and rounded out their bench by signing up Andruw Jones, Eric Chavez and Raul Ibanez, players who have given the Yankees great value for relatively little money.
It was an efficient offseason, in retrospect, something that we're not used to seeing from the Yankees. Look for them to make a habit out of this as long as they're dealing with the burden of so many heavy contracts left over from their more foolhardy years.
The bright side is that the Yankees are showing this season that they can win games without breaking the bank for free agents every offseason. They didn't act like the Yankees over the winter, but they're still the Yankees.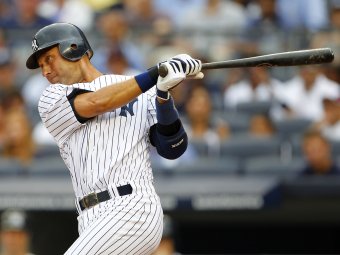 At this point in his career, Derek Jeter is little more than a singles hitter and he's a big liability on defense.
Rich Schultz/Getty Images
However, in many ways the Yankees are in the same boat as the Phillies in that they're wrapped around a core of players who are older and a lot less valuable than they once were. A-Rod is no longer an elite player. The same goes for Derek Jeter. Sabathia has been more hittable than usual this season. Teixeira has been productive, but he's nowhere close to the player he was in 2009 and years prior.
This core wasn't good enough to get the Yankees to the World Series in 2010 or 2011. It's doubtful that it will be good enough to do the trick in 2012.
So like the Phillies, the Yankees are going to have to mix in more and more younger, more affordable star players in the near future. The good news for them is that they're in a better position to do this than the Phillies, as the Yankees' farm system is typically regarded as being pretty strong. Some homegrown stars could be making a difference for the Yankees very soon, and it wouldn't be at all surprising if Cashman makes more trades similar to the Pineda-for-Jesus Montero swap.
What it will come down to for both the Phillies and the Yankees in the coming years is this: If they're going to be cheap, they're going to have to be smart. The boorish tactic of throwing money at problems will no longer be an option, meaning they'll actually have to worry themselves with getting good value out of the dollars they're spending for once.
Right now, both clubs are in a tight spot because both of them have so much money committed to players who simply aren't worth it. The only way for both clubs to account for that is by trimming as much payroll as they possibly can while constantly being on the lookout for cheap, controllable players who have the potential to outperform small contracts.
The Phillies seem to understand this, and the Yankees have made it plenty clear in recent months that they have understood this for some time now.
The question remains: Can they win titles with payroll-conscious plans?
Which club will win another World Series before the other?
I don't see why not. Spending a ton of money hasn't exactly worked for the Phillies in the last couple of seasons, so it actually bodes well for them that they're moving towards backing off on their spending. The organization was at its best when it didn't have a bloated payroll. It's headed toward a return to the good old days.
It's hard to imagine the Yankees' payroll sinking very far below the coveted $189 million mark, as they're always going to be spending as much money as they possibly can. It's not like they're eventually going to be crushed under their own excess, though, as the Yankees have quietly put together a strong farm system. To boot, Cashman has done some of the best work of his career over the last two seasons making very small moves that have helped offset the sheer burden of the club's big contracts.
As long as the Phillies and Yankees put quality teams on the field, they'll have a shot. The rest will be up to luck, as they'll have to hope to stumble upon cheap stars who can balance out the old, expensive stars.
And indeed, winning the World Series takes good luck too. All you can do is put a good club together and hope that the baseball gods take it from there.
If you want to talk baseball, hit me up on Twitter.
This article is
What is the duplicate article?
Why is this article offensive?
Where is this article plagiarized from?
Why is this article poorly edited?