Dallas Cowboys Training Camp: 3 Things We Learned This Week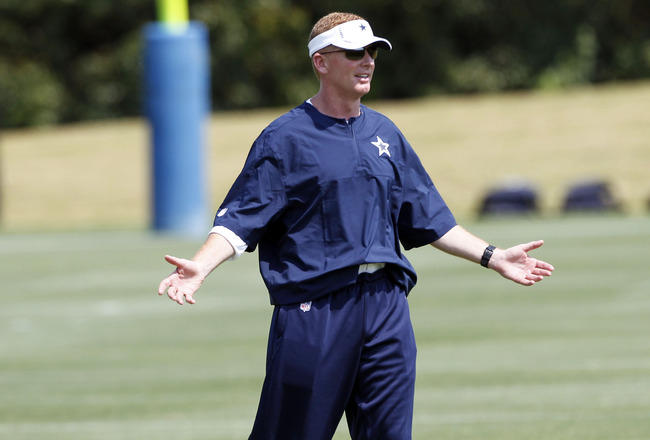 Layne Murdoch/Getty Images
The Dallas Cowboys are only five days into training camp in Oxnard, Calif.
In case you missed it yesterday, we took a look at what kind of first impressions the Dallas rookies have made so far. Today, we'll take a broader look at coverage from the first three practices in order to draw three conclusions from the start of camp.
It would be easy to go far beyond that, but we're doing our best not to overreact to each good or bad play. Twitter makes it easier to track camp, but the drawback of instant coverage via social media is that the media and fans seem to be reacting in knee-jerk fashion more than ever.
Here's a chance to focus on three trends that have overcome 140-character barriers.
Barry Church Is Killing It, Has an Early Edge in the Battle at Free Safety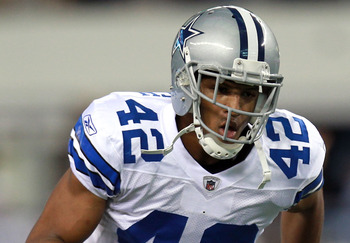 Ronald Martinez/Getty Images
When the Cowboys brought in veteran Brodney Pool to replace Abram Elam at free safety, it was an indication that the team wasn't confident in backup Barry Church. After Dallas drafted Matt Johnson in the fourth round, it was obvious that Church would have to fight hard this summer.
Church has been swinging all week, and he's landing the majority of those shots.
He's made several big plays this week, including a pick six against Tony Romo on Tuesday. On Wednesday, Rainer Sabin of the Dallas Morning News wrote that the 24-year-old was turning heads.
An undrafted free agent in 2010, Church has climbed the ladder from special teams to a reserve role at safety and nickel linebacker and now appears to be primed to start.
It helps, of course, that neither Pool nor Johnson have been practicing. Johnson is still being eased back from a hamstring injury. At this point, he isn't expected to make significant contributions early. Pool's chances of starting took a major hit when he failed his initial conditioning test on Monday. He's expected to practice for the first time on Friday.
A lot can change between now and Sept. 5, but Church clearly has taken an early lead in this position battle.
The Cowboys Need Help at Guard and Center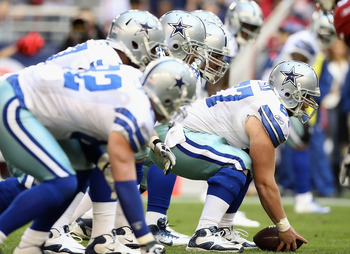 Christian Petersen/Getty Images
Even before camp started, Dallas needed help at the interior offensive line positions. The team should now be on the border of desperation.
Mackenzy Bernadeau (hip, knee) and Kevin Kowalski (ankle) are already on the PUP list, and two more flies have dropped this week. Center Bill Nagy went down with a high-ankle sprain and guard Nate Livings suffered a hyperextended knee.
As a result, Todd Archer of ESPNDallas.com reports that the Cowboys are going back to a familiar well:
According to sources, veterans Montrae Holland, Derrick Dockery and Daniel Loper will head to Oxnard, Calif., for workouts. All three spent part of last season on the 53-man roster.
This makes the most sense. There aren't a lot of half-decent players left in free agency, so you might as well go with guys who know your system.
Holland wasn't too bad in 10 starts at left guard last year. If Livings is out, using him shouldn't hurt much, if at all. However, the Cowboys would rather not have to use Dockery or Loper.
What really hurts is that this team doesn't have options beyond Phil Costa, who was bad last year and has struggled a bit in camp this summer. With Nagy and Bernadeau sidelined and David Arkin and Harland Gunn probably not ready for significant reps, Dallas is handcuffed to Costa.
That's a concern.
It's Going to Take Morris Claiborne Some Time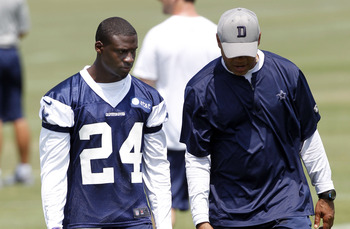 Layne Murdoch/Getty Images
It's been an up and down first week for Morris Claiborne. The No. 6 overall pick has been beaten often by several different receivers, but we keep hearing that he's been quick to bounce back.
As I wrote in my rookie report, the Cowboys can't be afraid to use Mike Jenkins more heavily early and allow the rookie corner more time to adapt with less pressure.
That isn't likely to happen, because I think Jerry Jones wants to see his big draft investment on display from the get-go, but the Dallas faithful should definitely expect growing pains.
Nevertheless, the kid has the skills and the right attitude to succeed.
Don't panic, Cowboys fans.
Speaking after Wednesday's practice, he said (via Calvin Watkins of ESPNDallas.com):
The things that's going on out there right now, I expected. My standards for myself are really high and I go out with a mentality, I'm not going to go out there and catch a ball on me. But I know these guys are pros also and they've been here and they've been doing it and they're going to catch balls on me. It just all depends what you do after they catch the ball. You can't let that haunt you for the rest of the day. You've got to come back out there and you've got to battle.
Keep Reading