WWE SummerSlam 2012: Ranking the 5 Worst SummerSlam Posters Ever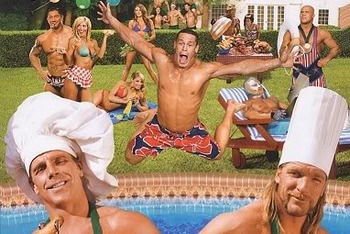 Photo from wwe.com
SummerSlam 2012's poster features Brock Lesnar's angry face bathed in rain. However the event turns out, SummerSlam 2012 can be proud that it boasted one of the better posters in the pay-per-view's history.
The following five posters are on the other end of the spectrum. They earn their spots through lazy design or poor color choices.
Spanning several decades, you'll see an overweight man sitting down on a flag, bad drawings and images WWE might like to bury in a box in the corporate office forever.
5. 1995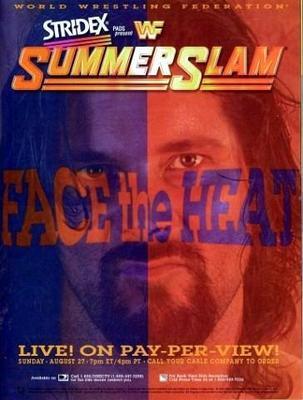 Photo from ugo.com courtesy of WWE
Diesel aka Kevin Nash is supposed to be giving a tough-guy expression, but he looks more disinterested than anything.
The color scheme is an odd choice; it isn't particularly summer-like and it's not flattering for Nash. The stylized text is warped due to the heat.
The blue and red give Nash a washed-out look. The poster on the whole seems lifeless.
With Isaac Yankem and King Mabel featured prominently, it wasn't one of the better SummerSlams wrestling wise, either.
4. 1993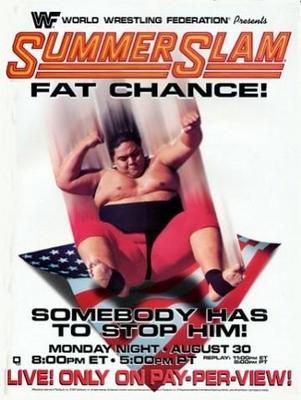 photo from wwe.com
Shouldn't it say, "Somebody has to stop him!" first and then answer with, "Fat chance," or am I missing something?
Yokozuna—megaheel of the time—is shown Banzai Dropping a tinfoil version of the American flag. If someone wanted to destroy a flag, I don't think blunt force from someone's rear is the best route, even if it is the size of Yokozuna's.
There's far too little color and too little thought put into this.
3. 1998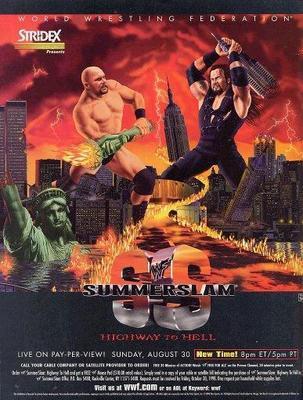 photo from wwe.com
The concept for SummerSlam 1998's poster is fine, it's the execution that gives this a foul odor. Had WWE gone with the image they used for the event's DVD cover, this could have been one of the best rather than the worst.
Whoever WWE asked to sketch up "Stone Cold" Steve Austin and the Undertaker as Godzilla monsters was the wrong person. It's fan-art quality. Austin's depiction in particular is amateurish.
This would be more fitting for a metal band's first album cover.
2. 1989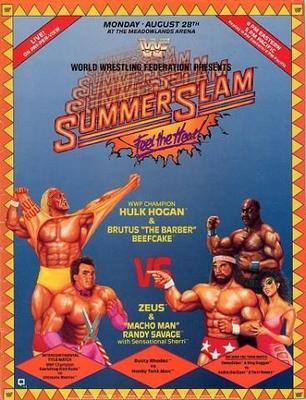 photo from wwe.com
In the vein of poorly drawn versions of WWE wrestlers, 1989's poster featured the tag teams from the main event, cartoon style. This looks like the cover of an 8-bit Nintendo game.
There's no way Brutus Beefcake's head should look so Photoshopped since it is not a photo.
The SummerSlam logo is almost blinding with how shaky it looks. A little goes a long way in terms of graphic effects.
An empty blue background was a bad choice to back these figures. The same goes for the party-store border.
1. 2006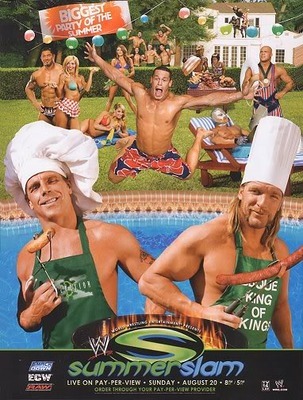 photo from wwe.com
At some point does fun become ridiculous? It may be when John Cena splays out over a pool with a supremely goofy look on his face.
Or perhaps it's when a visual penis joke is made with the help of two sausages.
The SummerSlam events have often seen WWE turn on the fun-in-the-sun theme. It's done to excess here.
This could just as easily be the poster for a straight-to-DVD movie..
Keep Reading