Notre Dame Football: Things That Scare Fighting Irish Fans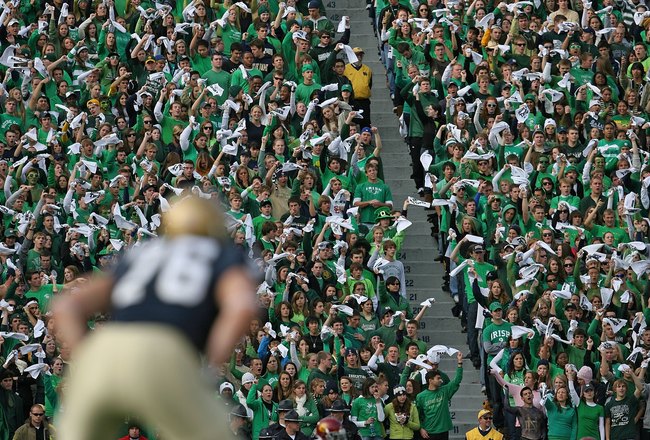 Jonathan Daniel/Getty Images
While every college football fan can be subject to the occasional freakout, the most paranoid fanbases tend to be those who have seen their teams grasp defeat from the jaws of victory.
Notre Dame has had more than its fair share of heartbreaking losses since its last national title in 1988, many of which have haunted Irish fans for years.
History often repeats itself in college football, leading to parallels being drawn between a current situation and one from years past—some accurate, others a bit of a stretch. It might be a certain team, coach, player or stadium that sends chills down the spines of Fighting Irish fans.
As we approach four weeks until the start of the 2012 season, let's look at the five things that always make Notre Dame fans gasp.
Denard Robinson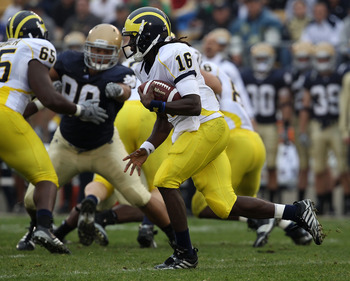 Jonathan Daniel/Getty Images
Perhaps no one player has tortured Notre Dame more so than Michigan quarterback Denard Robinson. The player once known simply as "Shoelace" has led the Wolverines to consecutive victories over the Irish, throwing game-winning touchdown passes in the final 30 seconds of both meetings.
He beat Notre Dame mostly with his legs in the 2010 game in South Bend while running Rich Rodriguez's spread offense.
Last year, it was escaping pressure and underthrowing deep passes to which Notre Dame's secondary repeatedly failed to adjust that sparked a fourth-quarter rally.
The Irish will get one final chance to beat Robinson when Michigan travels to Notre Dame Stadium on Sept. 22.
Tommy Rees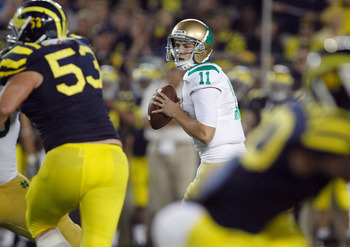 Gregory Shamus/Getty Images
Many fans have love-hate relationships with their quarterbacks. For the man who could be Robinson's counterpart at quarterback on Sept. 22, it's been mostly hate. Despite a 12-4 record as a starter and a winning percentage far greater than that of Brady Quinn (Rees, .750; Quinn, .630), Rees' untimely turnovers have left a dark cloud over his Irish career.
Every time Notre Dame reached the red zone last season, it seemingly became a matter of when, not if, Rees would make a mistake that would cost the Irish valuable points. Leading a game-winning touchdown drive at USC as a freshman and leading what should have been a game-winning touchdown drive at Michigan last year seem like distant memories.
Every quarterback makes mistakes, but Rees' mistakes tend to come at the worst possible times.
The Schedule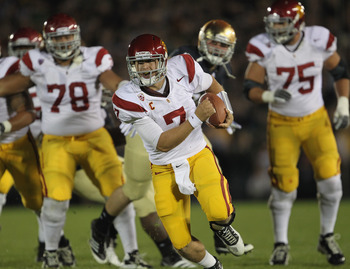 Jonathan Daniel/Getty Images
Notre Dame routinely schedules as tough as any team in the country Playing an FCS team? Never. Playing a MAC team? Almost never.
This year's gauntlet may be the program's toughest ever.
The Irish have road dates against No. 1 USC, No. 4 Oklahoma and No. 13 Michigan State. No. 8 Michigan and No. 18 Stanford come to South Bend. BYU won 10 games last season and returns almost every key player.
Notre Dame could be a better team than last year's version, but still finish with fewer wins. 2013 offers no breaks either, as all six teams mentioned above are on the schedule next year as well.
ESPN Commentators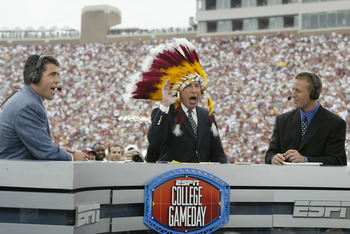 Craig Jones/Getty Images
This one goes all the way back to 1993, when Beano Cook predicted that freshman quarterback Ron Powlus would win two Heisman Trophies at Notre Dame. Powlus never came anywhere close to living up to the hype, proving to be a poor fit for Lou Holtz's run-heavy veer offense.
In 2005, both Lee Corso and Mark May predicted the Irish to lose at least five of the team's first six games (they went 4-2). Kirk Herbstreit has generally been kind to Notre Dame through the years, but was highly critical last year of the team's overall speed. Many Irish fans blame criticism from ESPN personalities on the fact that they do not have a television contract with the school.
In reality, when you haven't won a major bowl game in almost 20 years, it's hard to avoid criticism. As season preview segments begin to appear on the network over the coming weeks, how kind will ESPN be to Notre Dame in 2012?
Boston College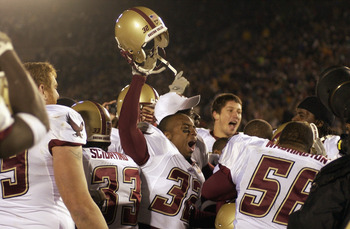 Elsa/Getty Images
Nov. 20, 1993 and Nov. 2, 2002 are days that will live in Notre Dame infamy. Both days saw undefeated and heavily favored Notre Dame teams fall to unranked Boston College teams and subsequently drop out of the national title race.
The 1993 loss knocked Notre Dame out of the No. 1 ranking, the last time to this day that it has been at the top of the polls. In addition to the two stunning upsets, the Irish went nine years without a win over its "little brother," dropping six straight meetings between 2001 and 2008.
The Eagles are always fired up to play Notre Dame. As the past has shown (far too often for Irish fans), victory should never be assumed when the only two Catholics schools in the FBS collide.
Keep Reading

Notre Dame Football: Like this team?