Michigan vs Michigan State Basketball: Contrasting the Squads' Starting Lineups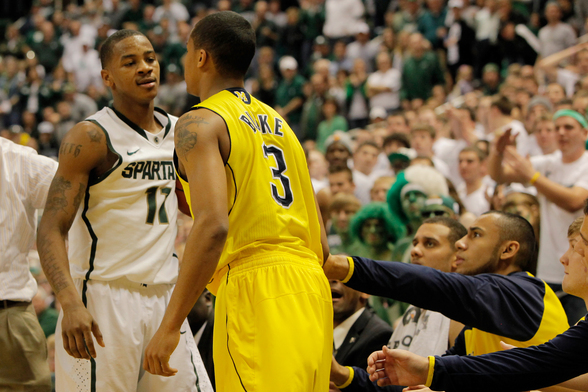 While the two Big Ten squads from the state of Michigan accounted for two-thirds of the Big Ten Championship in 2011-12, it's up for debate whether the same success will hold true during the upcoming season. Both teams have brought in excellent recruiting classes, with some of these freshmen likely starting from day one.
Both teams also lost important seniors as well though: Draymond Green and Brandon Wood from Michigan State, along with Zack Novak and Stu Douglass from Michigan. Despite this, both teams come in with high expectations for 2012-13, and deservedly so.
The Big Ten will be incredibly strong again, and in my opinion be the best conference in the land. So while it's yet to be shown how these two will stack up to the likes of Indiana, Ohio State, and Wisconsin this upcoming year, let's take a look at how these two hated rivals match up.
Begin Slideshow

»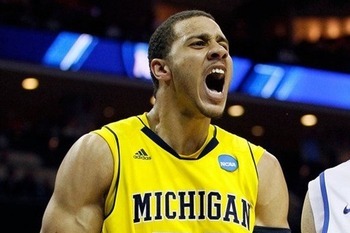 In 2011-12, the 6'10" Morgan averaged 7.3 points and 5.6 rebounds in 24.4 minutes of action. As a redshirt freshman the season before, he averaged 9.2 points in 24 minutes of playing time. He did however, decrease his average number of fouls per game from 3.2 to 2.4 during that time period, although it didn't end up translating to more playing time for the soon-to-be junior.
Morgan, who hails from Detroit, is a very strong but not always physical post player. Most of his baskets come off of dunks on good feeds by Trey Burke. He is an efficient rebounder and good defender though. I see Morgan's numbers slightly increasing, and finishing similar to his freshman year statistics.
Nix took a big step forward last year as a junior, averaging 8.1 points and 3.8 rebounds in 18.9 minutes of PT. As a freshman and sophomore, Nix only averaged a combined 2.5 points and two rebounds in eight minutes. Nix's weight loss was a big factor in his improvement, allowing him to stay on the floor for longer stretches. If he does win the starting center job in 2012-13, it will be his first season as a full-time starter.
I do believe that Nix benefited from teams that focused much of their defensive attention on Draymond Green, who built a nice high-low game with Nix. Nix's defense is suspect and at 270 pounds, he will still be limited in playing time. I see Nix's numbers staying similar this upcoming year, although without Green they will need Nix to become a better rebounder.
In the end, this was one of the tougher calls in judging the team's starting fives, although all of them were tough in some respects. Although Nix is a better low post scorer, Morgan is a better rebounder and defender, and still has the ability to score if needed.
Edge: Michigan (Morgan)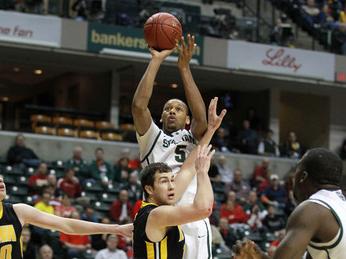 Despite taking a slide in the recruiting rankings during his senior season, expect McGary to be an impact player the day he steps on the UM campus. The left-handed freshman from Brewster Academy may be best known for shattering backboards at this point, but he'll prove to be more than that this season. McGary is a tremendous rebounder and good defensive player who will bring an energy to the Michigan frontcourt that has been lacking recently.
McGary needs to establish himself offensively early in the season, as the three-point heavy Wolverines could shy away from him at times. Expect McGary to be on the All-Freshman Team and give Michigan fans a reason to be excited for the future of their hoops program.
Like Nix, Payne took a big step forward in 2011-12, averaging seven points, 4.2 rebounds, and 1.1 blocked shots in 17.9 minutes. Payne came to East Lansing as a high-flyer, both as a great dunker and intimidating shot blocker. While he is still both of those, he has developed a medium-range outside game that could make him lethal as a junior. He increased his free throw percentage from 49 percent as a freshman to 70 percent as a sophomore.
If Izzo decides to play Nix and Payne together, something he rarely did in 2011-12, Payne will slot to power forward where he will have a height advantage on most others at that position. I expect Payne's points, rebounds and minutes played averages all to increase significantly as a junior, helping fill the void that Green left.
Despite the instant impact that McGary will bring to Michigan, the improvement that I anticipate Payne to have helps him edge this one out. And although McGary finally brings Michigan a true low-post scorer, Payne is starting to become the complete player that Spartan fans anticipated him becoming.
Edge: Michigan State (Payne)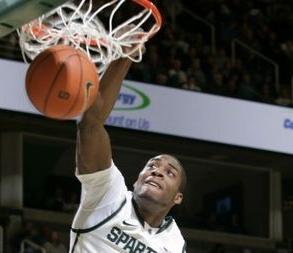 Unlike McGary, Robinson III made a significant jump in the recruiting rankings and finished as a five-star recruit for the Wolverines. The son of former Purdue great, Glenn "Big Dog" Robinson, he has similar athletic bloodlines that teammates Tim Hardaway Jr. and Jon Horford have.
Robinson III comes from St. John, IN as a 6'6" athletic slasher, and like McGary doesn't fit the typical Beilein recruit image of a three-point shooter. Robinson III will also receive playing time immediately and become one of the better freshmen in the Big Ten this upcoming season.
After tearing his ACL in March, Dawson hopes to make a full recovery after a promising freshman season. He averaged 8.4 points and 4.5 rebounds in 20.6 minutes before the injury occurred against Ohio State, leaving Dawson out for both the Big Ten and NCAA Tournaments. While his outside shot could use some work, Dawson's athleticism has already been made clear after one season in East Lansing, including a windmill dunk he performed last year against Purdue.
With Green gone, Dawson could become the Spartans' go-to-guy offensively, although Keith Appling will also be in contention. Assuming everything goes right in Dawson's recovery, expect his scoring to increase relative to his minutes played.
Just like the slide before this, I will give the slightest edge to the older of the two players. Similar in stature and apparently athleticism, this is a potential matchup that I am excited to see. Dawson will be more important offensively to his team than Robinson will be to his, and until Robinson proves himself on the big stage, Dawson squeaks this one out.
Edge: Michigan State (Dawson)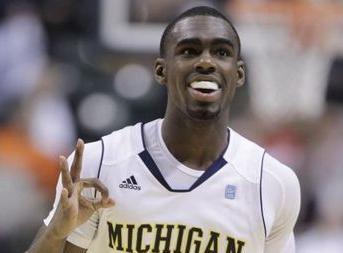 After showing little improvement between his freshman and sophomore seasons, Michigan fans should be concerned with a repeat of that this upcoming season. Hardaway Jr. was on the Big Ten's All-Freshman Team in 2011, but had nearly identical numbers as a sophomore, despite dropping to just over 28 percent from long range.
For improvement to occur, Hardaway Jr. has to go back to attacking the basket and finishing with dunks, rather than standing behind the arc launching threes. With a taller Wolverines team than Hardaway Jr. is accustomed to, he will likely make the move from small forward to shooting guard, which could give him a height advantage on opponents. With more offensive weapons available to Michigan this year, Hardaway Jr.'s numbers will remain steady with his first two seasons, although he will be more efficient this year.
Harris arrives in East Lansing having made the McDonald's All-American game this past Spring. Harris, who is from Indianapolis, replaces Brandon Wood as MSU's off-guard. He is a savvy defender and has an uncanny ability to finish around the rim. He could also be Michigan State's best long range shooter, which could certainly be a weak spot for this year's squad.
Although Harris should be an immediate starter, he will have to earn his playing time, and rarely does Izzo play freshmen more than 20-some minutes each game. Harris could be the exception to that rule, but even if he isn't he will be the kind of defender and scorer that the Spartans need this year and into the future. Expect Harris to have a solid season, joining McGary and potentially Robinson III on the All-Freshman Team.
Once again, I stick to my guns and will pick against the freshman. Although Hardaway Jr. has lacked consistency and improvement, I forgot to mention he averaged nearly 15 points per game as a sophomore and nearly 14 as a freshman. If Harris can do that this upcoming year, I would be somewhat surprised.
Edge: Michigan (Hardaway Jr.)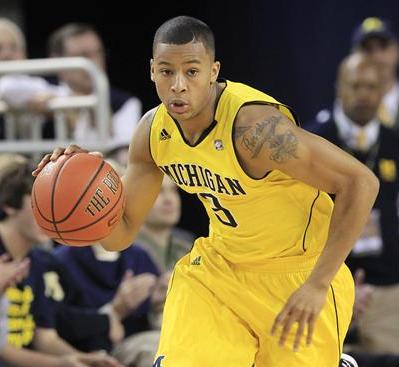 After splitting Big Ten Freshman of the Year honors with Cody Zeller in 2012, expectations are through the roof for Burke in 2012-13. Burke's freshman year statistics consisted of 14.8 points, 4.6 assists, and 3.5 rebounds in 36.1 minutes. Burke, who was high school teammates with Jared Sullinger, greatly exceeded Wolverine fans expectations when Darius Morris decided to forego his final two seasons and make the jump to the NBA.
Burke also could have made that same decision to leave Ann Arbor, but wisely chose against it, making the Wolverines both a Big Ten champion and Final Four contender for the next few seasons. While Burke's statline is already impressive, an increase in assists this season could be a huge lift.
As a sophomore, Appling averaged 11.4 points, 3.9 assists, and 2.9 rebounds in 30.8 minutes. Although Appling was technically the point guard for the Spartans in 2011-12, Green had the ball in his hands more than anyone else on the roster and was the real facilitator of the offense. With a year under his belt at point guard though, I expect Appling's assist numbers to increase while also decreasing his turnovers.
The speedy Appling, who also averaged 1.2 steals last year, needs to play more under control while still pushing the ball and continuing to have the Spartans play an up-tempo game. With improved scorers such as Payne and Dawson, Appling might not have to carry as much of a load scoring the basketball.
As evidenced by the stats above, Burke's numbers were slightly better in every category than Appling's were. And while I believe both players will improve in different aspects of the game, I still believe that Burke will have a better season when all is said and done in 2012-13.
Edge: Michigan (Burke)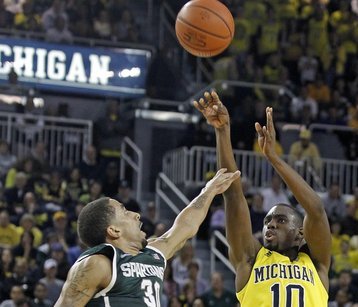 Although Michigan's John Beilein is one of the better coaches both in the Big Ten and in the entire nation, Michigan State's Tom Izzo is top of the class and the best in the business. Beilein has yet to make a Final Four, while Izzo has made six.
Izzo does however do his best coaching jobs when he has senior leadership. Green showed those leadership abilities last season, which helped him win the Big Ten Player of the Year and got Michigan State a No. 1 seed in the NCAA Tournament. Just the season before though, MSU went 9-9 in the Big Ten and barely made the tournament field. Kalin Lucas and Durrell Summers were the seniors on that team. Nix will be the only senior on MSU's roster in 2012-13, and I just don't see him having the same effect on his teammates as Green did.
While Michigan is very young, and probably still another year away from a Final Four appearance, their roster is finally filling out with complete basketball players rather than just pure shooters. At the end of the day, I am going to stick with my prediction of Michigan coming in 2nd place and Michigan State coming in 5th place during this upcoming Big Ten basketball season.
After going through each of these two teams' starting lineups, the Wolverines edge the Spartans 3-2. Does this slimmest of margins victory mean that Michigan will be better than Michigan State in 2012-13? No. But do I think that Michigan will be better than Michigan State this upcoming season? Yes.
So before you go criticizing my opinion, realize that I am neither a Michigan or Michigan State fan, rather I am an Illinois fan. Each of the matchups that I highlighted here were incredibly difficult to decipher, but as of now I think that I've got it right. Let the debate begin.