Olympic Basketball 2012: Why Under-23 Roster Would Benefit USA Basketball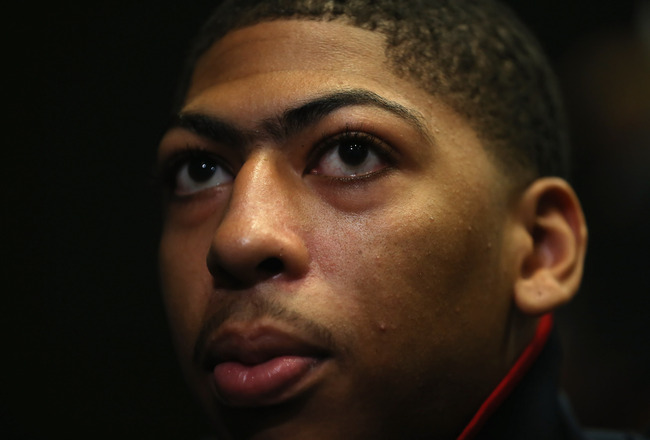 Anthony Davis should be the face of USA Basketball at the 2012 London Olympics, not LeBron James or Kobe Bryant.
Jeff Gross/Getty Images
NBA Commissioner David Stern began a compelling debate when he suggested that the 2012 London Games may be the last time we see the league's top stars competing in the Olympics.
He told ESPN's Colin Cowherd that he wants to follow the model set by soccer and limit Olympic participation to players at or under the age of 23. The words echoed more pointed comments from Dallas Mavericks owner Mark Cuban, who aggressively lobbied to pull every NBA player out of the Olympics while speaking with Fox Sports' Greg Couch.
"It's the biggest mistake the NBA makes,'' Cuban said. "If you look up stupid in the dictionary, you see a picture of the USA Dream Team playing for free for corporate America so the U.S. Olympic Committee can make millions of dollars. If you come up with something that you own, that you give it to me for free so I can make billions of dollars, I want it. And it has nothing to do with patriotism. It's all about money.''
NBA players Tyson Chandler and Andre Iguodala balked at Stern's idea of limiting the league's participation in the league to 23 and under, calling it ridiculous.
Both sides to the argument are digging in. There are plenty of pros and cons to each route.
Here are the reasons that Stern and Cuban are right.
1. Protect the NBA's Assets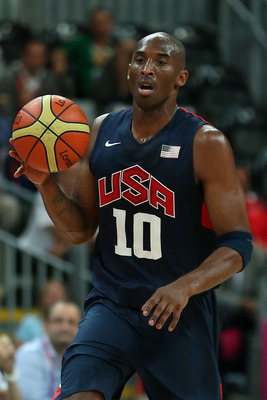 Selfish Los Angeles Lakers fans should not want to see Kobe Bryant at risk in the Olympics.
Ezra Shaw/Getty Images
Blake Griffin's injury conveniently came just in time to provide a strong talking point for anyone opposed to NBA players participating in the Olympics.
It must be mentioned that his specific injury only re-aggravated an ailment that already existed from the playoffs and didn't originate from practicing with Team USA. The larger point, however, still remains. NBA players are at risk when they play more games.
ESPN's Scott Van Pelt notes that Kobe Bryant has played the equivalent of three extra seasons from the many playoff games he has logged during his career. That doesn't even include any time spent playing for America.
Los Angeles Lakers fans should selfishly want their best player resting during the offseason. Unlike the league's younger players, veterans like Bryant won't benefit from the extra competition. Playing for Team USA does not make Bryant a better player. It does put his body and career longevity at risk.
The interests of entertainment and running a business often butt heads. This is one case where NBA executives, owners and fans can all agree. Protecting the league's assets needs to be a priority.
2. Develop Younger Talent
Anthony Davis will benefit from his Olympic experience much more than LeBron James.
Ezra Shaw/Getty Images
The best college basketball players give one year to the NCAA before jumping into the NBA. Many come from AAU programs, where coaching is minimal or non-existent.
While these young stars often develop into the league's best players, most of them are not NBA ready when drafted.
A 23-and-under USA roster would pay huge dividends for these players.
From a skills standpoint, the young stars would maximize their offseason with Olympic training. Practicing with Team USA and competing for a gold medal against the world's best athletes would be a much more developmental experience than anything else they could otherwise do during the summer.
They would also benefit socially and come into the league better wired for the business that is the NBA.
Tyson Chandler inadvertently made a great case for the under-23 rule while arguing against it in an article by Sean Deveney of the Sporting News.
"Throughout the history, just about every time a player has played for the U.S. team, he comes back and had a better season," Chandler said.
That highly developmental experience Chandler speaks of must be reserved for the players that need it the most.
3. Risk Outweighs Reward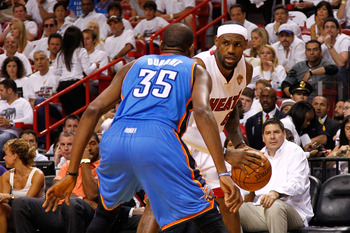 More people watched LeBron James and Kevin Durant in the NBA Finals than in the Olympics.
Mike Ehrmann/Getty Images
A common argument in favor of keeping all NBA players eligible to participate in the Olympics is the theory that it generates more global exposure for the league. NBA players in the Olympics will attract more fans and players from around the world.
The problem with this argument is that basketball is not one of the premier Olympic sports. It does not take center stage at the Games, but often plays a supporting role to more popular events like swimming and track and field.
The NBA Finals generate a bigger audience than Olympic basketball. The 2008 gold medal game was the featured event on Saturday, August 23, which combined with Friday's lineup to produce the lowest primetime Olympic coverage since 1988.
Sending the best NBA players to compete in the Olympics does not help the league's global image enough to warrant the risk that also comes with this format.
4. Nothing to Prove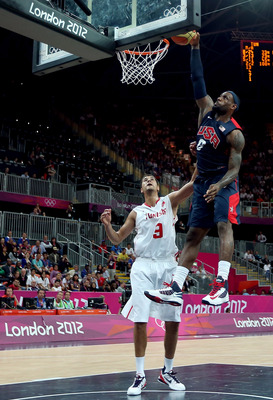 Did you really need to see this (above) to know that LeBron James and the USA are better at basketball than everyone else?
Ezra Shaw/Getty Images
USA formed the "Dream Team" in 1992 because Americans hated watching a one-loss bronze medal finish in 1988. The same story replayed with the "Redeem Team" in 2008 after USA took bronze in 2004.
America is home to the best basketball in the world. Americans are thus annoyed when Team USA doesn't win against the rest of the world.
But do you really need to watch LeBron James, Kevin Durant and Kobe Bryant win by 84 points with record-breaking performances that more than double their competition's output to know they are the best players in the world.
If flaunting our country's superiority in basketball on an Olympic stage is what you want, just pop in a tape from 1992 or 2008. Record this year's games for the collection while you're at it.
America does not need to prove time and time again that no other country can even compete when it sends the best NBA players. Instead, America should invest in USA basketball by developing its younger talent.
Patriotism is great, and the Olympics provide the greatest stage for patriotism. But if Olympic basketball is only about waving flags and feeling good about ourselves as Team USA steamrolls completely inferior competition, that's not worth the risk of wear and tear, injury or the missed opportunity to invest in the game.
5. More Compelling Olympics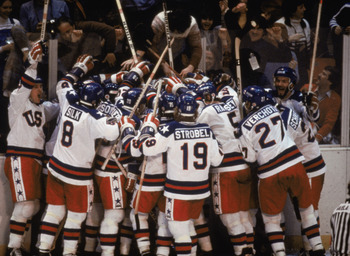 The "Miracle on Ice" made one of the best Olympic stories in history.
Steve Powell/Getty Images
Yes, USA probably won't win the gold medal too often if America sends only NCAA and young NBA players to the Olympics. Some years, the team may not medal at all.
But evening the playing field ("court" in this case) isn't such a bad thing.
Flaunting superiority may be the American way, but overcoming all odds to realize a goal is the American Dream.
It's not as if David Stern wants to start playing a bunch of high school athletes in the Olympics. The top American NCAA and young NBA players will still make a competitive team.
Here's a non-comprehensive list of top players that are eligible for a potential under-23 roster right now: Kevin Durant, Derrick Rose, Blake Griffin, Anthony Davis, Russell Westbrook, Kevin Love, DeMarcus Cousins, James Harden, John Wall, Stephen Curry, Eric Gordon, Tyreke Evans, Jrue Holiday, Nicolas Batum, Brandon Jennings, Greg Monroe, Kyrie Irving and DeAndre Jordan.
A team from that group wouldn't dominate like the current roster. It may not beat Spain. But it would compete at a high level. Watching that team medal would be much more rewarding than watching Kobe Bryant and LeBron James perform their best Globe Trotter impression.
And if the under-23 team does win gold? It wouldn't rival the "Miracle on Ice," but it would still be an inspirational story.
The only thing Kobe and LeBron inspire during the Olympics is boring television. Exhibition games are more exciting than these group play "contests."
Americans can keep their patriotism for USA basketball and, at the same time, the NBA can keep its top players healthy and fresh. This is not a matter of one or the other.
Fans get a much more compelling tournament to watch as well.
Keep Reading