Ben Roethlisberger: 10 Reasons Why 2012 Could Be the Quarterback's Finest Season
Doug Pensinger/Getty Images

Ben Roethlisberger is the type of quarterback who puts torque into Steelers fans' Terrible Towels—those yellow glory cloths twirling to rejoice his rare skills and abilities.
Whether regarding his penchant for making the big play, success in clutch moments or Houdini acts in the pocket, Steelers Nation is blessed to have such a rare talent at the most critical position in football.
Early in his career, fans criticized No. 7 for merely being along for the ride behind a great offensive line and with the support of a great defense. While this may ring partially true, it's not completely accurate, and more so, hardly the case.
If he were truly just a remote operator, the outcome of those early seasons and the fifth championship would have been playoff exits—the specialty of most mediocre quarterbacks before Ben's arrival.
As seasons have passed, the team now passes with more frequency than ever before. The Steelers' franchise quarterback with the niche for the gloriously unexpected is certainly the anti-Favre, a gunslinger molded together with a rational field general opposed to a narcissistic cannon firing rounds without regard to the stakes.
Yet, if 2012 will be Ben's finest season, it will be less because of passing volume and more due to efficiency. This will require a decent run game, play-action passing and the quarterback to take the advice of those around him, tweaking his game and learning the finer points of a new offense.
Along the way, Ben has eclipsed 4,000 yards in a season (2009) and 30 touchdowns (2007). Yet, for all of his big-game capability, the quarterback has never put these types of numbers all together.
If he can blend together some of the factors listed herein, a great season is just around the corner, potentially one of his finest. He's certainly capable of having his best season yet—a result that wouldn't be so much the product of improvement as much as just the strengths of a great quarterback finally coming together in harmony.
In no particular order, here are 10 reasons fans can realistically hope for the greatest season of No. 7's illustrious career in 2012!
Begin Slideshow

»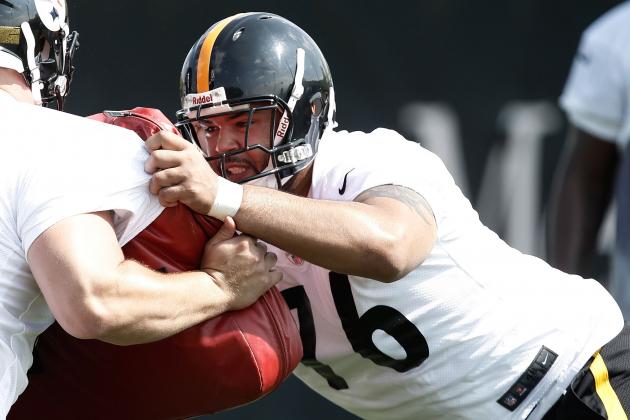 Jared Wickerham/Getty Images

A great quarterback can only truly peak when he feels like one with the offense he's running, and this is nearly impossible behind an offensive line as inconsistent as the hogs the Steelers have fielded in recent seasons.
Like the bubonic plague striking the crew of a small rat-infested ship, the Steelers offensive line has got swatted like flies last season. Falling one after another in recent seasons, each new loss became exasperating, begging the question:
Is this the breaking point? Or, is it this one?
Nobody can truly predict the health of linemen, though, the Steel City will collectively have its fingers crossed that two potential All-Star rookies, along with the rest of the line, stay healthy.
Not only does this promote the obvious improved play through a healthy tool (one's body), but it also translates to precious time together that allows units of give to blend into harmoniousness.
Thankfully, Ben has managed to make plays in spite of the line during downtrodden times in the Pittsburgh trenches, but it would certainly be nice if No. 7 could finally have full control, or at least, substantial control, over the decision to scramble in an effort to create longer gains or stay pat.
As Roethlisberger is concerned, his style of play certainly skews the O-line statistics. Ultimately, I'd gather his sacks as a wash. Half are the result of his belief that no play should be forfeited.
The other half are the result of shoddiness at protecting Ben. But, make no mistake that the reason the team took two linemen with first-round value atop their draft was the need for it!
With a tackle converting to guard, which seems more in line with his skill set, two highly touted linemen in DeCastro and Adams serving as inevitable upgrades, and the return of two other young, promising linemen, odds for improvement are great!
Imagine, if you will, a dream scenario where the offensive line shows significant improvement in both pass blocking and run blocking:
Quarterbacks have more time and options. Receivers catch more passes. Running backs gain more yards. Coordinators have more flexibility with the play chart. Play-action passing becomes a unique threat.
Now, that would be true heaven for No. 7!
.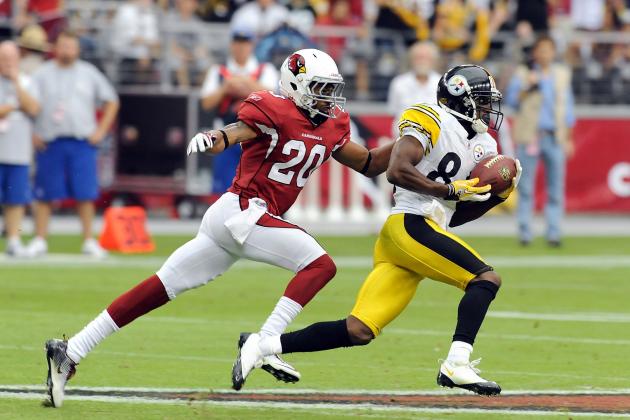 Norm Hall/Getty Images

Big Ben(nie) has a corp of receivers that use rocket fuel to transport themselves from point A to point B—speedsters who showcased their explosiveness all of last season.
Now, with a full offseason to prepare (except for one glaring exception among the unit), players like Antonio Brown and Emmanuel Sanders promise to have even more synergy with Big Ben.
Brown is an absolute stud who should figure to tweak his style, allowing him to develop from a certifiably reliable target on all downs and distances and into a touchdown scorer as well.
If Mike Wallace returns, the team will again reload with one of the scariest starting duos in the NFL. If not, No. 17 should probably watch his step as many speculate Emmanuel Sanders has the talent to showcase his own Antonio Brown, circa 2011, routine.
Yes, this Steelers receiving corp is loaded with kinetic energy and fun factor!
Additionally, Jericho Cotchery brings much of the leadership and clutch factor that is lost with the absence of Hines Ward. Likewise, the receiver serves as a great replacement in Ward's bread and butter area of the past, the slot, where his soft hands and physical play will make for a great red-zone threat.
Yancy Thigpen owns the club record with 1,398 yards, and I expect the ambitious Brown to eclipse that mark before his recently signed five-year extension expires.
More important than the speed of the team's receivers is their consistency with route running and time together. With a year under their belt, the unit will continue to develop the type of chemistry that will make them a potent passing attack.
And, while the unit is learning a new offense, this will erase on any natural complacency that can develop over time as a matter of human nature, forcing the players to all focus on common learning goals together.
In an episode of "America's Game," Michael Irvin talks about closing his eyes to run routes, confident that Aikman would hit him in the hands 9-of-10 times based simply on their bond and precision.
With patience, practice and execution, "B-B-B-Bennie and his Jets" may just have liftoff in 2012.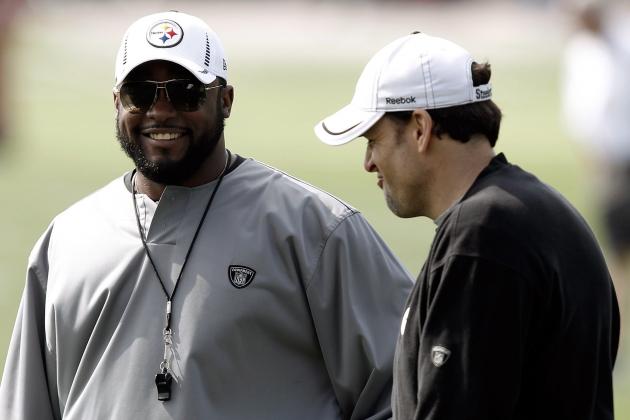 Jared Wickerham/Getty Images

Ranking 21st in league scoring this past season (20.5 pts/gm) and peaking at 14th in red-zone touchdown efficiency is something one would expect from an offense in transition, if not an overachieving group lacking the talent to be dangerous.
From a unit featuring a franchise quarterback, amazing receivers, a solid tight end in both phases of the offense and very capable (to put it modestly) running backs, that type of production is simply putrid.
The Arians system had more than enough time to iron out its flaws, but the end result was simply an inefficient offensive system—plain and simple.
Beyond the lame production, many of the decisions by the coach were questionable. Whether for being influenced by Big Ben or his own personal thoughts, one has to look back with bewilderment when considering that Roethlisberger's ankle was asked to drop back and throw on 40 occasions amidst gusting winds in Cleveland, and despite the run game averaging over seven yards per carry.
A huge part of coaching is understanding circumstances and taking advantage of situational football in a manner conducive to achieving the best results. Arians made it far too easy for even the most layman fans to call into question his course of action.
Bringing in Todd Haley effectively did three things:
1) Added a staff member who has a track record of offensive success with varying skill sets.
2) Gave the offense a united goal in learning a new system together through a full offseason.
3) Sent a message that the performance of last year wasn't good enough.
Haley's proven track record should certainly pan out, particularly as the season goes along. More than anything, his high expectations coupled with the talent in place should equal progress.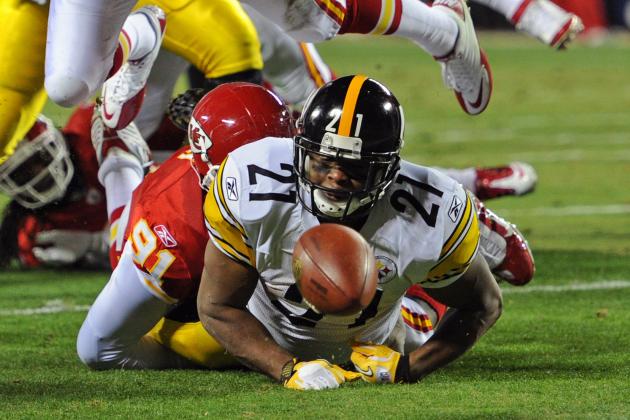 Peter Aiken/Getty Images

Though it may sound banal, every red-zone opportunity lost last season—which was far too many—were also lost production for one of the game's best passers.
With a renewed focus in that key statistical zone, any sort of progress will lead to improved numbers. With the secondary so congested, the approach inside the 20-yard line changes for quarterbacks, who have to adjust their throwing motion and decision making to account for the space available.
An improved use of targets whose skills are conducive to making plays in the "gold zone" will be the key, along with avoiding silly mistakes and turnovers while points are at stake!
Mike Wallace has game-burning speed, but perhaps ,using him less in the red zone would work well, considering this is an area of the field that is built for matchups opposed to sheer separation.
Jerricho Cotchery is a huge lift for the team as a healthy slot receiver to start the season, and the coaching staff and players should all be figuratively fined if Heath Miller doesn't get targeted more often.
Also, the outside receivers, albeit Sanders, Brown or Wallace, can always work on their shiftiness, as well as their ability to hit soft spots on the defense.
Further, big bodies such as Leonard Pope, who has a career filled with key receptions virtue of his decently soft hands and 6'8" frame, and Wesley Saunders, who made one of the most beautiful touchdown catches of last season, will only aid the red-zone focus.
Lastly, the ability to further stress linebackers at the intermediate level with Baron Batch or Chris Rainey will only present further headaches for defensive coordinators. Speaking of those two...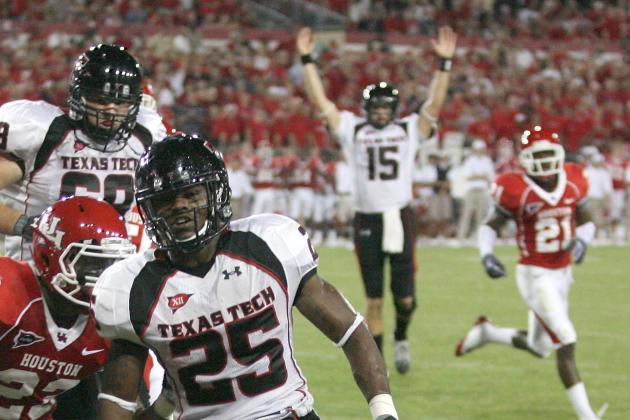 Thomas B. Shea/Getty Images

Recently, I selected two speed backs among the eight most underrated offensive options on the team in 2012, writing:
Excitement is high for the two fast backs, but could one or both of these potential studs exceed expectations with a larger than expected role?

Rainey is small. Some would even describe him as mini. But sometimes, mini and mighty go hand-in-hand. Or, more particularly in the former Gator's case, "small as a locket, but fast as a rocket!"

Between Chris Rainey and former rookie and current redemption-seeker Baron Batch, the Men of Steel boast a pair of backs who can help turn them into being even more so the "Men of Thrill" as early as September.

The ability to set up the screen pass to either of the two fast backs exemplifies the phrase "giving an inch and taking a mile."

While this assists them with traditional screen plays, it also makes them viable receiving targets in any number of formations, including the spread offense.

Reports of Rainey, a true rookie, and Batch are promising. Each has fine hands, dynamic playmaking ability and all the skills to potentially be a Steelers sort of answer to Ray Rice.

This not only makes it easier for the Steelers to disguise their intentions and formations in the huddle and pre-snap (sending a back into motion), but it gives the team another viable playmaking threat that can be utilized on any number of passing plays and downs.

The luxury of a dual-threat fast back is a deadly threat that the team cannot afford not to utilize!

Particularly with Rainey, a clear playmaker in the passing game, finding the soft spot of the defense or burning a covering linebacker could give the Ravens defense the type of late-down fits that have haunted the Steelers in recent games.

While even Gators fans may feel this is overstating it quite a bit so early, the early accolades certainly suggest that promise rests on the shoulders of the former Florida standout.
The ability to further test defenses, particularly in setting up matchups against opposing linebackers as well as racking up the ever-so-helpful-statistically YAC yardage, will only help Ben flourish.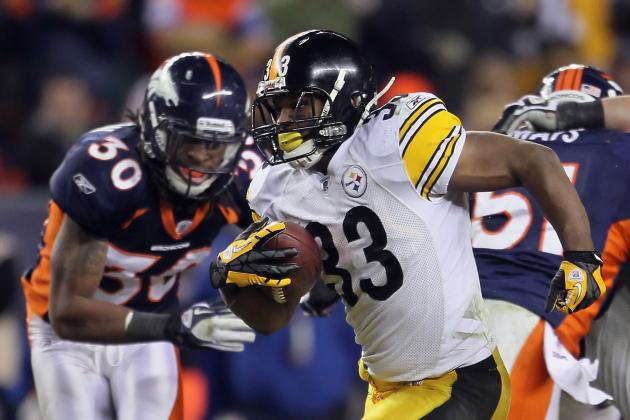 Jeff Gross/Getty Images
In the final two games of last season, Redman averaged over seven yards per carry. Bruce Arians apparently didn't notice.
While Batch and Rainey are promising playmakers who can frustrate defenses intermittently, Isaac Redman, and most likely, Jonathan Dwyer will have the bulk duties in the running game, at least until the return of Rashard Mendenhall—and even likely beyond.
Anybody who saw the effects of successfully establishing the run on the Steelers passing game last season understands that a defense that can't focus on one element of a game plan is a very, very susceptible unit indeed.
Just ask the Titans. The Steelers ran roughshod on Tennessee, and Big Ben had his finest game of the season, tossing five touchdowns in seemingly effortless fashion.
An improved line, and even more experience at all phases, should equate to an unexpected season for the Steelers offense. In reality, the rest of the NFL and various circles of fans have no idea how much potential the Black and Gold offense truly has, focusing far too much on change and youth opposed to skill and roster improvement.
Balance negates predictability, keeping defenses honest and not allowing them to focus their attention at any specific strength.
In other words, as it will allow Roethlisberger more opportunities downfield by keeping defenses away from nickel and dime formations; the book of objectives has a simple title: "Make the Defense Honor the Run, No Matter What."
One huge misconception is that a solid run game must gain a high average per attempt. While this is beneficial, the ability to make a defense honor the run game by not abandoning it is as much a factor in offensive balance as creating huge holes for backs to run through.
As theory goes, the run sets up the pass. In truth, neither the run or the pass sets up the other.
The deterrence of having both sets up both.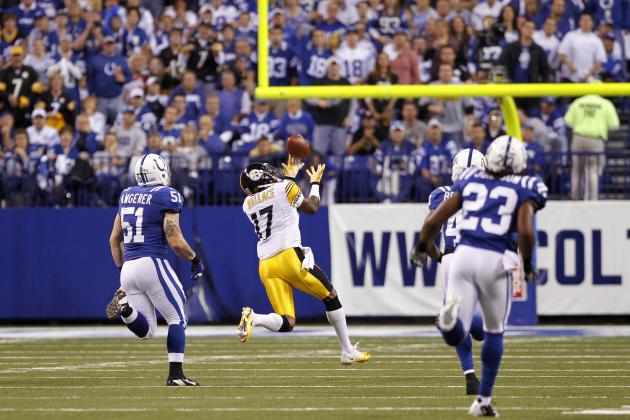 Joe Robbins/Getty Images

To be (at camp) or not to be (at camp): That is the question (for Mike Wallace).
I know what most people are saying: "Without No. 17, how can No. 7 even remotely think about having a career year?"
Nobody doubts his game-breaking catches, and sudden score-altering plays will be sorely missed if he does not show up to play this season.
However, in his absence, while big plays will be lost, a few errant throws downfield will certainly be avoided as well.
2011 was a Jekyll-and-Hyde proposition for the speedster. An explosive start gave way to an anemic ending. While Ben Roethlisberger's injury didn't help, affecting his accuracy and timely delivery downfield, Wallace's drop-off started well before "Anklegate" in Pittsburgh.
Meanwhile, Jerricho Cotchery slowly began contributing, albeit mildly, to the offense, while Antonio Brown blossomed as a superb all-around receiver, continuing to produce even after the roster became a hospital waiting list.
Wallace is a deadly threat, phenomenal talent and absolute burner at wideout. However, for the type of money that's being insinuated as "in his price range," is he really the type of all-around receiver whom the team cannot continue without?
While his most notable peer was team MVP, gets his nose dirty over the middle like a prize fighter, produces in traffic, moves the chains with consistency, often makes the catch against tight coverage against all odds and is likewise capable of the occasional deep play, it seems that Wallace...well...
It seems that he often gets open deep downfield, or he doesn't. This isn't to say he's a one-trick pony, but he certainly needs to expand his "trick portfolio," particularly at the intermediate passing level.
Before my assessment comes off as too scathing (too late?), I would be remiss not to add that Mike Wallace's game doesn't literally start and stop with the deep pass.
He has shown steady improvements in route running and the desire to develop into a better NFL receiver. Yet, compared to other receivers, who will themselves be free agents that the team will have to address, Wallace could still easily be considered the "long ball" guy.
Sure, home runs excite the crowd. Still, every team needs an RBI guy. And, with offensive talent like the Steelers—which, frankly, is the equivalent of having men on base most of the time—batting average is just as important.
From November and beyond, Antonio Brown was all over the field. One would think his increased production would have made it easier for No. 17, considering Hines Ward (who started across from Wallace early in the season) was not commanding the same respect that he once warranted from NFL secondaries prior to Brown's emergence.
Like any other rational Steelers fan, I prefer that the Black and Gold keep Wallace around. I just don't feel it will be world-ending if he doesn't return. It seems clear that keeping him should only be done on team terms...and nothing more. At least, that should be the case until Wallace compliments his deep threat with a few "singles and doubles."
And, in his absence, perhaps, a few "swings and misses" of his home run stroke will be replaced by the singles and doubles that keep the offense on the field and in reasonable down and distances.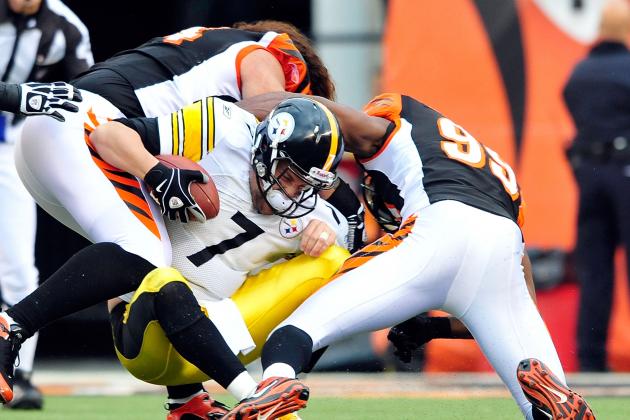 Grant Halverson/Getty Images

Let's assume "tweaking" in the case of Big Ben includes releasing the ball in the passing game more quickly.
Likewise, let's consider that many fans believe that Roethlisberger's "holding the ball too long" is a flaw to his game.
With those two factors stated, allow me to state plainly the best thing that can happen to No. 7 as it concerns adjusting his game in 2012—a balance of both.
I want to see Ben play for as many seasons as possible, and a quick release preserves his body, along with utilizing quick receivers who can get off coverage underneath.
However, I do not want Roethlisberger to overly abandon the "never say die" approach that yields so many great downfield plays. If the circumstances call for it, and no other options are available, No. 7 should not stand in the pocket just for the sake of it.
Why? That's simply not who he is as a passer. Period.
Also, frankly, those who describe Ben's "holding the ball too long" as a flaw are not accounting for the strengths of his approach. This isn't to say that he shouldn't throw the ball away or preserve himself for future downs more often; he just shouldn't do it more often than not.
He escapes from tackles nobody else can dodge.
His brute strength makes him impossible to bring down.
His accuracy throwing on the run is absolutely uncanny.
He times risks and comes through in the clutch more often than not.
These facets of his game make him the supreme candidate for making something out of nothing. This is exactly what he does, and his statistics shine for it. Roethlisberger is among league leaders in yards per pass annually. .
With the accuracy of most pocket passers even while on the run, Roethlisberger is a rare bird that should not change his colors.
"Live by the sword, die by the sword." Right?
A gunslinger always checks his firearm before going to battle; there's no way to take his bullets.
With all of these other advantages working in his favor, Ben's biggest ally will be himself.
Luckily, I think he's ready to master the balance of manufacturing plays and "tweaking" his style.
So many who harshly judge Roethlisberger, ranking him far below less successful peers such as Tony Romo, make the argument that his numbers don't bear an elite ranking.
Leave it to our fantasy football-driven, brainwashed, modern fanbase to correlate everything to volume numbers, whenever efficiency measures (yards per pass, TD:INT ratio, QB rating) coincide far more consistently with winning.
Nevertheless, even in an unjust society where big numbers equals big praise, Ben has weeks where he can more than hold his own against the stats sultans that are Brady and company.
Frankly, if he can do it at any given time, dependent on the game plan, it makes total sense that he could do it in any given season with the proper balance of factors merging together.
With the added benefit of the factors that we've discussed, Roethlisberger's other key advantage is that he's shown elite numbers (at least, elite volume stats that make the heart of the increasingly disconnected general public flutter) in the past.
30 touchdowns in a season? Check.
4,000 passing yards? You betcha'.
Five touchdowns in a half, sinner a game? Check.
500 yards in one game? Check.
When the necessity is there and the circumstances are right, Big Ben is more than capable of flirting with the stats page of fantasy football followers and logical gridiron gurus alike.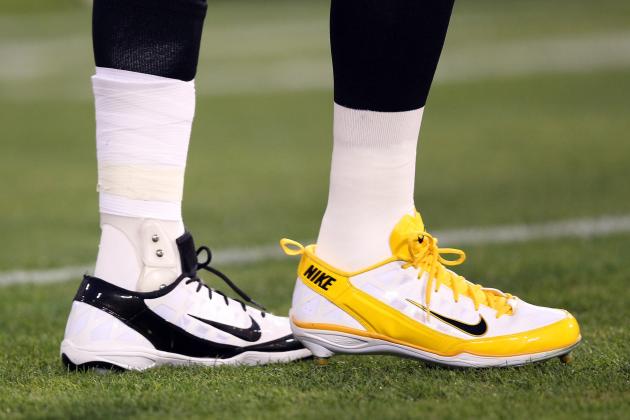 Ezra Shaw/Getty Images

It's the ultimate X-factor.
This is not a prediction that Ben will be healthy in 2012. This is a testament that for the previous analysis to hold true, Roethlisberger must stay healthy in 2012.
IF he can avoid the type of injuries associated with his recent seasons, then Pittsburgh's franchise signal-caller will have the inside track to one of his finest seasons!
Having gone down with an ankle injury last season, the impact on his throwing mechanics, particularly his accuracy, was incredibly evident. How many overthrows were necessary before the team realized the need to rest their prized passer?
The good news is that Ben is a fighter, a true blue-collar warrior with an old-school spirit about playing injured. It will take something as severe as last season or worse to keep Roethlisberger from pursuing his goals.
However, the past does showcase a quarterback who rarely plays an entire season.
Here's hoping that No. 7 has the good fortune to start 16 games in 2012. If he accomplishes this feat, the sky will be the limit for the quarterback and his football team.