5 Must Win Games for the South Carolina Gamecocks in 2012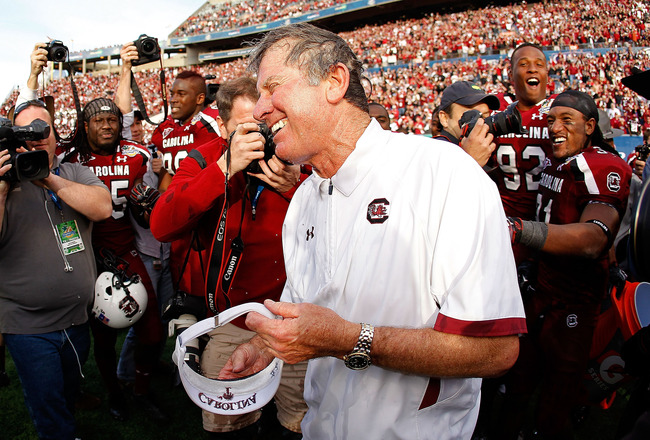 Mike Ehrmann/Getty Images
The South Carolina Gamecocks have always been known as the football program that has a few big-time wins, but loses against teams that it shouldn't have.
This season, the Gamecocks hope to break the curse and strive for perfection, making the jump from winning 11 out of 13 games, to undisputed perfection. Here are five games SC cannot afford to lose on their quest to a national title game.
1. @ Vanderbilt: August 30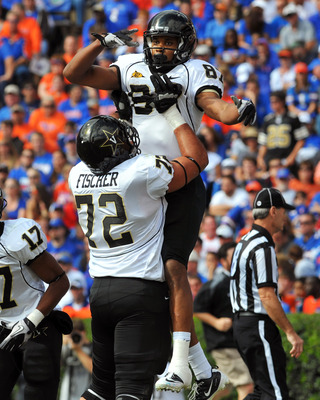 Al Messerschmidt/Getty Images
The first few games of the season can be an upset zone for highly-ranked teams, especially if the tempo isn't started off the right way.
Vanderbilt won't be intimidated in this one, as they once defeated the Gamecocks 24-17 on their home turf in Columbia back in 2007.
If USC wants to make themselves true and legitimate title contenders, a statement must be made this game.
2. Missouri: September 22
Jamie Squire/Getty Images
Here is South Carolina's real test for the first quarter of the season, welcoming Missouri to the SEC conference in a home game.
It's going to be up to USC's defense to win this game. Mizzou may try to initiate the pass attack, which means the Gamecocks secondary has to come up big and make plays.
A win against Missouri will have them sitting at 4-0 with their second SEC win, ready to take on the tough task of playing stretches of SEC teams.
3. @ LSU: October 13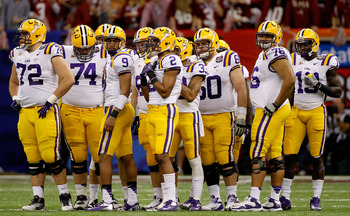 Chris Graythen/Getty Images
This is the biggest game on the schedule for the Gamecocks without question.
LSU will likely come into the matchup undefeated after playing three cupcake games in North Texas, Idaho and Towson.
If South Carolina can capitalize off an effective run game and get a break through the air, the game may be wide open for them.
LSU's offense will be in full stride, and has its possible answer at quarterback in Rob Bolden (via USA Today). The defense again will have to step up in order for the Gamecocks to leave Baton Rouge victorious.
4. Arkansas: November 10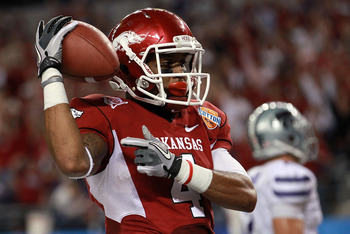 Ronald Martinez/Getty Images
In terms of pride and what's at stake, this is the game USC must win to get over the hump.
Besides just trying to remain "undefeated," the Gamecocks haven't beaten Arkansas in the past three seasons.
Arkansas was in the way of a potential 12-win season and a trip to the SEC title game, defeating USC 44-28 last season.
That could be the case again this year, whether national title or SEC title bid, so this is a game the Gamecocks must win.
5. @ Clemson: November 24
J. Meric/Getty Images
The word "Clemson" should say enough for USC Gamecocks fans.
Although it has no impact in terms of SEC title game aspirations, it's just a game Carolina fans and players alike don't like to lose.
USC must defeat Clemson so they can have momentum going into whatever game is next. Hopefully, the SEC title game.
Keep Reading

South Carolina Football: Like this team?