Cincinnati Bengals Mailbag: 8/2 Edition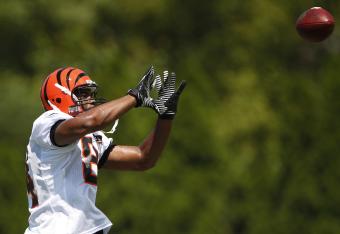 Frank Victores-US PRESSWIRE
The Cincinnati Bengals have officially kicked off training camp, which means a plethora of questions have been added to the already large number floating around the team. We're still a long way off from having any solid answers to those burning questions, but for now we can attempt to answer them ourselves.
This week we'll discuss the state of the defensive tackle and wide receiver positions and examine Taylor Mays' potential in 2012. Let's get started:
@chris_roling Domata Peko: will he be back next year? And how good has Devon Still and Brandon Thomspon looked?

— fret (@frettyj) August 1, 2012
Great questions, the defensive line is a big area in camp this year considering the team is attempting to replace two key members of the rotation they lost in free agency.
Domata Peko will absolutely be back next year. He's a visible leader on the field and a veteran presence. He is the best run-stopping tackle the Bengals have in my book. The only way I can see him not making the final roster is because of injury. If I had to guess, Pat Sims is still the odd man out.
There hasn't been a whole lot out of Brandon Thompson or Devon Still just yet, but it's early. Thompson looks like he is going to be used a good amount against the run, and Still has looked impressive during the notorious Oklahoma Drill. Both are benefiting from extra snaps right now because Sims is out with an injury. We'll know more about both very soon.
Frank Victores-US PRESSWIRE

@chris_roling assuming the #bengals keep 6 WRs, who are they 2 most likely to get cut?

— Jason Hale (@hale_jason) August 1, 2012
Good question, Jason. I have to think six is the magic number at this point. If that's the case, I think A.J. Green, Jordan Shipley, Mohamed Sanu, Marvin Jones, Andrew Hawkins and Armon Binns are locks at this point.
I know there is a lot of hype about Brandon Tate right now and he is running with the first team, but I don't see it lasting. I also think Jones and Hawkins provide more in the way of kick returns, so Tate is gone in my mind.
That means Ryan Whalen and a variety of undrafted rookies are on the way out the door as well. The six I think make it are a nice combination of size and speed and can be used in a variety of different ways. Health permitting, that's my six.
@chris_roling do you think Taylor Mays if he starts will register a lot of sacks?

—Gary Johnston (@Tikinola) August 2, 2012
Absolutely. I've been beating this drum since the tail end of last season. Taylor Mays is an excellent blitzing option out of the secondary thanks to his freakish combination of size and athleticism.
Look at it this way: Mike Zimmer got 3.5 sacks out of Chris Crocker's corpse last year from the same position. Mays is an elite athlete that still has an elite defensive unit around him. Thanks to players like Carlos Dunlap and Geno Atkins, opposing offensive lines are usually pretty busy, which means the 6'3", 230-pound safety with 4.4 speed should have plenty of opportunities to get to the quarterback next year.
@chris_roling How do you see Taylor Mays at SS? He the long term answer next to Nelson?

— Scott (@ScottyIGN) August 2, 2012
Now that is a tough question, and one that I doubt will have a clear answer any time soon. I like Mays a lot, what he brings to the table physically is pretty rare. I don't love his horrible angles to the ball-carrier and inability to use his mind while on the field.
If Mays is going to be a long-term solution for the Bengals, he needs to survive the battle in training camp first. Jeromy Miles isn't your typical backup, he could steal the starting job from right under Mays' nose. Don't forget rookie George Iloka, either. He strikes me as more of a free safety, but he's got the build to play either.
To me, Mays will be successful for the Bengals at strong safety, but it will have little to do with him and everything to do with defensive coordinator Mike Zimmer. We all know what Zimmer can do with mediocre players, but who knows what he can do with a player like Mays who is just oozing with potential.
I think the real question should be, when (or if) will Zimmer leave, because that's when players like Mays suddenly turn back into average players.
@chris_roling which position group do you think we will see the greatest improvement from in 2012 compared to the 2011 season?

— Bengals Talk (@BengalsTalk) August 2, 2012
One position immediately popped into my mind after reading the question—the offensive line. It's an extremely boring answer, but it seems like the obvious one. It also seems like the only one guaranteed to be better in 2012 in my mind.
I'll just go left to right. Andrew Whitworth is one of the best at what he does, I don't see that suddenly changing. The new left guard Travelle Wharton is an upgrade over Nate Livings in all areas, it's just a matter of him building chemistry with the rest of the line.
I've publicly been a huge critic of center Kyle Cook. I'll admit he has a chance to grow into a much better player, but right now he still seems like a "good enough" option. He'll do what the Bengals need him to do, but continue to be the weak link.
I think at right guard the Bengals got arguably the best guard in the entire draft in Kevin Zeitler. He'll have some rough patches, but he's better than anyone the Bengals plugged in at the position last year. Finally, you've got Andre Smith in a contract year, so he'll play his best ball yet as everyone does on the tail end of a deal.
The line is not going to do anything eye-popping when it comes to statistics, but I think we'll see a more consistent unit that allows the West Coast offense to run smoothly.
Want to participate and have your question featured in the mailbag next week? Hit the button below to follow me on Twitter and send me your questions every Wednesday!
This article is
What is the duplicate article?
Why is this article offensive?
Where is this article plagiarized from?
Why is this article poorly edited?

Cincinnati Bengals: Like this team?