5 Reasons to Draft Trent Richardson in Your Fantasy Football League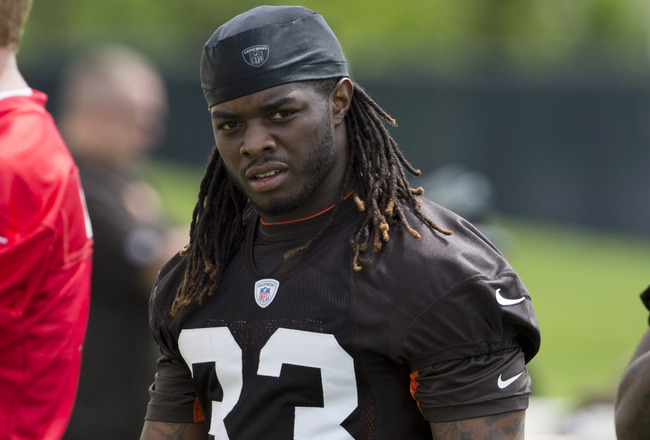 Jason Miller/Getty Images
The Cleveland Browns did something in the 2012 NFL draft that has become exceeding more rare. Instead of following most of the rest of the league in de-valuing the running back position, Cleveland spent its top 5 pick on Alabama's lead back, Trent Richardson.
As the fantasy football season nears, should you do the same? Is Richardson worth one of your draft picks?
In the following five slides, we'll give you an argument as to why he should be.
He's the Browns' Unquestioned No. 1 Back...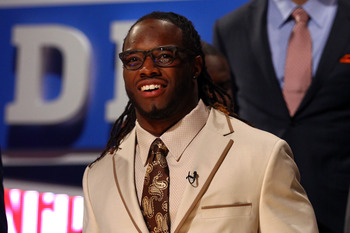 Al Bello/Getty Images
Before the Browns selected Richardson third overall in April, Cleveland's running back depth chart was as bare as bare gets.
Montario Hardesty (injury-prone), Chris Ogbonnaya (87 career carries) and Brandon Jackson (missed entire 2011 season) were the spectacularly unspectacular names making up the position.
Once Richardson's name was called, however, the former Alabama back became the clear and unquestioned No. 1 over those three.
And when the 2012 season starts, it will be Richardson getting the majority of the carries in the Browns offense. There's simply no one behind him to take a large chunk of those opportunities.
...And a Borderline No. 1 Fantasy Back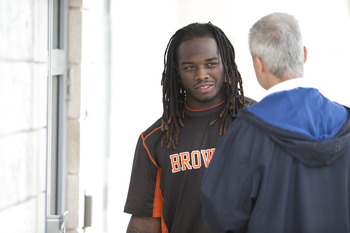 Jason Miller/Getty Images
While ESPN ranks him as their 13th-best fantasy back for the 2012 season, Richardson is a guy who could easily perform (and could be drafted) as a team's top fantasy back.
There's so much to like about Richardson's upside.
He's going to get the touches, both in carry and catch form. There's no one behind him worthy of stealing opportunities and snaps. And the Browns are going to lean on him heavily throughout the season, given he's healthy.
Add it all up, and Richardson has a very good chance of being on of the top 10 or fantasy backs in 2012, even as a rookie.
Browns Have a Poor Passing Game Overall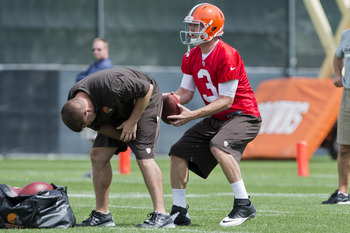 Jason Miller/Getty Images
Cleveland spent a first-round pick in the 2012 draft on Oklahoma State quarterback Brandon Weeden and later gave up a third-rounder in the supplemental draft for promising receiver Josh Gordon. It's made moves to upgrade the passing game.
But let's be perfectly honest about the Browns offense: When push comes to shove, this is going to be a running football team. This is not the Green Bay Packers or New Orleans Saints in Cleveland for 2012.
And we've already touched on the percentage of touches in the running game that will go to Richardson. The Browns probably won't want to put too many miles on his tires too soon, but it's conceivable that Richardson will see 325-350 total touches in 2012.
You can do the math on the yardage totals with those touches, even if Richardson is just average next season. It's a considerable fantasy number.
Cleveland Can Still Have an Elite Running Game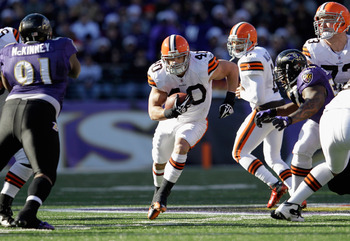 Rob Carr/Getty Images
Most seem to focus some of their worry on Richardson's season with the performance of the Browns' running game last season. Peyton Hillis was awful—I'm not doubting that—but he also seemed to give up on the season, and the backup options, as we've already discussed, were poor otherwise.
But let's also not forget that the Browns offense is just two years removed from being a top running football team. Hillis—the same guy who couldn't do anything right in 2011—ran for almost 1,200 yards and carried a 4.4-yard average.
As running talent goes, Hillis is nowhere near Richardson. It's not even close. In almost any category, Richardson is the superior talent.
To think Richardson can't do what Hillis accomplished on this team just two years seems naive to me.
Adrian Peterson Comparisons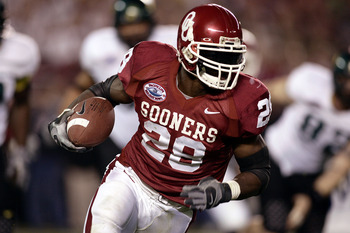 Donald Miralle/Getty Images
We would be remiss not include the unique skill set that Richardson carries into his rookie season in Cleveland. And for fantasy purposes, it's a perfectly relevant topic.
Throughout the pre-draft period, comparisons to Adrian Peterson were very common.
The two backs possess similar games: Well-put together frames, packed with muscle and ready for a 16-game NFL season. Underrated breakaway speed given the size, with 40-yard times in the 4.4's. Elite lateral agility and the ability to change direction on a dime.
Keep in mind, Peterson rushed for almost 1,400 yards and 12 touchdowns in just 14 games and nine starts his rookie season in Minnesota. He also added 268 yards receiving and another score.
Would it be completely crazy to think Richardson can't equal Peterson's 1,600 total yards or so next season? Especially as the centerpiece to the Browns offense and with the assumption he starts 16 games?
Keep Reading