USA Basketball's Optimal Starting Lineup vs. Each Remaining Opponent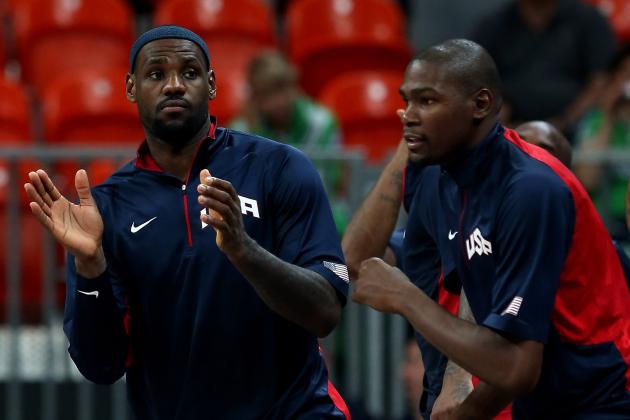 Ezra Shaw/Getty Images

So far, so good for Team USA at the 2012 London Olympics. After pulling away from France to win by 27 points on Sunday, the Americans returned to the Basketball Arena at the Olympic Park on Tuesday to wipe the floor with Olympic debutante Tunisia, 110-63.
On both occasions, USA Basketball head coach Mike Krzyzewski has opted to stick with the same starting five—LeBron James, Kobe Bryant, Kevin Durant, Chris Paul and Tyson Chandler—though, after the slow start against the Tunisians, there could be some changes in store.
A shift in the lineup, though, could come about for reasons other than a lack of energy and intensity from Team USA's side of the ledger. Each of its remaining opponents presents a different challenge, one that may require a different assortment of players to maximize the squad's success every time out.
Realistically, Coach K isn't about to push the panic button just because his guys came out flat against the worst team in the Olympic field, and probably isn't going to play chess with his starters to react to those that Team USA's remaining opponents trot out.
But, suppose Coach K did want to play his best hand first, according to the matchups. What would those groupings look like?
Note: the opponents listed for the quarterfinals, semifinals and finals are projected according to the current group standings, which can be found at NBCOlympics.com.
Begin Slideshow

»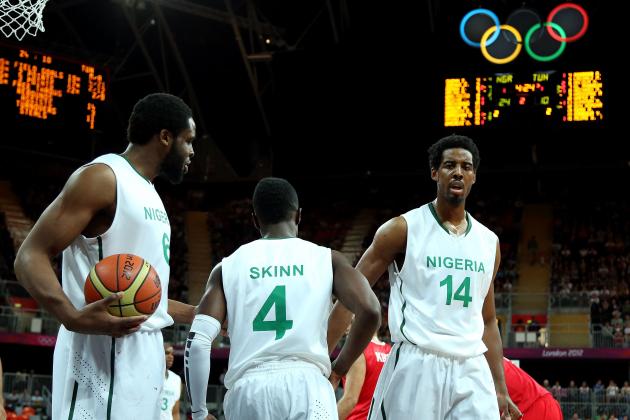 Christian Petersen/Getty Images

Nigeria's Starting Five
Point Guard: Tony Skinn
Shooting Guard: Derrick Obasohan
Small Forward: Al-Farouq Aminu
Power Forward: Ike Diogu
Center: Olumide Oyedeji
Team USA's Optimal Five
Point Guard: Deron Williams
Shooting Guard: Kobe Bryant
Small Forward: Kevin Durant
Power Forward: LeBron James
Center: Tyson Chandler
Frankly, Coach K could probably start the last five guys on his bench and still wipe out Nigeria on Thursday. D'Tigers are in the midst of their first trip to the Olympics, following a miraculous run through a late qualifying tournament that saw them score wins over Lithuania and Greece.
But, if the Americans are keen to maximize their blowout potential from the get-go, they'd do well to start Deron Williams over Chris Paul to counteract the size of Tony Skinn (6'3) at point guard.
The rest of Coach K's starters should fare just fine. Kevin Durant has the requisite athleticism and length to lock down Al-Farouq Aminu, and Kobe should be fine against the 6'6 Derrick Obasohan, who's more of a streak shooter than anything.
LeBron is an inch or two shorter than Ike Diogu, but can match the former lottery pick's strength and bulk. Even if he struggles, Tyson Chandler will be able to lend a helping hand on defense, seeing as how his assignment (Olumide Oyedeji) is a 31-year-old ex-NBAer whose chief talents (i.e. running and jumping) have diminished with age.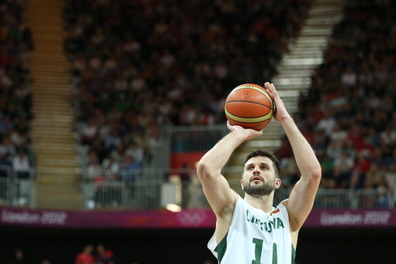 Christian Petersen/Getty Images

Lithuania's Starting Five
Point Guard: Mantas Kalnietis
Shooting Guard: Rimantas Kaukenas/Martynas Pocius
Small Forward: Jonas Maciulis
Power Forward: Linas Kleiza
Center: Jonas Valanciunas
Team USA's Ideal Five
Point Guard: Deron Williams
Shooting Guard: Russell Westbrook
Small Forward: Kevin Durant
Power Forward: LeBron James
Center: Tyson Chandler
Lithuania is far superior to Nigeria, but still figures to get its bell rung rather decisively by Team USA on Saturday. Pairing D-Will and Westbrook together at guard would give the Americans some solid defensive footing against Kaukenas, Kalnietis and/or Pocius, all scorers who measure between 6'4 and 6'5.
As for the front line, LeBron is perfectly proportioned to pin down Linas Kleiza, who'd be a matchup nightmare against anyone other than Team USA. Meanwhile, Chandler's ability to defend the pick-and-roll will come in handy against Jonas Valanciunas, the soon-to-be-Toronto Raptors rookie who specializes in setting screens, at least for his national team.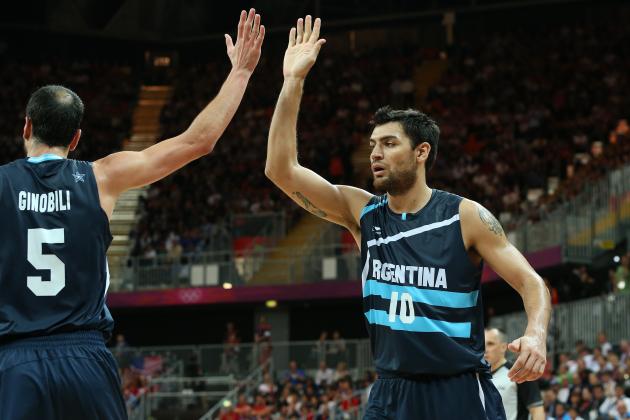 Christian Petersen/Getty Images

Argentina's Starting Five
Point Guard: Pablo Prigioni
Shooting Guard: Manu Ginobili
Small Forward: Andres Nocioni
Power Forward: Carlos Delfino
Center: Luis Scola
Team USA's Ideal Five
Point Guard: Russell Westbrook
Shooting Guard: Kobe Bryant
Small Forward: Kevin Durant
Power Forward: LeBron James
Center: Tyson Chandler
Tuesday's loss to France confirmed, to some degree, that Argentina's "Golden Generation" is, indeed, in the twilight of its run on the international stage.
Not that anyone should discount Argentina's chances against Team USA on August 6th, especially after a close call in Barcelona prior to the Olympics.
Argentina's known for being a rugged, rough-and-tumble bunch, though, truth be told, their strength stems from the wings. The Argentines pestered the Americans with penetration and proficient outside shooting when they last met, with Ginobili and Delfino combining for 38 points and Prigioni, the incoming New York Knicks rookie, dropping a game-high six dimes.
The emphasis for Team USA, then, should be on perimeter defense and rim protection. Westbrook's athleticism should serve him well against the 35-year-old Prigioni, while Kobe, Durant and LeBron can all switch between Ginobili, Nocioni and Delfino, if need be. Chandler, then, would provide a shot-blocking presence on defense while cleaning the glass on offense amidst a lineup of shooters and ball-handlers.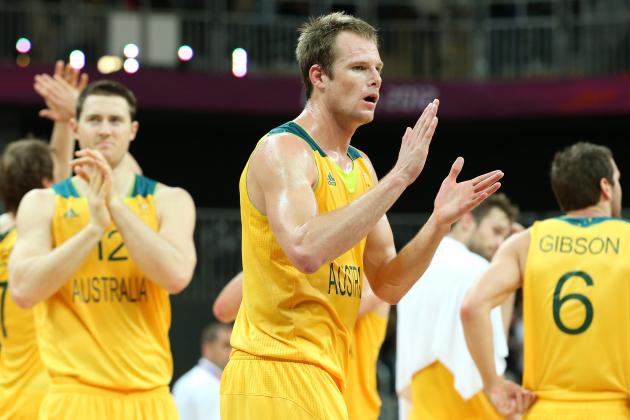 Christian Petersen/Getty Images

Australia's Starting Five
Point Guard: Patrick Mills
Shooting Guard: Matthew Dellavedova
Small Forward: Joe Ingles
Power Forward: David Andersen
Center: Matt Nielsen/Aleks Maric
Team USA's Ideal Five
Point Guard: Chris Paul
Shooting Guard: Russell Westbrook
Small Forward: Kevin Durant
Power Forward: LeBron James
Center: Tyson Chandler
If the preliminary round ended today, Team USA, tops in Group A, would tip off in the quarterfinals against Australia, the fourth-place team in Group B.
Australia's lineup is one of considerable contrasts, between the six-foot backcourt of Patty Mills and Matthew Dellavedova and the vertically-gifted frontcourt of Joe Ingles, David Andersen and either Matt Nielsen or Aleks Maric at center.
For the US, then, the key is to create mismatches on the offensive end while holding serve defensively. Together, Paul and Westbrook have the quick hands and even quicker feet to fluster Mills and Dellavedova and force them into making poor decisions. Should Mills' swiftness with the dribble be an issue, Chandler will be there as a last line of defense.
As for LeBron and Durant, they'll give Australia's bigger, slower-footed forwards fits on offense and use their length to do the same on defense.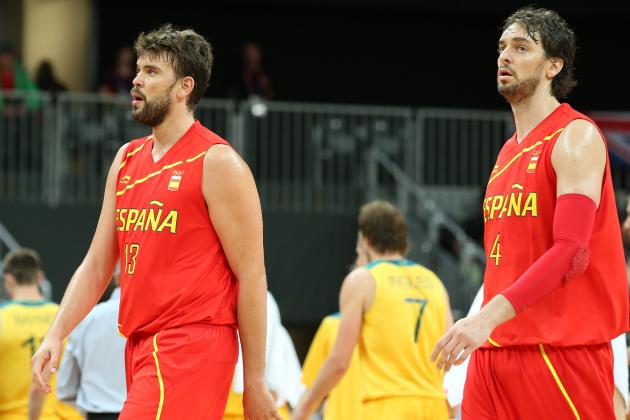 Christian Petersen/Getty Images

Spain's Starting Five
Point Guard: Jose Calderon
Shooting Guard: Rudy Fernandez
Small Forward: Sergio Llull
Power Forward: Pau Gasol
Center: Marc Gasol
Team USA's Ideal Five
Point Guard: Chris Paul
Shooting Guard: Kevin Durant
Small Forward: LeBron James
Power Forward: Carmelo Anthony
Center: Tyson Chandler
Size matters against Spain, which features the Gasol brothers in the starting lineup and Serge Ibaka on the bench. If the current standings hold serve, the US will likely have its mettle tested by the second-best team in the world in the semifinals.
For Coach K, the big decision comes down to whether he'd rather go big, with Chandler and Love, to combat the Gasols, or concede the size disadvantage and play for the mismatches.
Let's assume he goes for the latter, since that's what worked best for Team USA in their latest exhibition against La Roja. Carmelo and LeBron both torched the Spaniards in Barcelona, thereby meriting starting spots for those two 2003 draftees.
And if LeBron's in the first five, Durant should be too, seeing as how he and James work so well together on Team USA.
By plugging in LeBron and Durant on the wings, the US can create a size advantage of its own against Rudy Fernandez and Sergio Llull, neither of whom can crack 6'6. The Gasols will get theirs, but could also wind up in a bit of foul trouble trying to keep 'Melo and LeBron from having their way on the court.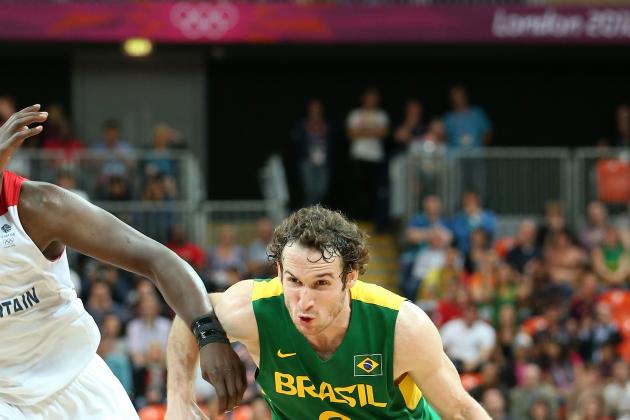 Christian Petersen/Getty Images

Brazil's Starting Five
Point Guard: Marcelinho Huertas
Shooting Guard: Leandro Barbosa
Small Forward: Alex Garcia
Power Forward: Anderson Varejao
Center: Tiago Splitter
Team USA's Ideal Five
Point Guard: Chris Paul
Shooting Guard: Russell Westbrook
Small Forward: Kobe Bryant
Power Forward: Kevin Durant
Center: LeBron James
Brazil has plenty of size at its disposal, between Varejao and Splitter in the starting five and Nene coming off the bench.
But it's the skill and quickness of Brazil's three-guard lineup that Team USA would have to worry most about in the gold medal game. Marcelinho, Barbosa and Garcia combined for 35 of Brazil's 69 points during an Olympic tune-up against the US in Washington, D.C., with Huertas also "chipping in" 13 assists.
If CP3 and Westbrook can contain Marcelinho and Barbosa, Garcia isn't draining threes with his funky shot, then Team USA should be able to run away from Brazil, even with a clear disadvantage on the boards. The speed and athleticism of LeBron, Durant and Westbrook, particularly on the break, should help the US to compensate for its relative lack of size here and bring home the gold in the end.