It was a hot, blistery weekend with temperatures ranging in the high 90s and thunderstorms appearing on a regular basis. Our team was in the winner's bracket and appeared to be en route to winning a highly competitive 12-year-old tournament in western Pennsylvania.
As the game went into extra innings, our team was leading by one run with two outs and two strikes on the opposing hitter in the bottom of the seventh inning. The game appeared all but over.
The batter hit a home run that extended a game my son's team eventually lost. Now the boys, disheartened, tired and disappointed, were forced to play again after a 15-minute rest.
You could sense a lack of energy. The team struggled to maintain focus and intensity. Yet, the game came down to the last three outs in bottom 6th with our team losing 6-2.
As you learn as a young adult, if you continue to try and put in effort, good things may happen.
That's exactly what happened to the Ligonier Valley All-Star team.
The team rebounded, combining timely hits with a bases loaded situation that came down to a 3-2 count in which the opposing pitcher ultimately walked in the winning run.
Emotions were tested. They went from the high of leading and then dropping the first game to the excitement of a come-from-behind victory. The team demonstrated a resolve that NFL Hall of Fame coach Chuck Noll often talked about: the team with the most resolve would be the most successful.
The lesson is that attitude, coupled with resolve and unselfishness of each individual to do what they need to do, results in a total team win. No one player was the star, but each played an important role in achieving success.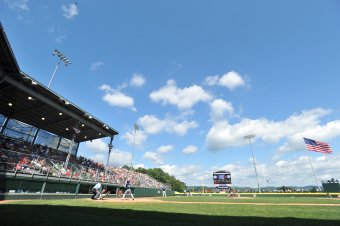 Larry French/Getty Images
Later this month, the Little League World Series takes place in Williamsport, PA. It's a thrilling international competition that brings us all back to a time when playing for the love of the game takes precedence over questions of impending free agency. The players' focus is not on compiling statistics for the next big payday, but rather, to work together as a unit with each individual understanding his or her role.
Involvement in sports provides young players with the experience of being on a team and offers the opportunity to experience first-hand what it is to sacrifice, work towards a goal and enjoy the excitement of victory or, at times, the sadness of defeat. These are lessons that will help them for the rest of their lives.
Jed Hughes is Vice Chair of Korn/Ferry and the leader of the executive search firm's Global Sports Practice. Among his high profile placements are Mark Murphy, CEO of the Green Bay Packers; Larry Scott, Commissioner of the Pac-12 Conference; and Brady Hoke, head coach of the Michigan Wolverines. Earlier in his career, Mr. Hughes coached for two decades in professional and intercollegiate football where he served under five Hall of Fame coaches: Bo Schembechler (Michigan), Chuck Noll (Pittsburgh Steelers), Bud Grant (Minnesota Vikings), John Ralston (Stanford) and Terry Donahue (UCLA). Follow him on Facebook, Twitter @jedhughesKF.