3 Deadline Moves the St. Louis Cardinals Will Regret Not Making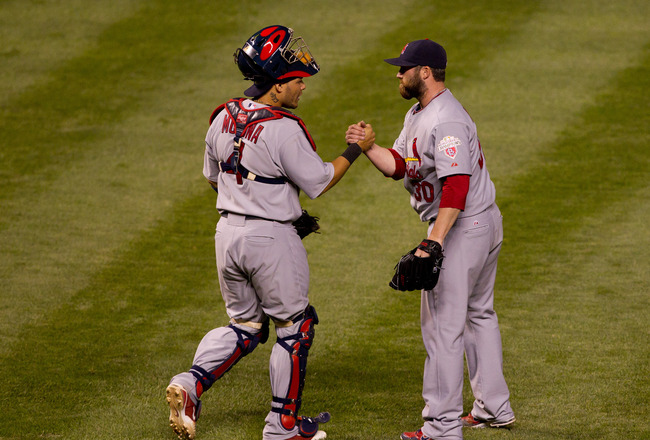 Justin Edmonds/Getty Images
Well the trade deadline has come and gone and the Cardinals didn't make any significant moves to really help the club. They did try to help the bullpen by acquiring Marlins reliever Edward Mujica for former first rounder Zack Cox. Mujica isn't what the Cardinals needed in my opinion to help the issues in the bullpen.
It is almost as if the Cardinals made a move just to make a move. Even GM, John Mozeliak doesn't seem confident in the move by saying, "I don't believe one player is going to change our club. We just need to start playing better baseball."
Here are three moves the Cardinals will regret not making to help make the stretch run toward the playoffs.
Francisco Lirano
Hannah Foslien/Getty Images
The Cardinals are still not sure when Jaime Garcia will return. While the starting pitching has been pretty solid to start the second half, the old adage of you can't have too much pitching still rings true for the Cardinals.
It would be nice to have a lefty starter who will in my opinion, have a solid impact with his change of scenery. Liriano instead went to the Chicago White Sox to help them toward their goal of October baseball.
I am not sure how much the Cardinals looked into a starting pitcher since making the statement last week they weren't going to pursue any starting pitching. Joe Kelly has been pretty good in almost all his starts despite his 1-4 record. He is sporting a 2.96 ERA in his starts and his been victim to a lack of run support.
So the Cardinals will make a run in the second half with a rotation of Lynn, Wainwright, Lohse, Westbrook and Kell/Garcia. Only time will tell if the Cards should have pulled the trigger on Liriano or any other starter.
Yunel Escobar
Tom Szczerbowski/Getty Images
The Cardinals still have a bit of a hole at second base. Skip Shumaker as of last night still only had 150 at-bats due to a string of health issues. Tyler Greene and Daniel Descalso have both been poor at the plate this season. The Cardinals need a guy they can run out to second each day as well as a guy who can put the ball in play with a little pop.
Shumaker would be the ideal guy, but his health has precluded him from being a guy the Cards can count on. Yunel Escobar was on the block and a few teams expressed interest, but the Cardinals didn't seem to pursue a reliable second baseman this deadline.
Escobar is a career .285 hitter who as recent as last year, hit 11 home runs and batted .290 for a full season. He is solid in the field and would have been a good pick up for the Cardinals.
Alex Burnett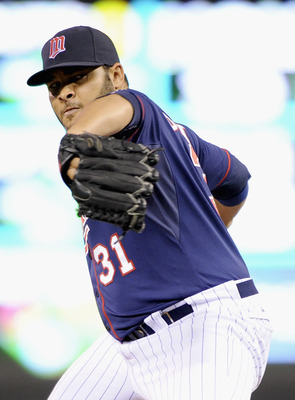 Hannah Foslien/Getty Images
Give the Cardinals a little credit in the fact they went out and addressed the lefty situation in the bullpen. Barret Browing has been very good since his call up posting a 2.70 ERA in his 13 appearances and John Mozeliak went and fished Brian Fuentes out of the trash after the Athletics disposed of him. Fuentes still has a 0.00 ERA in his limited appearances for the Cardinals.
The issue is still who will pitch long relief and/or the sixth or seventh inning. Mitchell Boggs has been legit this year in the set up role, posting a 1.61 ERA in his 47 appearances while posting 15 holds. Opposing batters are hitting .228 against him and are hitting a paltry .200 against him with runners on base. So no need to rock the back-end roles of Boggs and Motte as the one-two punch to end the game.
Getting to that point still makes me a bit nervous. Fernando Salas has been a little better of late, but still posts a 4.23 ERA and newly acquired Edward Mujica isn't much of an upgrade. The Cardinals should have made a stronger play for Alex Burnett of the Twins. He would have been a nice fit into a sixth or seventh inning role for the Cardinals.
The bullpen was a sore spot in the first half of the season and the Cardinals are putting stock into basically what they came to the party with. Hopefully the bullpen will be able to be a strong point in the second half, but that is a risky bet to take.
Keep Reading

St Louis Cardinals: Like this team?