AFC South Secret Stars: Houston Texans' Duane Brown Is Underrated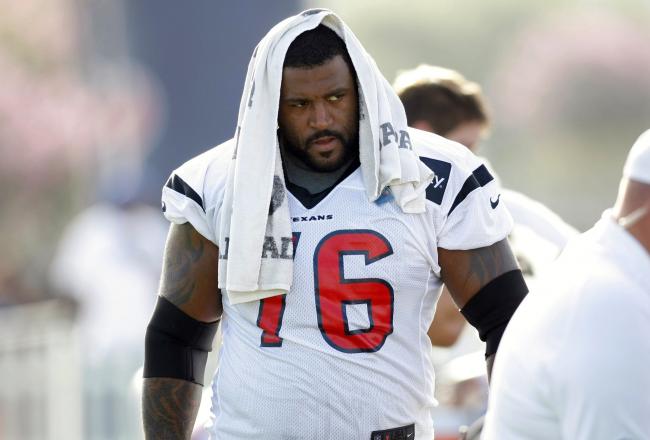 The most underrated lineman in the NFL beats the heat in camp.
Brett Davis-US PRESSWIRE
It's time to look at the most underrated players in the AFC South. The easiest pick on the board is Houston left-tackle Duane Brown.
While people around the Texans believe in his value, Brown may be the least-heralded of the elite left tackles.
Despite being named a second-team All Pro, Brown's anonymity meant he didn't even make the Pro Bowl. Considering the kind of guys with a Pro Bowl on their resume, the annual snub of one of the top two or three tackles in the game is ridiculous.
For a team known for its punishing run game, Brown is actually one of the best pass-blocking tackles in football. Considering how much upheaval the Texans have had along the line, knowing that Brown will be in place to anchor the unit has to come as a comfort.
Despite the a lack of public acclaim in the past, many experts are banging the drum for Brown to get noticed as the best player at his position. This isn't lost on him.
It's a huge honor. Definitely, that's my plan, to come out here and be the best that I can be and try to be one of the best in the League and one of the best ever to play the position. I strive to be that. At the same time, I recognize the talent that's around this League and our conference in particular. In the AFC, there's a lot of talent out here. It's definitely an honor, but I feel like I have another level to reach.
Watch Brown man-handle one of the best rushers in football.
Reaching that next level could come at just the right time for Brown whose contract is set to expire. Elite left tackles are a valuable commodity, and Brown knows it, but has his eyes firmly on the right things.
It's a good year to do it (have his best season) just because number one, I had the best season of my career last year. Number two, it's just that time. It's my fifth year. There's a lot of expectations put on me by the team, by myself, to be the best player in this League to help this team go where we want to go. That's all I'm worried about.
Fans outside of Houston may not know who Brown is yet, but his teammates know how good he is. Matt Schaub declared him the best in the game, and Owen Daniels didn't argue.
I'm not going to disagree with that. Duane has certainly got better over the years. He's got to deal with (Robert) Mathis and (Dwight) Freeney twice a year and obviously there are other great defensive ends he has to deal with. He's gotten better and better. I got to believe he's one of the most physical, meanest in the League. I think he's prided himself on being one of the best and earning that respect. It's slowly coming. The respect for him is behind where his talent level is at and how much he means to our team.
Recognition in the NFL often comes hand in hand with winning. Linemen tend to be largely anonymous until the Ws pile up.
Wins first, then accolades.
If that's the formula, Brown won't be underrated for long.
All quotes provided to Bleacher Report courtesy of the Houston Texans.
This article is
What is the duplicate article?
Why is this article offensive?
Where is this article plagiarized from?
Why is this article poorly edited?

Houston Texans: Like this team?