College Football Recruiting: Why Washington Huskies' Class Is Being Underrated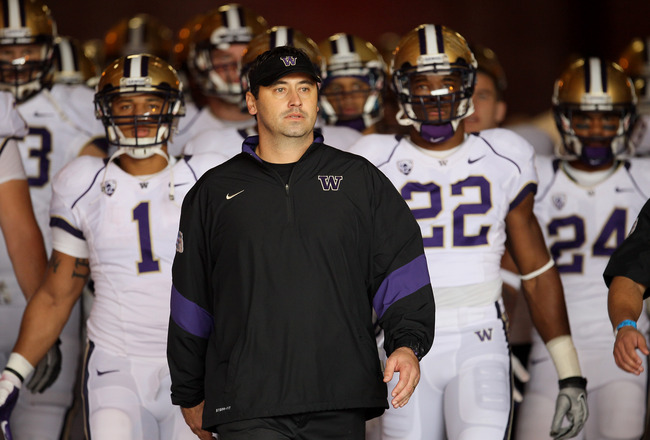 Stephen Dunn/Getty Images
With the recruiting season in full swing, team rankings are being created and debated. One common theme among rankings from ESPN, Scout and Rivals is the much-too-low placement of the University of Washington's 2013 recruiting class.
The Huskies' 2013 class is taking on the look of a Top 10 class. Yet, all three aforementioned lists have the Huskies at no higher than No. 13; ESPN even has the recruiting class as 20th in the nation.
While head coach Steve Sarkisian isn't bringing in a Top-Five recruiting class, the 2013 group is already better than last year's and may end up as the best recruiting class that UW has seen in a long time.
Let's take a look at why the 2013 University of Washington recruiting class should be ranked higher.
Offensive Playmakers

Demorea Stringfellow was one of the top players in California last season.

If the Huskies were to stop recruiting skill-position players right now—which of course is not the case—they would end up with a decent amount of offensive talent in the 2013 class.
UW currently holds verbal commitments from two 4-star wide receivers—Demorea Stringfellow and Darrell Daniels—one 4-star quarterback in Troy Williams and a 3-star running back in Lavon Coleman.
Stringfellow is the Huskies' prize on offense in this class, as he's the No. 12 wide receiver in the country, according to Scout.com.
The trio of Williams, Stringfellow and Daniels should provide the Huskies with tremendous firepower once they become starters, as all three are extremely talented and ranked no lower than No. 20 in the nation at their positions.
Offensive Line

Sean Harlow—ranked as the No. 21 OT in the country—is the highest ranked offensive lineman to have committed to UW thus far.

Thus far, the Huskies have received verbal commitments from four offensive linemen—all of whom are rated as 3-star players by Rivals and Scout.
Three-star linemen are more than adequate, as 4- and 5-star offensive linemen are hard to come by. In fact, according to Scout.com, of the 300-plus offensive linemen in the 2013 class, just 42 are rated as 4- or 5-star players.
At the college level, a dominant offensive line can turn a decent offense into a great offense. This is apparently old news to Steve Sarkisian as he is forming one of the best O-linemen recruit groups of any team in the nation.
Defensive Line

Elijah Qualls is the Huskie's highest-ranked recruit in 2013—Scout has him at the No. 11 DT in the nation.

After the offensive showdown that was the 2011 Alamo Bowl—a game in which UW gave up 67 points and 777 total yards of offense—Steve Sarkisian was forced to make a change a defensive coordinator. And he wasted no time, hiring Justin Wilcox from Tennessee just three days after the game.
Just a few weeks later, Wilcox had chosen his defensive line coach, Tosh Lupoi. Lupoi is also renowned for his innovative recruiting style and has apparently already worked his magic on the UW D-line recruits.
The Huskies already have five defensive line verbal commits, including two 4-star recruits—Elijah Qualls and Daeshon Hall.
If you haven't watched the video above, you need to. Qualls played running back as well as D-line in high school—not a combination you often see. He's obviously extremely quick for his size, and that will prove beneficial for him over his college career on the defensive line.
Qualls, according to Scout.com, is the No. 11 defensive tackle in the country and will surely be an impact player going forward for Washington.
Keep Reading

Washington Huskies Football: Like this team?