With's Spain elimination from the men's football tournament at the 2012 London Olympics, Brazil truly is the team to beat and seemingly have the rest of the competition at its mercy.
The South American giants came to London in eager anticipation of what could potentially be the first Olympic championship and with the expectations of many that they would do exactly that.
Having said that, no tournament victory is simple and guaranteed.
Brazil would have its rivals and there would be national teams capable of knocking off the South Americans on their day—be it in the group stage, the knockout stages or even the gold medal match.
Now three matches in and having watched Neymar, Oscar and Damiao put on a football exhibition for three straight wins, the question is not whether or not Brazil will win the gold medal, but rather if anyone even stands a chance against this formidable side.
For Brazil has been simply outstanding throughout the first three matches.
They haven't racked up the score like some were anticipating, but they have played rather football that produces the desired result—victory. It might not have happened with the flair and exuberance that we expect from the South Americans, but they are getting the job done at London 2012.
They are a complete football team; they have the most dominant attack and have numerous players throughout midfield who can simply open up a defense seemingly at will.
So can Brazil be beaten at the London 2012 Olympics? Does anyone stand a chance at toppling the giants and preventing Brazil from claiming its first gold medal?
No.
Nobody stands a chance.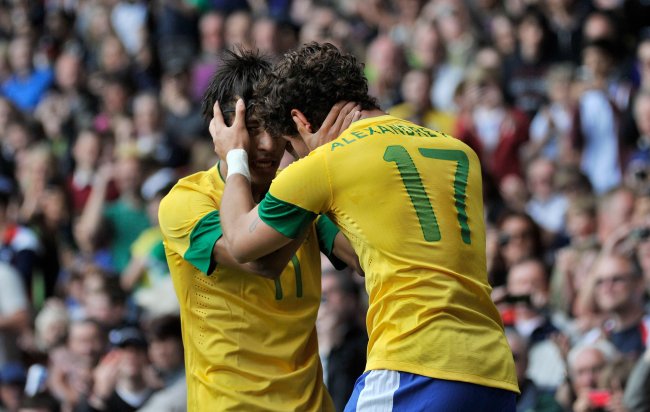 Francis Bompard/Getty Images
The two sides most likely to make a challenge at Brazil were Spain and Uruguay—both have been eliminated in the group stages and showed little of the class that we were expecting they would bring to London.
Spain didn't score a goal whilst Uruguay lost 2-0 to Senegal—when Senegal only had 10 players on the pitch. Neither deserved its place in the knockout stages and neither will have the opportunity to prove itself against the best at London 2012.
Out of the teams remaining, Japan, Mexico and the hosts, Great Britain are the likely threats to Brazil claiming the gold medal but simply put, they are not on the same playing field as the South Americans.
They cannot open up a defense at will like Brazil can, and cannot control its opponents in the same manner that we've witnessed for three straight matches.
Brazil are the incredibly large favorites to win the gold medal at the 2012 London Olympics and deservedly so. They are too strong, too talented and too good for all of their opponents who simply put, do not stand a chance at claiming the gold medal.
Not when Brazil's there, anyway.
Will Brazil win gold at the 2012 London Olympics?
Comment below or hit me up on Twitter: Follow @dantalintyre