Georgia Football: What You Need to Know About Bulldogs DB Branden Smith
Josh D. Weiss-US PRESSWIRE
There are certain players that may not have the most impressive numbers, but are very valuable to a team because they can do so much on a football field.
Branden Smith is one of those guys that is not going to put up big numbers, but will always be a player a coach can count on to get the job done.
When he came out of high school, Smith was considered one of the best, if not the best prospect in the state of Georgia in 2008.
Has he lived up to expectations? That remains to be seen, but if there is anything that is certain, the Bulldogs will need him to play at a high level if they want to reach their goals for 2012.
Here's what you need to know about Bulldogs DB Branden Smith.
Smith Is the Most Expereiced Cornerback
Dale Zanine-US PRESSWIRE
Sanders Commings has played a good amount of corner, but he has also played safety during his career. So Smith is the only true corner that has some real game experience on the roster.
Last season, Smith appeared in all 14 games, making seven starts and has 24 tackles and two interceptions.
Is he the best cornerback on the roster? He has had his issues in coverage in the past, but has gotten better over time. And because of his speed, he can hang with the top receivers in the SEC. Like it was said earlier, he will have to be on top of his game because the depth at corner is razor-thin and the Bulldogs can't afford to have Smith not playing at his best.
He Is Special
Kevin C. Cox/Getty Images
Losing Brandon Boykin hurts because he was a dynamic cornerback as well as return specialist.
But because of the versatility of Smith, he should, and probably will, be the go-to guy for special teams.
Last year, Smith returned seven kickoffs for 131 yards and nine punts for 70 yards. He has not scored a touchdown on special teams, but he's the most experienced return specialist they have, and they will need him at least the first half of the season to get the special teams going.
However, there is also that chance that they will not use him for special teams at all because of the depth issues in the secondary. They don't want to risk any injuries.
That's Is Offensive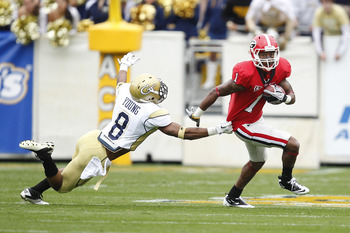 Josh D. Weiss-US PRESSWIRE
Yes, Smith can, and will, play some offense for the Bulldogs this year.
In 2011, Smith played some running back and wide receiver in some special packages the offense ran.
Smith tallied 100 yards and one touchdown on 13 carries, and he also had three receptions for 39 yards.
This is nothing new to Smith because he has been doing part-time work on offense since 2009. It should not be any different in 2012 because he adds another dimension to the offense, and when he gets into open space, he is impossible to stop.
The Suspension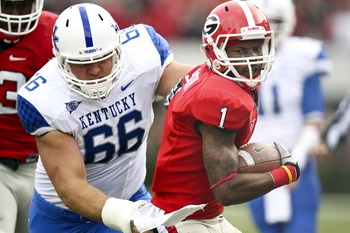 Daniel Shirey-US PRESSWIRE
Back in March, Smith was arrested for marijuana possession on his way back from spring break. He is only facing a one-game suspension, which means he would miss the Buffalo game.
This is not a big loss for the Bulldogs because they are playing Buffalo, but Smith has to be careful. If he gets in trouble again, it would mean he would miss more games, which is not a good thing for the secondary, as well as the Bulldogs.
Final Analysis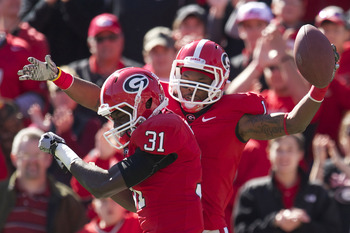 Dale Zanine-US PRESSWIRE
Smith started seven games last year and was able to come up with two interceptions. This year, he should start every game he takes part in, and will likely come away with four, maybe five interceptions.
Offensively, he will be used sparingly and should score a touchdown or two via a reverse play.
As for special teams, if Smith is the full-time return man, he will see a touchdown on a punt return and possibly one via kick return.
This is Smith's final year, so he wants to have a good year to impress NFL scouts. He's not as dynamic as Boykin, but he is a key part to the Bulldogs' success on defense. If Smith has a good year, 2012 will be a success for the Bulldogs.
Keep Reading

Georgia Bulldogs Football: Like this team?