London 2012 Olympics: Picking the USA's All-Time Men's 4x100 Medley Relay Team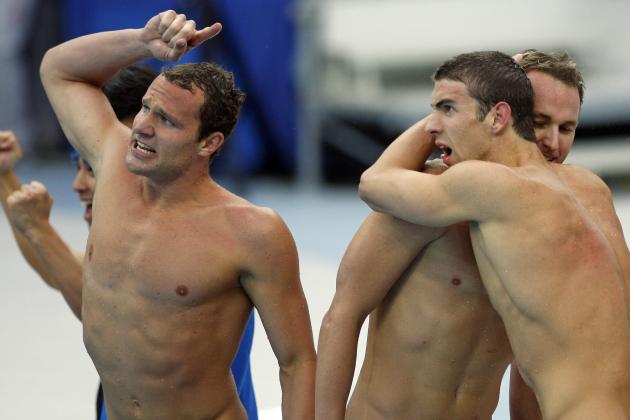 Jerry Lai-US PRESSWIRE

Since the 4x100 medley relay was introduced as an event at the 1960 Rome Olympics, the United States has won gold every year in which it has competed. (Australia won gold at the 1980 Olympics boycotted by the United States.)
The United States' ability to produce swimmers dominant in each of the four strokes has given it a huge edge over other nations. Though other countries have often been able to finish within a second or two of the U.S., no one has yet been able to finish the job against Team USA.
While the U.S. 4x100 medley relay team will no doubt be an impressive collection of swimmers, it's fun to imagine an all-time "dream team" of the best American swimmers in each stroke. Here is what such a team would almost certainly look like.
Begin Slideshow

»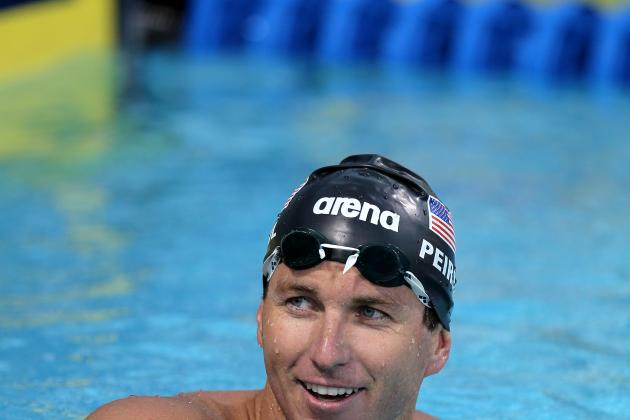 Stephen Dunn/Getty Images

Aaron Peirsol has been retired from competitive swimming for a year and a half, but he still holds the world record for the 100-meter backstroke at 0:51:94. In fact, with the exception of one week in 2009 when Spain's Aschwin Wildeboer borrowed the record from Peirsol, he has held the record since breaking Lenny Krayzelbug's previous best on August 21, 2004.
Peirsol's Olympic excellence at the backstroke began at the 2000 Sydney Olympics, where he won silver in the 200-meter backstroke. At the Athens Games in 2004, he had the best of his three Olympiads when he won gold in both the 100 and 200-meter backstrokes, as well as in the 4x100 meter medley. His performance at the 2008 Beijing Olympics was only slightly less successful—earning gold in the 100-meter backstroke and 4x100 meter medley, along with a silver in the 200-meter backstroke.
Matt Grevers has become Team USA's 100-meter backstroke specialist, and he has his eye on Peirsol's legacy as the greatest backstroker in American history. He has a long way to go, however, before he can contend for Peirsol's slot on the all-time 4x100 medley relay team.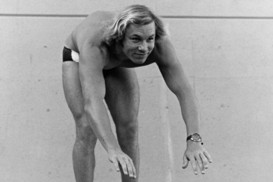 Photo Courtesy GoStanford.com
American men have not been as dominant in the 100-meter breaststroke as they have in other strokes. Though the United States has won gold in the stroke four times, it has been shut out from the top of the podium since Nelson Diebel won gold at the 1992 Barcelona Games, and no American has won two gold medals in the stroke. Only two American swimmers have ever won two Olympic medals in the 100-meter breaststroke: Brendan Hansen with a silver in 2004 and a bronze in 2012, and John Hencken with a gold in 1976 and a bronze in 1972.
Hencken set the world record in the 100-meter breaststroke at the 1972 Munich Olympics by posting a time of 1:05:68. His record was taken away from him later that day by Nobutaka Taguchi of Japan, but Hencken took the record back in September of the following year. He held onto the world record for almost four years, topping himself five times in the process.
Hencken was not as well known as some of his teammates on the 1976 Olympic U.S. men's swimming team, who won 12 of the 13 medals awarded, and his legacy isn't as widely remembered as that of many of his peers. Still, he was the greatest breaststroker in American history, and until an American ends the 20-year drought in the 100-meter breaststroke, he will remain unchallenged for his job swimming the breaststroke leg of the 4x100 medley relay.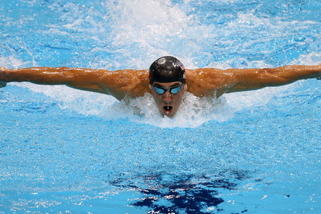 Streeter Lecka/Getty Images

Though he has competition from Mark Spitz and Pablo Morales, each who won a gold and a silver in the 100-meter butterfly, Michael Phelps is the only swimmer in history to earn two gold medals in the 100-meter butterfly.
Phelps has earned the record in the 100-meter butterfly three times in his career: first in July of 2003, second in July of 2009 and most recently at the August 2009 "Plastic Games" in Rome. Phelps's record from Rome, 49:82, still stands today and is almost four-and-a-half seconds faster than Spitz's time at the Munich Games.
Phelps's dominance at the butterfly hasn't been limited to the Olympics. He also won gold in the 100-meter fly at the 2007, 2009 and 2011 World Championships and earned silver in the event at the 2003 and 2005 Worlds.
Phelps has been near or at the top of the 100-meter butterfly world for almost a decade, an unprecedented length of time in the history of competitive swimming. There is simply no one who could be seriously considered to swim the butterfly leg other than Michael Phelps.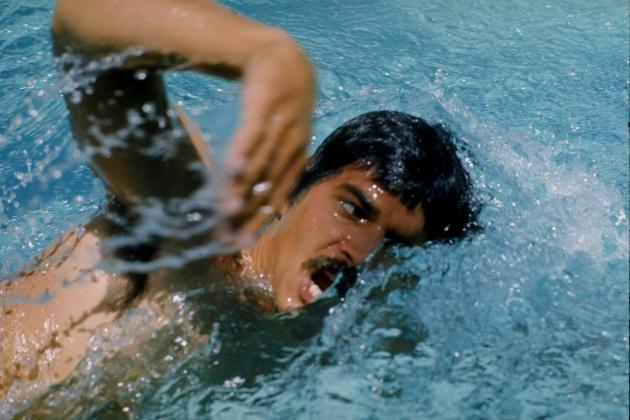 Tony Duffy/Getty Images

Mark Spitz didn't set the American record for most 100-meter freestyle Olympic medals—that distinction goes to Duke Kahanamoku with his two golds and one silver—but his performance at the 1972 Munich Olympics was too dominant not to be included on the all-time medley relay team.
Spitz won seven gold medals at the Munich games and set a world record in every single event that he swam in. His 100-meter freestyle time of 0:51:22 was about a second faster than the gold medal winning score in the 1968 Olympics and more than nine seconds better than Kahanamoku's best Olympic time.
Throughout his swimming career, Spitz's two best strokes were freestyle and butterfly. At the 1968 Olympics, he earned two gold medals as part of the 4x100 and 4x200 meter freestyle relay teams and earned a bronze medal in the 100-meter freestyle.
Though Spitz's time was 0:04:01 slower than Alain Bernard's gold medal winning time at the 2008 Olympics, Spitz would certainly have posted a significantly stronger time with modern training, nutrition and (of course) swimsuits. Spitz was so dominant in swimming—even for only a short amount of time—that no one could have passed him on the final leg of the 4x100 meter medley.