Summer Olympics 2012: Super-Heavyweight Joshua Carries Big Hopes for Host Nation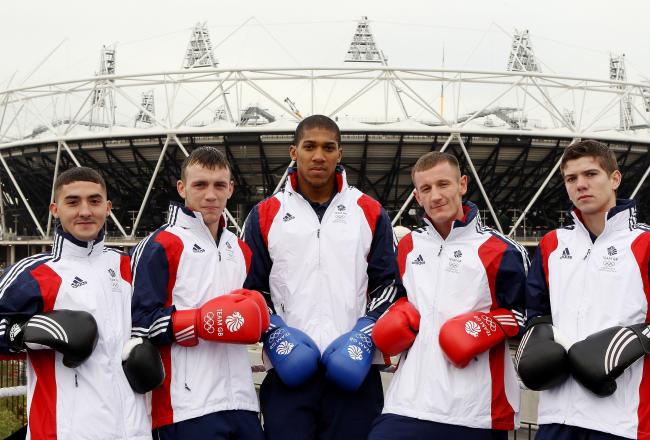 Anthony Joshua (centre), pictured in front of the Olympic Stadium in December 2011 with other early confirmations for the London 2012 Team GB boxing team.
Scott Heavey/Getty Images
In heavyweight boxing, Olympic gold is no guarantee of future stardom in the professional game.
Fighters the calibre of Floyd Patterson and Muhammad Ali (as Cassius Clay) right up to Lennox Lewis and Wladimir Klitschko all succeeded at the Games (admittedly at differing weights) before rising through the pro ranks to become heavyweight champions of the world.
Great Britain's Audley Harrison was less fortunate after triumphing in Sydney in 2000. The hype and expectation (and BBC TV deal) prompted by his success never quite matched by the reality of his in-ring ability.
Harrison is an especially pertinent comparison and example in regards to London 2012 and one of the host team's brightest hopes.
Twenty-two-year-old super-heavyweight (plus-91 kg) Anthony Joshua has enjoyed something of a whirlwind rise to Olympic contention, having only taken up boxing in 2007.
The Londoner confirmed his place at these Games last October when he won a silver medal at the World Amateur Boxing Championships in Baku, losing narrowly to Azerbaijan's own Magomedrasul Medzhidov—a potential rival once again at the Olympics.
Joshua is part of a 10-strong (seven men, three women) Team GB squad, several of whom carry high medal hopes.
None, though, have engendered quite as much discussion of their potential post-Games upside as the telegenic and well-spoken heavyweight prospect who takes his Olympic bow Wednesday night (local time).
Big hopes are pinned on Joshua to not only succeed at London 2012, but go onto do well in the professional ranks as a heavyweight.
Clive Rose/Getty Images
The weight of expectation will certainly be familiar to his round of 16 opponent, Cuba's Erislandy Savon, a young man loaded both with the automatic pressure of competing in his nation's most famous sporting pastime and the burden of lineage that comes with being the nephew of three-time Olympic gold-medallist Felix Savon.
The latter information is unlikely to weight too heavily on Joshua's mind. though, as he told the Press Association on Tuesday, he is certainly not taking the Cuban lightly.
"I have not boxed against Savon before but I have watched him on video and as you would expect of a Cuban, he is a top boxer so I am going to have to perform at my best to get past him."
In the same interview, Joshua spoke of his hopes for vociferous hometown support from ExCel crowd, a guarantee for all the Team GB boxers and local competitors, but especially so for a fighter of his size.
British fight fans, not unlike their peers around the world, have long been unable to resist the glamour and spectacle of the heavyweight division. Well, at least up until its recent descent into the worryingly moribund state in which it largely and currently stands.
Yet, while on the world stage the dominating Klitschko brothers are admired rather than adored, the domestic heavyweight division is as intriguing as it has been in a long time—if not strong enough yet to be declared ready to take on the world.
Cautious optimism is indeed the defining feeling in regards to 2008 Beijing bronze medalist David Price and the most recent prime-time boxing darling Tyson Fury, two boxers who are certainly entertaining in the meantime on their hunt for global certification.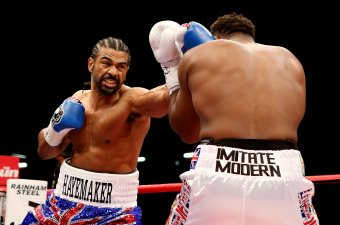 David Haye's recent victory over Dereck Chisora cemented his status as the main-man of a pretty strong heavyweight division in Great Britain.
Scott Heavey/Getty Images
Former WBA heavyweight champion David Haye's recent dismantling of Dereck Chisora in front of around 30,000 fans at Upton Park football stadium reminded many of the fighter who enthralled so excitingly in his cruiserweight and pre-Wladimir days, lending to hopes he might complete a full-career renaissance against Vitali one day.
It is into this environment Olympic success might catapult Joshua, and it is indeed why there are such high hopes he could thrive professionally. He could be another fledgling star to potentially make British heavyweight boxing a dominant presence on the world stage.
However, the pressures of Olympic boxing are such that any plans of those kind cannot be contemplated before the job is done, with all competing fighters well aware their dreams can be dashed in just around 10 minutes.
As well as the immediate danger of Savon, Joshua could well come across Medzhidov, his conqueror from Baku, or the reigning Olympic (and multiple former world) champion Roberto Cammarelle of Italy.
Those two face Meji Mwanba (DR Congo) and Ytalo Perea Castillo (Ecuador), respectively, in their opening fights. American hopes in the super-heavy division are pinned on the shoulders of a former University of Northern Colorado quarterback Dominic Breazeale.
For Joshua, he might aspire to Ali and Lewis, but he has some way to go just to reach Harrison's level.
This article is
What is the duplicate article?
Why is this article offensive?
Where is this article plagiarized from?
Why is this article poorly edited?