Anderson Silva: A Champion Whose Name Is Worth More Than His Title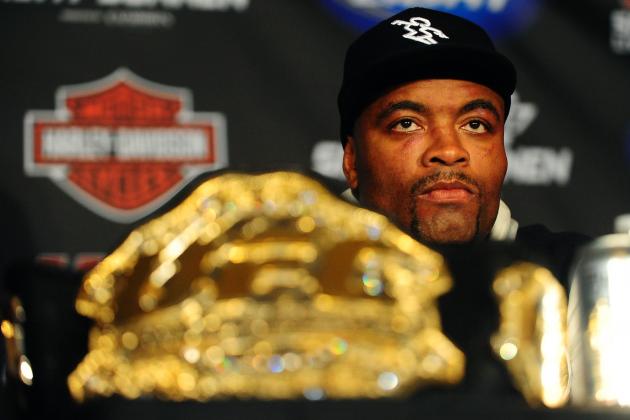 Mark J. Rebilas-US PRESSWIRE

After 10 successful title defenses, the longest undefeated winning streak in UFC history and countless other well-earned accolades, Anderson Silva has become more than a champion; he's become the greatest fighter in MMA history.
Now, when fighters look at entering his division, they don't think about the belt he has held since 2006, they think about him: the man that can't be beat.
Of course, he can be beat, but it hasn't happened in so long that it seems this version of "The Spider" is so complete that were he to go back in time and step in for the younger version of himself—the version who tasted defeat on four occasions—the result would be the utter destruction of those who bested him.
Make no mistake about it, when a fighter faces Anderson Silva, what they dream about isn't "winning the title," it's defeating the man, and should they be able to do that, years after they retired, they would talk about the night they beat Anderson Silva, not about the night they won the title.
That's not to say the title is worthless; far from it. It is to say that it has been around his waist so long that it has, as BJ Penn so aptly put it, become an accessory, second to the man who wears it.
Yet none of that stops the next man in line, nor should it. This is a fight sport, and every fighter who steps into the cage should want to be the best.
That has, in turn, led to Silva being called out by everyone under the sun. Some of them are quite deserving of their shot, while the rest lay claim to being next because of various other reasons, most of which revolve around the number of pay-per-view buys their name, when attached to Silva's, could generate.
So let's take a look at matchups that should happen, could happen and would have happened had the stars aligned, the good, the bad and the bizarre.
Begin Slideshow

»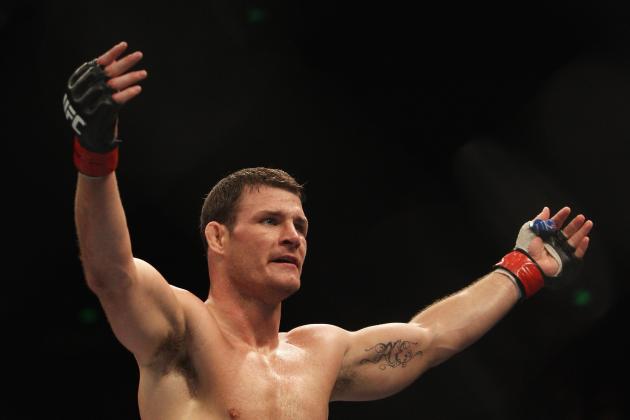 Mark Kolbe/Getty Images

Should it happen? Yes, quite honestly, it should, and the sooner, the better.
This is one of those times where a fighter—although not explosive or a terror to behold in the cage—has put in the work, grown in stature and exposure and is, quite frankly, due his shot at UFC gold.
I think Bisping would make an ideal contender for either Silva's 11th or 12th title defense.
Could it happen? Yes, and it probably will, baring a loss for either man or a sudden retirement announcement from Silva.
PPV expectations if it does happen? If the event is held in England, where it will pull fight fans off the couch and into the Arena, it could become a very large event.
The "us vs. them" factor could be a pay-per-view smash, especially if the fight is promoted right and gets the three-episode Primetime treatment, which it probably would when you consider that Silva will probably be near the end of his career.
Pay-per-view predictions are always hard, but if the rest of the card is strong, this could garner around 650,000 to 850,000 pay-per-view buys, a highly optimistic number given that a great many in the USA and England will be watching it at bars or in groups gathered around a single television set.
Who wins? As expected, Silva has nearly every advantage in every area the fight could be waged.
Silva is hands-down the better striker, and he's also the better submission artist. If the skill-set advantage for Silva wasn't enough, he's also much faster and has far greater knockout power from any of the eight points of contact.
However, Bisping does have one thing in his favor: He's consistent.
He's got a successful in-and-out style that scores, and he doesn't fluster easily. As one of the last remaining fighters of any social significance in the division, he would no doubt prepare for the absolute worst and thus not get rattled or discouraged when Silva starts to score.
Bisping also has a very solid grasp of the basics, and that is normally what wins fights. Think about it for a moment: How many times have you counted Bisping out, only to be surprised when he wins?
He's got a great left jab, and from there, his jab-cross combination is among the best in the sport.
This is one of those rare occasions that Bisping could rack up points by simply sticking to the basics, scoring a takedown here and there (and we all know he can take down Silva) and continually putting his fists in Silva's face.
But then we start to remember who we're talking about here: Anderson Silva. In all honesty, Silva would see those basic attacks coming from a mile away and counter them brutally, anytime he wanted to.
I like both men a great deal, but in a fight between them, Bisping could claim a major moral victory for himself if he could just make it to the final bell.
Anderson Silva takes this fight, probably by decision if it happens anywhere else but England. I think he could knock Bisping out, but odds are, that opportunity wouldn't present itself until late in the fight, and by that time, Silva would have probably decided that Bisping is one fighter he doesn't wish to diminish in front of millions and thus let it go to the judges.
If the fight did happen in England, Silva and his people have been around the fight game long enough to know that they pretty much have to finish Bisping before the final bell. Leaving it to the judges in England has proven to be a bad idea in the past, and nothing would deflate the balloons in the Anderson Silva parade like a loss due to horrid judging.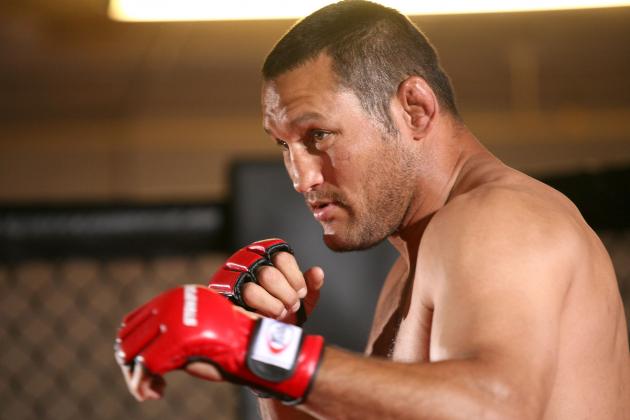 Valerie Macon/Getty Images

Should it happen? That is quite honestly debatable.
Could it happen? Yes, it very easily could, no matter if Henderson beats Jon Jones or not.
PPV expectations if it does happen? Neither men are freight trains of hype; thus, their highlight reels would have to speak for them.
However, if Henderson defeats Jones, he will suddenly be one very popular fighter, and then this thing blows up into the 750,000 to 900,000 buy range.
Of course, if Hendo loses to Jones and goes back down to middleweight for one final run at UFC gold, this would do modest sales, even with a stacked card: somewhere between 500,000 to 600,000.
Who wins? Henderson brings in two things to this fight: the H-Bomb and his wrestling.
Last time, that wasn't enough, mainly because Henderson elected to avoid standing with Silva for extended periods of time, and this should tell us something.
In truth, Henderson's wrestling should be much better than it is, considering where he comes from and who he trains with. If we know this, he knows this, and yet he decided his best chance for victory against Silva was to take him to the ground when they fought at UFC 82.
Sure, things are different now than they used to be: Henderson's become a better striker, which is to say he's become more accurate at landing his massive right hand.
And yet it doesn't seem like his wrestling or submissions have improved all that much.
Once again—as always—styles make fights, and since Henderson's one possible area of advantage (his wrestling) has not improved (and may have even diminished due to neglect), this fight ends with Silva getting his hand raised once again.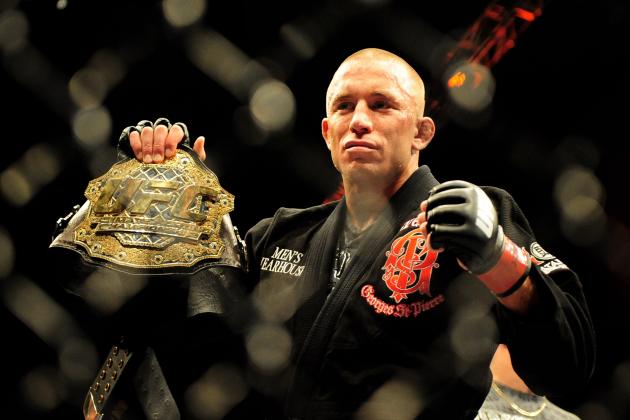 Mark J. Rebilas-US PRESSWIRE

Should it happen? Yes as far as the amount of attention it brings to the sport and no as far as the precedent it sets.
Could it happen? Yes, but chances are slim.
PPV expectations if it does happen? This would be utterly huge, especially if it happens in either Brazil or Canada, where it would sell out stadiums.
A fight like this would get the Primetime build up, ungodly amounts of attention from FOX, ESPN, Sports Illustrated and countless other media organizations.
All would equal the biggest pay-per-view numbers the sport has ever seen: Think around the neighborhood of 1.5 to 2.2 million buys, perhaps even more if the rest of the card is stacked.
Who wins? There are several possible outcomes to a fight like this, and all revolve around one central question: Can Silva stop GSP's takedowns?
If he can, GSP takes a pronounced and needless beating that certainly isn't good for his career. I've always been against smaller fighters fighting bigger fighters, and Silva is much bigger than GSP. Anyone who says different needs their eyes checked.
Odds are, the length, size, skill and power of Silva is just too much for GSP to overcome, and Silva walks out of the cage with the win via decision.
When a great smaller fighter fights a great larger fighter, the larger fighter usually wins. If Silva sticks around long enough for this fight to happen at a time of GSP's choosing—when he feels acclimated to the weight class—then I would be all in favor.
But odds are, that's not going to happen, and GSP would be rushed in order to see this fight realized, and with such a size difference, I think it sets an awful precedent for the sport.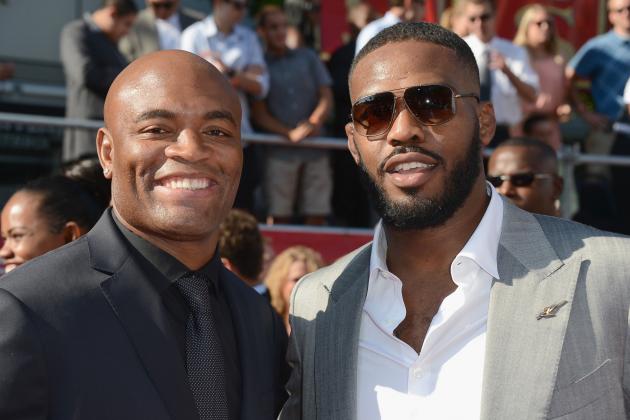 Frazer Harrison/Getty Images

Should it happen? Yes, it should, but only if Silva steps up willingly and eagerly.
Could it happen? Yes, although it's a coin toss. Chances of this I believe are slightly better than chances of a fight with GSP.
Silva has said he didn't want this fight, but when it comes to minimizing the size differences, Silva is closer in size to Jones than GSP is to Silva.
PPV expectations if it does happen? Just as big as it would be for a fight with GSP, and for damn near all the same reasons.
Fights like this have "mega-bout" all over them and would get all the exposure you would expect, and more.
I would not be shocked at all if the card that had the superfight between Silva and Jones sold in excess of two million buys. It would at least break 1.4 million.
Who wins? As the size discrepancy between Jones and Silva is not nearly as large as it is between Silva and GSP, it becomes a much closer contest.
Granted, Jones enjoys a significant reach advantage over Silva, but where that will really become a factor is on the floor. In a striking contest, Silva's skills are so much greater than those of Jones that the reach advantage Jones enjoys would be nullified for the most part.
On the ground, well, that's where Silva would run into serious trouble. In a fight between these two greats, Silva owns the air and Jones owns the ground, and that's where I think this fight takes place.
I see Jones winning this bout much the same way I think he will likely defeat Dan Henderson: by securing an early takedown, controlling from a shockingly strong top position, advancing from that position and securing a submission.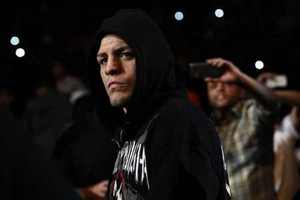 mmamania.com
Should it happen? Sure, why not? If we can talk about Brandon Vera being only one victory away from a title shot at Jon Jones, then why shouldn't Diaz vs. Silva happen?
Could it happen? Oh my, yes—and I think it will happen, possibly far sooner than we expect.
PPV expectations if it does happen? Given the amount of smack Diaz talks and his highlight-reel career, plus Silva's legendary status as greatest UFC fighter ever, plus the high possibility of this being a standup war for the ages, and you end up with around 850,000 to 1.2 million.
Who wins? Silva, and quite handily, but first, let's have a little Nick Diaz appreciation time.
Diaz is the kind of fighter every division needs 20 of, and that is not in jest. He's an action fighter who'd rather lose and exciting fight than win a boring one, and that kind of man is a rare prize indeed.
Diaz constantly puts his money where his mouth is, and his calling out of Silva should not offend anyone. Fighters fight, and Diaz wanting to fight a big name should not be met with laughter but applause.
When looking at the fight itself, it becomes even more dangerous for Diaz and makes me love him even more.
One of his greatest strengths as a fighter (aside from having the best cardio in MMA) is the pressure he puts on opponents, but that usually only works when either the other fighter doesn't possess one-punch knockout power or simply assumes the role of punching bag because he doesn't have the footwork to get out of the way or doesn't have the grit needed to deal with a relentless onslaught.
Silva does possess one strike night-ending power, and he also holds a large advantage in the areas of speed, versatility, size, strength, offense and defense. When coupled with his experience, footwork and his eyes (Silva see's strikes coming far better than anyone else), he could counter Diaz to death all night long.
I do think Diaz is better on the floor, but this is one fight that won't end up on the ground unless someone stumbles. Neither fighter has the wrestling needed to take the other down, and neither fighter would probably want to unless they were taking a beating.
And still, with all of this clearly apparent, Diaz would come forward, throwing punches in bunches, taunting and swinging, happy to eat five in order to land one.
And that is perhaps the key. Part of what makes Diaz so compelling is that which makes him such a bad matchup for a fighter like Silva: One of his chief virtues as a fighter would be his downfall.
Diaz would have to eat two or three hard shots just to get the chance to land one, and that would see him take a serious shellacking, much the same way he put a beating on BJ Penn, except the roles would be reversed.
If Diaz had faster hands or one-and-done punching power, this might be different, but he doesn't, and in this kind of matchup, you need something more than a willingness to have your face rearranged and the cardio necessary to prolong your beating to that end.
Diaz would make new fans, to be sure, because he doesn't know how to do anything else but war. But against Silva, he'd probably take the same kind of beating that Arturo Gatti and Diego Corrales took at the hands of Floyd Mayweather, Jr.
This fight ends with Diaz wearing a bloody and swollen mask for a face as the judges announce Silva as the winner in a shutout.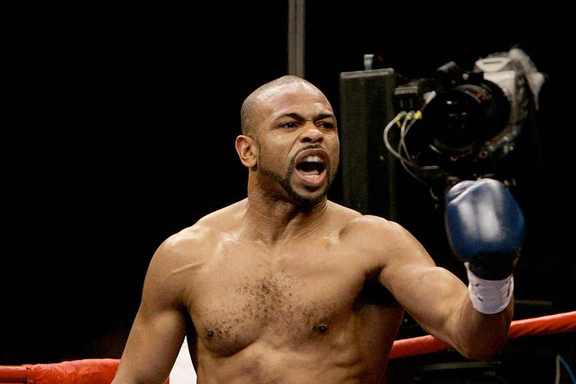 hbo.com
Should it happen? No, it shouldn't have, and thankfully it hasn't. Yet.
Could it happen? Sadly, it could, as oddity matches become more probable when fighters near the end of their careers. Roy Jones, Jr. would love nothing more than to see Anderson Silva stepping into the boxing ring.
If Silva would have had his way, this fight would have already occurred, as he's been talking about it since 2009, but Dana White wisely nixed this idea.
Ever since Randy Couture made James Toney look childish, more than a few boxing promoters would be willing to see the score evened and spend a good deal of money making sure everyone tuned in.
PPV expectations if it does happen? When you consider that this would be promoted by the boxing world, and if Silva was still undefeated, this would range anywhere from 750,000 to 1.4 million. it all depends on how heavily it was promoted.
Who wins? The only place this fight happens is in the boxing ring, and to be quite frank, Silva would get destroyed.
No one is saying Silva isn't skilled at boxing, and no one is saying Roy Jones, Jr. is a better fighter, but it should be common knowledge by now that a professional boxer—especially a former pound-for-pound virtuoso like Roy Jones, Jr.—is going to wipe the floor with any MMA fighter, no matter how great, in a boxing match.
Roy Jones, Jr. wins this fight and looks great while Silva loses this fight—badly—and looks amateur in the process, and thus, so does the sport of MMA by proxy.