L.A. Lakers: Is Andrew Bynum or Pau Gasol More Important with Arrival of Nash?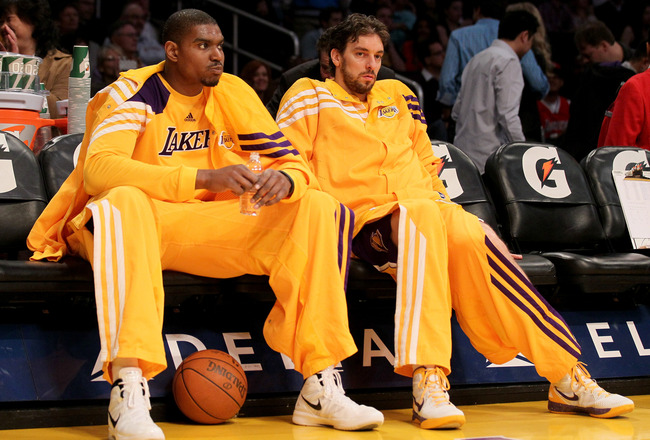 Stephen Dunn/Getty Images
The Los Angeles Lakers have made significant improvements in their quest for a 17th championship, and Kobe Bryant's elusive sixth ring.
After a rather quiet few weeks of free agency, the Lakers pulled a shocker when they completed a sign and trade with the Phoenix Suns to acquire Steve Nash.
Nash's arrival should benefit everyone, especially the Laker bigs.
Will Pau Gasol or Andrew Bynum benefit more from Nash's presence on the court?
A very tough question to ask, but one that must be answered.
Shooting/Spacing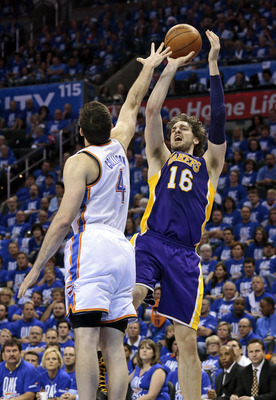 Brett Deering/Getty Images
Pau Gasol has really solidified that 13-15 foot mid-range jumper. The mechanics of his jump shot can make any fan cringe, but the end result is usually positive.
In addition, Gasol has worked hard to extend the range on his jump shot. Last season in particular, we saw Gasol take more three-point attempts. But the Spaniard is still developing that aspect of his game.
While Bynum also made strides in improving his range, his lack of experience will hurt him in this conversation.
Pick and Roll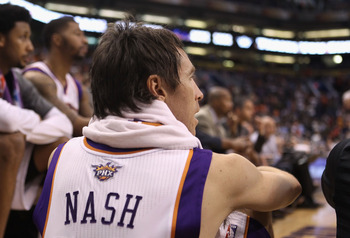 Christian Petersen/Getty Images
Gasol takes the cake in this category as well. The bread and butter of Nash's game involves his ability to play pick-and-roll basketball.
With Gasol's consistent mid-range jumper, this should give Nash more options after the pick. Nash could roam and find his other giant in Bynum, or kick it out to a shooter. Or even find that Mamba guy.
Let's also not forget that Nash is an excellent shooter himself. Gasol should flourish in this area with Nash on board.
Defensive Awareness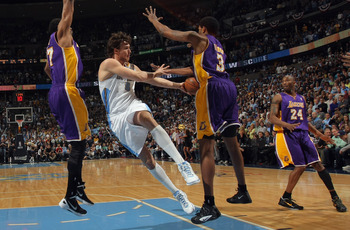 Doug Pensinger/Getty Images
Gasol was excellent over the years as a help defender, but this past year was likely the Spaniard's worst defensive season since donning a Lakers jersey.
Andrew Bynum, though frustratingly inconsistent at times, can be a dominating defensive presence. The only issue is Bynum's mental makeup going into games.
As fans saw in parts of the Lakers-Denver playoff series last year, Bynum can be an intimidating presence in the paint. There are also times when his head isn't in the defensive game plan.
With Nash's arrival, Bynum will have to be a consistent presence on the defensive end. He has too much talent to coast on defense.
While Nash has proven to be an excellent team defender, his on-ball defense is quite terrible. In order for the Lakers to have success next season, Bynum must become more consistent on the defensive end.
Passing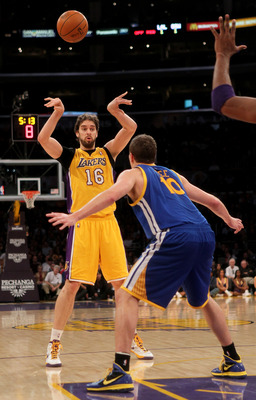 Stephen Dunn/Getty Images
Pau Gasol is one of the best big man passers to ever play this game.
He has excellent vision from the high and low post, which makes him a perfect fit alongside another great passer in Steve Nash.
Bynum has worked on this aspect of his game, and should continue to improve—especially when passing out of double teams.
Overall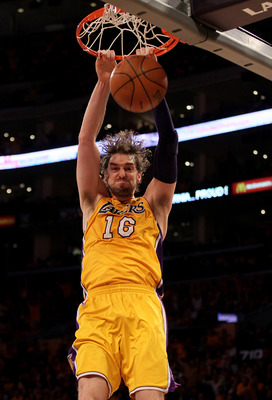 Stephen Dunn/Getty Images
Nash's arrival should give Gasol a bigger role next year. While I expect no drop-off in Bynum's play, Gasol will likely become Kobe's No. 2 man once again.
Expect every Laker to increase their efficiency with Nash on the court. But expect Gasol to improve the most.
Keep Reading

Los Angeles Lakers: Like this team?