UFC on FOX 4: Memorable Moments from the First 3 FOX Cards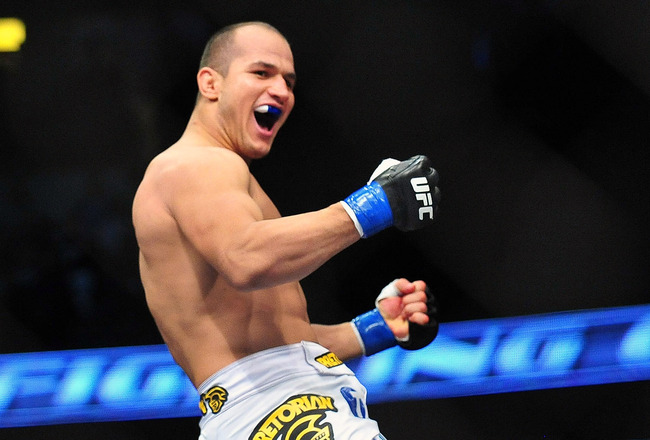 Gary A. Vasquez-US PRESSWIRE
While the UFC's FOX cards have been riddled with disappointing fights, there have still been great moments to remember.
The UFC didn't get off to a great start with a one minute, four second championship fight in its debut, and the second main card on FOX gave little to cheer for.
But after sitting back and taking a look at every fight on all three cards, the UFC on FOX has provided memorable fights and stimulating surprises.
These are the top moments from those three fight cards.
10. Flyweights Fly (UFC on FOX 3)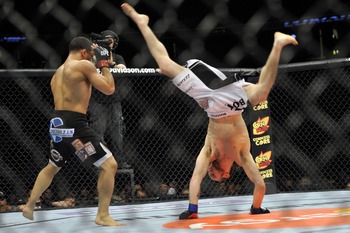 Joe Camporeale-US PRESSWIRE
Holy cartwheel kicks, Batman!
John Dodson vs. Tim Elliot was a featured fight on Fuel TV leading into main card on FOX, and for those that witnessed this bout saw one of the fastest fighters in the UFC taking on an unorthodox opponent.
And while the fight itself was far from being Fight of the Night, it was still entertaining to watch Elliot pull off cartwheel kicks and other unorthodox strikes to try and counter Dodson's speed and explosiveness.
At a certain point in the fight, one might have pondered if this was a fight or gymnastics. Either way, it was an awesome showcase of skills inside the Octagon by Elliot and a nice win for Dodson in his UFC flyweight debut.
9. Chael Sonnen's Promo (UFC on FOX 2)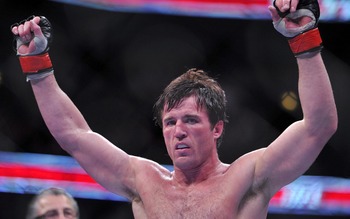 Mike Dinovo-US PRESSWIRE
"I want to know how you feel being only inches away from greatness."
Chael Sonnen cut another dandy promo in Chael's Octagon on Chael's channel on Chael's microphone. It was classic Sonnen.
It's hard to not find yourself anticipating his post-fight interviews as much as the fight itself, which gives fans plenty of reason to complain about his "WWE-like demeanor."
And though many don't like Sonnen's antics, you have to admit that it was pretty nice to see it on cable television.
8. Lavar Johnson Stops Joey Beltran (UFC on FOX 2)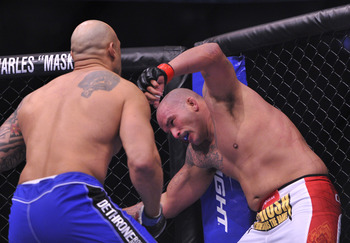 Mike Dinovo-US PRESSWIRE
And here I was thinking Joey Beltran was incapable of going unconscious.
Johnson made a splash in the UFC in a big way with his knockout victory against Joey Beltran. He did what Matt Mitrione, Pat Barry and Stipe Miocic all failed to do, and that in itself turned some heads.
Furthermore, he finished Beltran in the first round. This is the same guy that's taken leg kick after leg kick from Barry and weathered Mitrione's heavy hands for three full rounds.
The performance earned Johnson a shot at Barry on the main card of Fox in May.
7. Cub Swanson Is Back! (UFC on FOX 2)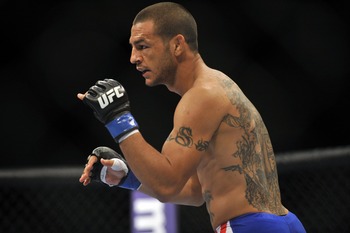 Joe Camporeale-US PRESSWIRE
Cub Swanson finally has his swagger back, and it all started against George Roop at the UFC on FOX 2.
After losing to Jose Aldo at WEC 41, Swanson went 2-2 in his next four fights and never really looked the same. That all came to an end when he faced Roop.
Swanson displayed his outstanding striking skills, and he delivered a haymaker that'll be featured on every one of his highlight reels.
He caught Roop with a right hook that knocked his mouthpiece out and then put the finishing touches on him. Since, Swanson delivered another memorable stoppage against Ross Pearson. Swanson is officially back.
6. Pat Barry/Lavar Johnson Slugfest (UFC on FOX 3)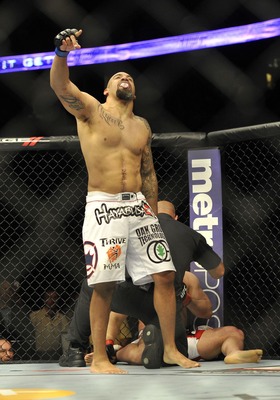 Joe Camporeale-US PRESSWIRE
Barry's top game aside, his fight with Johnson at UFC on FOX 3 was a crowd-pleasing affair.
Barry and Johnson traded strikes, and Barry met his match when Johnson cornered him and unleashed his onslaught of uppercuts and hooks.
After taking multiple power shots, Barry was out on his feet and finally crumbled to the ground. Though Barry may lose as many fights as wins, he'll always be a fan favorite for going out on his shield in every clash.
This fight was no different than any of his previous bouts, and it gave Johnson a big win against a big name in the heavyweight division.
5. Roland Delorme and Nick Denis' Exciting First Round (UFC on FOX 3)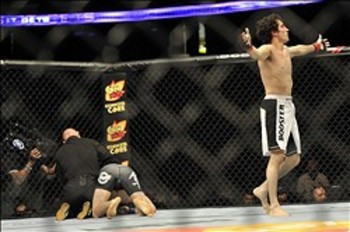 Joe Camporeale-US PRESSWIRE
Roland Delorme and Nick Denis put on a show in the prelims of UFC on FOX 3.
In fact, it was one of the best rounds of the year. Delorme and Denis didn't waste time going toe-to-toe, and Denis caught Delorme early with some nice combinations.
Delorme would rally, though. He came back strong after facing early adversity in the round and reversed the momentum after peppering Denis with shots.
Once the fight hit the ground, Delorme grabbed the rear-naked choke and finished it in the first.
UFC matchmaker Joe Silva was so impressed by the performance that he originally set Delorme up against Bibiano Fernandes at UFC 149.
But because Fernandes couldn't come to terms with the company, the fight fell through.
4. Junior Dos Santos Wins Heavyweight Championship (UFC on FOX)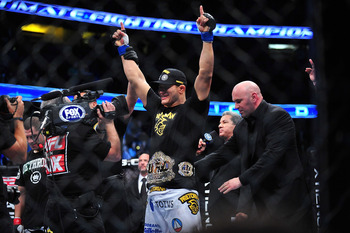 Gary A. Vasquez-US PRESSWIRE
Had the fight lasted longer, Junior dos Santos winning the heavyweight championship would have been higher on this list.
Still, it was great to see JDS solidify himself as the best in the division. Dos Santos is as fan-friendly as they come, and with his stand-and-trade style, he's become a fan favorite.
But because he's so skilled and Cain Velasquez is considered to be equally as good, fans expected a five-round war for the ages. Instead, both fighters entered the bout with injuries and dos Santos caught him with a right hook to the temple within the first two minutes of the bout.
Even after this short fight, fans want to see a rematch between both fighters healthy. That's a testament of how much respect each man has earned in the eyes of the fans.
But as for the moment itself, dos Santos cemented his legacy in the heavyweight division by becoming champion, and you couldn't help but feel great for one of the nicest guys in the UFC.
3. Benson Henderson vs. Clay Guida (UFC on FOX)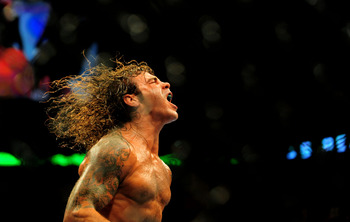 Mark J. Rebilas-US PRESSWIRE
Benson Henderson vs. Clay Guida was one of the best fights of 2011, and rather than being showcased on FOX, it was live on Facebook.
Of course, it's easy to pick an event apart in hindsight, but fans had a good idea that this fight would showcase every aspect of MMA.
And that's exactly what it did. Wrestling, striking, cage work and Brazilian Jiu-Jitsu were all present in Henderson and Guida's war.
Back-and-forth these two went, engaging in a technical brawl, and it was Henderson that walked away as the victor.
Pre-Gray Maynard Guida always entertains the fans, and Henderson has yet to have a boring fight under the Zuffa umbrella. It was inevitable for these two to steal the show on Nov. 12.
2. Nate Diaz Earns Title Shot (UFC on FOX 3)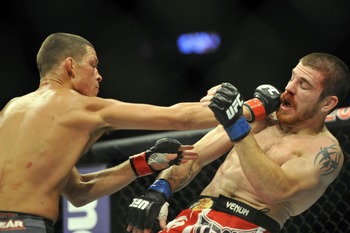 Joe Camporeale-US PRESSWIRE
Watching Nate Diaz fight on primetime television on a grand stage was special.
Better yet, watching him earn a title shot live on FOX was gratifying. It was almost like watching a focused and dedicated Nick Diaz reach his full potential, and through Nate, fans saw a Diaz brother make a statement as best in the world without any complications.
As for the fight he had with Jim Miller at the event, well, it was like most Diaz fights, a scrap. Miller is as game as they come, and though Diaz's style gave him fits, he still pressed forward and engaged with Diaz.
After dropping him in the first round, Diaz would catch Miller in a beautiful guillotine in the second and force him to submit.
That's something no other opponent has been able to do, and with yet another impressive victory, Diaz will get a future shot at the lightweight champion.
1. Alan Belcher's Amazing Performance (UFC on FOX 3)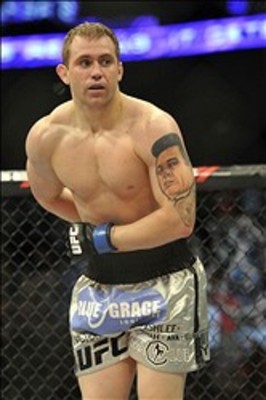 Joe Camporeale-US PRESSWIRE
Alan Belcher's performance against Rousimar Palhares at UFC on FOX 3 was extraordinary.
Not because he beat Palhares, but it was the way he defeated him. Going in, longtime fans of the sport knew counting out Belcher in his fight with Palhares would be a delusional perspective. In fact, many believed Belcher would win the bout.
But who honestly thought he would survive a patented Palhares knee bar? As soon as the fight hit the floor and Palhares grabbed a hold of Belcher's leg, I'll admit that I thought the end was near. As it turned out, the end was near, just not for Belcher.
Belcher survived, nearly pulled off a twister and eventually stopped Palhares with some vicious ground-and-pound strikes. It was a magnificent performance by one of the best fighters at middleweight.
Keep Reading