8 Things Miami Dolphins Fans Should Be Watching for in Preseason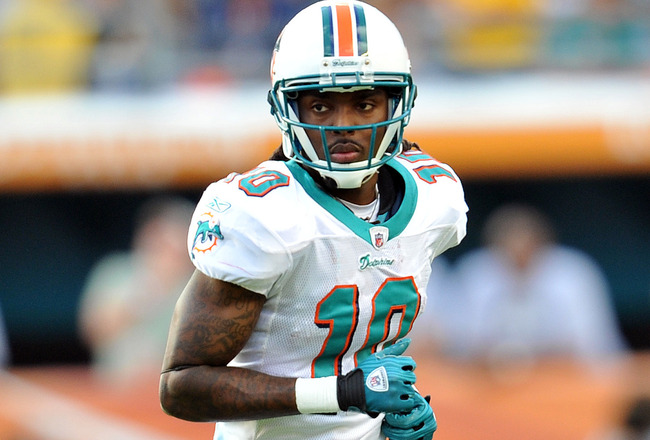 Steve Mitchell-US PRESSWIRE
When the 2012 Miami Dolphins make their unofficial debut against the Tampa Bay Buccaneers next Friday evening, Chapter 1 of this team's preseason saga will begin.
Despite their resistance to use the "R" word, the Dolphins are in fact rebuilding, and this preseason is a particularly pivotal period for for this team.
See, teams like the Steelers, Patriots and Packers use the preseason to settle any positional battles and prepare themselves for Super Bowl runs. But, the Dolphins will use the preseason for far greater purposes.
Not only do the Phins have to settle their own positional battles, but they also have to discover their identity.
The Miami Dolphins are entering a new era, and it all starts in this year's training camp.
Here's what you need to watch for in this coming weeks.
Ryan Tannehill's Development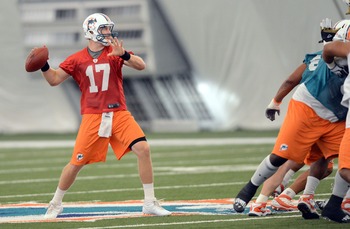 Steve Mitchell-US PRESSWIRE
The dawn of a new season always instills some optimism—however slim—that the Dolphins will finally reemerge as a dominant, perennial contender.
Realistically, though, the Phins won't be in position to achieve such success until Ryan Tannehill is their starting quarterback. Both David Garrard and Matt Moore are talented, seasoned veterans, but, ultimately, they're only here to keep the team competitive while Tannehill develops.
Due to his inexperience, Tannehill was initially pegged as a developmental player who would sit on the sidelines for, at the very least, one season. However, his performance in training camp thus far suggests he might be ready to step under center sooner than anticipated.
Ben Volin of The Palm Beach Post reports:
It's been hard not to notice how good Tannehill has looked throwing the football, showing good velocity, accuracy and anticipation. Coach Joe Philbin said Monday that Tannehill had 53 "competitive snaps" in Sunday's practice, and completed over 40 of those throws. Monday's practice wasn't as smooth, especially early on, but Tannehill is showing well so far.
This is great news, but fans shouldn't overestimate the importance of two good training-camp practices.
Let's see how Tannehill performs against a live NFL defense before we annoint him the second-coming of Dan Marino.
Barring flawless play throughout the preseason, we won't see him under center until the mid or latter stages of the 2012 season at the earliest. That being said, there's reason to get excited, and you should make an effort to track his progress throughout the preseason.
The Quarterback Competition
Steve Mitchell-US PRESSWIRE
While Ryan Tannehill hones his skills, David Garrard and Matt Moore are competing for the starting job. Tannehill is also in the mix, but he'll need a sensational preseason to leapfrog both proven veterans.
According to The Palm Beach Post (h/t CBS Sports), Garrard had a "slight edge" entering camp, but the pendulum isn't swinging in anybody's favor right now (via Ben Volin, The Palm Beach Post). He and Moore appear to be on even footing as they've both quarterbacked the first team offense and looked good doing so.
Until preseason games begin, I doubt we'll see either QB pull away. And, even then, it's tough to envision one markedly outperforming the other.
Joe Philbin plans to name a starter before Miami's third preseason game, so every snap of every practice is vital for Garrard and Moore. This is an extraordinarily close and intense competition that will be fun to watch unfold in these next few weeks.
How Will Daniel Thomas Respond to a Disappointing Rookie Season?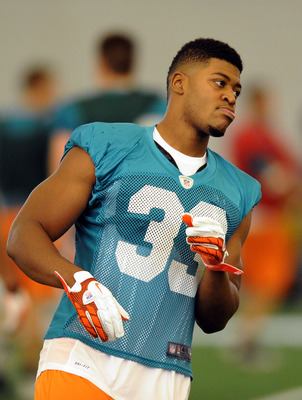 Steve Mitchell-US PRESSWIRE
On Sunday, Barry Jackson of the Miami Herald reported that Daniel Thomas "remains in the lead in the competition for the No. 2 running back job behind Reggie Bush." While this is hardly a surprise, it's comforting to see Thomas outperform Lamar Miller and Steve Slaton.
Thomas failed to fulfill high expectations in 2011, rushing for just 581 yards on 165 carries. The second-round pick's struggles prompted concerns about his long-term prospectus, which he'll try to dispel in 2012.
You can attribute Thomas' struggles to injuries and a shoddy offensive line, but those excuses aren't valid anymore. He's healthy, and the Dolphins' offensive line should (fingers crossed) make strides with Artis Hicks or Eric Steinbach replacing Vernon Carey and Jonathan Martin replacing Marc Colombo.
Although Thomas received minimal attention this offseason, you should keep an eye on him this preseason. The Dolphins need a running back who can excel in short-yardage situations and pass protection. He has the talent to handle both responsibilities and more—now, he needs to show it.
The Battle for the Final Two (or One) Wide Receiver Spots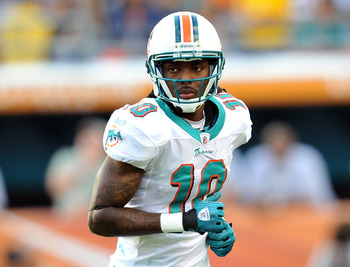 Steve Mitchell-US PRESSWIRE
The Dolphins, technically, have eight wide receivers competing for two roster spots (assuming they keep six wide receivers on the 53-man roster, which is likely but not definite), but that number is misleading.
I fully expect Roberto Wallace to earn a roster spot, which leaves seven wideouts to compete for one spot. Meanwhile, Chris Hogan is a long shot for the practice squad, and rookies Rishard Matthews, B.J. Cunningham and Jeff Fuller are realistically aiming for the practice squad as well—though Fuller has an outside shot at making the roster.
So, we now have three wide receivers left: Clyde Gates, Julius Pruitt and Marlon Moore.
All three offer something unique but also offer serious downside.
Gates has lethal speed but has struggled to adapt to the NFL; Pruitt is a special teams ace who can also contribute on offense, but he's totally untested; Moore has topflight speed and quickness but has been plagued by injuries in two NFL seasons.
Behind quarterback, this could be the most heated competition in camp. If you're looking for players to track during preseason action, then these are your guys.
Who Will Start at Right Guard?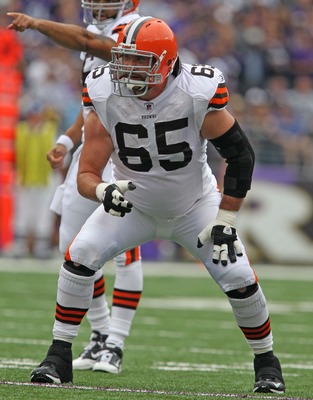 Mitch Stringer-US PRESSWIRE
When the Dolphins signed Eric Steinbach on Thursday, it seemed safe to assume he would step in as the starting right guard. After all, right guard has been a glaring weakness dating back to 2009.
However, Artis Hicks hasn't surrendered the starting job yet, and he might not do so. Hicks has continued to run with the first-team offense Steinbach has been relegated to the second team.
Steinbach has never played right guard in his nine NFL seasons, so he'll need time to learn the intricacies of the position and the Dolphin's system. Moreover, he's a 32-year-old coming off back surgery. At this stage in his career, he might not be a starting-caliber player anymore.
It's possible that Miami doesn't necessarily view Steinbach as a starter, but rather a Grade A backup.
Steinbach still has an excellent shot at seizing the starting job, but for now, Hicks is the favorite. Keep close tabs on the positional battle as the preseason wears on, though, as Steinbach is bound to make a push for Hicks' job.
Koa Misi's Transition to the 4-3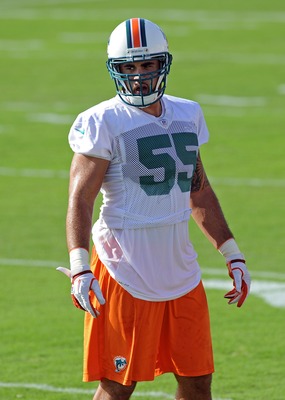 Steve Mitchell-US PRESSWIRE
Was Koa Misi a bad fit for Mike Nolan's 3-4 defense, or...is he a bust?
We're about to find out.
Misi played admirably as a rookie in 2010, but he took a huge step back last year, registering just 23 tackles and one sack. He's now under immense pressure to thrive in Kevin Coyle's 4-3 alignment, or he could face demotion in favor of Gary Guyton.
According to a tweet by the Sun-Sentinel's Omar Kelly, Coyle said Misi is the player facing the toughest transition to the new scheme, which is a bit unsettling considering his recent struggles.
In order for Misi to secure his starting role and succeed in this defense, he needs to show that he can cover athletic tight ends, locate the ball-carrier and seal the edge to force that ball carrier inside.
Because he struggled to generate a pass rush in the 3-4, there's hope that Misi is a better fit for the 4-3, which requires outside linebackers to focus more on coverage and stuffing the run.
The Battle for the Second Starting Safety Spot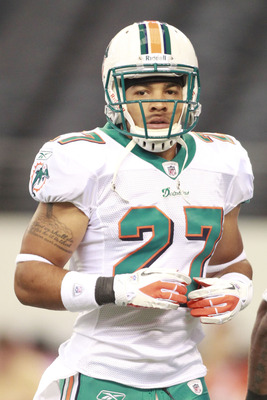 Tim Heitman-US PRESSWIRE
Reshad Jones has a firm grasp on one of the starting strong safety jobs—this much we know. He ran with the first-team defense at OTAs and hasn't budged since. Barring injury or disastrous performance in the preseason, he's a lock to start.
Things aren't so clear at free safety, however.
Third-year veteran Chris Clemons ran with the first-team defense in minicamp, making him the early favorite for the job. But he suffered a leg injury on Saturday, opening the door for Jimmy Wilson, Tyrone Culver and Tyrell Johnson to surpass him on the depth chart.
Johnson, whom the Dolphins signed as a free agent in April, has been mostly invisible throughout the offseason. He'll have to elevate his play significantly to even warrant consideration for the starting job.
Instead, Wilson and Culver are the two players most likely to challenge Clemons.
This is Wilson's first year playing safety (and only second in the NFL), and his inexperience makes him a wild card; however, it's impossible to ignore his explosiveness and potential. Culver, meanwhile, is a solid player who has always delivered when called upon, but he needs to do something to separate himself from the pack.
Whoever emerges as the starting free safety will inherit major responsibility. The Dolphins might have an elite front seven, but this defense won't be able to achieve its potential if its safeties are liabilities.
Who Will Handle Kickoff Return Duties?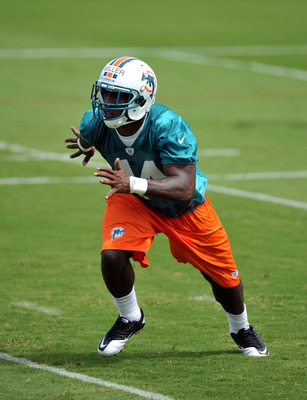 Steve Mitchell-US PRESSWIRE
Clyde Gates might've been a ghost on offense last season, but he was a solid kickoff returner. He averaged a respectable 24.8 yards per return and almost took a handful to the house, including a 77-yard scamper.
But Gates is now on the roster bubble, and there's a very real chance he won't make the team. If he's cut, then who will handle kickoff return duties? (For the record: Even if Gates makes the team, there's a chance somebody unseats him.)
The Dolphins don't have enough space on their roster to dedicate a spot to a return specialist, so the likeliest candidates are Reggie Bush, Lamar Miller and Marcus Thigpen. I'm hard-pressed to believe the Phins will let their starting running back risk injury by returning kicks, so that narrows the field down to Miller and Thigpen.
Thigpen was a successful return man in the CFL, but he's also on the roster bubble. If he displays promising return skills and proves he's an NFL-caliber running back, then, he'll be in good position to win the job.
Miller might be the favorite, though. He only returned 15 kickoffs at the University of Miami, but in 2010, he scored on one of his eight returns. Plus, he's one of the most electric athletes on the Dolphins' roster, and he's a lock for the 53-man roster.
Ultimately, the winner of this job will come down to whichever player displays great return skills and value in another facet of the game.
Keep Reading

Miami Dolphins: Like this team?