Should the New York Yankees Be Making More Moves Before the Trade Deadline?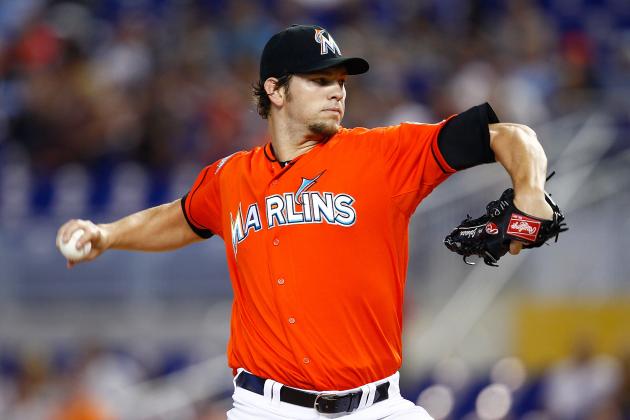 Sarah Glenn/Getty Images
Should the Yankees kick the tires on Josh Johnson of the Marlins?
The clock is ticking closer to baseball's trade deadline, and the question is whether the Yankees should stand pat after acquiring Ichiro Suzuki or try to make another splash or two.
We know about the Steinbrenner family's desire to bring payroll down to $185 million, a budget most teams would love to have.
But for the Yankees, this represents an austerity movement and is making general manager Brian Cashman a lot more careful about how he spends the Steinbrenners' money. Nonetheless, the Yankees are an aging team, and while they are cruising to the American League East title, the biggest concern is how they will fare in the postseason.
Trading for Ichiro was a surprise and would have been a coup five years ago. He is a good defensive outfielder who can run and occasionally hit the long ball. It sounds a lot like what the Yankees were hoping to get from Brett Gardner.
Ichiro, however, is in decline and not the difference-maker he was earlier in his career. Meanwhile, the Los Angeles Angels went out and traded for Zack Greinke and may have elevated themselves to the role of postseason favorites after a horrible start.
Mike Trout is giving new meaning to the word phenom, and let's face it, Yankees fans—there's no one in the minors who can give the Bronx Bombers the lift that Trout did when he was summoned.
The Los Angeles Dodgers, buoyed by new ownership willing to spend like the Yankees used to, acquired Hanley Ramirez and are in the market for a pitcher like Ryan Dempster.
Do the Yankees think that the return of Andy Pettitte and Alex Rodriguez in September is better than anything they can acquire in a trade? With no team breathing down their neck, the Yankees have the luxury of letting their wounded heal.
Still, we can't imagine George Steinbrenner sitting back and letting potential postseason opponents corner the trade market. George would have been on the phone to Cashman after the Angels got Greinke, demanding how his general manager was going to answer that move.
Well, let's pretend George was still in charge. What players would Cashman pursue if given the green light?
Begin Slideshow

»
Ed Zurga/Getty Images
Josh Willingham would give the Yankees experience and a power bat.
We mentioned this earlier in the season to no avail, but we don't give up easy.
Josh Willingham would be the perfect fit for the Yankees: He has hit 27 home runs for the Minnesota Twins and would give the Yankees another potent bat, especially if Alex Rodriguez struggles when he returns.
Willingham is 33, just the right age for the Yankees, and is signed through 2014.
The best part is that he earns only $7 million a year. That makes him affordable for just about any team in the pennant race.
Have the Yankees even asked the lowly Twins whether he is available?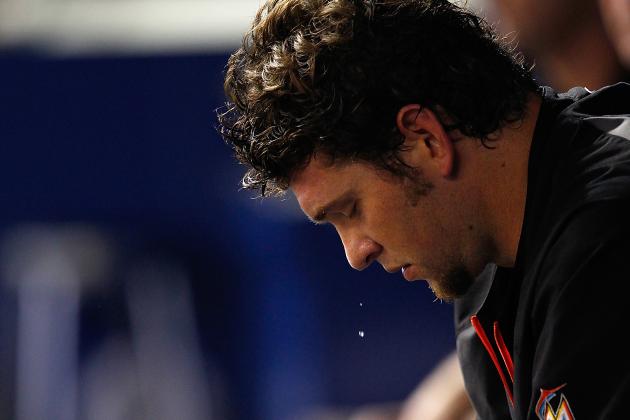 Sarah Glenn/Getty Images
It's been a disappointing season for Josh Johnson and the Miami Marlins.
Josh Johnson is having a disappointing season.He is 6-7 with a 4.04 ERA.
He has also been injury-prone in his career.
Johnson, though, is only 28, and when he is on he can be dominating.
After starting the season in a new ballpark, with a new name and uniforms and high expectations, the Marlins have crashed and are selling off pieces as if management knows nothing would change with this group next season.
They also know that given Johnson's overall poor performance and history of injuries, they would have to be lucky to obtain a highly valued prospect in return. Johnson is signed through 2013 when he will make $13.75 million.
He represents a gamble but also is the power righty the Yankees can use to pitch after CC Sabathia and before Pettitte in the playoffs. And if Pettitte can't make it back, then Johnson gives the Yankees an insurance policy.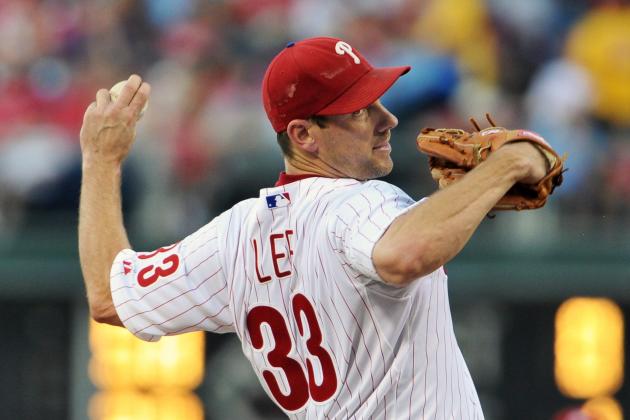 Drew Hallowell/Getty Images
Cliff Lee would help this year and bolster the Yankees staff in the future.
Cliff Lee spurned the Yankees and Texas Rangers to return to Philadelphia in 2011, but this season has been a shambles.
He is only 1-6 in his first 17 starts.
The good news is that his ERA is 3.95, which means he hasn't always gotten much run support.
This would be a move for this season and the immediate future, as Lee is signed though 2015. He has a vesting option in 2015 unless his team payed him a $12.5 million buyout.
The other bad news is that Lee is making $25 million a season. That is likely to scare off even the Yankees unless the Phillies picked up a considerable chunk of his remaining salary.
With so much money invested in Ryan Howard, Roy Halladay and the recently signed Cole Hamels, it's difficult envisioning the Phillies keeping Lee after this season.
He is still only 33 and left-handed, and we know how well Andy Pettitte was pitching at 40 before he was injured.
If the Phillies could unload more than half of Lee's remaining contract, they might even settle for a middling prospect or two instead of the Yankees top-of-the-line prospects.
If I'm Brian Cashman, it can't hurt to ask.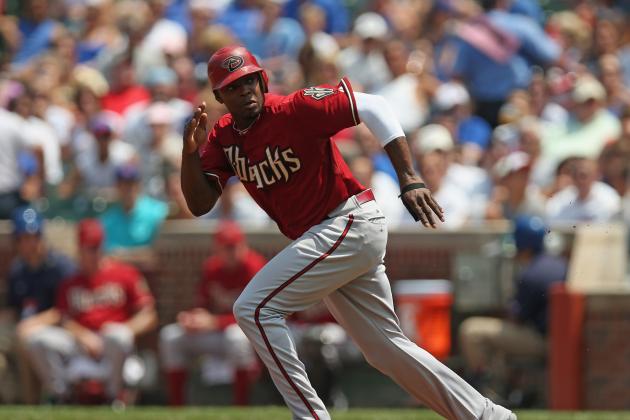 Jonathan Daniel/Getty Images
Is Justin Upton available or not?
Justin Upton is only 24 and is signed through 2015. He was and should be considered a building block for the Arizona Diamondbacks.
Word got out a few weeks ago, however, that the D'Backs might consider trading Upton, who doesn't always play with intensity.
Then those rumors were supposedly put to rest when team owner Ken Kendrick said that it was reasonable to assume that Upton would be with the Diamondbacks the rest of this season.
So is Kendrick being honest or trying to up the ante for his talented but sometimes unmotivated outfielder who managed to wrangle a no-trade clause in his contract? Supposedly Upton could refuse a trade to the Yankees.
Perhaps he prefers to avoid the glare of the spotlight in New York or Boston. Maybe he would reconsider for a renegotiated contract.
Upton may be more trouble than he is worth, but at his age, he could be a fixture in the Yankees outfield for a decade.
The Yankees should continue inquiring about what it would take to land Upton until the trade deadline arrives. This is not about August and September—it's about October.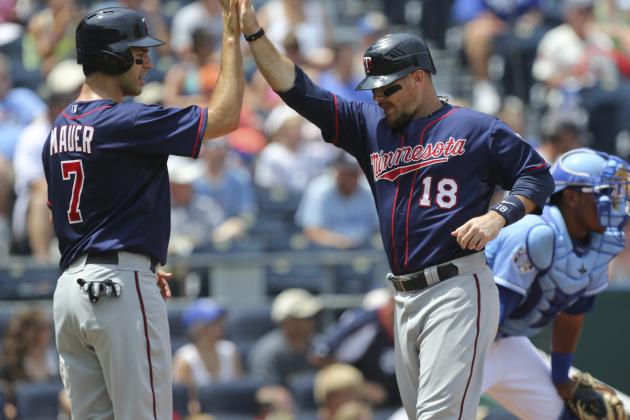 Ed Zurga/Getty Images
Ryan Doumit has been hot lately.
So how does trading for a backup catcher help the Yankees' hopes of winning the World Series?
Have you seen Russell Martin's batting average lately? For all the wall-banging the Yankees lineup is capable of, how can they keep sending Martin out there to bat .180-something just for the occasional home run?
Ryan Doumit is Joe Mauer's understudy with the Minnesota Twins. He is a journeyman who is going to the Hall of Fame only if he visits.
Doumit, however, has been on something of a tear lately. He is batting .290 with 10 home runs and 47 RBI in 83 games this season. He is 31, and although he has bounced around, he is not a liability at the plate.
With Alex Rodriguez sidelined, the Yankees could get more bang for their buck by acquiring a catcher who can hit a little bit. Doumit also plays the outfield, which gives manager Joe Girardi additional options.
The Yankees have highly regarded minor league catching prospects, so this would be an under-the-radar move to help in the short term.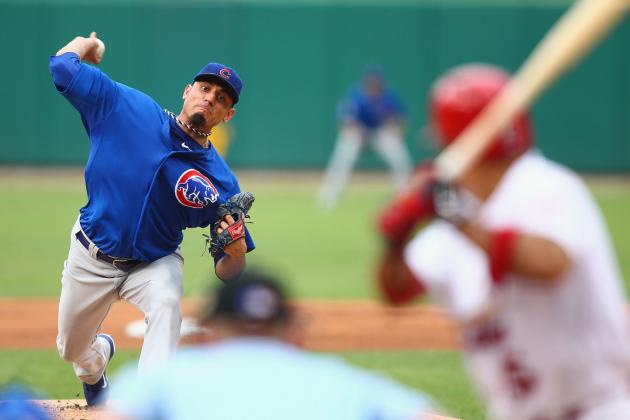 Dilip Vishwanat/Getty Images
Matt Garza helped the Tampa Bay Rays become a contender.
Forgive me for not being sold that the Yankees' starting pitching will get them to a
World Series and that 28th ring.
The Texas Rangers have some issues in their rotation, but the Los Angeles Angels are four deep in starters, and the Detroit Tigers (if they make it) have Justin Verlander.
That's why the Yankees should make a pitch at the deadline for Josh Johnson and/or Matt Garza.
Garza is the better option, because he pitched in the American League for the Tampa Bay Rays and can handle the beefed-up AL lineups. He is only 57-61 in his career and has been disappointing for the Chicago Cubs, but he has a power arm and is only 28.
Garza makes $9.5 million and is arbitration eligible, so there would be no long-term commitment on the Yankees' part. He is recovering from a triceps injury that is not believed to be serious, and it may help to lower Theo Epstein's asking price.
Of course, Epstein, the former GM of the Boston Red Sox, might not want to do the Yankees any favors, but he is in a rebuilding mode and willing to overlook the Yankees-Red Sox rivalry.
Garza gives the Yankees a solid option after CC Sabathia and ahead of Andy Pettitte in a postseason rotation. He is also playoff tested, with a 2-1 record and 3.48 ERA in five starts.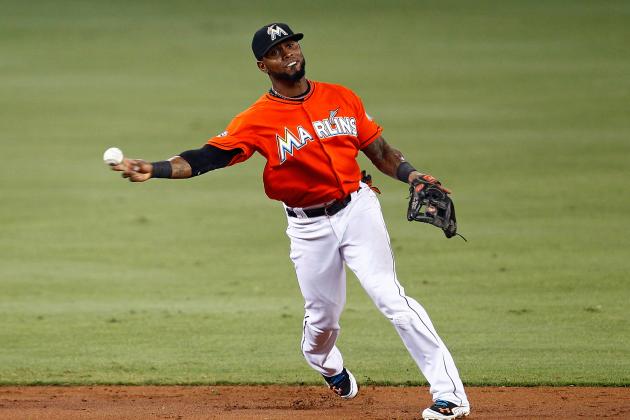 Sarah Glenn/Getty Images
Could Jose Reyes be the Yankees shortstop of the future.
Would the Miami Marlins be willing to trade Jose Reyes less than a season after giving him a six-year $106 million contract. If the price was right, the Marlins would probably listen.
I'm not delusional, just thinking outside the box.
Reyes should have never left New York. And he will cost the suddenly rebuilding Marlins a lot of money after they bid against themselves to sign him.
The Yankees have one more year of Robinson Cano at second before he becomes a free agent.
Trading for Reyes will have a big impact on what they can offer Cano, but it also gives them some leverage. I can see Cano shifting to third base, replacing Alex Rodriguez, who would be the DH.
I'm also wondering whether Cano can play the outfield and is willing to give it a try next spring. That would open second base for Reyes, who would slide over to short when Derek Jeter is done, probably after the 2013 season.
In the near term, Reyes is not that expensive, as he has a back-loaded contract. He'll make $10 million in 2013 before going up to $16 million in 2014 and $22 million for the remainder of the contract.
By the end of 2014, however, the Yankees probably won't have Jeter on the books and may be inclined to buy out A-Rod, depending on how he is performing.
That leaves Mark Teixeira as the other Yankees position player with a mega contract.
For the rest of this season, Reyes can fill in at short, second and DH. He gives the Yankees a natural leadoff hitter who even in a disappointing season has 25 stolen bases.
Reyes also has shown some pop in the past and might be able to hit 15 home runs in Yankee Stadium.
Admittedly, there are dozens of reasons why this doesn't make sense. Reyes is overpaid, not playing like a difference-maker or catalyst and does have that history of hamstring injuries.
He gives the Yankees, however, a dimension they lack and one Ichiro Suzuki can't really provide at this stage in his career. The price may be high in Yankees prospects, but maybe Marlins owner Jeff Loria would help pay down that contract to make the trade feasible.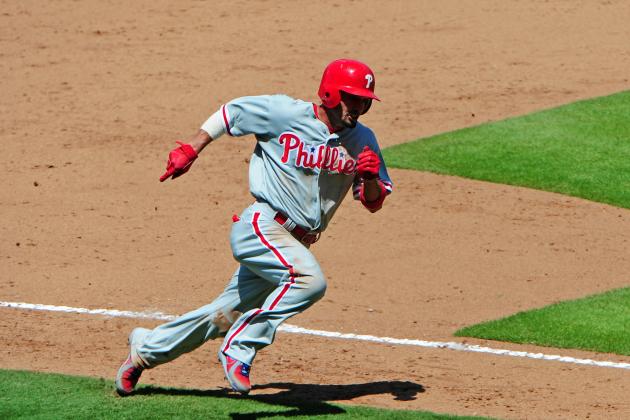 Scott Cunningham/Getty Images
Shane Victorino may be rejuvenated in a pennant race.
Mark Teixeira has an injury risk and will undergo an MRI.
If Teixeira is forced to the bench, Nick Swisher would probably step in and play first for the Yankees.
Ichiro Suzuki would move to right field, his natural position, which leaves an opening for the Yankees in left. We don't think Raul Ibanez is the answer defensively on a daily basis.
How about going after Shane Victorino? The Philadelphia Phillies are in a selling mode, and Victorino is in the final year of his contract. He might be only a rental, or he may be a replacement if the Yankees don't re-sign Swisher.
Victorino is having a poor year, batting .261 with just nine home runs, but he is durable and would be rejuvenated in the Yankees lineup. Victorino has plenty of postseason experience and would energize the Yankees with his base-stealing and sound defensive play.
He is 31, and it is difficult to imagine that he can't be a solid player for another three or four years.
That could be for the Yankees or elsewhere after the 2012 season. He probably would not cost the Yankees more than a mid-level prospect and might have been a better option than Ichiro.