West Virginia Football: Analyzing Mountaineers Defensive Ends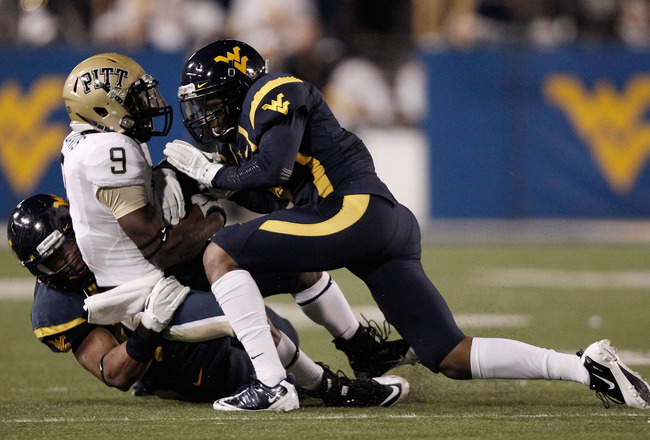 Jared Wickerham/Getty Images
The West Virginia University football team will see some new faces at the DE position this season. After losing guys like Bruce Irvin and Julian Miller, there will be some guys that must step up and bring pressure to the Big 12 quarterbacks.
Unfamiliar faces bring unfamiliar strengths and weaknesses. New starters must learn the system as soon as possible, and be ready for Sept. 1 against Marshall.
With increased expectations, the Mountaineer offense is not as questionable as the defensive unit. After a team scores 70 points in a BCS bowl, the offense will not be questioned as much as the uncertain defense.
Blown coverages can't happen as much in the Big 12 Conference due to the elusive receivers and quality offenses it presents.
Here's a list of some defensive ends and other pass rushers who can make an impact this upcoming season.
Will Clarke, RS-Jr., DE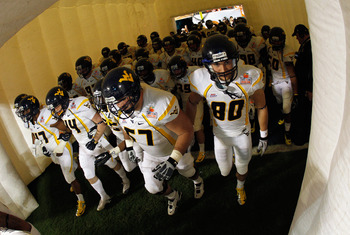 Mike Ehrmann/Getty Images
Clarke will have a much bigger role this season at the DE position. The redshirt junior stated that summer workouts have been as intense as ever.
The 269-pound Pittsburgh native will be looked upon as a key factor to the Mountaineers' success defensively.
In 2011, Clarke played defensive end, starting 11 of 13 games. He had a career-high nine tackles against USF in the last game of the regular season. He also recorded a sack against Clemson in the Orange Bowl.
His first career start was against Marshall in 2011. Clarke usually recorded between two to four tackles each game.
In 2010, Clarke was hampered by an ankle injury for the majority of the season. He played in only four games.
But now, the defensive end is an experienced player with the ability to get to the quarterback or running back. He's very athletic, powerful and fast for his size. Expect a productive season for Clarke.
Tyler Anderson, RS-Jr., LB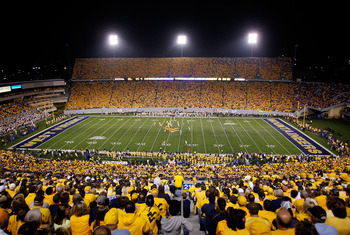 Jared Wickerham/Getty Images
The Morgantown, W.Va. native himself. Tyler Anderson, who played at Morgantown High School, will have a much larger role this season.
Anderson will be competing for the starting defensive end position. As a linebacker the previous season, Anderson is expected to be one of the premier playmakers on defense this year.
In 2011, the Morgantown native was a frequent member on special teams. The 6'2", 244-pound Anderson played in all 13 games in 2011. He didn't have much of a starter role, however.
He had a career-high five tackles against Maryland in 2011. Anderson also had two tackles against Marshall and four against Norfolk State.
The linebacker won the 2012 Tom Nickolich Award, an award given to a WVU football walk-on who has distinguished himself with attitude and effort.
Josh Francis, Sr., LB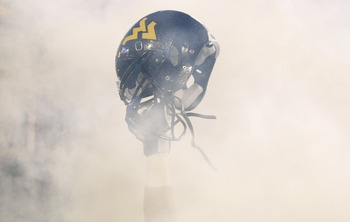 Jared Wickerham/Getty Images
Josh Francis will play as a linebacker in the new 3-4 defensive scheme. The 6'1", 221-pound Damascus, Md. native saw action in eight games as a junior, starting in one of them.
As a senior, Francis will have much larger role. In 2011, Francis was used mainly on special teams. He finished with nine tackles on the year, and made a season-high four tackles against LSU.
Francis has also had experience in the junior college circuit. In 2010, he was named a NJCAA first-team All-American.
In his two-year career at junior college, Francis finished with 95 tackles and 13 sacks. With a much larger role playing for head coach Dana Holgorsen, the senior hopes to be another impact player for the Mountaineers.
Jared Barber, So., LB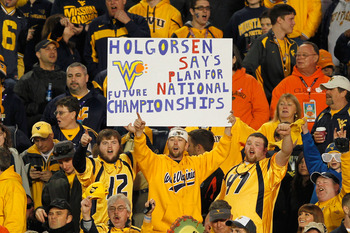 Streeter Lecka/Getty Images
Jared Barber has recently moved from middle linebacker to weak-side linebacker. He gained experience in his freshman year last season.
In 2011, Barber played in 12 games and started in two. He finished with 23 total tackles, and had a season-high six against Clemson in the Orange Bowl.
In his first career start against Pitt, Barber posted four tackles. He had three against Cincinnati, three against Norfolk State and one tackle and a pass breakup at USF.
While still a bit inexperienced, Barber will have more starts as a sophomore. He will need to be productive in the tackling department against some of the Big 12 offenses.
Keep Reading

WVU Football: Like this team?