Olympics Updates 2012: Biggest Stories and Stars from Day 3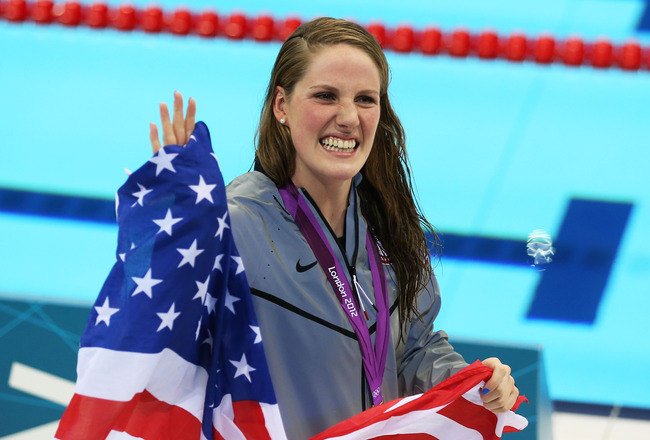 Quinn Rooney/Getty Images
In many ways, medal winners will take a backseat to medal controversy from the third day of the 2012 Olympics competition.
With intense action happening all over the place and in rapid fashion, it is impossible to escape controversy, and we certainly got a lesson in that on Monday.
Still, that is not going to completely take away from the athletes who grabbed some gold to add to their trophy case. Here is a rundown of what is buzzing from the London Games on the first Monday of competition.
Missy Franklin Becomes Golden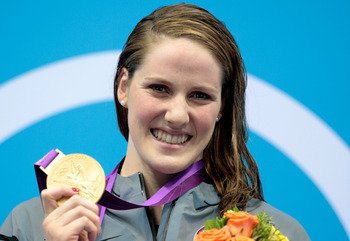 Adam Pretty/Getty Images
Missy Franklin grabbed her first individual gold medal in what promises to be a spectacular Olympics career.
Franklin, 17, overtook Australian Emily Seebohm in the last 10 meters to win the gold with a time of 58.33 seconds.
This was an impressive win.
The 100-meter backstroke is not even Franklin's best event, that would be the 200-meter back.
Combine that with the fact that this final was run just over 10 minutes after Franklin qualified for the finals in the 200-meter freestyle, and it is clear we have a special athlete blossoming before our eyes.
Gymnastics Bronze That Wasn't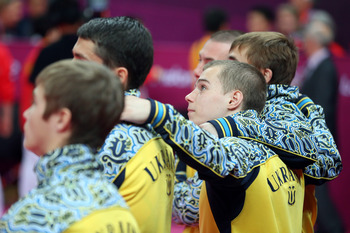 Streeter Lecka/Getty Images
The men's team gymnastic competition ended with a huge crowd-pleasing surprise, which gave way to confusion, which gave way to a crowd displeasing correction to the medalists.
With the competition in its last moments, Japan's elite gymnast Kohei Uchimura hit the pommel horse needing only a decent routine to lock in the silver medal for his team.
Shockingly, Uchimura botched his dismount, and when the score was revealed it was enough to knock Japan to fourth.
This catapulted home team Great Britain into the silver and Ukraine to the bronze, but the Japanese filed a protest over Uchimura's difficulty score, and the protest was upheld.
Uchimura's score was raised enough to put Japan back into second.
This relegated Great Britain to the bronze, and it stripped Ukraine of any medal.
Ryan Lochte Fizzles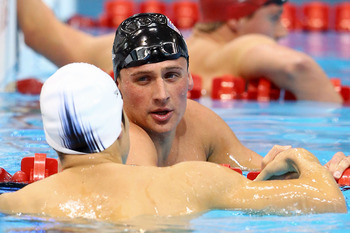 Al Bello/Getty Images
Ryan Lochte, who has spent the majority of his career mostly in the giant shadow of Michael Phelps, was on top of the word after winning the gold medal, and thoroughly dominating Phelps, in the 400-meter individual medley.
That elevated position did not last long.
First, Lochte blew the American's lead in the 4x100 freestyle when he was overtaken on the anchor leg and the team was relegated to a second place finish.
Then on Monday, Lochte had a supremely disappointing swim in 200-meter freestyle, the event in which he is the defending world champion. Lochte finished a distant fourth to gold medalist France's Yannick Agnel, who finished with a time of 1 minute, 43.14 seconds.
South Korea's Park Tae-hwan and China's Sun Yang both will get a silver for the event after tying for second.
Now the overriding theme on Lochte is dominated by disappointment and not glory.
Fencing Folly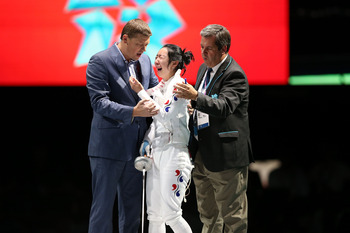 Ezra Shaw/Getty Images
The scoring confusion in men's gymnastics has nothing on what transpired in women's fencing.
South Korea's Shin A Lam was tied with German Britta Heidemann in the semifinal match of the women's individual épée when the clock hit one second.
Then there was a serious issue with the timing that allowed Heidemann enough time to score the winning blow. Had they tied, Lam would have advanced.
This led to a lengthy review, and the win was upheld, forcing Lam to sit on the piste, dealing with her new-found emotional devastation, for what seemed like an eternity.
Had she left, she would have forfeited her right to appeal.
Eventually, and inexplicably, the appeal was denied, and Lam had to almost immediately compete in the bronze medal match.
Not surprisingly, given the emotional turmoil, Lam lost, and the athlete who should have had at least a silver locked up, had to settle for a fourth place finish.
Keep Reading