Chelsea FC: What We Learnt from the Blues Tour of USA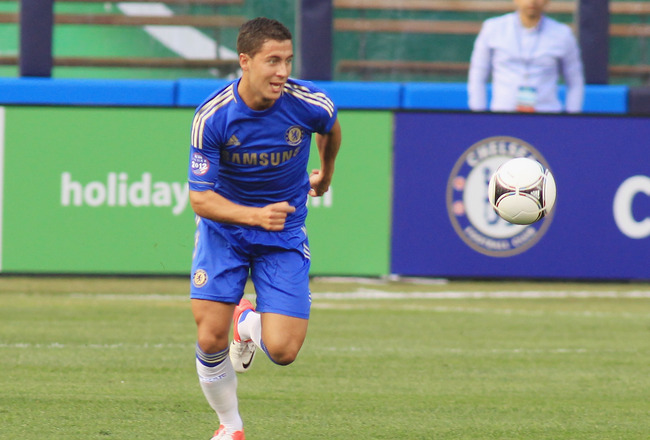 Andy Marlin/Getty Images
Chelsea fans who watched the preseason games in the USA may be slightly worried at some of the Blues' performances.
But a bad preseason doesn't always equal a bad league campaign next year.
It isn't always wise to look too deeply in to preseason, because it is an entirely different scenario to a competitive game.
But these games do have benefits. This tour was more for integrating new players into the squad, seeing which young players could have a say in the first team next year and, let's face it, trying to gain more fans in the USA.
So what would Roberto Di Matteo have taken from the four games his side played over the last two weeks?
"No. 10" Position
Mike Hewitt/Getty Images
Watching Chelsea in their last few games, it become quite clear that the position behind the striker will be integral to their success in attack next year.
Fernando Torres has vowed to be Chelsea's main man next year now that Didier Drogba has left, but if he doesn't get the right service, he isn't going to score.
Mata played in the hole behind the striker for some of last year and was effective, but the way Chelsea seemed to be setting up in their USA tour, it looks as if this role will become one of the most important on the pitch.
Di Matteo tried a few players in this position over the last four games, including Hazard, who looked very good.
But the Chelsea manager will also be buoyed by the fact that Hazard can be very dangerous on either wing, which will allow him to rotate his midfielders and change their positions when he sees fit.
Young Blood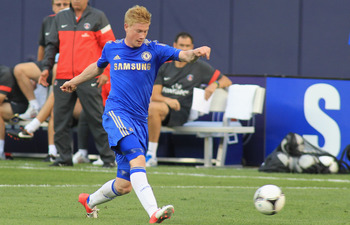 Andy Marlin/Getty Images
With the mass substitutions that go on during preseason games, the younger players at the club are given more opportunities to prove their worth to the manager.
Chelsea are still a side that are going through a transitional period in terms of players, and as well as adding top quality signings, the Blues have some very promising youngsters coming through the ranks.
Kevin De Bruyne
Not exactly a Chelsea youth player, having only recently moved to the club, but still a young man who will be itching to show Di Matteo that he should be part of his plans next season. The likelihood is that he will sent out on loan once again, but he showed enough potential in America to keep the Chelsea fans excited about him in the future.
Lucas Piazon
Since his move to Chelsea last year, Piazon has spent nearly all of his playing time in the reserves. He has been on the fringes of the first team on a couple of occasions, having looked very impressive for the reserves.
Still only 18 years old, he looks like a very mature footballer and moves the ball round well. He scored against PSG in Chelsea's second friendly, which will help his confidence and show Di Matteo he is capable in front of goal.
Sam Hutchinson
Big things were expected of Sam Hutchinson at Chelsea before he suffered the injury that nearly ended his career. Since his miraculous recovery, he has seen some first-team action and has been widely tipped to feature heavily in the side over the next few seasons.
He had an up-and-down time in the US, defending bravely at times but showing immaturity at others. His crossing and long balls looked very impressive bar a few wild ones, but I think with more game time and confidence, he can be a big figure for Chelsea very soon.
Nathaniel Chalobah
This boy is still only 17 years of age and has already toured America with one of the biggest clubs in the world. He looked competent and composed in his time on the pitch, and if he continues developing his skills, he will be a guaranteed first-team player in the future.
Di Matteo has reportedly agreed to let the young defender for out on loan next season to a Championship side, which is a big step for such a young player.
New Signings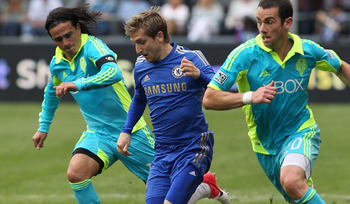 Otto Greule Jr/Getty Images
Chelsea have kept up their reputation as big spenders already this summer, splashing out on some big-name stars and spending over £50 million, with the intention of adding even further.
Eden Hazard, Marko Marin and Oscar have added depth to midfield and attack for next year, perhaps showing Chelsea's intent of making their style of play more attack-minded.
The USA tour was the first chance the fans had to see these new boys in a Chelsea shirt, and they were not disappointed.
Unfortunately, Oscar has not been available for Chelsea in preseason, but anyone who has been watching him perform for Brazil in the Olympics will be very excited at the prospect of seeing what he can do in the Premier League.
Hazard has been Chelsea's star performer during the tour and is already showing that he is worth his huge price tag.
For someone so young, he shows great vision and composure on the ball and a change of pace that will cause defenders all sorts of problems.
It is good to see that he has a strong, stocky frame, which will help him cope with the sometimes rough and tumble attitude of the Premier League.
As for Marin, he has shown he has the pace and trickery to be dangerous from out wide, and a goal on his debut (ignore the huge deflection) shows he knows where the goal is.
Soccer in the USA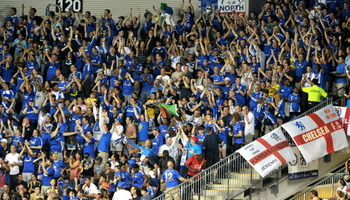 Drew Hallowell/Getty Images
For reasons unknown, football (or soccer, whatever you prefer) has never taken off fully in America.
The fact that four major sports monopolise the sports fans' focus cannot help matters, but with soccer being absolutely massive at grass roots level in the U.S., it is quite confusing.
It could be a funding issue, or just that American sports fans just don't like the game—who knows.
It was great to see how many people in America were excited about and getting involved with the Chelsea tour.
A few seasons ago, any soccer team visiting the States would have struggles to attract big crowds, but at every one of the Blues' preseason games, the stands were packed.
It's one thing to see so many fans turn up to the actual matches, but when people are queuing up to watch a training session, then you know that soccer is becoming a big deal stateside.
Soccer growing in America—one of the most powerful sporting nations on the planet—is of massive importance to the sport as a whole.
With these massive European clubs visiting the US for friendlies and preseason, and MLS sides managing to attract big stars to the league, the future is looking bright from American soccer.
Keep Reading

Chelsea: Like this team?