Virginia Tech Football: 5 Best Defensive Backs of the Bud Foster Era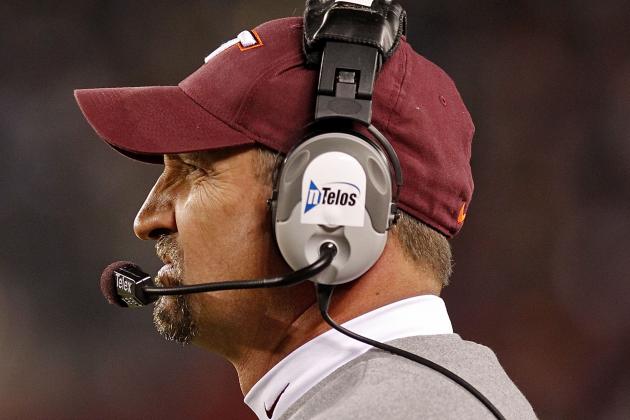 Geoff Burke/Getty Images

With five-star recruit Kendall Fuller announcing his intentions to join the Virginia Tech football team in 2013, Hokie fans can be excited about yet another great addition to DBU (defensive back university).
Fuller's announcement got me thinking about what he would have to accomplish in his career in Blacksburg to separate himself from the standouts who have preceded him. The Hokies have had a defensive back taken in the NFL Draft each of the last 10 seasons, which is quite impressive.
In order to go down as the best defensive back in Hokie history, Fuller would have to have quite a solid four years. Here is a list of the five best defensive backs Virginia Tech has had since Bud Foster took over the defensive coordinating responsibilities in 1995, and subsequently the list of people Fuller should be aiming to emulate.
Begin Slideshow

»
Brandon Flowers is currently one of the most underrated players in the NFL, having not made a single Pro Bowl appearance despite being one of the league's top cornerbacks each of the last three years.
The current Kansas City Chief had a more lauded career when he was with the Hokies. He was a third-team All-Ameican in 2006 and a first-team All-American his junior year in 2007.
Flowers intercepted 10 passes in his short career with the Hokies, despite the fact that most quarterbacks began avoiding him halfway through his sophomore season. But Hokie fans may remember him even more for the crowd-pleasing big hits he laid down on a regular basis. Flowers is the best shutdown corner the Hokies have ever had.
Though he may have had a disappointing career with the Atlanta Falcons (lasting only two years after being taken in the 2nd round), Jimmy Williams was one of the best cornerbacks to ever don the orange and maroon.
Despite being a more natural fit at safety, he switched to cornerback in the middle of his career with the Virginia Tech Hokies, at a time when his services were needed more at that position. And in the end, it worked out beautifully for everyone.
He was a unanimous first-team All-American and finalist for the Bronko Nagurski and Jim Thorpe awards during his senior season in 2005.
However, Hokie fans may remember him more for two plays that happened the previous season: a touchdown-saving tackle against UVA in 2004 which was followed by a fortuitous fumble, and a big interception later that season in the Sugar Bowl against the undefeated Auburn Tigers.
"Macho" Harris was one of the more exciting players the Virginia Tech Hokies have ever had. During his career, along with intercepting 15 passes (and returning four of them for touchdowns), he returned a kickoff for a touchdown (in a memorable beatdown of the Clemson Tigers in 2007), partially blocked a punt, had 270 yards in punt returns, recovered a fumble and forced two more, and had 111 rushing/ receiving yards.
He was a first-team All-American his senior season (AP 2nd team). His 15 picks places him 3rd all-time on the Virginia Tech career interceptions list.
Some of you may be surprised to see Willie Pile's name on this list, ahead of guys like DeAngelo Hall, Jayron Hosley, Kam Chancellor, Keion Carpenter, and Pierson Prioleau. But few players over the years have been more reliable for the Virginia Tech defense than Pile was, or more prone to making big plays when the Hokies needed them.
Pile had 14 interceptions and forced five fumbles while recovering three in his career in Blacksburg, with many of those coming at pivotal moments in big games. Perhaps the best example of this is his three-interception performance against Syracuse in 2000, in a game in which Michael Vick and the Hokie offense were struggling and needed some help to pull out a close 22-14 win.
Though some younger Hokie fans may think the 2005-2007 defenses were the best the Hokies ever had, it'd be hard to argue against the 1999 defense as being the best in Virginia Tech history.
While that defense (which held the high-powered Florida State offense to just 30 rushing yards and three offensive touchdowns while Vick and co. racked up 503 total yards in the 2000 BCS National Championship Game) was highlighted by two-time All-American Corey Moore, it was just as much guided in its success by the boys at the corner spots.
Anthony Midget wasn't a full starter until his senior season, but he came on strong in that final year. He led the No. 1 defense in the country with six interceptions, including three in a big win against the No. 19 Miami Hurricanes and a big one in the Sugar Bowl against Florida State.
Ike Charlton may have only had one interception in 1999 (after leading the team with five in 1998), but he made a number of big plays in big games. He had a pick-six which helped seal a win against the Clemson Tigers and returned a fumble for a touchdown in that same game against Miami.