Yankees Trade Rumors: Updating Top 7 Impact Infield Bats on N.Y.'s Radar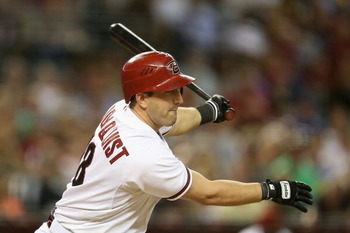 Christian Petersen/Getty Images
Eric Chavez is a disabled list-stint waiting to happen, there's a reason the Yankees are Jayson Nix's sixth team in five years and Eduardo Nunez, well...we've been down that road before.
The fact of the matter is that while Alex Rodriguez is sidelined with a broken hand, the Yankees need to find someone that they can plug into the position on a daily basis and not have to think about pinch-hitting for or replacing defensively late in games.
According to CBS Sports' Jon Heyman, Brian Cashman and company have compiled a lengthy list of potential acquisitions, from All-Stars to has-beens and everything in between.
So who are we talking about and what are the odds that the Yanks can pull of a deal in the next 24 hours?
Let's take a look.
Willie Bloomquist, IF, Arizona Diamondbacks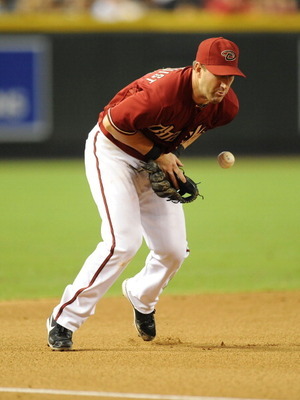 Bloomquist can play on a daily basis unlike the Yankees' current options.
Norm Hall/Getty Images
According to Fox Sports' Ken Rosenthal, the Diamondbacks are trying to decide who is going to be their starting shortstop moving forward—Stephen Drew or Willie Bloomquist.
Since Drew returned from the disabled list, Bloomquist has primarily played third base—but with Arizona picking up Chris Johnson from the Astros, he's sure to see a diminished role if Drew remains the starter at short.
As with many of the names that we are going to take a look at, Bloomquist doesn't provide much in the way of power. That's not to say that he's an automatic out at the plate—he's posted a .299/.323/.395 batting line in 77 games for Arizona this season—but he's not a run producer either.
That being the case, Bloomquist isn't expensive salary-wise (he's in the first year of a two-year, $3.8 million contract) and Arizona likely isn't expecting much in return for his services. If Arizona decides to move Drew instead, the price in prospects is sure to be far too expensive for the Yankees to give serious consideration to acquiring him.
The Yanks could do far worse than putting Willie Bloomquist at third until A-Rod is ready to return.
Odds Bloomquist Becomes a Yankee By Tomorrow: 20 percent
Yunel Escobar, SS, Toronto Blue Jays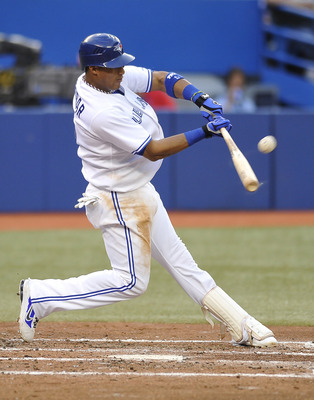 Brad White/Getty Images
Only 29 years old, Yunel Escobar is signed through the 2013 season at a reasonable $5 million, and two team options at the same salary exist for the 2014 and 2015 seasons as well.
Multiple teams, most notably the Oakland A's, have been linked to Escobar for almost a week, though according to Ken Rosenthal of Fox Sports, Toronto's asking price has been the biggest hurdle for interested parties to overcome.
Considering that Escobar is a shortstop who has not played third base since 2007, coupled with the fact that the Blue Jays and Yankees are division rivals, you'd have to imagine that the price for the Yankees to acquire him—if they wanted to—would be higher than other teams outside of the division may be asked to pay.
There's no way that Toronto is going to do the Yankees any favors, and that makes a deal between the two clubs highly unlikely.
Odds Escobar Becomes a Yankee By Tomorrow: 1 percent
Chone Figgins, IF/OF, Seattle Mariners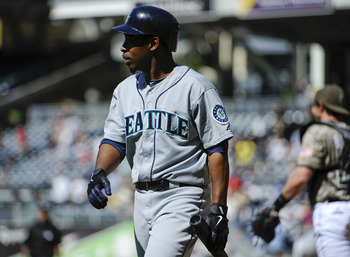 No thanks.
Denis Poroy/Getty Images
I think most Yankees fans would prefer to see Andruw Jones and Raul Ibanez try playing third base before they want to see Chone Figgins wearing a Yankees uniform.
I'll put the odds at one percent, simply because the Yankees and Mariners have done business together twice in the past seven months, but nobody in their right mind—including Brian Cashman—would take Figgins or his contract at this point.
Not unless the Mariners want to throw King Felix into the deal as well, of course.
Odds Figgins Becomes a Yankee By Tomorrow: 1 percent
Chase Headley, 3B, San Diego Padres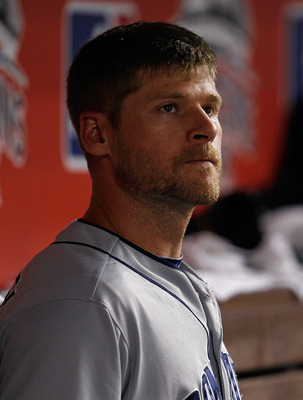 Headley would be a perfect fit in the Bronx.
Sarah Glenn/Getty Images
If ever there was a player for the Yankees to give serious thought to moving their prospects to acquire, Chase Headley is it.
Under team control through the 2014 season, the 28-year-old switch-hitter plays gold-glove caliber defense at third base and his a much better hitter than his stats lead you to believe.
Consider this.
At Petco Park, the biggest pitcher's park in the league, Headley has posted a .235/.324/.341 batting line. On the road? .299/.367/.448. That's a huge difference.
Granted, he's not a traditional power hitter, but the Yankees certainly don't lack for big boppers in their lineup.
Headley would allow the Yankees to plug A-Rod in as the full-time designated hitter upon his return, a position that he's going to wind up playing sooner rather than later.
Of course, the cost to obtain Headley is quite large and San Diego is perfectly happy to keep him for the rest of the season before engaging in more trade discussions this winter:
The #Padres are sending signals they'll keep Chase Headley if they don't receive a better offer between now and the deadline.

— Jerry Crasnick (@jcrasnick) July 29, 2012
The Yankees very well could be one of those teams who engages in those talks in the offseason.
As for today, I don't think there's much of a shot they can work out a deal.
Odds Headley Becomes a Yankee By Tomorrow: 5 percent
Jose Lopez, IF, Cleveland Indians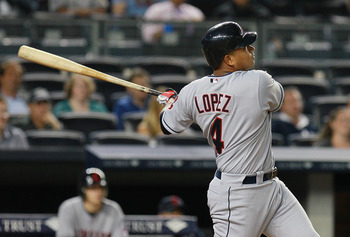 Mike Stobe/Getty Images
The Yankees, along with the rest of baseball, had a chance to grab Lopez back in May when the Indians designated him for assignment to make room for Johnny Damon on their 40-man roster.
Since re-joining the Indians after a minor league stint, the 28-year-old former All-Star second baseman has primarily filled in at third base, providing average defense and not much else. In 59 games, Lopez has a .249/.271/.378 batting line with four home runs and 28 RBI.
You'd have to imagine that the Indians aren't looking for much in exchange for him, so based on that alone I'd put odds of Lopez winding up in the Bronx better than others.
Odds Lopez Becomes a Yankee By Tomorrow: 10 percent
Brendan Ryan, SS, Seattle Mariners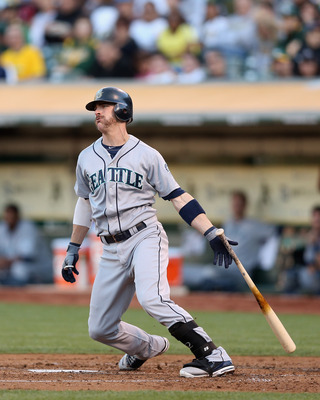 Ezra Shaw/Getty Images
UPDATE 7:45 PM ET:
Apparently the Yankees did make a play for Ryan. They were denied.
#mariners turned down #yankees bid for brendan ryan. ichiro they can have, not brendan ryan.

— Jon Heyman (@JonHeymanCBS) July 30, 2012
July 30:
Personally, I'd avoid Brendan Ryan.
He offers next-to-nothing on offense, as evidenced by his putrid .196/.288/.288 batting line in 92 games for Seattle in 2012. And while he's a solid defensive shortstop, he's never shown the ability to field third base cleanly or with any regularity.
Not to mention that the Yankees already have a Brendan Ryan clone in the minors with Ramiro Pena, who has spent parts of the past four seasons in the Bronx.
Updated Odds Ryan Becomes a Yankee By Tomorrow: 0 percent
Ty Wigginton, IF/OF, Philadelphia Phillies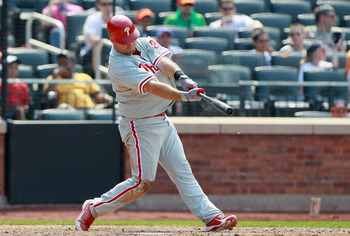 Could Wiggy return to New York?
Jim McIsaac/Getty Images
After Chase Headley, Ty Wigginton is the guy who the Yankees should be going after the hardest.
A 12-year veteran, the 34-year-old Wigginton has experience playing in New York and can fill at corner spots in both the infield and outfield with relative ease.
ESPN's Jayson Stark notes that the Phillies won't have much of a problem finding a home for the man known as "Wiggy," so what the asking price is remains to be seen. But with competition to obtain his services, it could be more than what the Yankees ideally would like to spend.
With a reasonable $4 million team option for the 2013 season, Wigginton not only helps the Yankees in 2012, but next season as well.
Odds Wigginton Becomes a Yankee By Tomorrow: 25 percent
Final Thoughts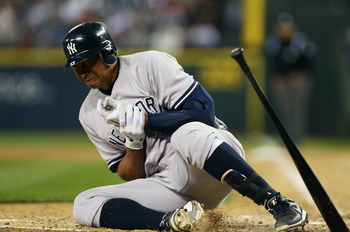 Otto Greule Jr/Getty Images
Here's how I'd rank the potential replacements, weighting the cost to acquire them and impact (both short- and long-term) on the team until A-Rod returns:
1. Chase Headley
2. Ty Wigginton
3. Willie Bloomquist
4. Jose Lopez
5. Yunel Escobar
6. Brendan Ryan
7. Chone Figgins
Keep Reading

New York Yankees: Like this team?