Grading Each Player's Performance from Team USA Basketball Win vs. France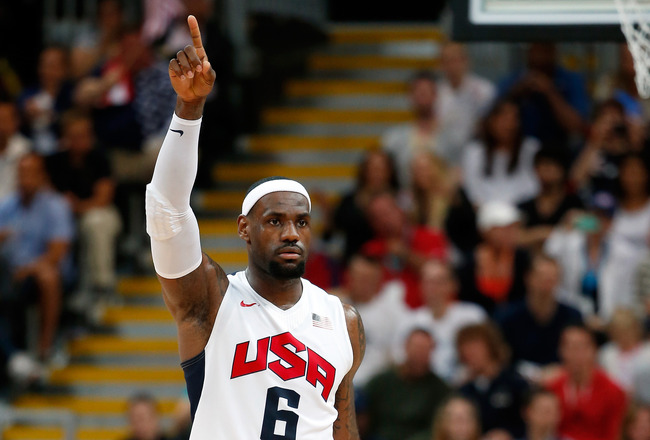 Jamie Squire/Getty Images
Team USA's experience at the London Olympics got off to a great start, as LeBron James, Kevin Durant and the rest of the Americans swarmed past the French squad.
After a slow start, the USA dominated the second half of the game and finished with a 98-71 win over Tony Parker and the rest of France.
So, which players stood out?
All 12 players entered the game, and these are the grades that their performances merited.
Carmelo Anthony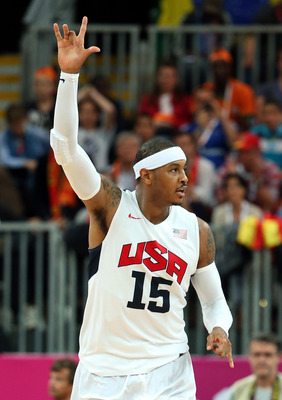 Christian Petersen/Getty Images
Carmelo Anthony struggled with his shot throughout Team USA's game with France, going just 3-of-10 from the field.
The New York Knicks forward tried to play isolation ball too often, and the result was often ugly. A true veteran on this squad, 'Melo will turn around his scoring performance eventually.
During the opening game, though, 'Melo managed to make his impact felt on the boards, pulling down nine rebounds during his 17 minutes on the court.
He also had one of the most underrated plays of the game, putting aside his NBA mind to swat out a free throw after it bounced up off the rim.
Grade: B
Kobe Bryant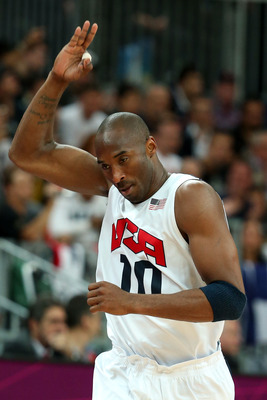 Christian Petersen/Getty Images
Speaking of isolation ball, Kobe Bryant was one of the primary culprits when it came to messing with the flow of the American offense.
The Black Mamba struggled with his shot—making only two of his six attempts—and never made a two-point field goal. But he drew contact early and often and was partially responsible for the French foul trouble.
Besides his 10 points, Kobe didn't make a significant impact in any area of the game during his 12 minutes of action.
Grade: C+
Tyson Chandler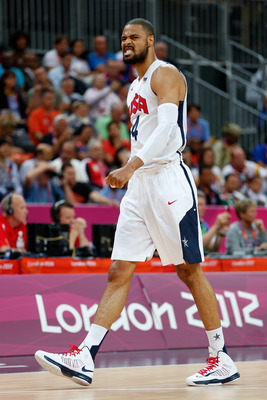 Jamie Squire/Getty Images
Tyson Chandler was solid against France, but he had a chance to be so much more against a frontcourt comprised of Boris Diaw and Ronny Turiaf.
The only true center of Team USA's roster, Chandler was 3-of-5 from the field, scored eight points, pulled down nine rebounds and dished out three assists.
This is particularly impressive since Chandler was only on the court for 11 minutes.
Besides his lack of domination on either end of the court, the most disappointing aspect of Chandler's performance was his 2-of-5 shooting from the charity stripe, where nerves clearly got the best of him.
Grade: B
Anthony Davis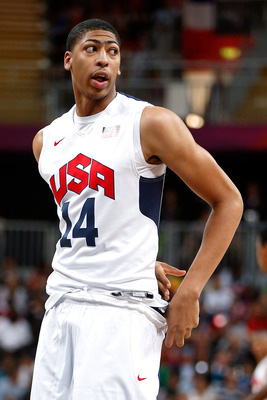 Jamie Squire/Getty Images
The Unibrow only entered the game once the United States had clearly put France away, and he struggled initially.
Anthony Davis was called for a three-second violation during his first official Olympic possession, fouled on his next one and failed to connect on either of his first two alley-oop finishes. To be fair, Andre Iguodala did throw the first oop attempt so high that Davis couldn't have gotten it if he jumped off a trampoline.
The former Kentucky star and incoming rookie for the New Orleans Hornets steadied himself and finished with three points, three rebounds and a block in a team-low eight minutes.
It wasn't an awful first performance, but Davis didn't force Mike Krzyzewski into giving him more minutes.
Grade: C
Kevin Durant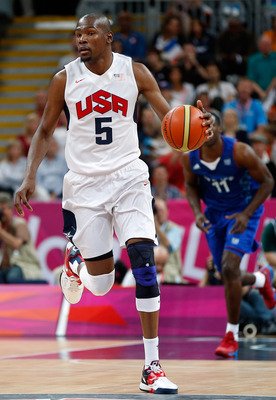 Jamie Squire/Getty Images
Kevin Durant was absolutely sensational on the offensive end of the court. He ran out fast breaks, drilled open shots and generally just couldn't miss.
The reigning NBA scoring champion played a team-high 28 minutes and was the only player on either team to break the 20-point barrier in the opening game. Durant finished with 22 points on 6-of-13 shooting from the field and 7-of-7 shooting from the free-throw line.
Despite the amount of time he spent with the ball in his hand, Durant also never recorded a turnover. He did have other positive impacts, though, with nine rebounds, two assists, two steals and two blocks.
Grade: A+
James Harden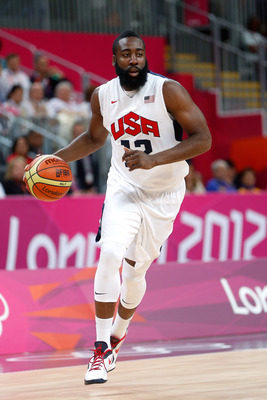 Jamie Squire/Getty Images
James Harden had one beautiful cut and another nice shot for Team USA—plus, his beard looked amazing as always—but he was constantly out of position, and he failed to make a largely positive impact on the game.
The Sixth Man of the Year recorded five points, an assist (a pretty pass to a cutting LeBron James) and a block, but his 14 minutes were overshadowed by the other players on the court.
I'd like to see some of the other backup players steal a few of his minutes in a closer game.
Grade: C+
Andre Iguodala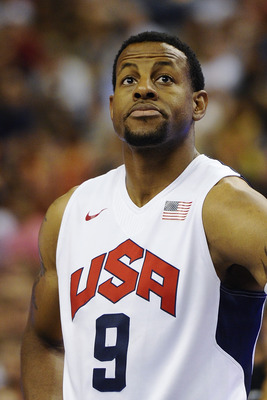 David Ramos/Getty Images
When Team USA had the ball, Andre Iguodala struggled immensely. However, when France was in possession of the spherical object, Iggy's defense looked great.
The swingman for the Philadelphia 76ers played for 11 minutes, missed his only shot from the field and connected on only one of his two charity shots. He also turned the ball over twice.
That said, Iguodala recorded a rebound, two assists, a block and a steal in his limited action, and he shut down every player he was asked to guard.
Grade: B
LeBron James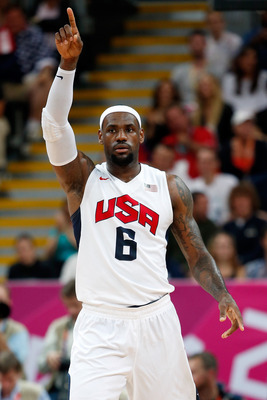 Jamie Squire/Getty Images
There aren't enough positive things to say about LeBron James.
The best player in the world, LeBron decided to show off his facilitating skills and had great success doing so. In 25 minutes, the point-forward recorded eight assists and turned the ball over just once.
He also grabbed five rebounds and made four of his six shots from the field for nine points. And of course, James played suffocating defense all the while.
If there was something that needed doing on the basketball court, James was more than capable of filling the role.
Grade: A+
Kevin Love
Jamie Squire/Getty Images
Kevin Love showed exactly why he's on Team USA's roster with a great offensive showing off the bench.
The best power forward in the NBA (assuming we're still considering LeBron James a small forward or a position-less player), Love was on the court for 14 minutes and recorded 14 points on 5-of-8 shooting from the field, 1-of-2 shooting from downtown and 3-of-4 shooting from the line.
He was also active on the glass, grabbing three rebounds, including an offensive rebound that he promptly put back into the basket.
Grade: A
Chris Paul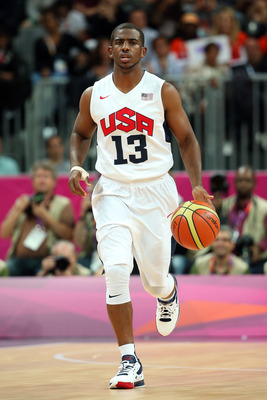 Christian Petersen/Getty Images
Despite his shiftiness and defensive presence, Chris Paul was a bit of a non-factor against France.
He got 20 minutes of action, but deferred to his teammates and primarily watched them while recording five points, two assists, two steals and two turnovers.
CP3 will have moments when he dominates, but this game didn't contain many of them.
He did manage to slow down Tony Parker and force a few turnovers, but that was about it.
Grade: C
Russell Westbrook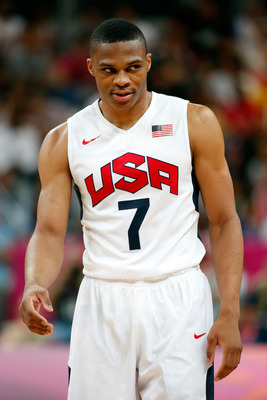 Jamie Squire/Getty Images
Russell Westbrook looked like the equivalent of an energy shot when he entered the game for Team USA.
The mohawked point guard never stopped giving 100 percent and put up nine points, four rebounds and three assists off the bench. He didn't shoot particularly effectively, but he did draw contact and get to the line quite a few times.
Plus, his defense was suffocating, and France was forced into a number of errors thanks to his energy.
Grade: A-
Deron Williams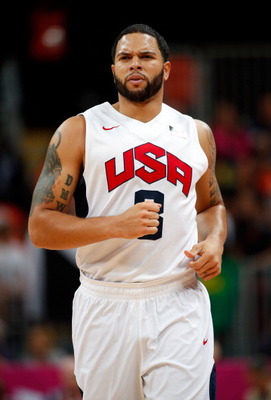 Jamie Squire/Getty Images
Deron Williams alternated between looking terrific and looking awful for the American squad.
One minute he would back down into the post and travel while making a poor kick-out to the perimeter. The next, he'd find an open teammate with a tough pass.
D-Will finished with a 1-of-6 shooting performance, giving him three points to go along with his four rebounds and six assists.
However, he also turned the ball over three times, recorded two fouls and played occasionally uninspired defense.
Grade: C+
Keep Reading