5 Vital Keys to Success at the 2012 PGA Championship
Mike Ehrmann/Getty Images

Just over two decades after its creation, Kiawah Island's Ocean Course will play host to its first PGA Championship, and the course is expected to come out swinging.
The 7676-yard par-72 layout certainly overwhelms with length, but other factors make this one of the toughest courses in the United States.
One of those would be wind, which is a constant on a course that sits just off the Atlantic Ocean (hence the name). With the ball having to cut through a fierce gale, one can only imagine the difficulty of finding any one of these putting surfaces.
Another factor would be the myriad of dangers that confronts players. Off the fairways and greens, there isn't much rough, instead there are a whole lot of worse places where competitors won't desire to be. From there, scores can add up very quickly, and tournament hopes can be dashed.
Overall, don't expect this course to give away too many birdies. A U.S. Open mentality (where par is your friend) may actually serve players well at a venue where low scores should be virtually non-existent.
So how exactly should players maneuver their way around this cruel, treacherous layout?
Here's a start.
Five tips lay ahead detailing how the best in the world can conquer mighty Kiawah.
It's easier said than done, but if a player can execute all five of these keys, he'll likely be holding the Wanamaker Trophy come Sunday evening.
Begin Slideshow

»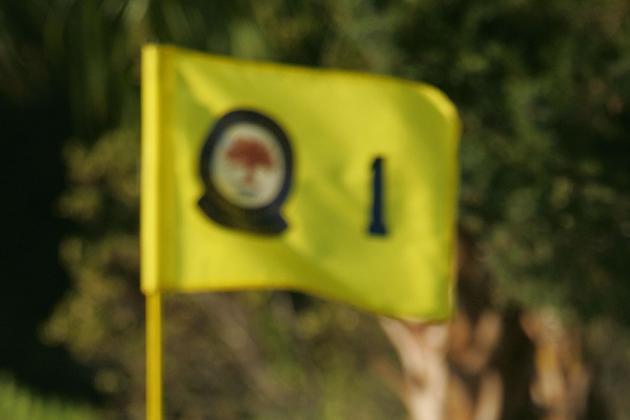 Scott Halleran/Getty Images

As any golfer knows, getting on track after a slow start isn't exactly the easiest thing to do, and at Kiawah, that challenge is only magnified.
The starting nine holes here have a few toughies, but for the most part, it is quite manageable with two very reachable par-fives and a pair of short par-fours littering the stretch.
As Adam Scott noted earlier this week, though, the whole 18 is not exactly the same: "The front nine is a really nice, playable golf course...and then the back nine is not."
Indeed, the incoming half is more than 200 yards longer than the front side, as both par-threes on the nine measure north of 220 yards and just one par-four is less than 440.
In addition, much of the course's danger lies over those final nine holes, with water coming into play significantly on a few holes in particular.
With that in mind, it is imperative for players to get the birdies early. An over-par score may not sound too bad over an opening nine that measures more than 3,700 yards, but with a much more brutal nine holes to finish, bogeys are sure to come, and those with lackluster front nines won't have much trouble shooting well into the 70s.
Therefore, on the three days that players will tee off on No. 1, they must take advantage from the start.
Otherwise, they will face long days of frustration and turmoil as they creep further and further over par.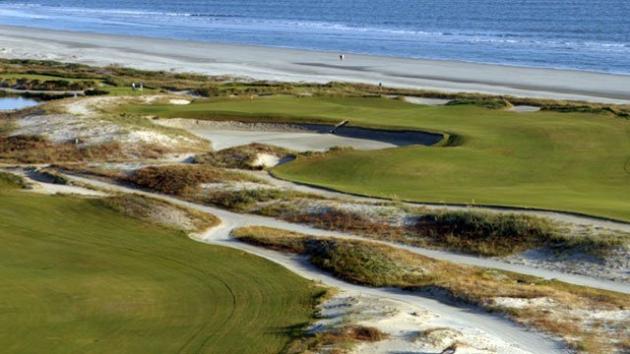 The Par-5 16th Hole at the Ocean Course
For the first time since the Masters in April, a major championship will play to a par-72, and players should take advantage.
Like Augusta, the Ocean Course contains four par-five holes, making a brutally difficult course slightly less so.
All four of these par-fives measure between 550 and 600 yards, manageable distances that, with good drives, can give the longer hitters a chance to reach the putting surfaces in two.
Of course, there will be times when these holes play into a stiff breeze, making any second shot nothing but a layup. Still, the bombers will have plenty of chances to go for these greens if they find the fairway, and even a wedge layup leaves a good shot at a four.
With 16 chances at par-fives that are not unreasonably long or twisty (unlike a certain triple-dogleg-left 667-yard hole that showed up at a major previously this year), players need to make their lion's share of birdies here in order to keep pace.
Considering the other 14 holes on the course offer few reprieves, red numbers are essential on the par-fives if you don't want to fall behind the eight-ball.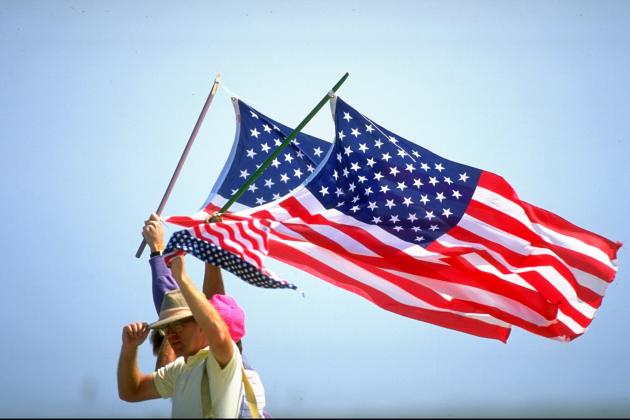 David Cannon/Getty Images

As mentioned in the opening slide, one of Kiawah's main defenses is wind.
The course is, after all, situated right near the Atlantic, and a wind from there only makes the layout that much tougher.
However, the difficulty here is not in the actual appearance of wind but in its constant changes. The layout usually carries a breeze of around 10 mph, but on some days, gusts can reach into the 50s.
Along with wind speed, wind direction fluctuates uncontrollably from day to day. A downwind hole on Thursday can play into a stiff breeze on Friday, and an approach shot with a big right-to-left wind one day may have one that moves from left-to-right 24 hours later.
In other words, there are no prevailing winds.
This is likely to be a great hassle for the 150+ competitors in the PGA Championship field. Not only will they have to deal with a brisk wind, but they'll also be forced to alter their strategy on a hole from day to day due to the ever-morphing breezes.
For a pro who meticulously charts a major championship course, this presents a new variable that can not be controlled by all of the preparation in the world.
At the 1991 Ryder Cup played here, guys hitting 7- and 8-irons into the par-three 17th in the practice rounds were pumping out anywhere from 3-irons to 3-woods on the same hole on Sunday.
Such a disparity is tough to gauge, and combine that with the constant variation of wind direction, and the pros will likely be in fits.
Those who can adapt to the wind modifications that are sure to come quite often are the ones who will succeed at Kiawah. The ones who don't will be swept away, exiting the Ocean Course in utter confusion.
Mike Ehrmann/Getty Images

The Ocean Course is more than forgiving when it comes to the width of the fairways and the length of the greens, but a player who strays finds himself in deep trouble.
The Pete Dye-designed layout has no shortage of treachery waiting for players whose shots are a little bit careless.
A marsh looms left of the Pinehurst-like putting surface on No. 3, and water hugs the right side of the holes 12, 13 and 17.
These hazards are enough to put a player on edge, but another surface that isn't actually a hazard should only make it worse.
"Transition areas" (aka waste bunkers) are a prominent feature on the Ocean Course, and instead of differentiating actual bunkers from said areas, the PGA has already ruled that no sandy areas will be treated as a hazard, thus allowing players to ground their clubs and remove loose impediments in the sand.
If that makes it sound easy, don't be so sure.
These transition areas vary greatly in texture, sometimes playing incredibly soft and other times playing rock hard.
This surface inconsistency should only befuddle players, making these transition areas spots that must not be found.
With all of this danger looming offline, players must find these spacious fairways and place the ball on these huge green complexes (which, despite being very firm, were made so big in order to allow balls to hold the surface).
If not, high scores are likely imminent, and good rounds can quickly be all for not.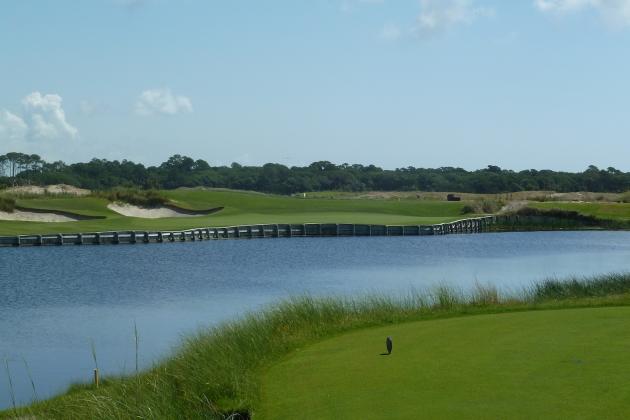 Courtesy: theitinerantgolfer.com
While the 17th at Sawgrass may be Pete Dye's most famous par-three, this one is likely the toughest.
Once described by Johnny Miller as a hole that could "make you choke when you're playing a practice round by yourself," the 17th at Kiawah will likely be the pivotal hole in deciding this year's champion.
Playing to a whopping 223 yards that is all carry over water, the penultimate hole is already tough enough, but to make matters worse, the picture above is from an easier set of tees.
In reality, the pros will be hitting their approaches from a tee box shifted out to the left, creating enough of an angle that shots out to the right (as well as ones short) will find the drink.
And if the wind is in your face, this hole is downright impossible. In that breeze, a player must force a very long iron or wood over the pond and hope it can hold the surface and not roll into one of the two back bunkers that are none too easy.
If one wants proof, ask Mark Calcavecchia, a man who appeared to be in the driver's seat in his Sunday singles match in the 1991 Ryder Cup before encountering the 17th.
Two-up with two to play and with his opponent Colin Montgomerie in the water off the tee, Calc had the match wrapped up, but then, shockingly, he topped his shot 30 yards short of carrying to the green. He would triple-bogey, lose the hole and later end with a highly disappointing halve.
As this example shows, players must have their swing under control on the 17th tee. This is a place where, if a player gets a little careless, a great round in the making can be crushingly dashed or one's shot at the championship late on Sunday can be effectively snuffed out.
So finding the green—any part of the green—is a big (and important) accomplishment on this hole.
The players who can do that over the four days will have avoided their biggest hurdle to good scores and will head toward victory.
For those that do fall victim to this brute, "Glory's Last Shot" won't be theirs, and their final chance at a major this year will end in bitter disappointment.