Alabama Football: Why Bama's New Defense Won't Truly Be Tested Until SEC Play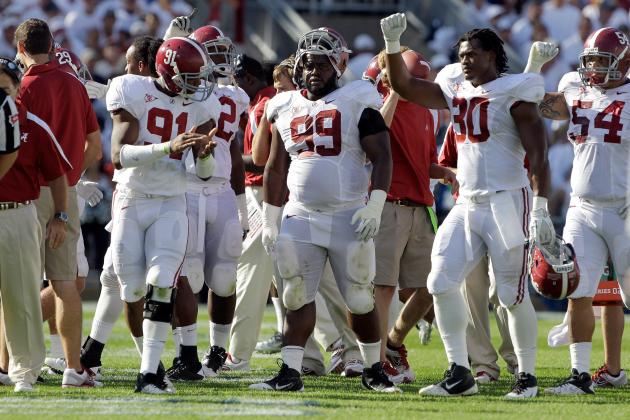 Rob Carr/Getty Images

It is no secret that when Alabama begins its defense of the BCS title in September, the defense will be considerably different than it was when they last stepped onto the field.
Names like Upshaw, Hightower, Kirkpatrick and Barron are gone. Many believe that the defense will be the biggest concern for Alabama and head coach Nick Saban going into fall practice. It will be, but not because of the losses that the Tide suffered in the offseason.
Defense is everything to Nick Saban. If there were no such thing as offense, Saban would still coach defense. It's what he does. So, yes, defense will be the primary concern for Alabama this fall.
Still, this defense will not really be tested until the Arkansas game in mid-September when Alabama begins its real season—SEC conference play.
Here are a few reasons why Tide fans can rest easy for the first few weeks of the season.
Begin Slideshow

»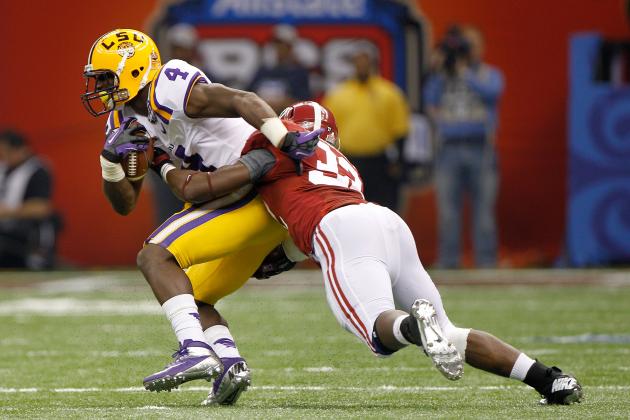 Chris Graythen/Getty Images

There is no disputing the significance of the holes left in the Alabama defense by those who are now suiting up in the NFL. They are real and they hurt. Still, it's not like the cupboard was left empty.
The entire defensive line has quality experience, led by Damion Square and Jesse Williams. Ed Stinson and Quinton Dial will be right there with them, giving the Tide everything they need up front to stop the run.
At linebacker, there are the likes of Nico Johnson and C.J. Mosley who return to their starting roles of 2011. They will be joined by guys like Trey DePriest and possibly the best of the group in Adrian Hubbard.
In the secondary, where Alabama suffered the biggest losses, Robert Lester and Dee Milliner return with as much big-game experience as anyone in the country. Vinnie Sunseri also returns for his sophomore season after turning heads as a freshman.
The secret to the Nick Saban defense is its unmatched depth. Saban recruits depth and he plays depth. He always has.
Gregory Shamus/Getty Images

Michigan was expected to come into the season opener with Alabama bringing a pair of 1,000-yard rushers with them. Electrifying dual-threat quarterback Denard Robinson was to be joined by returning running back Fitzgerald Toussaint.
Unfortunately for the Wolverines, Toussaint was arrested earlier this month and has been suspended indefinitely by head coach Brady Hoke. Technically, there is a chance he will be reinstated to play against the Tide on September 1st, but it would seem unlikely.
This leaves Michigan without a truly game-tested running back. Vincent Smith, who ran for 298 yards and a pair of touchdowns in 2011, would likely be the next on the depth chart.
This may not cripple the Michigan offense, but it will take away a pretty significant big toe.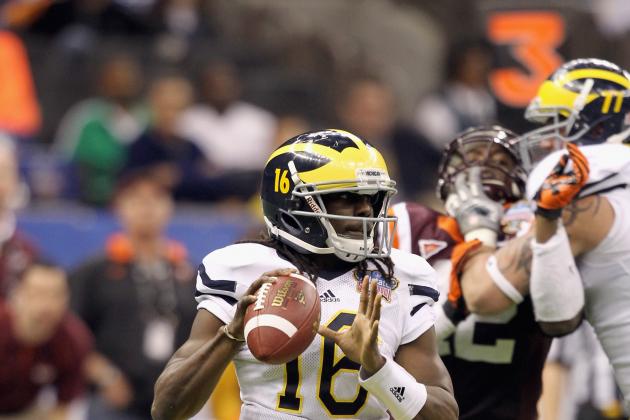 Matthew Stockman/Getty Images

Just because a guy is a dual-threat quarterback does not automatically make him a good passer.
Michigan hurler Denard Robinson is an amazing athlete. Still, the Wolverines had only the 93rd-best passing offense in the nation last year. Robinson completed a very average 55 percent of his passes in 2011 averaged less than nine yards per attempt. He is also prone to the interception as he tossed 15 of them last season.
To make matters worse, the Wolverines lost two of their top receivers in Junior Hemingway and Kevin Koger. Without these two, Michign's receiving corps does not appear to be anymore experienced than Alabama's—and that's not a good thing.
Oh, Michigan most definitely has talent, but key losses to a less-than-stellar passing defense will not cause too many problems for the Tide.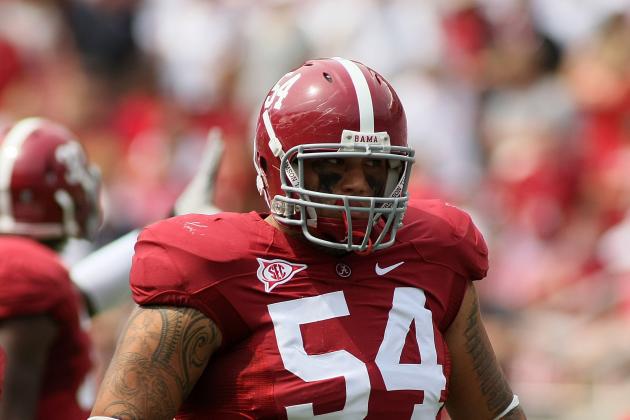 Greg McWilliams/Getty Images

Michigan is going to have to run the ball to defeat Alabama. Without it, Lester, Milliner and Co. will get to play vulture in the secondary as they lick their chops in expectation of a forced Robinson pass.
Without Toussaint, this is going to be difficult to do. Robinson is only one man and offensive coordinator Kirby Smart does not let one man beat him very often. Until Robinson proves he can beat the Tide through the air, 'Bama is going to snipe him on the ground.
In 2011, the Tide led the planet in rushing defense, allowing only 72 yards per game on the ground. In fact, the Tide has finished in the top five nationally against the run three times in the last five seasons under Saban and Smart.
If the Wolverines can't run, the Wolverines can't win.
Andy Lyons/Getty Images

Alabama will enter the nationally televised and prime time Michigan game coming off of a trip to New Orleans for the BCS Championship game that they dominated in January. The players that Alabama is going to depend on to win their season opener have played on the games most grand of stages—and played well.
Michigan has certainly played its share of big-time football, but the hype that has surrounded this game for almost a year is going to be something that many of them have never seen before. The fact that it is the season opener will make the bright lights resemble heat lamps for the Wolverines.
While Michigan players may be able to handle the pressure, Alabama players have already proven themselves under pressure. Remember, some of these kids that will be suiting up for the Tide have already won two national titles, Nico Johnson and Robert Lester are among them.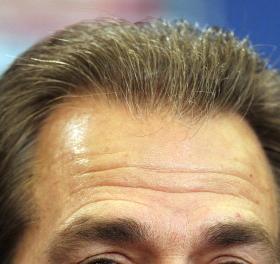 Andy Lyons/Getty Images

Alabama is still in many ways celebration the 2011 national title. Nick Saban is not.
There is a reasonable chance that Saban and his coaching staff began to work on the Michigan game plan somewhere around January 16th, a mere week after the BCS title game. Saban is the type of man that may have even looked at Western Kentucky (who Alabama plays after Michigan) film the week after the 2011 season came to an end. It's just the way he is.
Alabama has played many top-level opponents early in the season in the Saban era. Clemson, Virginia Tech, Penn State...they all got throttled. Saban had a week to prepare for LSU last season in the first meeting between the two schools. He had roughly six weeks the second time around and the difference was significant.
When Nick Saban has extended time to prepare a game plan, smart money will follow Saban.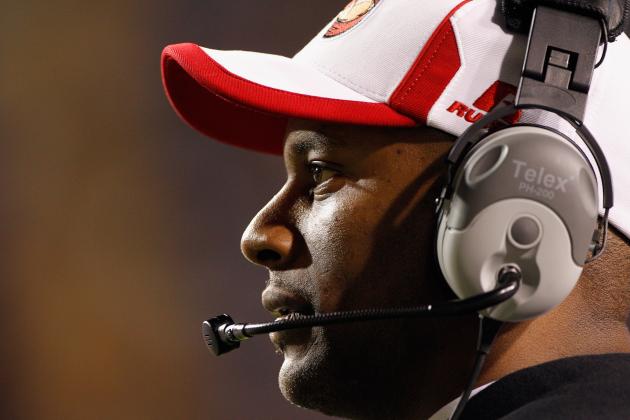 Chris Graythen/Getty Images

Western Kentucky head coach Willie Taggart will bring his Hilltoppers to Tuscaloosa the week after the Michigan game. While WKU is surely a fine institution with some fine athletes, this team is highly unlikely to equal more than a dress rehearsal for Alabama as it really prepares for a trip to Arkansas for the SEC opener a week later.
Alabama will take this time to prepare for a much more threatening offense in the Razorbacks, who actually have an impressive offense, and are capable of doing damage via both the run and the pass.
Once the SEC slate begins, the football season begins in earnest for the defending BCS champion Alabama Crimson Tide.