Nebraska Football: Latest Updates and News for Cornhuskers 2013 Recruiting Class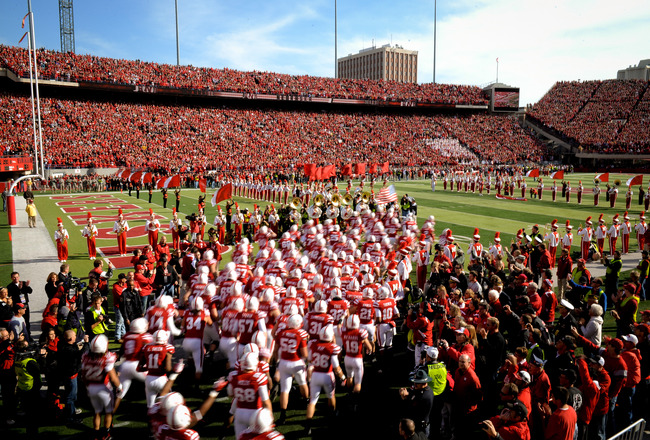 Eric Francis/Getty Images
Is it too early to start looking forward to the 2013 Nebraska Cornhuskers football season?
While preparing their team for summer practice, the Cornhusker coaching staff continues to try to land more highly rated prospects for the 2013 season. So far Nebraska's 2013 recruiting class is looking very promising.
Nebraska has already received verbal commitments from some highly rated recruits and has a few more players planning visits in the near future.
Here is an update on the Cornhuskers 2013 recruiting class.
2013 Recruits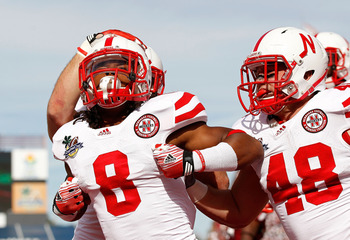 Mike Ehrmann/Getty Images
So far Nebraska has received 12 verbal commitments for the 2013 recruiting class. The Cornhuskers have a long way to go before signing day, but the players who have committed to the program should be great additions to the team.
Here is a list of some of the players who have verbally committed to Nebraska.
QB Johnny Stanton (Santa Margarita, California)
Santa Margarita Catholic High School
Highlights: Participated in the National Elite 11 QB Camp
Johnny Stanton may be the next star quarterback for the Cornhuskers. He made quite an impact at the National Elite 11 QB Camp. It will be interesting to see what plans Nebraska has in store for their star recruit.
LB Josh Banderas (Lincoln, Nebraska)
Lincoln Southwest High School
Nebraska will add to their depth at the linebacker position with the addition of Josh Banderas to the 2013 recruiting class. In order for Nebraska to compete in the Big Ten Conference, the Blackshirts must become a more physical team. Banderas will help them accomplish that goal.
LB Marcus Newby (New Potomac, Maryland)
Quince Orchard High School
The recruitment of Marcus Newberry shows Nebraska's continued effort to stockpile athletes on the defensive side of the ball.
CB Marcus McWilson (Youngstown, Ohio)
Cardinal Mooney High School
Bo Pelini still has strong connections in the Youngstown, Ohio area. The pipeline of athletes from Cardinal Mooney High School continues with the commitment of Marcus McWilson.
Interested Players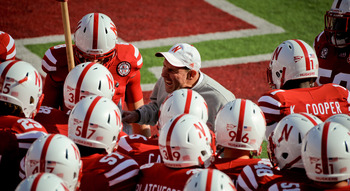 Eric Francis/Getty Images
OL Sean Harlow (San Clemente, California)
San Clemente High School
Sean Harlow visited Nebraska's campus this week and it was a big deal for the Cornhuskers. How big was Harlow's visit? It was so big that Bo Pelini left the Big Ten Media Day immediately after his press conference to meet Harlow and his family in Lincoln.
Harlow is a former teammate of Nebraska's recruit Johnny Stanton. Harlow has his list cut down to Nebraska and Oregon State. Hopefully Stanton can help convince Harlow to become a Cornhusker.
WR Brian Lemelle (Harrisburg, Pennsylvania)
Bishop McDevitt High School
Brain Lemelle announced he will take an official visit to Nebraska. This would be a strong addition to the Cornhusker's 2013 recruiting class. Lemelle will also visit Iowa in the near future.
DT Toby Johnson (Hutchinson, Kansas)
Hutchinson Community College
It is no secret that Nebraska needs help on their defensive line. Toby Johnson's visit to Nebraska's campus last week must have put a smile on Bo Pelini's face. Johnson is one of the top-rated defensive linemen in the country. He would be a big catch for the Cornhuskers.
Players on Nebraska's Radar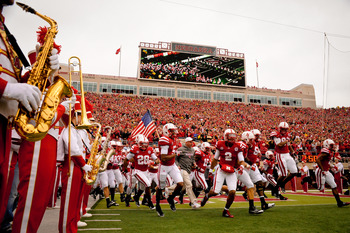 Eric Francis/Getty Images
High school players seem to be committing to schools earlier in the recruiting process. This puts some pressure on schools to be careful with whom they sign so that they do not fill their recruiting class too early.
Nebraska still has room to add some star players to their 2013 recruiting class. Here is a list of some of the players the Cornhuskers are targeting.
CB Priest Willis (Tempe, Arizona)
Marcos De Niza High School
Scout.com Rating: 5 Stars
OL Tyrone Crowder (Rockingham, North Carolina)
Richmond Senior High School
Scouts.com Rating: 4 Stars
MLB Mike Mitchell (Plano, Texas)
Prestonwood Christian High School
Scouts.com Rating: 4 Stars
CB Mackensie Alexander (Immokalee, Florida)
Immokalee High School
Scouts.com Rating: 4 Stars
WR Laquon Treadwell (Crete, Illinois)
Crete-Monee High School
Scouts.com Rating: 4 Stars
S Tahaan Goodman (Rancho Cucamonga, California)
Rancho Cucamonga High School
Scouts.com Rating: 4 Stars
Follow me on Twitter: @HuskerMagic
Keep Reading

Nebraska Huskers Football: Like this team?