WWE News: "Animal" Steele Rips Bret Hart over Montreal, Other Major Stars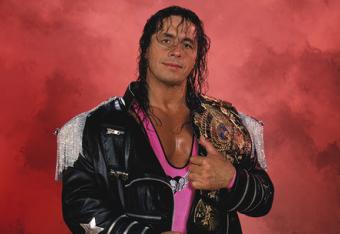 from wrestlingvalley.org

WWE legend George "The Animal" Steele was recently interviewed by "Inside The Ropes" radio (as reported by WrestleZone.com), where he had some enlightening opinions about numerous goings-on during his time in wrestling.
He also had some...well, let's face it...some negative things to say about certain stars, not the least of whom is Bret Hart. In his interview, Steele noted:
To me that's one of the biggest jokes in wrestling of all time. Lets be honest, who did Bret Hart beat to win the belt? They give him the belt and then he can't drop the belt in his own country? Give me a frickin break. By Vince doing the double cross Vince became the hottest thing in the business when all he did was take his belt back. He outdid everyone who walked away like Hulk and Bret.
Additionally, Steele gave his opinion on a number of other stars of the modern era (also via the aforementioned Wrestlezone.com article):
Quick Fire Thoughts:

Hulk Hogan: Right place, right time.

Bret Hart: Lucky.

John Cena: Johnny come lately.

Ric Flair: Needed the belt.

Undertaker: One of a kind.

The Rock: Great.

Ultimate Warrior: *laughs* That's all I have to say.
First, the Bret Hart situation: I understand where he's coming from with regards to Hart winning the belt in a schmoz ending at SummerSlam 1997 (where HBK accidentally hit Undertaker with a chair and cost him the WWE title).
But it wasn't like Bret Hart had never proven himself before. Hart was one of the all-time great in-ring performers and—while he was never a great promo guy—one of the great WWE champions.
Let's not forget that Bret's refusal to drop the belt in Canada, while a bit childish, was his right, especially since he was more than willing to relinquish it after Survivor Series (before his contract ran out) to anyone not named Shawn Michaels.
However, Steele is correct about how Vince McMahon came out looking great in the long run, as he created one of wrestling all-time great characters while becoming one of the driving forces behind WWE winning the Monday Night Wars.
What do you think about Steele's opinion? Also, how do you feel about some of his descriptions of more modern stars (specifically, Hogan just being in the right place at the right time)?
This article is
What is the duplicate article?
Why is this article offensive?
Where is this article plagiarized from?
Why is this article poorly edited?